Thinking of spending winter in Malaga?
Whether you want to visit Malaga in December to see the Christmas lights or in January/February, it's a great time to visit the city! Here is why you should consider visiting, how to get there, and the best things to do in Malaga in winter!
Malaga is one of the most visited cities in Andalusia, Spain.
It's part of the 'Costa Del Sol,' which means 'coast of the sun.' The region started being called so by an Austrian diplomat and businessman, Rodolfo Lussnigg, in 1928.
He used this term as Malaga and other cities along the Mediterranean coast of Andalucía are always sunny, even during winter.
Malaga is full of fabulous beaches, historic sites, specialty museums, and scrumptious tapas to enjoy in between sightseeing. You'll also notice lots of distinct cultural influences here.
It's a 3000-year-old city that was first colonized by the Phoenicians and then inhabited by the Greeks, Romans, Moors, and others!
Malaga is fun to visit and has great weather all year round! But here's why you should take a trip during winter in Malaga.
---
---
Malaga's warm Mediterranean climate means it'll be mildly cold if you spend winter in Malaga. So, consider a Malaga winter trip to spend time on some of the best sun-kissed beaches or mountain getaways in Andalusia.
The winter season in Malaga is from December to February. It rains on some days, but Malaga in the winter is much better than most European places. Malaga winter temperatures in the daytime range from 10 to 17°C, and the sun's out for 5-6 hours every day.
It does rain on a few days, though. The table below has information about Malaga's winter weather:
---
Why Visit Malaga During Winter?
Malaga in Winter may not be the best time to visit for swimming since the Mediterranean is pretty cold, but you can still relax by the beach and soak in the winter sun. You can also take a sunset boat ride to watch the sunset over the ocean and see dolphins that sometimes swim near the boat.
Winter in Malaga is the low season for tourism. So, there would be no crowds on the gorgeous beaches and streets if you spend winter in Malaga, except during Christmas time.
And, you can also save money on accommodation or flights as these are cheaper around this time.
Another reason you should take a trip to Malaga in winter is the resplendent streets lit up with Christmas lights. Calle Larios, a shopping street in the port city, is lit up with hundreds of lights in a tunnel-like formation every year during Christmas.
The street looks magnificent every year, and the festive atmosphere in the streets is contagious.
The Christmas lights attract many visitors. Spaniards from nearby cities also come to Malaga for the Christmas light shows. The lights are turned on at 6.30 pm every evening, and there's a sound and light show that happens two-three times every evening.
There are also five traditional Christmas trees that you will find decorated in the nearby streets. These Christmas lights are switched on in the last week of November every year and switched off on January 6.
Additionally, some places in Malaga have elaborate nativity scenes that you can enjoy.
Travellers visiting Malaga in December during Christmas can shop from the Christmas markets. These are in Paseo de Parque and Muelle Uno, where stalls sell food, gifts, accessories, antiques, and other things.
Another reason to plan a trip during winter in Malaga is the city's proximity to the Sierra Nevada mountain range, which is a 2-hour drive from Malaga. It has a ski resort with beautiful pistes for skiing.
If you aren't into skiing, it's still worth visiting, spending some time in the Sierra Nevada, and walking around the place to soak in the breathtaking views of rugged mountains and valleys.
---
How To Get To Malaga In Winter
It is worth noting that come November 2023, the ETIAS entry check will be launched for Spain which will be applicable to all who enter Spain visa-free, including visitors from the US and the UK!
This is to ensure that people who are a threat can be kept away and residents and visitors can feel safe!
Malaga's airport, Málaga-Costa del Sol Airport, is well connected to major cities in Spain and Europe. Malaga is also connected to other parts of the world through this airport.
Do book flight tickets in advance, though, if you want to visit Malaga in December during Christmas time. Many tourists visit Malaga in December during Christmas to see the Christmas lights in the city.
If you are flying in from another country and spending time in other Spanish cities first, you can also take a train or bus to Malaga.
AVE trains, which are high-speed trains, run from Madrid, Seville, Barcelona, Valencia Granada and Cordoba to Malaga's Maria Zambrano train station. Interbus and ALSA run buses from Madrid, Seville, Barcelona, Valencia and Cordoba to Malaga. Or you could hire a car through Europcar or a local car company and drive to Malaga if you want to do a road trip.
---
Best Things To Do in Malaga in Winter
---
1. Relax at the Beaches
The beach water's cold in winter. So swimming isn't ideal if you are spending winter in Malaga. Swimming is possible if you visit earlier; swimming is one of the top things to do in Malaga in November or other autumn months. But you can relax on the beach, take a boat ride and enjoy seafood at the restaurants near the sea. You can spend time at any of these beaches in Malaga –
Playa La Malagueta: Locals and tourists come to this beach which is only a few minutes from the city centre. It's not the most beautiful beach in Malaga, but a good place to sit by the beach or have a drink at one of the 'chiringuitos' (bars at the beach).
La Caleta: This is a lovely beach with views of San Sebastián and Santa Catalina castles. It's in the affluent La Caleta neighbourhood. You can spend time on this beach sitting by the sea, paddleboarding, windsurfing or eating in one of the places on the promenade.
Playa Peñon del Cuervo – Peñon del Cuervo is a picturesque, peaceful beach that's 10 kilometres away from Calle Larios Street. A large rock near the shore cuts the beach into the water in two halves. Peñon del Cuervo is a fantastic beach to relax, as it's calm compared to the other beaches in the city.
Playa El La Palo – La Palo is a calm beach surrounded by fishermen's homes. It's between Pedragalejo beach and El Chanquete Beach/El Dedo beach.
---
2. See the Alcazaba and Gibralfaro Castle
See the Gibralfaro Castle on a hill that overlooks the city and the port. The fort was built centuries ago, in 1340 AD, and is now a protected site. Situated nearby is the Alcazaba, a palatial fort built in the 11th century.
Here's the important info you should know before you go;
Address: Alcazaba – C/ Alcazabilla, 2, 29012 Málaga, Spain | Castillo De Gibralfaro – Cam. Gibralfaro, 11, 29016 Málaga, Spain
Opening Hours: April 1st to October 31st from 9:00 to 20:00
1st November to 31st March from 9:00 to 18:00
Closed: 24th, 25th, and 31st of December and the 1st of January
Entrance Fee: General entrance: 3,50€ for one monument; 5,50€ for both Alcazaba and Gibralfaro. Reduced entrance: 1,50€ one monument; 2,50€ for both Alcazaba and Gibralfaro
---
---
---
3. See the Malaga Cathedral and Roman Theatre
See the Malaga Cathedral, a Roman Catholic Church built in a Renaissance architectural style. It was constructed between 1528 and 1782 and is surrounded by a portion of the remaining Moorish walls in the city. It's only 4 kilometers away from the Gibralfaro castle.
Another place close by is the Roman Theatre or the Teatro Romano de Málaga. It's located at the foot of the Alcazaba. Here you can see an ancient Roman theatre with steps and a stage.
Here's the essential information;
Address: C. Molina Lario, 9, 29015 Málaga, Spain
Opening Hours: 10 AM – 6 PM every day except Sundays, Sundays 2 PM – 6 PM
Entrance Fee: 8.00 € for either entry or entry to the roof, 8.00 € for combined entry and access to the roof. All ticket combinations can be found here
---
4. Visit Malaga's Museums
Malaga has marvellous museums that are worth visiting. These are some of the best Malaga museums:
Museo Automovilistico & de la Moda (The Automobile and Fashion Museum) – This museum showcases luxury vehicles and haute couture. It also showcases the artistic and historical evolution of the region since the nineteenth century through thirteen thematic rooms.
Museo del Vidrio y Cristal de Malaga – This museum showcases glass and art from various eras in a mansion that was built in the 1700s.

Museo de Malaga – This is an archaeological and fine art museum that showcases the art of artists from all over Spain.

Coleccion del Museo Ruso – This museum showcases Russian art and culture in West Europe.

Picasso Museum Málaga – This museum, in Buenavista Palace, has several works of Pablo Picasso which were donated by his family.
Note: If you visit in February, include a visit to all the fascinating museums in your list of things to do in Malaga in February. Malaga celebrates February 28 as Andalusia Day. It's a bank holiday, but museums are open, and entry to museums is free on this day!
---
5. See the Malaga Port
The port of Malaga is of the oldest operated ports in the Mediterranean. You can walk around Malaga Port and see the coast. Or you can have lunch or dinner at one of the many restaurants by the port.
---
6. Stroll through the Malaga Park
Malaga Park is a 33-acre huge park with sculptures, fountains, and a botanical garden. It's a calming place where you can spend time in nature.
Make sure to check the winter weather before you go because this is one place that you want to go when it's sunny!
Address: Paseo del Parque, 1, 29015 Málaga, Spain
Opening Hours: Open 24 hours
Park Website: Spain.Info
---
---
---
7. Shop at Calle Larios
Calle Larios Street is well known as it's where tourists see the Christmas lights if they visit Malaga in December. Calle Marqués de Larios, or Calle Larios, is an upscale shopping street. This is a great place to shop for luxury brands. You'll also find small boutiques and excellent cafes here.
---
8. Go Skiing at Sierra Nevada
As mentioned above, Sierra Nevada Ski Resort is just a 2-hour drive from Malaga. So, you can take a day trip to the Sierra Nevada to see snow-capped mountains if you visit Malaga in winter.
It might not be quite as impressive as the Swiss Alps near Lucerne in Winter, but it's still an incredible ski resort with over 120 unique trails and a vertical drop of nearly 4000 feet!
resorts!
---
9. Eat Tapas in Magala In Winter
You'll get finger-licking good tapas in Spain, but in Malaga, food combines the traditional and new. You can eat fresh seafood here and local dishes made with food grown in Malaga.
Malaga has a thriving agricultural economy. Olives, tangerines, grapes, almonds, raisins, and many seasonal fruits and vegetables are grown here.
Here are some of the delicious traditional dishes you should try in Malaga;
Paella – You'll get delicious paella here with fresh seafood in it. Paella is a rice dish from Valencia: it's rice cooked with meat, seafood, and vegetables.
Fritura Malagueña – Fritura Malagueña is fried fish. Sardine, other fishes, and even squid are fried in batter and served with homemade aioli.
Gambas Pil-Pil – Gambas Pil-Pil are prawns cooked in pil pil sauce. Pil Pil Sauce is made by infusing garlic and chili in olive oil.
Gazpachuelo Malagueno – This soup is made with egg yolk, olive oil, mayonnaise, garlic and potatoes.
---
Grenada is just under 2 hours from Malaga, so it's very common for locals and tourists to take a day trip from
Malaga to Granada!
Granada's blend of cultures, architecture, and cuisine make it a great place to visit. You can see
the architectural marvel of Alhambra, the Albayzín quarter's charming streets, and embrace the city's rich history through visits to the Royal Chapel and the Albaicín.
There is a bus from Malaga to Grenada for budget-conscious travelers, but the trains are much faster since they don't have to worry about traffic.
---
11. Take a Road Trip From Malaga
Spending winter in Malaga is probably the best time to take a road trip in the Andalusia region. You won't have to navigate through traffic in every Spanish village, and the weather makes it very comfortable to wander through towns and embark on short day hikes.
There are so many great places you can pass through on a road trip from Malaga. One tip, though, is to avoid rushing. Try to add no more than 2-3 stops each day so that you have time to enjoy each city, village, or scenic area in Southern Spain.
Some popular stops are Granada, Cordoba, Seville, Ronda, the white villages, and Nerja.
---
12. Check Out the White Villages (White Pueblos)
Another place that people love to take a road trip to Malaga is the White Puebloes (White Villages) scattered across the region. These idyllic towns, known for their whitewashed buildings, offer a glimpse into traditional Andalusian life.
These villages boast stunning panoramic views of the surrounding countryside, unique local cuisine, and charming narrow streets to wander.
Each village is unique, too. Mijas is known for donkey taxis and artisan shops, while Ronda's primary attraction is a dramatic bridge spanning a deep gorge. Frigiliana, on the other hand, is famous for its extra-sweet wine and romantic ambiance.
You'll also find many great restaurants with traditional dishes and seemingly endless tapas.
---
13. Go Hiking in Malaga
The mild weather in Malaga throughout the winter makes it one of the most comfortable seasons to go hiking. You won't sweat through multiple shirts, but unlike northern Europe, you won't need your winter coat!
There are plenty of hikes on the outskirts of the city. Some of the most popular hikes include:
El Caminito del Rey: Easily the most famous hiking trail near Malaga. It's a breathtaking hike where the trail clings to the side of a sheer cliff as you traverse through the Gaitanes Gorge.
El Torcal de Antequera: This hiking area is famous for limestone rock formations that evoke an otherworldly scene throughout the trails.
La Maroma: As the highest peak in the Malaga region, La Maroma is a challenging ascent that leads to panoramic views of the Rif Mountains in Morocco to the Sierra Nevada.
Río Chillar: This refreshing riverside hike, just outside Nerja, combines invigorating wading through crystal-clear waters with shaded paths through lush vegetation. The highlight is the stunning waterfall at the end of the trail.
---
Winter Events and Holidays in Malaga
Malaga in December
Verdiales Festival – The Verdiales festival is a song and dance competition of Verdiales, a traditional dance form. Here, you'll get to see competing pandas (groups who sing verdiales) showing traditional folk dance in their colourful costumes.
The origin of Verdiales is uncertain, but it first developed in Los Verdiales, a region north of Malaga. The name Verdiales comes from verdial, a type of olive grown in this region.
This festival happens on December 28 every year and is held in different locations every winter in Malaga.
Malaga in January
Three Kings Day – You can see this celebration if you're visiting Malaga in January. Seeing this is one of the best things to do in Malaga in January.
Three Kings Day, also known as Epiphany, is a traditional celebration that happens in Malaga on January 5 every year. Gaspar, Melchior, and Balthasar, the three wise kings who are an important part of the nativity set, walk through the city's streets.
The Three Kings parade runs through the historic city centre. Children are handed out sweets, and gifts are exchanged. People in Malaga, too, follow 'Los Reyes Magos,' the Spanish Christmas tradition — they leave a shoe outside the door or in their living room to receive gifts from the three wise men.
Malaga in February
Malaga Carnival – You can see the Malaga Carnival if you visit Malaga in February. Malaga Carnival starts in February and ends before the period of Lent starts. There's an official carnival parade, a parade for children, and a few other events that happen during this time.
The main parade includes costumed performers and dancers who walk through the city to reach La Malagueta Beach for the 'burial of the anchovy.'
Burying the anchovy at the beach is an important carnival tradition and comes from the Spanish tradition of the 'burial of the sardine.'
---
FAQs – Winter in Malaga
Is Malaga Worth Visiting in Winter?
Yes, Malaga is worth visiting in winter because of its mild weather, low crowds, and great outdoor opportunities. Winter lasts from December to January, and the daytime temperature is 13-18°C. Besides, fewer tourists take a trip during winter in Malaga. It's also much more affordable, and you can see the beautiful Christmas Lights around Malaga!
Is Malaga Cold in Winter?
No, Malaga is not cold in winter, but it's also not very warm. Instead, Malaga has very mild winter weather, which is great compared to most places in Europe. From December to February, the winter season in Malaga, the daytime temperature hovers around 13-18°C. The lowest temperature is 8-9°C.
What is Winter Like in Malaga, Spain?
Winter is mild in Malaga, Spain. So you'll need a warmer and a layer of winter clothes, especially at night. But it's pleasant to be out during the day. Daytime temperature is around 13-18°C. So you can spend time by the beach or do sightseeing.
Can I Go to the Beach in Malaga in Winter?
Yes, you can go to the beach in Malaga in winter. Winter Malaga is mild. You can spend time by the beach or take a boat ride. The beach water needs to be warmer for swimming. The water is cold: it's around 15-17°C. However, some locals do swim in beach water during the winter.
---
---
Final Thoughts: Malaga in Winter
Although it's not the first place to come to travelers' minds when thinking about holiday destinations, one of the best regions to consider is Malaga in winter!
If you love offbeat destinations, outdoor adventures, and slim crowds, then it's the perfect place for you! I also love to spend the winter in Malaga for the Christmas lights and festivities around December!
It's truly one of the most fun and romantic winter getaways in Europe.
But if you're not sold, then maybe taking a winter holiday in Malta or going to Morocco in the winter will better suit your travel preference!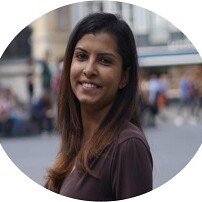 Award-winning Analyst, multi-nominated digital content creator and photographer Lavina Dsouza's words capture stories about culture and tradition mainly through its food and people. She has written and contributed to publications such as The Washington Post, Lonely Planet and Matador Network, to name a few. She is the editor of UntraditionalHumans.com, a non-profit created to share inspiring stories from women of colour who break free from traditions and choose happiness.
She's also a speaker passionate about DEI and champions solo travel. She has collaborated with numerous renowned brands such as Intrepid Travel, TripAdvisor, Travel and Leisure and Adobe, to name a few.
She can be found on Twitter and Instagram.
---
---
---
Some of the links on this post are affiliate links. These do not cost you extra to use, but will help provide Continent Hop with a small commission if/when you purchase through them, to recover some of the costs of running this website and providing free content to help you plan your travel. I appreciate your support!
---