The Alhambra in the evenings is a stunning sight! Here's info on day trips from Seville to Granada as a Granada day trip is fun and not too tiring. You'll also find info on what to do in Granada, how to get here including info on the Seville to Granada train
As soon as I'd checked in to our cave stay in The Albaicin, I headed to the closest viewpoint to see The Alhambra.
Not to exaggerate, but it was stunning in the evening, all lit up and as we had dinner, sneaking glances at the Alhambra, I realised, it was one of the best spots in all of Europe. Getting on a day trip from Seville to Granada was worth it for even just that evening!
When you think of Granada, you can imagine a city in Spain that has preserved its historic charm throughout the centuries.
It has streets dotted with buildings where Islamic architectural patterns are still prominent. It has an eclectic food scene with dishes that have Arab and Spanish influences.
Be it the impressive hilltop Moorish complex of Alhambra or the tapas joints sprawled throughout the city, Granada knows how to balance its past and present.
When travelling from Seville to Granada, you can relax knowing your trip to Granada will be worth all the hassle.
---
Day trips from Seville to Granada
---
First – how to get from Seville to Granada
---
Reaching Granada from Seville is quite easy and includes almost no challenges. The distance Seville to Granada is 251 kms and there are several travel options to reach Granada. You can choose to travel towards Granada by selecting any of the following ways of transportation.
If you'd rather prefer an organised day trip, then this tour to Granada, takes you on skip-the-line visit to the Alhambra and also includes a visit to the Albaicin. All costs except meals included.
Bus – Travelling from Seville to Granada by bus is approximately a 3.5-hour journey. There are a number of service providers like Alsa, Transportes Comes, etc, who provide a Seville to Granada bus service.
The Seville to Granada bus ticket costs approximately 20 to 40 Euros. It is to be noted that the trip may cost higher and last longer, depending on the route chosen by the service provider.
It costs about 50 Euros for a return trip.
It is essential to check routes and availability online before you travel as sometimes service may not be available on certain holidays.
Train – From Seville to Granada the train route is about 355 kms long. The Seville to Granada train time is about 2.5 hours and costs approximately 25 to 35 Euros.
There are multiple trains running at different hours of the day from Sevilla – Santa Justa station.
There are very few direct trains from Seville to Granada. And so, travelling by train toward Granada might require you to get a transfer at Cordoba Central that heads toward Granada.
Travelling by train is one of the most cost-effective and quickest ways to reach Granada from Seville. The train Seville to Granada tickets can be booked here
Rideshare – By sharing a ride from Seville, you can reach Granada in about 3-3.5 hours.
The ride may cost you around 15 to 20 Euros. You can easily book your ride through BlaBlacar. This option is convenient for almost everyone since it costs lesser and also can be booked at any hour of the day.
The rideshares by BlaBlacar usually run at an hour's frequency. However, it is necessary to note that, the ride might last a little longer considering the picks and drops involved.
You also have to keep in mind that since this is Carpooling, you'll only be able to see rides when someone is headed to Granada anyway and publishes it. Rides aren't guaranteed on exact times and dates unless booked. Sometimes certain rides may be also found on short notice.
Self-drive – If you have a car of your own or wish to hire one for yourself, you can do so by booking a car through any of the car rental agencies in Seville such as Enterprise or Europcar.
All you will need to do is, put your pick-up and drop locations and book online for the days needed. Self-driving from Seville to Granada is a very convenient option since it doesn't involve any stops or dependencies.
To reach Granada from Seville by self-driving costs about 50-55 Euros per day, including the fuel cost. The journey takes 2.5 to 3 hours and is an option to choose if you prefer a comfortable and private means of transport to travel.
---
How to go from Granada to Seville
The means of travel to head back from Granada to Seville are similar to that of the options available from Seville to Granada. You may choose to select one of the following options depending on your time and budget.
While in Seville, this tour is worth it and includes a visit to the Alcazar, Cathedral and Giralda with skip-the-line tickets and with a guide.
Bus – There are direct buses starting from Granada towards Seville. The journey is of 3.5 to 4 hours and costs you around 20 to 40 Euros. It is recommended if you're not short on time on the way back.
Train – There are few direct Granada Seville trains running at particular hours of the day. However, if you miss out on those, you may still opt to travel by train from Granada, take a train transfer at Cordoba Central and then head towards Seville.
The train journey if direct, lasts for about 2-2.5 hours. If you choose to take a transfer to Cordoba Central, the journey lasts for about 3.5 hours. The approximate cost is 20-30 Euros from Granada to Seville.
Rideshare – It is one of the cheapest travel options to reach Seville from Granada. You can book a ride on BlaBlacar. The ride costs around 15-20 Euros and requires about 3 hours to reach Seville from Granada, considering the stops of co-passengers if any.
Self-drive – You may rent a car through any of the rental agencies in Granada. It costs up to 40-45 Euros, depending on the starting point and drop off and of course the fuel rates.
This is the most chosen option by travellers who are travelling with their families or are seeking more convenience, privacy and comfort. However, it is essential to know that, if you wish to self-drive, you must be eligible to drive in Spain and have a valid license.
---
Things to know about Seville and Granada
Distance – The distance Seville and Granada is about 251 km by road

Time required – The time required to travel from Seville to Granada and back is about 3 hours by road and 2 to 3.5 hours by train. Make sure to pick trains that can get you in and out of the city in time so you can enjoy and have ample time for the attractions in Granada

Best time to visit – The best time to visit Granada and Seville is in the months of April and May. It gets quite hot in Granada in July and August with temperatures sometimes going above 35 degree celsius in the noon

Currency – The currency used in the cities of Seville and Granada is the Euro

Languages spoken – People usually speak the Andalusian dialects of Spanish in most parts of Seville and Granada. You may also see people speaking Castellano Castilian and English in most parts of Granada and Seville.
---
Organised day trips from Seville to Granada
You could visit Seville and Granada as part of a guided tour. This one is highly recommended as this way you get a licensed guide that shares info and takes you to the best spots without the hassle of planning things yourself.
These are some highly recommended ones to Granada from Seville.
---
Things to remember on your day trips from Seville to Granada
Don't forget to carry clothes suitable for the season. It can get quite chilly and even hot in summer and it's always a great idea to be prepared with cotton wear and windcheaters

It can get super hot in the noons in summer so it is best not to plan any activities from around 2 to 4 pm

Always carry a bottle of water with you

Some areas of the Albaicin can be quite steep so make sure you give enough time to get from one place to another if you're passing any places that are hilly

It is always good to know a few words in the local language

The cities of Seville and Granada are known for their ancient culture, art and history. Make sure you dress appropriately at religious places
How much does it cost from Seville to Granada
The travel costs vary depending on the mode of travel you choose. Following is the approximate cost of travel from Seville to Granada for different options.
Bus – It costs around 25 to 40 Euros to travel from Seville to Granada and vice versa

Train – The train journey costs around 25 to 35 Euros to reach Granada from Seville

Rideshare – You can share a ride from Seville to Granada or vice versa for about 15 to 25 Euros

Self-drive – You can hire a car and it would cost about 40 to 50 Euros including the fuel costs to travel from Seville to Granada
---
Places to stay in Granada
Without a second thought, Granada is definitely a great destination perfect for most types of travellers. While a Granada day trip is great to get a taste, it is recommended you spend at least 3 -4 days to enjoy the Alhambra and the various other activities as the Alhambra itself can take a whole day if explored properly.
Choosing a great place to stay on your day trip to Granada, isn't too difficult. There are a number of beautiful places to stay when in Granada; here's a few depending on your style and budget.
Luxury stay

Aurea Washington Irving – One of Spain's most celebrated authors, Aurea Washington, served as inspiration for the hotel's magnificent décor and ambiance and it is considered to be is one of Granada's most upscale accommodations.

It portrays history, literature, art, and classical romanticism. Being at this location for a stay while on your day excursion from Seville to Granada is a unique experience. The hotel boasts a superb restaurant, some rooms with views of the Alhambra, which is nearby. Book here
Mid- Budget stay

Hotel Casa Morisca is located in the historic quarters of the Albaicin, situated on a slope. The hotel has been built in a noble's house so the interiors are posh and fascinating, as is the architecture. The Alhambra is quite close, and can be seen from some of the rooms.

Highly likes by visitors, the stay comes with amenities like wifi and breakfasts included. Service is also good. Book here
Budget stay

Located in the heart of Granada, the Casa de Federico Boutique guest house is close to the Cathedral and the Royal Chapel. The guest house has been highly rated by tourists as the rooms offer beautiful views of teh Alhambra . Some rooms also come with an attached terrace which is ideal to relax during the summer.

Breakfast is included in your stay and the design is particularly alluring to couples. Book here
---
Places to visit during your Seville to Granada day trip
Packed with ancient history, architecture, greenery and a fascinating climate and ambience, Granada is a wonderful city to visit. Granada's architecture is strongly influenced by varied cultures including Islam, Christianity, Gypsy, Jewish, etc.
The present-day city of Granada reflects various shades of its beauty through its tourist attractions that you must not miss visiting. Here are a few places to visit in Granada and things to do too.
---
The Alhambra
The Alhambra a UNESCO-listed world heritage site and an absolute masterpiece of Granada. Decorated with the Islamic style of architecture and design, Alhambra is a monument that depicts the history of the several rules that Granada has witnessed. It is a grand space that is home to four huge groups of buildings.
The Nasrid Palaces, the Generalife Garden, the Alcazaba and the Palace of Charles V are some of the must-visit areas of the Alhambra.
It is flooded with tourists during peak season. Make sure you do not rely on buying the tickets on the spot and book in advance, since the chances of getting them stand low in person.
It is a good idea to have a tour guide along while visiting the Alhambra. The tour guides help in understanding the history, importance, significance and of course the beauty of various areas of this monument.
Alhambra is one such location in Granada that can be explored for one complete day. However, you may choose to take a quick tour of it too, to explore other attractions. Make sure you carry your camera as it is a top spot for landscape photography in the city.
---
DETAILS
The Alhambra
Address: C. Real de la Alhambra, s/n, 18009 Granada, Spain
Timings: 8.30 AM to 8 PM everyday
Price: Ticket prices vary. A full ticket that includes the Alhambra + Andalusi monuments costs €23. Just the Alhambra is €14. The gardens, Generalife and Alcazaba is €7. The Nasrid palaces at night is €8. You can opt to skip the queue with a guide by booking tickets here. Best to book in advance as limited tickets are sold per day
---
Carmen de Los Martires Garden
While the Alhambra's Generalife garden is beautiful, do not miss out on visiting the garden of Carmen de Los Martires. Though strikingly beautiful, this garden is one of the least-visited places in Granada.
Since the garden is very close to the Alhambra, it can be visited while visiting the Alhambra. Carmen de Los Martires is a garden comprising flower beds, tiny ponds and endless green walkways that are refreshing after a visit to the Alhambra.
Carmen de Los Martires is also considered one of the most romantic destinations in the city. On climbing the staircase in the garden, you're bound to have one of the best views of Granada!
---
DETAILS
Carmen de Los Martires Garden
Address: P.º de los Mártires, s/n, 18009 Granada, Spain
Timings: 10am–2pm, 6–8pm Monday to Friday and 10am–8pm on weekends
Price: Free
---
Catedral Santa María de la Encarnacion / Cathedral de Granada
A Renaissance church built by Queen Isabella, the foundation of the church was laid in the year 1523. The church was built in bits and pieces from time to time and was completed in the 16th century.
Catedral Santa Maria de la Encarnacion depicts the influence of various styles of decor and architecture since it was built under the guidance of different artists and technicians from various parts of the world in different time spans.
The major areas to visit at Catedral Santa Maria de la Encarnacion include, Capilla Mayor and Sala Exposicion. Sala Exposicion is a museum that displays arts, paintings, crafts, sculptures and other objects that belonged to royal families, and sacred places.
---
DETAILS
Catedral Santa María de la Encarnacion
Address: C. Gran Vía de Colón, 5, 18001 Granada, Spain
Timings: 10am–6:15pm Monday to Saturday and 3–6:15pm on Sundays
Price: 5 Euros, students and people with disabilities – 3.5 Euros, free for children under 12
---
Palacio de Dar al-Horra
It is one of the key tourist attractions of Granada. It used to be the residence of Sultana Aixa. The palace is known to have the best Moorish-style rooms and quarters.
It also has beautiful gardens, pools and orchards that make the place worth visiting. You might be left awestruck by imagining the kind of lavish lifestyle the people who owned the place lived. This guided bike tour goes through the area and you can visit it as a stop.
---
DETAILS
Palacio de Dar al-Horra
Address: Cjón. de las Monjas Albayzin, s/n, 18008 Granada, Spain
Timings: 9am–2:30pm, 5–8:30pm everyday
Price: 5 Euros as part of the Andalusian monuments and can be booked here
---
Stroll around Plaza Bib-Rambla
You may want to visit the Plaza Bib-Rambla if you wish to take a short break after visiting some of the attractions around Granada.
Apart from the best restaurants and bars that the place has to offer, it also has a lot of shops and markets filled with countless items. It is a great place to refresh yourself and set yourself up for the rest of the day.
---
Basilica San Juan de Dios
While the facade may not seem interesting to many, the Basilica built in the Baroque style of architecture is full of embellishments done in gold and silver no matter where you turn!
The gold altarpiece in the main chapel is the main highlight of the place.
The remains of St. John of God can also be found here. The walls and the dome are decorated with angels and paintings of the saint.
---
DETAILS
Basilica San Juan de Dios
Address: C/ San Juan de Dios, 17, 18001 Granada, Spain
Timings: 10 am to 7 pm, everyday
Price: Free
---
---
Museo de Bellas Artes de Granada
If art, history and culture fascinate you, visiting the Museo de Bellas Artes de Granada would be a good option. While Granada has quite a few museums, the Museo de Bellas Artes de Granada is home to over 2000 ancient pieces of art and history.
You will find paintings, sculptures, fabrics, crafts, etc. that have been preserved over the years.
---
DETAILS
Museo de Bellas Artes de Granada
Address: Palacio de Carlos V, C. Real de la Alhambra, S/N, 18009 Granada, Spain
Timings: 9 am to 6 pm, Tuesday to Saturday, 9 am to 3 pm Sundays. Closed Mondays
Price: €1.50 per persona
---
Tapas
While tapas is essentially small plates of dishes, no city is quite complete without their share of tapas restaurants and if you're in Spain, you should make sure to try the traditional dishes without fail.
Padron peppers, squids prawns in butter, patatas bravas are just some that aren't just tasty but world-famous!
Bodegas Castaneda, Bodega La Tana are some that are highly recommended.
---
The Feria
If you are lucky enough to be visiting Granada in the month of June, make sure you visit the Feria. It is usually held for 2 days around the second week of June.
You may get to know about the festival if you are present in the city around that time. The festival includes free flamenco and regional music performances. Tents are also set up near the bus station in Granada – the 'feria' site, with the performers then heading to the streets in a long procession over the 2 days.
A lot of locals not part of the procession also dress up in flamenco outfits to join the festivities.
The tents double up as restaurants serving street food during the day and as bars during the night.
---
Even though the journey from Seville to Granada takes a little more time than expected, you should not miss visiting this historic city. Granada will surprise you with its abundance of tourist points.
So, start planning your trip to Granada and let this Spanish beauty sweep you off your feet.
---
Frequently Asked Questions
Is it convenient to drive from Seville to Granada?

Yes, if you own a car or wish to hire one. The distance between the two cities is only about 250 km by road, which is easy to travel by car.
Is Granada worth visiting?

Granada and Seville are both iconic cities of Spain, known for their fine architecture and rich history. If you do get a chance, Granada is totally worth a visit!
Is Granada really a day trip from Seville?

Yes, and one way takes about 2.5 hours but you will need to start your day early to complete visiting the best attractions of the city of Granada.
Is Alhambra in Granada worth visiting?

Indeed! Alhambra, situated on the outskirts of Granada is one of the prominent tourist attractions of the city. It is a complete depiction of monumental history, art, and culture.
How to travel in the city of Granada?

The public transport network in the city is really good and connects almost all major tourist attractions of the city. You may not need a private car to move from place to place in Granada. Taxis, and buses would prove enough and cost-effective.
What food is Granada famous for

Granada is famous for tapas, La tortilla del Sacromonte (an omelet served with sweetbread), La pipirrana salad, papas a lo pobre, etc.
---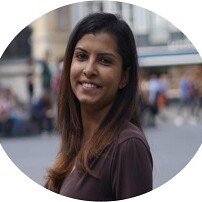 Award-winning Analyst, multi-nominated digital content creator and photographer Lavina Dsouza's words capture stories about culture and tradition mainly through its food and people. She has written and contributed to publications such as The Washington Post, Lonely Planet and Matador Network, to name a few. She is the editor of UntraditionalHumans.com, a non-profit created to share inspiring stories from women of colour who break free from traditions and choose happiness.
She's also a speaker passionate about DEI and champions solo travel. She has collaborated with numerous renowned brands such as Intrepid Travel, TripAdvisor, Travel and Leisure and Adobe, to name a few.
She can be found on Twitter and Instagram.
---
---
---
Some of the links on this post are affiliate links. These do not cost you extra to use, but will help provide Continent Hop with a small commission if/when you purchase through them, to recover some of the costs of running this website and providing free content to help you plan your travel. I appreciate your support!
---