The holiday season is the perfect time to rekindle romance and spend time with your special someone.
Winter brings with it warm fires, cosy blankets, and hot toddies, and there's nothing like snuggling up with your favourite person in the world and watching the frozen world outside from somewhere warm.
The enchantment of the festive season is the perfect backdrop for a romantic getaway, with plenty of destinations decked out in twinkling lights, seasonal decorations, and a plethora of charming events and entertainments for couples to enjoy.
So if you love escaping the cold, wet weather at home and enjoying a more magical winter-y experience, you've come to the right place.
Don't wait any longer to find the best deals for that last-minute cruise – it's time to pack your bags and head somewhere where spirits are jolly and romance and wonder are in the air!
Here are the best romantic winter getaways in Europe for couples to enjoy.
---
Best Romantic Winter Getaways in Europe
---
Heart-warming winter destination of Venice, Italy
---
As the fog rises and mist settles above the canals, the charming Venice becomes an absolute romantic winter getaway in Europe. The early morning Venice in winter, with its historic bridges shining in the warm sun, will steal your heart.
Here are a few things that make Venice one of the best romantic European trips –
A Gondola ride, as cliche as it sounds, is a must. Just not the one in the famous Grand Canal. Opt for one of the lesser-known canals and you will get to experience a romantic ride with little crowds.
It is said that if a couple kisses during a gondola ride underneath the Bridge of Sighs, they will be blessed with eternal love. So, do remember this myth during your Venice Gondola ride.
Book a popular St Mark's Square and Canals Photoshoot. This is the best way to capture gram-worthy memories with your loved one.
Ditch the crowds and head off to the island of Burano. This colourful Italian island is a half-a-day trip from Venice where you can enjoy leisurely strolls.
Make your way to Teatro La Fenice and book your seats for an all-immersive opera experience.
Explore the Dorsoduro district where streets are lined with local eateries, quirky shops, and vintage fashion boutiques. Spend an afternoon exploring the hidden gems around and as the night falls, go bar hopping in this university district.
Hold hands as you take an evening stroll across Fondamenta delle Zattere. This promenade overlooks the Giudecca Canal away from touristy hustle and bustle. You will also find different churches and museums around here to keep you busy.
Who said you cannot enjoy gelato in winter? Grab the authentic gelato, and taste different flavours because this Italian ice cream is a must.
---
Where to stay in Venice?
Luxury hotels in Venice 
Excess Venice Boutique Hotel & Private Spa is one of the top adults-only hotels in Venice.
Enjoy a drink in the garden or spend some time on the sunny terrace, the modern rooms as well as the premises of the hotel offer a lovely stay.
Mid-range hotel in Venice
Hotel Bonvecchiati with its own water landing for gondolas and water taxis has become a popular choice for romantic stays in Venice.
Being able to avoid tourists, staying in a classic Venetian or a modern-style room, and enjoying a drink and food on a waterside terrace here is all you need to complete your romantic trip.
Budget hotel in Venice 
Hotel Rialto is known for its terrace with views of the Grand Canal. As it is located in the heart of Venice, you will enjoy close proximity to many of the top sights.
---
The city of love – Paris, France
---
Paris is always a great destination for your romantic winter trip in Europe. Fall in love all over again in this city of romance as twinkling lights of street markets hide behind a snow flurry and you walk hand in hand with your favourite person.
Paris gets quite cold in the winter season with temperatures getting as low as 3°celsius.
That means packing heavy winter jackets, boots, and scarves, but that also means no crowd to dampen your cosy mood all through the vacation.
Check out some of the most romantic things to do for couples in Paris –
The list starts with the obvious and yet breathtaking Eiffel Tower. Get to the top of the Eiffel Tower and watch Parisian streets and buildings soaking in the evening sun. As the city lights start sparkling and night starts unfolding, go for the Eiffel Tower's Madame Brasserie Refined Dinner where you can dine with spectacular views.
Explore the Christmas markets and enjoy a cup of hot chocolate to keep you warm. The stunning light displays all around mark the festive vibes in the air. Be it the most famous Marché de Noel Notre Dame Christmas market or a lesser-known Swedish Christmas Market, you will find plenty of picture-perfect options in Paris.
The Seine River Panoramic Views Dinner Cruise is a good way to spend some relaxing time with your beloved.
As someone who has grown up watching English movies, I have always admired how ice skating is a fun way to get closer to your dear one. Paris has several ice skating rinks around the city, with the most visited one right on the first floor of the Eiffel Tower.
Paris is one of the best romantic winter getaways in Europe and therefore a perfect place for Wedding Vows Renewal. What can be better than recommitting to your beloved in the city of love?
Plan a picnic and get comfy on the grass of Tuileries Garden. This elegant French park is the ideal site to hang out for some time while munching on your picnic food.
Book this Small-Group Champagne Day Trip from Paris and hear all about techniques for growing and harvesting Champagne grapes from your professional guide. Enjoy champagne tastings as you soak in the picturesque landscapes all around.
---
Where to stay in Paris?
Luxury hotel in Paris
Pullman Paris Tour Eiffel is located at the foot of the Eiffel Tower with amenities like AC rooms and free wifi.
Mid-range hotel in Paris
Novotel Paris Centre Tour Eiffel overlooks the Seine and offers spacious rooms with free wifi and private bathrooms. Their indoor heated swimming pool is definitely inviting for couples, especially in the winter season.
Budget hotel in Paris 
Holiday Inn Paris Gare de l'Est is in the Latin Quarter and is ideal for budget travellers. Attractions like Saint-Michel and Gare du Nord are only minutes away from here.
---
---
Embark on a new adventure at Zermatt, Switzerland
---
Zermatt is the mountain resort town where the snowy Alps invite you for skiing, paragliding, and hiking.
It is even better in December and January, making it one of the most incredible romantic winter getaways in Europe. You can plan for a 2-day stay in Zermatt to cover all the significant places.
Extend your romantic European trip if you want to explore different skiing tracks and hiking trails.
Learn how to ski from experts and enjoy skiing at the Klein Matterhorn-Schwarzsee area. You can also check Sunnegga-Rothorn if you already know how to ski.
Opt for a couples spa session and pamper yourself after a day of skiing or hiking. As you both relax after a tiring day, you will realize why Zermatt has such a peaceful, romantic reputation.
Book a table at Chez Vrony and take your taste buds on a ride at this unpretentious restaurant. Applauded in the MICHELIN Guide for its traditional cuisine and for recipes that are generations old, a romantic lunch cannot get more authentic than this.
If the weather is good, hop on the cog railway and go up to Gornergrat. As the snowy peaks surround you and you start feeling in awe of nature, there could not be a better company than your loved one.
There are a couple of snowshoe trails from the Gornergrat Bahn that offer serene views of the Matterhorn. If you love adventure activities, then this is a good alternative to skiing.
The best way to explore this Alpine resort town is with the guided Village Walk and Mt. Gornergrat Private Tour. You can enjoy the vistas and be a part of the local canvas without worrying about logistical details.
Book a paragliding experience in advance and enjoy the spectacular views from above. Tandem paragliding in Zermatt is one of the popular things to do for couples.
---
Where to stay in Zermatt?
Luxury hotel in Zermatt
Sunnegga-Rothorn is a 4-star property surrounded by mountains. This centrally-located hotel in Zermatt offers a large heated indoor pool, whirlpool, and sauna to pamper you after all the winter adventures.
Mid-range hotel in Zermatt
Hotel Walliserhof Zermatt is proud of its Valais chalet-style architecture and is located right on the shopping street of Zermatt – Bahnhofstrasse. The famous Zermatt-Sunnegga ski lift is only 400 meters from here.
Budget hotel in Zermatt 
Le Petit CHARME-INN is where you get comfortable beds and great breakfast, without breaking the bank. After all the adventure activities, you will love coming back to its rooftop terrace that offers panoramic views of Matterhorn Mountain.
---
Find out the secrets of Lofoten, Norway
---
Lofoten is one of those offbeat romantic winter getaways in Europe where you can see the magical northern lights, surround yourself with rugged nature, and walk on pristine beaches. And that too without having anyone in sight to disturb you.
You will find tiny fishing villages dotting the jagged coastline and hiking trails that will take you deeper into the heart of nature. Svolvær is the largest town on the island and can be the perfect honeymoon destination in Europe where a magical time is guaranteed.
Guided Horse Riding Tour Over Hov and Hovsund are a popular activity as they give you a glimpse into local ways. You will get to see ancient Viking ruins and understand more about the traditional fish-drying process.
Go for winter kayaking in where Svolvær's crystal-clear waters and spectacular shoreline look postcard-perfect. Being one with nature when your significant other is right beside you is an experience that only faraway Lofoten can give.
If you are visiting Lofoten in late winter around February, then one of the best ways to experience this stunning archipelago is to experience it on a cruise!. Don't wait to find the best deals for that last-minute cruise, as it gets expensive the longer you wait!
If the weather permits, then hop on a mountain bike and embark on a leisurely adventure where beautiful views of the surrounding fjords soothe your soul. Romancing with your loved one cannot get better when you are amidst this beauty.
Go to the southernmost town of Å i Lofoten and take a ferry to the Moskenesoya maelstrom. Take a tour of the small fishing museum here. Exploring these off-the-beaten-path sights will bring you closer to your loved one.
Do you want to capture all the romantic moments with a perfect backdrop? Then Lofoten Islands 5-Hour Tour with a Photographer is designed for you.
---
Where to stay in Lofoten?
Luxury hotel in Lofoten
Anker Brygge is located on the busting Svolvær Harbor offering lovely sea or quay views. Enjoy the traditional dishes from this region at the on-premises restaurant and enjoy your stay in cosy rooms.
Mid-range hotel in Lofoten
Valen Cabins in Reine are self-catering accommodations surrounded by the sea and mountains. The privacy you will get here is ideal for romantic winter getaways in Europe.
Budget hotel in Lofoten
Kræmmervika Havn is Ballstad is a modest hotel in Lofoten. This budget-friendly inn has free parking, free wifi, and elegant family rooms.
---
Winter Wonderland in Lapland, Finland
---
Lapland, in the far north of Finland, is the ultimate Christmas destination.
A magical landscape of snow, frost, and fairy-tale Christmas villages, Lapland is everything that Christmas is meant to be.
The main city, Rovaniemi, is the official hometown of Santa Claus, meaning you and your partner can visit Santa's Village and get an audience with the big guy himself!
There are plenty of opportunities for romance as well, with reindeer sleigh rides, husky safaris, and the mesmerizing spectacle of the Northern Lights shining in the night sky.
It is hard to imagine a more perfect romantic adventure than a stay in a glass igloo, gazing up at the wintry stars with the one you love right beside you. That is why Lapland is one of the top romantic winter getaways in Europe.
---
Where to stay in Lapland?
It is recommended to stay in Rovaniemi as this is where all the snowy fun happens. You will find different hotels in Rovaniemi suitable for your budget. Here are a few options –
Luxury hotel in Lapland 
Santa's Igloos Arctic Circle is the best place to stay with your loved one. You will get to stay in modern glass-roofed igloos where all the comfort is provided. Look at the snow outside on a lazy morning or if you are lucky, watch the dancing Northern lights right above your igloo. It is also minutes away from the Santa Claus Village and Rovaniemi Airport, making everything easily accessible.
Mid-range hotel in Lapland
Nova Skyland Hotel is proud of its modern Scandinavian design. Their Aurora honeymoon suites or luxury Nordic cottages will be perfect for romantic winter getaways in Europe.
Budget hotel in Lapland 
Santa Claus Holiday Village, as the name rightly suggests, is located right in the heart of the Santa Claus Village. The family rooms here come with all the necessary amenities and you will also find 2 restaurants on the premises.
---
Romantic seclusion in Santorini, Greece
---
While Greek island getaways are usually associated with summer, Santorini is the perfect choice to get away from it all over the winter.
You can enjoy the charm of Oia's sunset views without having to jostle with Instagram influencers, and the island's wineries and tavernas are still open for business, just right for romantic winter getaways in Europe.
Do you know that Eros is the Greek god of love and desire? Expect the same vibes from the beach named after him! Eros Beach in Santorini. This secluded beach is perfect for a romantic stroll with your loved one.
The Sunset wine-tasting tour will take you to 3 traditional, picturesque wineries and introduce you to Santorini's viticulture. If your idea of romance is chasing the sunset with your beloved, then this is for you.
Take a cooking class in Santorini together and enjoy a traditional meal where a private chef will tell you the secrets of Greek cuisine.
---
Where to stay in Santorini?
Luxury hotel in Santorini
Athina Luxury Suites in Fira stay true to its name and pamper you with grand services. The sun terrace with panoramic views of the Caldera and the volcano here is perfect for spending some romantic time in Santorini.
Mid-range hotel in Santorini
Ducato Di Oia is located on the cliffs and is ready to take you away from all the hustle and bustle of Santorini. Look at the magnificent Aegean Sea and volcano views while standing hand in hand in your luxuriously decorated room.
Budget hotel in Santorini
Phaos Santorini Suites in Fira is light on your pockets and yet offers all the tranquillity you need for a romantic Europe trip. It's a traditional Cycladic-style hotel in Santorini where all the basic amenities are taken care of.
---
I would definitely head to Lofoten and enjoy all the serenity it offers.
What is your favourite romantic European destination? Which of these romantic winter getaways in Europe are on your bucket list?
---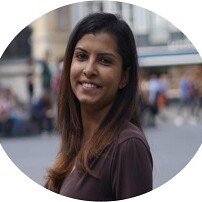 Award-winning Analyst, multi-nominated digital content creator and photographer Lavina Dsouza's words capture stories about culture and tradition mainly through its food and people. She has written and contributed to publications such as The Washington Post, Lonely Planet and Matador Network, to name a few. She is the editor of UntraditionalHumans.com, a non-profit created to share inspiring stories from women of colour who break free from traditions and choose happiness.
She's also a speaker passionate about DEI and champions solo travel. She has collaborated with numerous renowned brands such as Intrepid Travel, TripAdvisor, Travel and Leisure and Adobe, to name a few.
She can be found on Twitter and Instagram.
---
---
---
Some of the links on this post are affiliate links. These do not cost you extra to use, but will help provide Continent Hop with a small commission if/when you purchase through them, to recover some of the costs of running this website and providing free content to help you plan your travel. I appreciate your support!
---