Winter in Morocco is perfect as its off season. It is budget friendly however it can get chilly at times. Yet, December in Morocco is one of the best times to visit so here's all the info you need for an unforgettable trip!
Marrakech in December was warm: perfect for a winter getaway.
It was also an excellent foodie destination with lots of options for shopping. The evenings were pleasant however the nights did get cold.
Growing up in India, the weather here felt closer to how it was there, making it just right to get away from the cold and winds in London!
However, when we were passing through the Atlas mountains making our way to the Sahara, we could instantly notice the drop in temperature.
Morocco is vast and the landscape varies a lot however Morocco in winter is one of the best times to visit this exotic location, so here's all your questions answered so that you craft a great itinerary for a perfect getaway !
---
Morocco in winter
All the info you need to spend a sunny time in December in Morocco
---
Weather in Morocco in December
Winters in Morocco are not quite as harsh as they can be in a lot of countries. December is still early winter in Morocco with plenty of sunshine to keep your days warm and just the right amount of chill in the air at night.
One thing to keep in mind, though, is that it does rain more in winters in Morocco than it does in the summer. December is considered to be one of the rainiest months in Morocco.
In places like the Atlas Mountains which are high up in altitude, temperatures can definitely drop and you can even experience some snow.
However, in the plains of Morocco, such as places like Marrakech, the temperatures average around 15 degrees during the day.
Compared to most other countries of the northern hemisphere, winters in Morocco are much milder – and feel more like autumn!
---
Places to visit in Morocco in winter
There's quite a few places you can visit in December in Morocco.
Marrakech, Merzouga, Casablanca, Chefchaouen, Rabat, Fes seem to be the usual popular options. A Morocco road trip is the best way to see more of this country in a short time and public transport isn't the most dependable here.
December in Marrakech: Is pleasant, warm and quite busy as it is after all the capital of the country with most international flights landing here. The evenings and nights tend to be quite chilly and you will need a shawl or a scarf here during the evenings.
Early morning are a little chilly too however past 9 AM or so it starts to get quite warm and you can walk around and explore the Marrakech souk, in shorts if you feel like it.
You may be able to find riads with heating however most of them do provide warm sheets so you should be fine anyway.
December in Merzouga: Can be quite cold! You will feel the shift in temperature as you head from Marrakech to Merzouga.
As there aren't solid walls in the Sahara, camping in the desert can be quite cold and you will need a few layers. There isn't any heating in most places and bathrooms (and toilets) are shared so make sure you layer well as it'll be freezing from evening till noon the next day!
Due to this, prices tend to be lower for a 3 day tour from Marrakech to Merzouga in winter.
Temperatures usually tend to be usually between 12 degrees to 20 degrees in most cities with temperatures dropping below 5 degrees in the Sahara.
For average temperatures in each city, please refer to the forecast here.
Best times to visit Morocco
The spring months of March through May and the autumn months of September and October is the best time to visit Morocco.
Not only is the weather pleasant and warm during these times, but there are also fewer people around. However, the coastal areas continue to experience tropical weather with fewer temperature changes.
Temperatures in December in Morocco are pleasant and warm and it can be a good time to visit. An exception here would be the Sahara desert which can get freezingly cold if you don't layer up.
---
Things to Do in Morocco in December
The sunny days of winter Morocco can help you experience the great outdoors of Morocco – things you could not have otherwise done in the harsh and exhausting Moroccan summers.
Here's an itinerary for Morocco that can be used throughout the year but these activities can be enjoyed especially in winter.
Here are some of my favourite things to do and places to visit in Morocco in December –
Go hiking
While most people only think of Morocco in terms of culture, food and bustling bazaars, there's one thing that is often overlooked by a lot of people – and that is hiking in the High Atlas Mountains of Morocco.
Hiking can be the perfect thing to do while visiting Morocco in winter. The sun won't be beating down on you, the temperature will be just about right and you won't get as easily exhausted.
The only thing to keep in mind, however, is that days are shorter during the winters. So if you decide to go hiking in Morocco, make sure you have a solid plan in place and take a trekking guide along. Some of the best hikes around Morocco while visiting Morocco in December are:
Mount Toubkal

Jbel Saghro

M'Goun Massif
Enjoy a day in the Sahara Desert in Merzouga
If you planned your trip around Morocco to experience the greatness of the Sahara Desert, visiting Morocco in December would be ideal for you. The summers in the Sahara can (imaginably) get quite harsh.
Imagine the hot sun above and the hot sand beneath for miles at a stretch. Sounds like the perfect recipe for a heatstroke doesn't it! Impressive how the Sahara is home for the Berbers – come rain or shine.
But, I digress. If you – as a tourist – want to get the most out of a day in the Sahara Desert, let it be in the winter months.
The heat won't be unbearable and the cool breeze blowing over the desert will actually make your trip all the better. Be prepared, though – winter nights in the Sahara Desert can get very cold so make sure you have enough layers to put on once the sun goes down.
Staying in the desert is highly recommended and tends to have limited spaces so this multi-day tour to the Sahara with Marrakech pickup is one of the best!
---
Explore Jemaa el-Fnaa in Marrakech
If there's one thing worth exploring in Marrakech – it has to be the lively madness that Jemaa el Fna is. As is with most places around the plain of Morocco, walking around the Jemaa el-Fnaa in the summers can be an exceptionally dehydrating experience.
And thus, nothing comes close to the perfection that the winter sun brings with it as you take a stroll around the market centre's many shops and food stalls.
Once the sun sets, it can be an extraordinary experience trying out wholesome soup bowls and other winter foods from Morocco like the snail broth!
---
Go around the Blue Pearl of Chefchaouen
The city of Chefchaouen is definitely one of the most Instagrammable spots in all of Morocco.
With its blue buildings everywhere you go, decked up with green plants and flowering vines, Chefchaouen is as beautiful as it gets.
Navigating these blue lane's under the warm winter sun is an experience in itself that should not be missed. So if you're visiting Morocco in December and planning to get some beautiful shots for yourself, make sure to head to Chefchaouen.
---
Relax by Tamouda Bay in Tangier
Tangier is a very relaxed, port city that is perfect to enjoy the winter sun. Though Morocco in December is one of the rainiest months, the sun is almost always out in Tangier, making it the best place while visiting Morocco in December.
The temperature stays a little above 18 degrees during the day in Tangier so it's pleasant and sunny – just the perfect combination to enjoy some time by the sea.
There's a lot to do in Tangier but Tamouda Bay is definitely where I'd be while visiting Morocco in winter.
It's got pristine sandy beaches and a host of seaside properties to choose from!
Don't forget to check out Cap Spartel, Caves of Hercules, Tetouan and Martil while visiting Tangier.
---
Try skiing in the Atlas Mountains
As someone once said, Morocco is the only country where you can be spending time in a desert one day, and going skiing the very next – and I love how true this is!
It's incredible how diverse Morocco's landscapes are – from beaches to a full-blown desert and high latitude mountains – who would've thought you can find all this and more in Africa!
Having said that, one of the best Morocco in December activities to do is try out the ski slopes on the High Atlas Mountains without a doubt.
If you're the one to love the soft powder that winter usually brings with it, skiing in the Atlas Mountains should definitely be high on your bucket list. Moroccan ski resorts like Ifrane, Oukaimeden and Tazaghart are the best places to have some ski fun here.
Though later in the season is when you'll get the best ski conditions, the season begins in December and goes all the way till April.
Worth checking this Atlas mountain skiing tour with pickup from Marrakech if you'd like to try skiing in Morocco!
---
Check out Rock Climbing
Rock climbing is yet another great outdoor sport to try in Morocco in December. The region from the Atlas Mountains all the way to Todra Gorge is known for its vertical cliffs which are home to some fantastic climbing routes.
The best way to indulge in this sport is to find a trusted local rock climbing guide and check out the best routes depending on your skillset. From top-roping to bouldering, there are several disciplines you can try here – a great way to sweat it out and keep warm in the chilly winters of the mountains!
If you're passionate about hiking and climbing, this multi-day guided trek to Mount Toubkal is highly recommended with pickup from Marrakech!
---
Test out the Surf Breaks around Agadir
Morocco has no dearth of outdoor adventure activities to try so here's another one to look out for while visiting Morocco in December – surfing!
Though surfing is generally a summer sport, the largest swells can be found only in the winters in Morocco. So if you're a true salty at heart, you'll brave the chill of the Atlantic Ocean and go ahead on to riding those swells to the shore!
Agadir is usually the perfect base as most surf spots are around this town itself. Tamari, Essaouira and Sidi Kaouki are the hotspots for surfing in Morocco.
However, don't expect full-blown surf towns here but rather laid-back, offbeat spots that are often beyond the scope of regular tourists.
Here's a guided surf tour with pickup from Marrakech that's highly recommended!
---
---
Festivals in Morocco in winter
---
Tan Tan Moussem
In Berber traditions, a 'moussem' means an annual gathering of economic, social or cultural significance.
The Tan Tan Moussem is an annual festival where over thirty tribes from southern Morocco and other parts of Northwest Africa gather in the town of Tan-Tan in southwestern Morocco.
Usually held in early December, this is an amazing cultural fanfest with a large number of traditional activities such as camel races, horse competitions, folk dances and traditional food items can be experienced.
If you're around Morocco during the first week of December, this festival should definitely be on the top of your list!
---
Marrakech International Film Festival
Visiting Morocco in December can also turn out to be a real treat for movie and art lovers. The annual Marrakech International Film Festival features short films, video projects and other photography by both Moroccan and international artists.
This is a beautiful gathering of people coming together to celebrate their shared love for visual art – and also discover lesser known, up and coming artists.
---
New Year's Eve
Though traditionally, Morocco celebrates the new year according to the Berber calendar (which falls sometime in early to mid January), the larger town and cities of Morocco can get really lit up during new year's eve.
Expect big parties or quiet dinners – whatever is your jam. Another great idea may be spending the new year's eve in the Sahara Desert under the starry night sky – an experience worth remembering for sure!
---
Christmas in Morocco
Though Morocco is an Islamic country, it won't be hard to find some Christmas fanfare while visiting Morocco in December because of the sheer number of Western tourists the country gets.
There are also quite a few churches in the big cities of Morocco where you can attend a service if that's what you like – but these services will mostly be held in either Spanish or French. Tourist cities like Marrakech, Casablanca and Rabat might have some more Christmas-themed festivities around.
But it's important to not expect too much as Christmas for them is mostly about appealing to the Western tourists and is not really a part of their culture.
---
What to Wear in Morocco in winter
While Morocco in December is definitely a much warmer country than most others, it is important that you don't go expecting tropical climates.
High altitude places like the Atlas Mountains can get especially cold and you might even get to see snow (temperatures can drop down to 0 degree celsius as well). Coastal areas are definitely warmer and sunnier but can also get really windy – so can the Sahara Desert.
So there are a few staples that should be in your suitcase when you pack while visiting Morocco in December:
Warm base layer

Woollen beanie

Windcheater/ down jacket

Trekking boots if you plan to go deep in the Atlas Mountains

Warm buff for skiing

Woollen socks

Sunscreen

Sunglasses

Umbrella/ rain jacket
---
Would I visit Morocco in winter again? I sure would!
However this time I would be more prepared from experience: have thermals ready for the desert, and have just the right items to carry in my backpack when heading out into the Sahara on my camel!
December in Morocco is an ideal festive getaway and you will return with many beautiful memories!
---
December in Morocco in Winter – Frequently Asked Questions
What's the weather like in Morocco
The weather is mostly pleasant during Morocco winter. The days are warm and sunny (apart from when it rains) and the nights are cold and chilly. Depending on where you are, it can also get super windy like the Sahara Desert and the coastal places by the Atlantic Ocean.
High altitude places like the Atlas Mountains also receive snow in December in Morocco.
What's the weather like in Marrakech
December weather in Marrakech is mostly pleasant. The days are sunny with an average temperature of 17 degrees celsius. The nights get chilly and cold so it's best to layer up before sundown.
December is also the rainiest month of Morocco, so best to be prepared with an umbrella or rain jacket and extra pair of dry socks.
Is December good time to visit Morocco?
December is generally a great time to visit Morocco – especially if outdoor activities like skiing, hiking and surfing are your jam.
Since December is also off-season, you will see far thinner crowds and most places will be cheaper to stay. So all in all, December in Morocco is a good time to visit.
Can you swim in Morocco in December?
Swimming is possible in Morocco in December in places like Tetouan…but with a wetsuit! Though it's mostly sunny along the coast, the sea temperature averages at around 17 degrees celsius.
Swimming and surfing are common here at this time of the year, though but with proper swimwear to beat the chilly water.
Does Morocco get snow?
Morocco most definitely does get snow! Especially in the higher up regions of the Atlas Mountains and Todra Gorge. The best months to experience snowfall in Morocco is from December until March.
---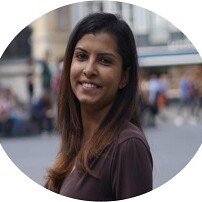 Award-winning Analyst, multi-nominated digital content creator and photographer Lavina Dsouza's words capture stories about culture and tradition mainly through its food and people. She has written and contributed to publications such as The Washington Post, Lonely Planet and Matador Network, to name a few. She is the editor of UntraditionalHumans.com, a non-profit created to share inspiring stories from women of colour who break free from traditions and choose happiness.
She's also a speaker passionate about DEI and champions solo travel. She has collaborated with numerous renowned brands such as Intrepid Travel, TripAdvisor, Travel and Leisure and Adobe, to name a few.
She can be found on Twitter and Instagram.
---
---
Have you ever visited any small towns in Morocco?
I'd love to hear in the comments below!
---
---
Some of the links on this post are affiliate links. These do not cost you extra to use, but will help provide Continent Hop with a small commission if/when you purchase through them, to recover some of the costs of running this website and providing free content to help you plan your travel. I appreciate your support!
---