The Osuna Harbour Game of Thrones filming location is a little offbeat as many aren't aware of this location in Andalucia! This guide will tell you exactly where to go, things to do in Osuna, including how to get from Seville to Osuna and if there's a Osuna game of thrones museum!
Do you know when I first heard the name 'Osuna'? Being an avid traveller, you might think that I learned about Osuna even before this idyllic tiny Spanish town made an appearance in the popular Game of Thrones series.
But pardon my ignorance, it was a fellow GOT enthusiast I met at Royal Alcazar of Seville who introduced me to this beautiful town. "I am heading to Osuna after my Seville GOT trip. Do you want to tag along?" She asked.
That's how my trip to Osuna Game of Thrones happened and I am so glad it did.
As it was way back in 2016, GOT filming locations in Spain were yet to gain all the fame they have today.
Osuna Bullring is used as Daznak's Pit in Meereen with less than 20 minutes of on-screen filming. That has helped to put the long-forgotten town of Osuna, Spain on a tourist map in a matter of days.
The distance from Seville to Osuna is only 90 kilometres.
So, I was able to make a quick day trip to Osuna where this town surprised me with a lot more than just a historic bullring. Read on and I bet you will long to be in Osuna by the end of this blog.
---
Popular choices for Osuna Game of Thrones trip –
Hotels in Osuna –
Osuna Game of Thrones tours –
---
Osuna Game of Thrones
---
How to reach Osuna?
Osuna is easily accessible from Seville with the Seville Airport being only 75 kilometers away. You can reach Osuna from Malaga as well.
The Malaga Airport from Osuna is around 83 kilometres. Both cities are well-connected to Osuna by road and public transport.
It takes a little more than an hour to go from Seville to Osuna. There are regular buses as well as direct trains that will take you to your Osuna Game of Thrones tour.
But the best option is to either take a taxi or rent a car and drive yourself to Osuna. There is nothing like a good road trip to actually get to know the country. You can plan for a Game of Thrones Osuna day trip where you can combine a road trip with a GOT tour.
If you are in Malaga, you will find similar travelling options to reach Osuna.
It's just that buses and trains are not as frequent and take more than 2 hours to cover the distance. Renting a car will help you be flexible with your trip plan.
---
Game of Thrones Osuna : Filming Locations
---
Plaza de Toros is the famous Osuna Bullring that made an appearance in Game of Thrones season 5.
This is where the battle of Danzak's Pit was filmed as part of the Osuna Game of Thrones shooting. It is said that the Great Pit of Daznak in the city of Meereen is the largest fighting pit.
So, to ensure Osuna Bullring matches the description a couple of extra seating rows were added to the top. But that's the only thing that CGI changed about the Plaza de Toros.
Everything else was kept the same and yet, it maintained the look of Danzak's Pit without disappointing GOT fans. The Osuna Bullring was opened to the public in 1903 and could accommodate over 5,000 people at a time.
This is the place where the Sons of the Harpy, who did not want Daenerys to free the slaves of Mereen, attacked her.
This is the place where the Sons of the Harpy circled around Daenerys and her protectors, with the intent to kill everyone.
I remember holding my breath during this scene, praying for a miracle that will help Khaleesi get away from the battle alive. And shortly my prayers were answered and that miracle appeared in the sky of Meereen with wings wide open and breathing fire.
Yes, this is where Drogon comes to the rescue and allows Danny to ride him for the first time. It is like this rebellious child chose the perfect moment to show how to love his mother.
---
---
If only one site was used for Game of Thrones filming in Osuna, why this needs to be a part of your Spain itinerary, you may wonder.
Because the town of Osuna is not only about which scenes were filmed here and how many tours cover this tiny area located in the foothills of the Sierra Sur.
It is about how the filming of one of the few scenes from one Game of Thrones episode transformed Osuna overnight.
When news got out that Game of Thrones will be shot in Osuna, more than 80,000 people in as well as out of Spain applied to be extras. Out of these, only a few thousand were selected.
These extras along with the casts and crew of GOT arrived in Osuna and suddenly, this Spanish town was put on the tourist radar. It is quite a surprizing fact that many of the locals had not even heard about the world-renowned Game of Thrones series till then.
Even though Osuna is located so close to major cities like Seville and Malaga, cable TV was considered a luxury.
But apparently, it only needed one visit from Khaleesi and Drogon to enter the world of Game of Thrones. If you are interested in more such trips, then do check this Malta Game of Thrones guide.
---
Game of Thrones Osuna tours
There are not many tour operators that conduct separate tours for Osuna bullring. You will find some Seville tours that have the option of including a visit to Osuna. It is usually a half-day trip from Seville where only Plaza de Toros is covered.
I would suggest choosing one of these Osuna tours if you have limited time in Seville and still want to cover this Game of Thrones filming location.
---
Things to do in Osuna
The rows of white houses stand amidst the mountainous landscapes.
The streets, lined with orange trees, are mostly quaint during the week with only a few tourists wandering around. The combination of mansions and churches dotting Osuna is the window to the town's rich past.
When descendants of Pedro Téllez de Girón took charge of Osuna during the 15th century, the beautification of this Spanish town started for the first time.
What we see today are the well-preserved buildings and landscapes that will take you back in time. It is surprising how a small town like Osuna has so many gems hidden up its sleeves. Take the Osuan Game of Thrones day trip and you will get a chance to explore all the sights this town has to offer.
---
Osuna Game of Thrones Museum
Considering this is the guide for Game of Thrones Osuna, this quirky museum deserves the top place on the list of things to do.
It has two rooms where GOT memorabilia is displayed, including everything from cast photos and series props to signed artefacts and costumes. You will also get to see the collection of weapons like a Dothraki sickle sword and a dragon glass dagger here.
The life-size Son the Harpy replica and the full-size white walker are the ones that I found interesting. The museum rooms are aptly called Salón de Hielo y Fuego, that is, Ice and Fire Hall to honour this fascinating series.
Even though Osuna Game of Thrones Museum is a small one, it is a must for every GOT enthusiast.
Collegiate Church of Our Lady of the Assumption
Collegiate Church of Our Lady of the Assumption is a catholic church dating back to the 16th century.
The main attraction here is the group of five chapels where Renaissance-style architecture and art steal the show.
The preparation room is converted into a museum where you will find a carving by Juan de Mesa along with five paintings by José de Ribera.
---
Monasterio de la Encarnación
Monasterio de la Encarnación is located a stone's throw away from the Collegiate Church.
Today, this hospital-turned-monastery is home to the Museum of Religious Arts of Osuna. Well worth the visit during your Osuna trip, Monasterio de la Encarnación is also one of the 16th-century structures that dot the town.
The only drawback is it can only be visited if you are part of the guided tours arranged by the nuns here and these tours may operate on flexible timings on most days.
So, stop by Monasterio de la Encarnación and check if the guided tour schedule suits your itinerary.
---
Calle San Pedro
The delightful Calle San Pedro caught the eye of many even before GOT cast and crew visited the town. UNESCO declared this as one of the most beautiful streets in Europe in 1967 and was considered an important Historic-Artistic Site.
You will find several 16th-century palaces lining the street with their well-preserved, unique facades.
Of course, Europe has numerous other breathtaking streets that draw more tourists, but nonetheless, Calle San Pedro is Osuna has the potential to steal a piece of your heart.
---
Old University of Osuna
Visiting the architecturally as well as historically important building of the Old University of Osuna is one of the top things to do in Osuna.
With a square courtyard and four towers, the university building stands apart from other landmarks in the town. It was used as the education centre from 1548 until 1824 only.
Then again, after a gap of centuries, university-level studies resumed here in 1995. You can take a guided tour of the University of Osuna on Saturday, Sunday, and public holidays.
---
Coto de las Canteras
The historical landmark of Coto de las Canteras has turned into one of the popular tourist attractions in Osuna.
This is the natural sandstone auditorium where a quarry is also located. It is said that wild bears used this place to drink water. You will spot the huge reliefs on the entrance even from afar.
These look like ancient Egyptian statues but are actually recent representations of a necropolis located nearby. Its capacity to accommodate 1400 people makes it the largest natural auditorium in Spain.
---
Cilla del Cabildo Colegial
You will come across this well-ornate Cilla del Cabildo Colegial while walking around Osuna. The beautifully carved entrance of the palace has the sculpture of La Giralda tower in Seville.
You will also find the patron saints Santa Justa and Santa Rufina carved here. Even if it is not open to the public, you can easily walk by and appreciate the beautiful markings.
---
Iglesia de Santo Domingo Parroquia Ntra. Sra. de la Asunción
The Church of Santo Domingo – Parish of Our Lady of the Assumption is another 16th-century place of worship in Osuna.
You will find several chapels around and the inside of the church has a collection of interesting works of art. The altarpiece made by Jerónimo Hernández and Diego de Velasco is the main attraction. As it is located right near Plaza Mayor, you will spot the brick structure without any difficulty.
---
Plaza Mayo
Plaza Mayor is the main town square located in the heart of Osuna. As it stands true to most European towns, you can wander around the square to feel the pulse of Osuna.
This is where some of the famous 16th-century landmarks can be found including Iglesia Convento de la Concepción, the arch of La Puerta de Teba, and the Town Hall.
A few cosy cafes and restaurants are also here, taking care of your breakfast and tapas cravings.
---
---
Hotels in Osuna
Most people choose Osuna as their one-day trip destination from Seville or Malaga.
If you are one of the few who like to stay in Osuna and soak in the local essence for a day or two, then there are some hotels in Osuna where you can find a comfortable, cosy stay.
Palacio Marques de la Gomera is the most popular choice as this is the place where the Osuna Game of Thrones cast stayed during their filming.
The 18th-century building, the charming interior courtyard along with the original Baroque façade are the highlights of the premises.
The AC rooms with their antique furnishings are enough to make your stay pleasant. The best part is this Game of Thrones Osuna hotel is located on San Pedro Street in the heaty of the town.
If you are planning this Osuna trip last minute, the chances are this GOT hotel might be all booked. In that case, you can check out the beautiful Hotel Las Casas del Duque. The classic-style decor and patios along with free wifi and private parking are the few amenities.
La Casona de Calderón Gastronomic & Boutique Hotel is also amongst the popular Osuna hotels. Located in the Old Town, this place is ideal if you want to explore the best of the town.
---
Where to eat in Osuna?
Now that you are on your Osuna Game of Thrones tour, you deserve an immersive GOT experience. So, all you have to do is head off to Casa Curro for lunch.
This traditional tapas bar restaurant had become the unofficial eating joint of GOT cast during the filming. This is where Tyrion Lannister and Emilia Clarke used to eat after taming the fictional dragons all day long.
This eating joint became so famous that the chef actually invented Game of Thrones-inspired dishes and added those to the menu. The Khaleesi salad with spinach, avocado, and berries is a must when you are in Osuna.
Other popular options include Restaurante Cantina Kulinaria and Doña Guadalupe Restaurante. Do stop by to satiate your hunger after you are done exploring the quaint Osuna.
---
 So, now that you know this hidden Game of Thrones town is located near Seville and Malaga, when are you planning your Osuna Game of Thrones trip?
Spend as much time as you can and quaint Osuna will be a memorable experience.
---
Osuna Game of Thrones FAQs
Is Osuna Spain worth visiting?
Yes, it is worth taking a day trip to Osuna from Seville and Malaga. Osuna is a sleepy, little village where a few scenes of the world-renowned Game of Thrones series were filmed. It also has several 16th-century landmarks and palaces that are well-preserved. It was put on the tourist map when UNESCO declared this as one of the most beautiful streets in Europe in 1967.
Osuna became popular when a few scenes of Season 5 Episode 9 of Game of Thrones were filmed in Osuna Bullring. It is also known for Osuna Game of Thrones Museum, Collegiate Church of Our Lady of the Assumption, and Old University of Osuna.
What part of Game of Thrones was filmed in Spain?
Peñíscola in the Valencia region was used to create the city of Meereen. The 11th-century Castell de Santa Florentina in Barcelona was House Tarly in Game of Thrones. Other Spain GOT filming locations include Seville's Alcazar Palace, The Roman Ruins of Itálica, the Seville Shipyard, and the Osuna Bullring.
---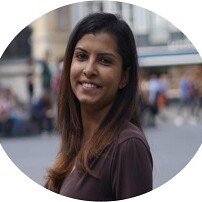 Award-winning Analyst, multi-nominated digital content creator and photographer Lavina Dsouza's words capture stories about culture and tradition mainly through its food and people. She has written and contributed to publications such as The Washington Post, Lonely Planet and Matador Network, to name a few. She is the editor of UntraditionalHumans.com, a non-profit created to share inspiring stories from women of colour who break free from traditions and choose happiness.
She's also a speaker passionate about DEI and champions solo travel. She has collaborated with numerous renowned brands such as Intrepid Travel, TripAdvisor, Travel and Leisure and Adobe, to name a few.
She can be found on Twitter and Instagram.
---
---
EXPLORE MORE OF GAME OF THRONES
---
Some of the links on this post are affiliate links. These do not cost you extra to use, but will help provide Continent Hop with a small commission if/when you purchase through them, to recover some of the costs of running this website and providing free content to help you plan your travel. I appreciate your support!
---