Barcelona is the city that deserves the perfect Barcelona itinerary 5 days. Check this well-researched travel guide for Barcelona in 5 days that covers everything from Sagrada Familia to Montserrat Monastery. It also recommends some of the best Barcelona 5 days tours.
The Spanish city of Barcelona with its towering Sagrada Família church highlighting its skyline was always one of the top places to visit in Europe on my list.
And when I finally got the chance to spend 5 days in Barcelona, it did not disappoint me one bit.
Is it touristy? Sure!
Is it worth all the time and effort? Sure again!
The city where Antoni Gaudí's captivating designs are standing tall and where artists like Pablo Picasso stayed and flourished is a must.
So, here is the Barcelona itinerary 5 days that I followed and loved all the experiences it showered me with.
If you still wonder 'is 5 days in Barcelona enough?, then the only way to find out is to read on!
It will also help you understand what is the best time to visit Barcelona, the Barcelona hotels that are budget-friendly as well as comfortable, and what to see in Barcelona in 5 days to make the most of your time.
Barcelona itinerary 5 days at a glance
Day 1: La Rambla – La Boqueria Market – Gothic Quarter – Barcelona Beach
Day 2: Gràcia – Park Güell – Sagrada Familia – Casa Mila – Casa Batlló – Tapas crawl
Day 3: Day trip to Montserrat Monastery
Day 4: Montjuic Castle – Barcelona Botanical Garden – Olympic Stadium – History Museum of Catalonia – Flamenco show
Day 5: Palau de la Música Catalana – Ciudadela Park – Picasso Museum – Aquàrium Barcelona
---
The best time to visit Barcelona
Barcelona, a city blessed with a Mediterranean climate, is a year-round destination.
The weather in Barcelona is not too hot in summer and not too cold in winter, making it a perfect destination in Europe.
The summer months from June to September are the peak tourist season in Barcelona.
I recommend against visiting Barcelona in July and August when the city is flooded with travellers from around the world.
The public transport is crowded, the tourist attractions have long waiting lines, everything needs to be booked in advance, accommodation and flights are priced higher, and even after bearing everything, you will still not be able to explore popular attractions peacefully.
The months of spring from March to May or the autumn season in October make for the best time to visit Barcelona. Your 5 day trip to Barcelona during this season will be a fun affair.
I love Barcelona during the shoulder season as the temperature is warm and there are fewer tourists.
---
Getting around Barcelona
Barcelona is easy to explore with the help of public transport as it has metro, bus, and taxis. This Spanish city is also bicycle-friendly.
You can purchase the Hola Barcelona Public Transport Travel Card as this public transport ticket allows you unlimited, free access to transportation networks. When you have
5 day Barcelona itinerary, you can purchase the 120-hour ticket as it will be a budget-friendly option.
For a different experience, you can rent a bicycle to get around Barcelona. There are several bicycle stands in the city and there are separate bicycle paths along with sidewalks.
If you are anything like me, I bet you already feel less enthusiastic about this option! So, here is an easier version for you – Barcelona e-Bike Gaudí Highlights or Bohemian Neighborhoods Small Group Tour.
You will get to explore the city's best highlights with a professional guide without cycling all day long.
You can also consider Hop-on Hop-off Bus Tour in Barcelona. The tickets are valid for 24 hours or 48 hours only.
---
Barcelona Itinerary 5 days
For me, 5 days in Barcelona are enough to feel the pulse of the city.
Every day can be a fiesta with a variety of things to do and activities to enjoy.
From Sagrada Familia to Montserrat Monastery, you can do it all when you visit Barcelona in 5 days.
So, here I am sharing the Barcelona itinerary 5 days that worked well for me when I first visited this Spanish city.
You will find a combination of popular tourist attractions in the heart of the city as well as day tours that will take you away from all the hustle and bustle.
It is designed considering you are arriving in Barcelona early morning on the first day and dedicating most part of the day to sightseeing. Consider tweaking this Barcelona  5 day itinerary according to your flight timings.
---
Barcelona Itinerary 5 days – Day 1
La Rambla – La Boqueria Market – Gothic Quarter – Barcelona Beach
As cliche as it may sound, exploring La Rambla on the 1st day in Barcelona is the perfect way to start your trip.
How can a simple stretch of the street become one of the most popular tourist landmarks in Barcelona, you may wonder.
Take a walk and you will be greeted with small kiosks, trendy shops, human statues, florists, performers, and famous buildings like the Palace of the Virreina.
You name any form of touristy entertainment and you will find it along La Rambla. The cocktail of history, architecture, culture, food, and shopping is enough to sweep you off your feet.
You will also find the market of La Boqueria here.
This sprawling public market dates back to as early as 1217 and has changed many names and forms over the centuries.
Today, with more than 400 stalls, La Boqueria will take your taste buds on a ride. You will get to taste traditional Catalan cuisine and different local delicacies.
For a true foodie like me, Paella Cooking Experience & Boqueria Market Tour proved to be an interesting experience. I will recommend booking this during your Barcelona 5 days tour to be a part of the local canvas.
One of the best food markets in Europe, La Boqueria is an ideal place to have lunch during your 5 day itinerary Barcelona.
Next, head to the Gothic Quarter. The charm of this area lies in the winding medieval streets dotted with quirky clubs, bars, and traditional Catalan restaurants.
You will come across Barcelona History Museum, Barcelona Cathedral, Plaça de Sant Jaume, and  Plaza Real here.
Depending on your interests, you can choose which places to visit and which ones to skip. I recommend taking a guided Old Town and Gothic Quarter Walking Tour as it will cover all the important sights here. It will also help you shop at La Boqueria.
End your day 1st day of Barcelona 5 days itinerary with Barcelona Beach.
It is a popular beach for taking a dip in the water or simply lounging around. There are several food stalls and cafes nearby. So, dinner is sorted when you are at Barcelona Beach.
Barcelona Itinerary 5 days – Day 2
Gràcia – Park Güell – Sagrada Familia – Casa Mila – Casa Batlló – Tapas crawl
Gracia, amongst the popular neighbourhoods in Barcelona, has so many interesting sights and places that it can be a small town in itself.
It deserves an entire day dedicated to it, if not more. So, when you wonder what to see in Barcelona in 5 days, Gràcia tops the list.
Start your day in Gràcia and you will realize how proudly traditional this district is.
Even with numerous tourists hitting every corner of Barcelona, Gràcia has preserved its Catalan charm. The combination of art galleries, boutiques, Catalan bistros, and wine bars ensures to make it entertaining.
Your first stop can be Park Güell where the magic of Antoni Gaudí will unfold in front of your eyes.
Not just one of the largest green spaces in the city, but this is a UNESCO World Heritage Site. Gaudí's ornamental creations, sculptures, and mosaic buildings woven with symbolism make it a captivating site.
I am glad I wore comfortable shoes for this day because sprawling  Park Güell needs a lot of walking around.
Who would have thought the unfinished church will catch the attention of so many across the globe?
But this is what Sagrada Familia has done. Another one of Gaudí's creations, this church is being built since 1882. In fact, Gaudí is buried in the crypt here in 1926.
The Art Nouveau, Gothic Revival architectural styles combined with modernism make it way ahead of its time.
Your 5 days Barcelona itinerary is incomplete with a visit to the Sagrada Familia. So, reserve at least 2 hours for this extraordinary church.
What worked well for me was booking this Skip the Line: Park Guell and La Sagrada Familia Guided Tour.
It saved so much time that I could easily cover other attractions that day. The local guide explained even the minute details so well that this tour is still one of my memorable experiences.
Casa Mila and Casa Batlló will probably take an entire afternoon.
Your itinerary for Barcelona in 5 days is incomplete without these Gaudí's these designs.
Casa Mila is known for its quarrylike facade and now hosts exhibitions as well as concerts. Casa Batllo's curving dragon-roof is an eye-catching feature and this place has turned into a museum today.
Reserve your evening for Tapas and Wine Small-Group Walking Tour.
With 9 tapas tastings in 4 different authentic restaurants, this will surely be the best way to end your day.
---
Barcelona Itinerary 5 days – Day 3
Day trip to Montserrat Monastery
Montserrat Monastery tour from Barcelona is a much-anticipated experience amongst travellers.
Be it the ancient wooden statue of the Virgin and Child or the unusual appearance of the premises or the stunning landscapes that surround it, everything about Montserrat makes it worth adding to your 5 day itinerary Barcelona.
If you decide to visit Montserrat Monastery yourself, then you can catch a train from Plaça Espanya train station that will drop you at the foot of Montserrat mountain.
Then, you can either opt for a cable car or Cremallera Funicular to take you to the monastery. Train connectivity from Barcelona to Montserrat is excellent as trains start after 5 am and leave almost every hour till late evening.
If you prefer driving on your own, it is also possible to opt for a car hire in Barcelona.
The only problem with this otherwise perfect plan is the touristy crowd. It proves hard to manage during peak tourist season and if rushed, you can be done with the tour in half a day.
To do the full justice Montserrat Monastery deserves, I suggest opting for a guided tour. I found this Montserrat Tour from Barcelona with an optional visit to the winery a lovely choice.
After learning about the rich history of the 11th-century Santa Maria de Montserrat Abbey from an expert guide, you will get some free time to visit the Montserrat Museum.
Then, proceed to the boutique winery where you can enjoy a multi-course lunch and a wine-tasting session.
---
Barcelona Itinerary 5 days – Day 4
Montjuic Castle – Barcelona Botanical Garden – Olympic Stadium – History Museum of Catalonia – Flamenco show
In the middle of the bustling city, there stands the 17th-century military fortress.
Perched on top of the hill, Montjuïc Castle will take you back in time with its permanent as well as temporary exhibits. You can either reach the castle by using the Montjuïc cable car or a gondola lift.
You can set aside around 2 hours for this entire experience out of your 5 day itinerary Barcelona.
Located along the same hill is a lovely Barcelona Botanical Garden.
The interesting part about this place is that it is designed among a number of stadiums that were originally used in the 1992 Summer Olympic Games.
So, visiting the botanical garden during your 5 day itinerary for Barcelona will also give you a chance to explore the Olympic Stadium. Spending some time here means you can be in the heart of nature amidst all the hustle and bustle.
Even though a little less known than other Barcelona attractions, the Museum of the History of Catalonia is a fascinating site.
The exhibits here cover the history and culture of the region from prehistoric times to the modern era. Take a tour of this museum and you will learn so much about the land you are already exploring for the last 4 days.
Have you wondered what to do in Barcelona in 5 days?
Here is the most popular activity –  Flamenco Show at City Hall Theater! Only a few minutes into the performance and I was in awe of the performers and the atmosphere that was buzzing with their energy.
Do book the tickets in advance as the flamenco shows in Barcelona tend to sell out fast.
---
Barcelona Itinerary 5 days – Day 5
Palau de la Música Catalana – Ciudadela Park – Picasso Museum – Aquàrium Barcelona
On your last day in Barcelona, you can visit only a few places that will not take much of your time and energy. Change the last-day itinerary depending on your departure time from the city.
Palau de la Música Catalana is a concert hall that is more than a century old.
This is where the cultural and artistic side of Barcelona thrived over the years.
Even if you may not get a chance to attend a performance here, it is recommended to get a guided tour as this is the only concert hall declared as a UNESCO World Heritage Site.
Consider spending some time at the Picasso Museum as it is located only a few minutes away from the park. The extensive collection of the masterpieces of Pablo Picasso is a treat for art lovers.
If you have some free time before heading back to your hotel, then head over to Aquàrium Barcelona. With 35 aquariums housing more than 11,000 animals, this is one of a kind place to visit for kids and adults alike.
---
Where to stay in Barcelona
Barcelona is a city full of hotels, resorts, BnBs, and hostels. You will get to pick a hotel in Barcelona that suits your budget.
As you are spending five days in Barcelona, I suggest booking accommodation that is comfortable and near the major tourist spots. Here are a few options –
Hotel Continental Palacete will bring you luxury wrapped up in the package of AC rooms and a convenient location. This 19th-century palace is renovated to make all the modern amenities available and is only a few minutes away from the city's main square of Plaça Catalunya.
Motel One Barcelona-Ciutadella is located near the old town area and is beside the famous Ciutadella Park. Free wifi and modern AC rooms will make your stay comfortable whereas a continental breakfast every morning will ensure you start your day on the right note.
Casa Elliot by Bondia Hotel Group is a 4-star hotel in Barcelona that is only a few minutes away from Plaça de Catalunya and Las Ramblas. Book a room here and you will also find a metro station nearby. It is close to central Barcelona and yet away from all the hustle and bustle.
---
I planned this 5 days in Barcelona itinerary after much research and found out that it worked perfectly. It allowed me enough time at each attraction and the tours I booked were also interesting.
So, this 5 day itinerary Barcelona should be a good one especially if its your first time and comment below if you need any more help!
---
FAQs – Barcelona itinerary 5 days
Is 5 days enough time in Barcelona?
5 days in Barcelona are enough to see most of the major tourist attractions and opt for a day tour to Montserrat.
Of course, Barcelona is so full of interesting things to see and activities to enjoy that you may still miss out on a few places. But hey, that just means you have an excuse to come back again to Barcelona.
Is 5 nights in Barcelona too long?
From what I experienced, 5 nights in Barcelona work just perfectly to feel the pulse of this bustling city. It will give you plenty of time to explore different attractions during the day and attend fascinating flamenco shows and scrumptious tapas crawls at night.
How can I spend 5 days in Barcelona?
Here is the perfect Barcelona 5-day itinerary –
Day 1: La Rambla – La Boqueria Market – Gothic Quarter – Barcelona Beach
Day 2: Gràcia – Park Güell – Sagrada Familia – Casa Mila – Casa Batlló – Tapas crawl
Day 3: Day trip to Montserrat Monastery
Day 4: Montjuic Castle – Botanical Garden – History Museum of Catalonia – Flamenco show
Day 5: Palau de la Música Catalana – Ciudadela Park – Picasso Museum – Aquàrium Barcelona
How many days is ideal for Barcelona?
It is recommended to spend at least 3 days in Barcelona if you want to visit all the famous sights, go on a tapas crawl, and attend a flamenco show.
But if you truly want to see the best of Barcelona, then it is ideal to spend at least 5 days in Barcelona. It will allow you to see Monserrat as well as visit a winery nearby along with a few lesser-known tourist attractions in the city.
---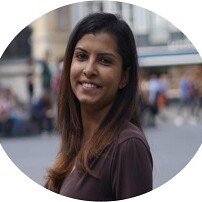 Award-winning Analyst, multi-nominated digital content creator and photographer Lavina Dsouza's words capture stories about culture and tradition mainly through its food and people. She has written and contributed to publications such as The Washington Post, Lonely Planet and Matador Network, to name a few. She is the editor of UntraditionalHumans.com, a non-profit created to share inspiring stories from women of colour who break free from traditions and choose happiness.
She's also a speaker passionate about DEI and champions solo travel. She has collaborated with numerous renowned brands such as Intrepid Travel, TripAdvisor, Travel and Leisure and Adobe, to name a few.
She can be found on Twitter and Instagram.
---
---
---
Some of the links on this post are affiliate links. These do not cost you extra to use, but will help provide Continent Hop with a small commission if/when you purchase through them, to recover some of the costs of running this website and providing free content to help you plan your travel. I appreciate your support!
---