Spain is such a vibrant and layered destination. So irrespective of whether you've been or not, these inspiring quotes on Spain should help you dream and plan that next getaway. There's numerous sections with quotes on Spain, Spain captions for Instagram, Spain quotes about life, and famous Spain Quotes for Instagram.
Anytime is a good time for Spain!
The dreamy beaches of Ibiza, monumental architecture in Granada, historic buildings in Madrid… there's a lot to see in this diverse, beautiful country that is lot more than just its beaches and tapas.
If you haven't been to Spain, these quotes on Spain and Spain captions should help spark that wanderlust, and help motivate you to plan your next holiday.
Irrespective of how you use these top Spain quotes about life and travel, be it for Instagram, wallpapers or just to take you down memory lane, they should hopefully cover all you're looking for.
Spain Caption and Quotes on Spain : 70 Top Spain quotes for inspiration
---
Here's the list of Spain quotes that I have put together. It's categorised in different sections so that it's easier for you to find what you're looking for, be it for printing purposes or just to read through.
I've also added in imagery in case you'd like to save it on your Pinterest board.
Save this page or bookmark it for later if Spain is on your mind!
Not only are these inspiring but I hope they help you think reminiscence about good times and think about Spain and life in general.
"The culture of modern Spain is something many people are still discovering."

– José Andrés

"Nature and man are opposed in Spain."

– Gertrude Stein, Picasso

"I describe my works as books, but my publishers in Spain, in the United States, and elsewhere insist on calling them novels."

– Guillermo Cabrera Infante

"In Spain, the best way to keep a secret is to write a book."

– Manuel Azaña

"In Spain, you can go into any Tapas bar, and you'll see anchovies all over the menu."

– José Andrés

"In Spain, if you don't follow football, you're dead. You don't have a conversation."

– Garbine Muguruza
"One of the gifts that the Camino offers is the freedom to be yourself. This freedom is liberating."

– Jane V. Blanchard

"In Spain, actresses work until they are old. That's my plan."

– Penelope Cruz

"I just feel European. I live between Barcelona and Berlin. Staying in Spain over the winter and Berlin for spring and summer is an ideal combination."

– Daniel Bruhl

"Every country gets the circus it deserves. Spain gets bullfights. Italy the Church. America Hollywood."

– Erica Jong

"I've always said that playing rugby in Spain is like being a bullfighter in Japan."

– Javier Bardem

"I cook croquetas, and I eat Jamon. I keep my diet 100% Mediterranean and drink my Rioja. In that sense, I have a piece of Spain in West Hollywood."

– Paz Vega

"Use the guides and maps to lead you to Santiago; use the lessons learned on the Camino to find your way."

– Jane V. Blanchard
---
"Spain is a fascinating mix of people, languages, culture and food, but if there is one thing all Spaniards share, it's a love of food and drink."

–  José Andrés

"The light, colors, and energy of Ibiza are still constant sources of inspirations for my work. I always leave Ibiza recharged and full of ideas for new shades, looks, and products."

– Charlotte Tilbury

"Spain – a great whale stranded on the shores of Europe."

– Elizabeth Oakes Smith

"For … austere and gracious allegory, as for so much of its mysticism and its chivalry, it's ardors and its endurances, the world is in debt to Spain."

– Helen Waddell

"Italy valued cathedrals while Spain valued explorers. So worldwide, five times as many people speak Spanish than Italian."

– Neil deGrasse Tyson

"But I would sooner be a foreigner in Spain than in most countries. How easy it is to make friends in Spain!"

– George Orwell
---
"But I would sooner be a foreigner in Spain than in most countries. How easy it is to make friends in Spain"
— GEORGE ORWELL
---
"Nobody goes to bed in Madrid until they have killed the night. Appointments with a friend are habitually made for after midnight at the cafe."

– Ernest Hemingway

"This is the dream of all the world. The dream is to live in Granada. You know, work in the morning, have a one-hour nap in the afternoon, and at night go out and have that life. Go out and see your friends and eat tapas and drink red wine and be in a beautiful place."

– Anthony Bourdain
"Granada is like the beautiful, delicate land of our dreams; all those who see her, dream of visiting her again."

– François-René de Chateaubriand

"I love dancing and music from Latin cultures. I went to a flamenco show in Spain, and it completely took my breath away."

– Torrey DeVitto

"To this day the Arab influence is evident in southern Italy, northern Africa and, above all, in Spain."

– Carroll Quigley

"In rural Spain, at least, it is far better to arrive than to travel, however hopefully."

– Honor Tracy

"In no part of the world is the landscape like that of Granada."

– Manuel de Falla
---
Needs to be changed RELATED: Read about Emborio in Santorini, a tiny village on the island full of culture!
---
"'In Spain, the dead are more alive than the dead of any other country in the world."

– Federico Garcia Lorca

"In Spain, we should have enough intelligence, enough sense of individual and collective responsibility to do for ourselves that which would be imposed upon us by a dictatorship."

– Federica Montseny

"Málaga, a martini of the sea."

 – Rafael Pérez Estrada

"I adore Madrid. It's my city. If I ever move, it will only be for work.Whenever I travel, I always want to get back home."

– Maria Valverde

"I think in Spain, homosexuality is completely different than in Mexico. In Spain, after the dictatorship, thanks to Pedro Almodóvar, many artists put on the streets through art a big explosion of freedom."

– Miguel Ángel Silvestre
---
"In Spain, we should have enough intelligence, enough sense of individual and collective responsibility to do for ourselves that which would be imposed upon us by a dictatorship."
— FEDERICA MONTSENY
---
Spain Quotes for Instagram
---
"Spanien, das schöne Land des Weins und der Gesänge"

Meaning : "Spain, that beautiful country of wine and songs"

– Johann Wolfgang von Goethe
"No sé si llamé cielo a esta tierra que piso, si esto de abajo es el paraíso Qué será la Alhambra, cielo?"

Meaning : "I don't know what to call this land upon which I stand. If what is beneath my feet is paradise, then what is the Alhambra, heaven?"

– Lope de Vega

"Todas las ciudades tienen su encanto, Granada el suyo y el de todas las demás."

Meaning : "Every city has its own charm, but Granada has its own and that of the rest."

– Antonio Machado

"Dale limosna, mujer, que no hay en la vida nada como la pena de ser ciego en Granada."

Meaning : Give him alms, woman, there is nothing in life like the pain of being blind in Granada

– Francisco de Icaza
---
Spanish captions for Instagram
---
Hola España!

Meaning : Hello Spain!

Encontré el paraiso aquí

Meaning : I found paradise here.

Yo amo España

Meaning : I love Spain.

Viva la vida

Meaning : Live life.

España es mi lugar feliz

Meaning : Spain is my happy place.
---
---
Seville later!

Spain = Siestas and fiestas

It's Tapas Tuesday

Fiesta like there's no Mañana

Anytime is a good time for Spain

Living my best life in Spain
---
Famous quotes about Spain
---
"Granada is so moving that it stimulates and melts all of the senses."

– Henri Matisse

 "It's like a dream to come to Spain and stay for a couple of years and get somebody to teach me Spanish music."

– Lenny Kravitz

"Like Spain, I am bound to the past."

– William Burroughs

"The air soft as that of Seville in April, and so fragrant that it was delicious to breathe it."

– Christopher Columbus

"Granada; more dazzling than the flower and more flavourful than the fruit it is named after, like a virgin lying in the sun."

– Alexandre Dumas
"I'll get seven hours sleep a night, but after breakfast, I'll have an hour just resting, to recover. In Spain, they all have siestas, even business-men."

– Anthony Joshua
---
"Every curious traveller keeps Granada in his heart, even without having visited."
— WILLIAM SHAKESPEARE
---
"Madrid is a strange place anyway. I do not believe anyone likes it much when he first goes there. It has none of the looks that you expect of Spain. Yet when you get to know it, it is the most Spanish of all cities, the best to live in, the finest people, month in and month out the finest climate. It is in Madrid only that you get the essence. The essence, when it is the essence, can be in a plain glass bottle and you need no fancy labels. But when you can have the Prado at the same time as El Escorial two hours to the north and Toledo to the south, a fine road to Avila and a fine road to Segovia, which is no distance from La Granja, it makes you feel very badly, all question of immortality aside, to know that you will have to die and never see it again."

– Ernest Hemingway

"Spain is an overflow of sombreness, a strong and threatening tide of history meets you at the frontier."

– Wyndham Lewis

"Far away or close

Spanish or Muslim

there is no other city, without madness,

can dispute Granada

the palm of beauty"

– Victor Hugo in Grenade
"There is no night life in Spain. They stay up late but they get up late. That is not night life. That is delaying the day. Night life is when you get up with a hangover in the morning. Night life is when everybody says what the hell and you do not remember who paid the bill. Night life goes round and round and you look at the wall to make it stop. Night life comes out of a bottle and goes into a jar. If you think how much are the drinks it is not night life."

– Ernest Hemingway
---
"Spain is an overflow of sombreness, a strong and threatening tide of history meets you at the frontier."
— WYNDHAM LEWIS
---
"I should be judged as a captain who went from Spain to the Indies to conquer a people numerous and warlike, whose manners and religion are very different from ours, who live in sierras and mountains, without fixed settlements, and where by divine will I have placed under the sovereignty of the King and Queen our Lords, an Other World, whereby Spain, which was reckoned poor, is become the richest of countries."

– Christopher Columbus

"Granada, last refuge from a tiring life. Eternal garden, shows remnants of paradise that still remain, in only very few privileged places on earth."

– François-René de Chateaubriand

"I tried to photograph the mysterious, true and magical soul of popular Spain in all its passion, love, humor, tenderness, rage, pain, in all its truth; and the fullest and most intense moments in the lives of these characters, as simple as they are irresistible, with all their inner strength."

– Cristina Garcia

"I have seen dawn and sunset on moors and windy hillsComing in solemn beauty like slow old tunes of Spain:

I have seen the lady April bringing in the daffodils,

Bringing the springing grass and the soft warm April rain."

– John Masefield
---
You'd have a hard time finding anything better than Barcelona for food, as far as being a hub. Given a choice between Barcelona and San Sebastián to die in, I'd probably want to die in San Sebastián.

– Anthony Bourdain

"I wrote every day between the ages of 12 and 20 when I stopped because I went to Barcelona, where life was too exciting to write."

– Colm Tóibín
"Just close your eyes

And let's pretend we're dancing in the street

In Barcelona…"

– Ed Sheeran, Barcelona song

"Barcelona didn't try to live at the same pace as other global cities. It moved to the ticking of its own clock and everyone accepted it."

– Sarah Dayan, Greater Than the Still
"We crossed spacious streets, with buildings resembling palaces, in La Rambla promenade ; the shops were well illuminated and there was movement and life… I did not decide to go to sleep, even though I wished to, so I could rise early and contemplate, in daylight, this city, unknown to me: Barcelona, capital of Catalonia."

"With her enchanting songs, her rare beauty, and clever tricks, this wild 'wanderess' ensnared my soul like a gypsy-thief, and led me foolish and blind to where you find me now. The first time I saw her, fires were alight. It was a spicy night in Barcelona. The air was fragrant and free."

– Roman Payne, the Wanderess

…"I went directly to Barcelona: fountain of courtesy, shelter of strangers, hospice to the poor, land of the valiant, avenger of the offended, reciprocator of firm friendship, a city unique in its location and beauty. And although the events that befell me there are not pleasing, but very grievous, I bear them better simply for having seen Barcelona."

– Miguel de Cervantes in Don Quixote

"The haunting of history is ever present in Barcelona. I see cities as organisms, as living creatures. To me Madrid is a man and Barcelona is a woman. And it's a woman who's extremely vain. One of the great Catalan poets, Joan Maragall, wrote this famous poem in which he called Barcelona the great enchantress, or some kind of sorceress, and in which the city has this dark enticing presence that seduces and lures people. I think Barcelona has a lot of that."

– Carlos Ruiz Zafón
---
---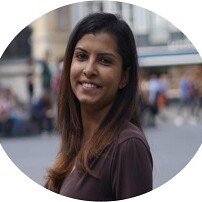 Award-winning Analyst, multi-nominated digital content creator and photographer Lavina Dsouza's words capture stories about culture and tradition mainly through its food and people. She has written and contributed to publications such as The Washington Post, Lonely Planet and Matador Network, to name a few. She is the editor of UntraditionalHumans.com, a non-profit created to share inspiring stories from women of colour who break free from traditions and choose happiness.
She's also a speaker passionate about DEI and champions solo travel. She has collaborated with numerous renowned brands such as Intrepid Travel, TripAdvisor, Travel and Leisure and Adobe, to name a few.
She can be found on Twitter and Instagram.
---
---
---
Some of the links on this post are affiliate links. These do not cost you extra to use, but will help provide Continent Hop with a small commission if/when you purchase through them, to recover some of the costs of running this website and providing free content to help you plan your travel. I appreciate your support!
---