Lucerne in winter is magical and cosy. The summer crowds have moved on and there's a chill in the air. But with the right layers, there are still many things to do in Lucerne in winter. Lucerne in December has Christmas markets! Read on for all info!
As I took a walk around Lucerne, I instantly realised why this city attracted the number of visitors it did!
The Alps in the background of Lake Lucerne with colourful buildings dotted around made this city magical!
Lucerne is a picturesque Swiss city famous for a visit any time of the year.
But come winter, the city is enchanting and is one of the best places for anyone looking to experience the magic of winter in Europe.
The city itself has so much to do and see with its iconic landmarks.
But this apart, winter is a time of winter activities and Lucerne has plenty to offer.
Ski and snowboard on nearby mountains, go ice skating on frozen lakes or simply warm up with a cup of hot chocolate and a slice of Swiss cake in one of the city's Christmas market stalls, there is no dearth of things to do in Lucerne in winter.
Don't let the Swiss winter scare you!
Layer up and embrace the chill as you enjoy these things to do in Lucerne in winter.
---
Lucerne Switzerland in winter – here's what to expect
---
What is the Weather like? I visited Switzerland in spring and while it was chilly, the sun peeked throughout the day, making it quite pleasant and warming the city up.
Switzerland in winter is magical and one of the best places to visit in Switzerland in November to February is Lucerne.
The weather in Lucerne in winter is chilly and temperatures regularly drop below zero during this time. The average temperature in the winter months, from November to March, can range between 11 °C / – 6 °C. Lucerne in December, January, and February can get biting cold!
However, the scent of wood-burning fires and hot cocoa wafts through the crisp and chilly air in winter.
Adding a touch of charm and beauty to the scene is the majestic snow-covered Alps, which provide a stunning backdrop to Lake Lucerne winter.
While this does sound dreamy, it is also better to be prepared.
What to wear? Don't let the cold of Lucerne in winter discourage you from enjoying all things to do Lucerne winter.
I know you might have heard this a lot before, but layering is essential when packing for Europe in winter. Go through this guide that's personally tried and tested by me, on what to pack for winter, and you'll be all set for visiting Lucerne Switzerland in winter.
What about the crowd? Lucerne transforms into a pristine white wonderland during winter, but there are not many people around to appreciate its beauty.
Winter is off-season in Lucerne, so you can enjoy the tranquil atmosphere in the lap of the Alps without getting disturbed.
Since it's off-season, you can expect hotel and travel rates to be at their lowest or with good discounts. But, on the flip side, most of the tourist attractions are closed during the winter.
But don't get disheartened.
There are still a lot of things that can be done when visiting Lucerne in winter. Just keep reading to find out!
---
---
How to get to Lucerne Switzerland?
Planning a trip to Lucerne Switzerland in winter is easy as the city is well connected to other major cities of Switzerland.
The closest airport to Lucerne is Zurich Airport which is around 70 kilometres away. So it's ideal that before visiting Lucerne, you should spend some time in Zurich or on your way out.
Lucerne is also well connected by railway and the main train station is conveniently situated in the city centre and just minutes away from the Old Town.
Daily trains run between Zurich and Lucerne covering the distance in around 45 minutes.
There are many direct trains connecting Lucerne to other Swiss cities such as Basel, Bern, and Geneva, along with Milan in Italy and Munich in Germany.
You can also choose to drive down to Lucerne from Zurich as the road is pretty scenic and the Lucerne winter would make the drive all the more delightful.
---
Things to do in Lucerne in winter
Lucerne is enchanting all year round and there are lots of things to do in and around the city. But come winter, the city truly becomes Swiss bliss!
In Lucerne winter activities such as skiing, snowboarding, and ice skating are in full swing at the several ski resorts scattered around the city.
You can also visit the nearby mountains to enjoy the sensational views of the snow-capped Alps.
If you're not into winter sports, there are still plenty of things to do in Lucerne in winter and you won't have to think much about what to do in Lucerne in winter.
Take a romantic stroll through the snow-covered streets, explore the city's many museums, cruise along Lake Lucerne with the soaring Alps before you, or cosy up in a traditional Swiss chalet and enjoy a warm fondue or raclette.
You can use the things to do here to prepare your own Lucerne winter itinerary. But I can pretty much bet that after going through the things which Lucerne offers in winter, you'll lose all interest in exploring museums, bundle up in layers and head out to explore!
The best things to do in Lucerne Switzerland in winter will blow your mind away as there's lots to do here even in the cold!
---
Explore the wintery delights of the Old Town
The snow-covered cobblestone streets of Lucerne Old Town, the historic buildings adorned with ornate frescoes and brightly coloured shutters, dusted with a layer of crystal snow; this is how you will find the Old Town when visiting Lucerne in winter.
Exploring the Old Town of Lucerne during the winter is an incredible experience, as the scent of roasted chestnuts and mulled wine fills the air.
The narrow streets are lined with charming boutiques and artisanal shops, offering a variety of handcrafted gifts and souvenirs.
The storefronts are adorned with beautiful window displays, showcasing the best of Swiss craftsmanship and design. Stop to admire the stunning Chapel Bridge, stretching gracefully across the Reuss River and the Water Tower.
Somewhere near Christmas, you will see the bridge adorned with twinkling lights and festive decorations, casting a warm glow over the ice-cold water below.
Cross the Chapel Bridge and you will see the imposing facade of the Church of St. Leodegar with its two massive towers, each over 75 meters high. Nearby is the grand Jesuit Church, whose high ceilings, elaborate frescoes and intricate stucco work creates a sense of awe and wonder.
Do see the organ of the church, known for its rich variety of sounds and built in the 18th century!
All around Old Town, you will see a historic fortification surrounding the Town. This is the Musegg Wall, which was built to protect the city from invasions.
Head to the Zyt Tower to climb atop the wall and get a bird's eye view of Old Town. From here, keep walking along the wall and explore the other towers, such as the Mannli Tower, which has a museum on the history of the wall and the city.
Since Old Town is pretty big, I recommend booking this 3-hour guided Lucerne Walking and Boat Tour: The Best Swiss Experience where you can get a greater insight into centuries of history from a guide.
---
Here's where to stay in Lucerne in winter while exploring the city
In the freezing cold of Lucerne Switzerland winter, I know all of us will crave rooms that are cosy and warm and take that chill out of our bodies after a long day of touring Lucerne Switzerland in winter.
I have listed down the best hotels in Lucerne for everyone, right from those who travel in luxury to those who prefer budget stays.
Luxury: Mandarin Oriental Palace Luzerne
The palace is what is in its name, a true palace! It is a palatial five-star hotel located on the banks of Lake Lucerne, offering elegant rooms and suites with stunning views, an upscale restaurant, a spa, and a fitness centre.
Mid-Range: Hotel Des Balances
This is a charming boutique hotel located in the heart of Lucerne's old town, overlooking the Reuss River. The rooms are elegantly decorated and equipped with modern amenities, and the hotel features an excellent restaurant with a terrace overlooking the river.
Budget: Backpackers Luzern
The Backpackers is a famous chain of hostels offering affordable accommodation in a central location, with both private and shared dorm rooms available. You can enjoy a communal kitchen and lounge area, and the hostel offers free Wi-Fi and breakfast.
---
Go Museum hopping
For those finding it difficult to head out in the chilly cold of Lucerne Switzerland in winter, don't lose hope! Lucerne is a city of rich cultural heritage and you will find several museums showcasing its history, art, and traditions.
You have lots of options to choose from and I would recommend visiting the following. However if the weather is good and you have limited days in Lucerne, worth skipping unless you love museums of course!
But this is not all! If you want to learn more about Lucerne, you can also visit the following bonus museums namely the Museum of History, Museum of Natural History, and the Museum im Bellpark Kriens.
No matter what you may be interested in, Lucerne has a museum that is sure to pique your interest. While I usually pick museums that are quirky, these are the best choice if weather is being silly!
---
Appreciate the tragedy carved in stone at the Lion Monument
The Lion Monument represents the sacrifices of the Swiss Guard who died during the French Revolution and honours their bravery.
The monument is striking and is carved into a rock face, showing a majestic lion on the verge of death with a spear at its side and a solemn look on its face. The Lucerne winter and the white snow create a striking contrast against the stunning work of art that depicts a story of heroism and loss!
Standing in the presence of history, you'll feel a sense of reverence and solemnity as the atmosphere is peaceful and the quiet of the Lucerne winter adds to the poignant mood.
---
Cruise along the sparkling waters of Lake Lucerne
Cruising Lake Lucerne is a must-do in Lucerne's winter as you glide calmly along the crystal waters, away from the noise of the city and with the Alps straight in front of you.
Many of the boats operating on Lake Lucerne during winter are fully enclosed and heated.
Don't forget to head to the upper decks of the boat from where you can get a chance to see the magnificent Alps up close.
You will find plenty of Lake Lucerne winter cruises near the lake itself from where you can take in the beauty of the surroundings or opt for a more adventurous excursion such as a snowshoe hike or a boat trip to a nearby alpine village.
Try out this Lucerne: 1-Hour Cruise on Panoramic Yacht for a relaxing trip of the Lake and admire the views of the Meggenhorn Castle and luxurious villas and landscapes.
---
Ascend the snowy peaks of Mount Pilatus and Mount Rigi for a winter adventure
Mount Pilatus and Mount Rigi are the most famous mountains around Lucerne and are popular attractions no matter when you visit.
But in winter, these mountains will leave you completely awe-struck, with unforgettable views and vistas of the surrounding Alpine range and the shimmering waters of Lake Lucerne in winter.
The snowy peaks of these mountains are amongst the best Lucerne attractions in winter.
The cogwheel ride to the summit of Mount Pilatus, which is 'Europe's steepest railway' is a thrilling experience, passing through tunnels and over bridges with mind-numbing views of the snow-capped Alps.
A visit to these mountains must be on your list when visiting Lucerne in winter. Explore winter hiking trails, cross-country skiing tracks, toboggan rides, bobsledding, and air boarding, or simply sit down in one of the cosy restaurants with a cup of hot chocolate and fondue.
For more details on how to reach the mountains, ticket options, prices, and things to do, go through this Lucerne itinerary, especially on Day 3 and Day 4.
Or, if you don't want to plan everything, opt for this guided Mount Rigi Day Trip with Cruise and Cable Car.
---
Where to stay near Mount Pilatus
For those of you who are planning for a stay in the shadow of Mount Pilatus, Mount Titlis, or Mount Rigi, I have got you covered!
Mount Pilatus:  Boutique Hotel Himmelrich
Boutique Hotel Himmelrich is a charming hotel located in the scenic countryside of Lucerne in Kriens, offering a peaceful and tranquil retreat from the hustle and bustle of the city.
The hotel features cosy and stylishly designed rooms with comfortable beds and modern amenities, such as flat-screen TVs, free Wi-Fi, and private balconies with beautiful views of the majestic Mount Pilatus. From Kriens, you can catch the cable car up to Pilatus.
Mount Titlis: Berghotel Trübsee
The Berghotel Trübsee is located in a picturesque alpine setting, just steps from the Trübsee Lake and the cable car station that takes you up to Mount Titlis. The hotel features cosy and comfortable rooms with stunning mountain views, as well as a restaurant, bar, and sun terrace.
Mount Rigi: Rigi Kaltbad Swiss Quality Hotel
This charming hotel is located in the heart of Rigi Kaltbad, just a few steps away from the cable car station. The rooms are spacious and modern, and some offer stunning views of the mountains and lakes.
The hotel also features a spa and wellness centre with an indoor pool, sauna, and steam room.
---
---
Scale the snowy heights of Mount Titlis
One of the best highlights of Lucerne in Winter is Mount Titlis, 3000 meters above sea level.
Titlis becomes a skiing and snowboarding paradise of Central Switzerland in the winter and you can enjoy countless activities on its slopes, such as sledding, skiing, winter hiking, and snowshoe trekking.
Don't miss out on the Glacier Cave atop the mountain, bound to give a surreal experience as you walk through an ice tunnel filled with glittering ice formations.
Those craving an adrenaline rush while planning Lucerne things to do winter should head to the Titlis suspension bridge, the highest suspension bridge in Europe, from where you can gaze upon the surrounding snow-covered mountains and the stunning Aletsch Glacier below!
Mind you, crossing the bridge is an unforgettable experience that requires some courage, especially for those with a fear of heights since you are suspended high above the valley floor with nothing but a metal mesh floor beneath your feet. Prepare for the bridge to sway slightly on a windy day!
But the views from the bridge are well worth the scare.
How to reach? To reach Titlis from Lucerne, hop on a train at the Lucerne station and head to Engelberg. From Engelberg, you can choose between walking to the mountain, taking a cable car, or the free bus shuttle. As you start moving up, you will already start enjoying the mesmerizing views but nothing beats the view at the top.
Or you can simply ditch the planning and join the Titlis Half-Day Tour – Eternal Snow & Glacier to discover the fascinating glaciers and mind-numbing landscapes on Titlis!
---
Experience the festive Christmas charm
Christmas is a mystical time in Lucerne and the festive spirit is contagious. All around the Old Town, the sound of carols echoes through the narrow alleyways and you will find yourself humming along to familiar tunes.
The air is filled with the sweet aroma of warm Swiss chocolate, and the streets are adorned with glittering Christmas lights and colourful decorations.
Shop and eat around at the Christmas markets located throughout the city. The main market is at Franziskanerplatz, right in front of the Franciscan Church, where you can find a wide range of handmade crafts, food, and gifts. The facade of the church is adorned with beautiful lights and is a sight to see.
Warm up with a cup of Swiss hot chocolate at one of the stalls. The Swiss take their chocolate seriously, and you won't be disappointed with the rich and creamy flavours.
Try ice skating at the rink located on the terrace of the KKL Luzerne, which offers splendid views of Lake Lucerne and the surrounding mountains. Don't miss Switzerland's famous cheese fondue, which is the perfect warm meal during the winter.
---
Be a part of the Lucerne Light Festival
If you happen to visit Lucerne in January, you will be astonished to find the entire city illuminated by creative light installations. This is the Lucerne Light Festival or LiLu, one of the best things to do in Lucerne winter!
Take an evening winter walk around the city and you will be mesmerized to see the entire city lit up in shades of different colours. The entire show is like a tour and starts at the Lucerne main station.
You can get a map of the tour from the local information booths. Walk the full tour to get a different perspective of the city.
The festival also includes two indoor light and music shows which are a must-see. The best light show is at the Church of St. Leodegar where images are projected on the walls and of the church, creating an immersive experience.
The Church itself is also covered with swirls of light giving a kaleidoscopic feel! There is also a range of interactive experiences, such as light painting workshops and guided tours. You can even control the colours and patterns of some installations with your smartphone, adding your own personal touch to the festival.
---
Take day trips to the nearby cities of Zurich and Winterthur
Though Lucerne Switzerland in Winter is unmissable, the nearby cities of Zurich and Winterthur are a great way to experience some of the best that Switzerland has to offer.
Zurich is the largest city in Switzerland and is famous for its unique blend of historic allure and modern sophistication. Zurich is just 50 kilometres away from Lucerne and there are non-stop trains connecting the two cities, taking just around 45 minutes.
In Zurich, you will find beautiful architecture, stunning waterfront views, world-class museums, and a variety of mouth-relishing dining options. When you are in Zurich, check out the Zürich: City Tour, Cruise, and Lindt Home of Chocolate Visit where you can marvel at the city's imposing churches, museums, and more! Here are some of the top attractions of Zurich which you cannot miss:
Grossmünster church, a Romanesque-style Protestant church in Zurich, famous for its twin towers and association with the Swiss Reformation.

Fraumünster church, a former abbey, and a Gothic-style Protestant church in Zurich, renowned for its stained glass windows by Marc Chagall.

Kunsthaus Zurich Museum, one of the most famous art museums in Switzerland showcases wide range of artworks from the Middle Ages to contemporary times.

Swiss National Museum, the largest museum on Swiss Cultural History!

Felsenegg, a famous mountain peak and a popular excursion spot offering panoramic views of the city and the Alps.

Lindt Home of Chocolate, a museum, factory, and chocolate shop where you can learn about the history and production of chocolate and sample various chocolate treats or even make your chocolate!
Winterthur is just a short distance from Zurich and is famous for its known for its beautiful gardens, historic buildings, and cultural attractions. Lucerne Winterthur distance is around 80 kilometres and passes through Zurich.
So you can either visit Zurich and then head to Winterthur and plan as you like.
---
For an off-beat experience, you can try this Self-Guided Winterthur Scavenger Hunt and City Walking Tour where you can discover Winterthur from a different perspective by solving riddles and clues that will lead to the next location. Some of the attractions for which Winterthur is renowned are:
Technorama, an interactive science museum with over 500 exhibits where visitors of all ages can learn about science in a fun and engaging way!

Oskar Reinhart Museum, an art museum featuring a collection of works by famous European artists such as Botticelli, Rembrandt, and Monet, housed in a beautiful villa surrounded by gardens.

Stadtkirche, an imposing Gothic-style church in Winterthur's Old Town with beautiful stained glass windows and a towering spire.

Steinberggasse, a charming street in the heart of Winterthur's old town, lined with historic buildings, cafes, and shops.

Stadthaus, a neoclassical building that houses the Winterthur city council and other government offices, with a beautiful facade and impressive interior spaces used for exhibitions and events.

Kyburg Castle, a massive medieval castle located on a hill overlooking the city and featuring well-preserved medieval architecture and mesmerizing views of the countryside.
Visiting Lucerne in Winter gives you the perfect chance to explore all that Switzerland has to offer, which will make this trip a lot more memorable!
---
Lucerne in winter is a magical wonderland, with snow-capped mountains, charming Christmas markets, and cosy restaurants serving up delicious Swiss cuisine.
With the festive atmosphere of Lucerne in December and stunning winter scenery, it is a must-visit destination for anyone looking to experience the best of Switzerland in the wintertime!
---
Lucerne in winter FAQs
Is Lucerne worth visiting in winter?
Absolutely! Lucerne winter is a magical experience that should not be missed. Just Imagine strolling through the city's charming streets, wrapped up in a warm coat, with the snow gently falling around you and short halts for a fondue or raclette!
Does Lake Lucerne freeze in winter?
You would think that the Lucerne winter would freeze Lake Lucerne. But no! Lake Lucerne is amongst those lakes that have never frozen over in hundreds of years!
Is December a good time to visit Lucerne?
While December may not be the best time to visit Lucerne, it has its charm and offers its own unique experience! You are sure to enjoy a trip to Lucerne Switzerland in December if you enjoy the snow, want to try your luck at some winter activities, or have a white Christmas, you should definitely visit Lucerne Winter.
Does it snow in Lucerne in winter?
Yes, December is the time when Lucerne receives maximum snowfall. So be prepared for a white Christmas!
---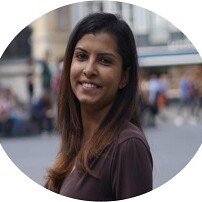 Award-winning Analyst, multi-nominated digital content creator and photographer Lavina Dsouza's words capture stories about culture and tradition mainly through its food and people. She has written and contributed to publications such as The Washington Post, Lonely Planet and Matador Network, to name a few. She is the editor of UntraditionalHumans.com, a non-profit created to share inspiring stories from women of colour who break free from traditions and choose happiness.
She's also a speaker passionate about DEI and champions solo travel. She has collaborated with numerous renowned brands such as Intrepid Travel, TripAdvisor, Travel and Leisure and Adobe, to name a few.
She can be found on Twitter and Instagram.
---
---
EXPLORE MORE OF SWITZERLAND
---
Some of the links on this post are affiliate links. These do not cost you extra to use, but will help provide Continent Hop with a small commission if/when you purchase through them, to recover some of the costs of running this website and providing free content to help you plan your travel. I appreciate your support!
---