You should try to get from Girona to Pals for a day trip as Pals is one of the prettiest villages in Catalonia and reminds one of medieval times! Here's all the routes you can take including info on the Girona Pals bus
The striking town of Pals is perched on a hilltop and is known for its medieval charm.
From its carefully restored Gothic Quarter to its keenly followed culture, this Spanish village is every traveller's dream come true.
After wandering the historic Girona, when you head to Pals, you will understand how these two can have similar vibes and yet different characters.
A must for every explorer, Plas is sun, sand, and sea, wrapped with varying layers of history.
So, here is how you can plan your journey from Girona to Pals and get the most out of your visit.
---
Things to know before planning a trip from Girona to Pals
Here's a list of a few things, you might want to make a note of, before starting for Pals:
Distance: The distance between Pals and Girona is about 45 km.
Time required: The time required to travel from Pals to Girona is approximately 50 minutes to 1 hour.
Weather: The average temperature of the cities of Girona and Pals is about 22 degrees celsius. There might be mild rains in Pals, once in a while. But overall, the climate is very pleasant year long, making it the best place to visit, any time of the year.
Currency: The euro is the currency across Spain, including Pals and Girona.
Languages: Most local people of Girona and Pals speak the Catalan language. You may also find people speaking Spanish, French, and English, especially those who have come as tourists.
Highlights: Pals is very well-known for its little yet charming villages, rich culture, and history. It also surprises you with its authentic rice cuisines that are one of a kind.
---
How to go from Girona to Pals
There are many options available for going from Girona to Pals. The distance between the two places is about 45 km by roadway. You may consider the following travel options to reach Pals:
Bus- The Girona Pals bus starts from the bus station in Girona also known as the Estació d'Autobusos de Girona which is about 2 kilometers from the center of the town.
Girona to Pals distance is about 57 km and takes about 1.5 hours to reach Pals. The bus fare costs 5 euros to 10 euros approximately and is one of the most convenient and the cheapest public-transport options to reach Pals.
The frequency of the Girona to Pals bus is fairly good. There are at least 5 buses leaving for Pals every week. A company named 'Moventis Sarfa' operates from Girona to Marquesina, Pals. The Moventis buses offer good service and frequency for tourists wanting to travel to Pals by bus.
You can explore the schedules of the Moventis buses here. Tickets can be brought either online in advance or in person at the bus station or on the bus.
Taxi- The Girona to Pals distance by Taxi is about 40 km.
It is approximately a 50 minute journey that costs around 75 euros.
Girona to Pals taxi journey is a convenient option for you if you have luggage with you on your trip. Also, travelling by taxi invites a lot of comfort and flexibility.
You can pre-book a taxi cab directly on GetTransfer or Zone transfers. Remember to pre-book your return taxi well in advance to avoid hustles at the last moment.
---
Self-Drive- Your Girona to Pals trip can become really easy if you have your own vehicle or choose to hire one for yourself.
Self-driving from Girona to Pals to cover a mere 40 km distance requires less than an hour's time. If you are travelling along with your family or would prefer to leave at a time convenient to you, this option is recommended.
Self-driving from Girona to Pals costs about 15-20 euros. However, keep in mind that you may have to hire the car for a day. Some rental agencies expect you to return the cars at the same location if they do not have offices in a different city.
One of the best options if you're opting for a Pals day trip.
You can choose to rent a car from many providers such as Europcar, Sixt o Enterprise. You can choose a convenient pickup and drop-off location alongwith the collection time on pre-booking a car for self-driving.
---
Day trips to Girona and the surroundings
You could visit Girona and proceed to Pals as part of a guided tour. This way you get a licensed guide that shares info and takes you to the best spots without the hassle of planning things yourself.
These are some highly recommended ones.
Girona is a destinations where Game of Thrones was filmed. If you're a fan then this tour is highly recommended. It is a small group tour and covers locations in Season 6

If you'd rather prefer to travel to Pals (via Girona) then this tour from Barcelona includes Girona, Figueres and Cadaques with a guide. This one also includes a hotel pick up and drop but covers only Girona and Cadaques.

This one is a personal favourite as it also includes many of the top destinations in Costa Brava like Calella de Palafrugell. You can book it here
---
How to go from Pals to Girona
Bus- Bus is one of the cheapest options to travel from Pals to Girona.
There are two options available if you choose to travel from Pals to Girona by bus. It is recommended to opt for the Barcelona-Pals bus from the nearest bus station toward Palafrugell since this bus runs every two hours.
From Palafrugell, there is a direct bus to reach Girona. The total journey is of about 2.5 hours and costs less than 15 euros. Another option to choose can be, taking a bus from Pals to Ulla / Torroella De Montgrí, which is a journey of merely 20 minutes and costs about 4 euros.
Further, from Ulla, there's a direct bus to Girona. Ulla to Girona is a 40 minutes journey and costs about 6-8 euros.
These tickets can also be purchased from the Moventis Sarfa website stated above.
Taxi- This is one of the fastest ways to reach Girona from Pals.
If you are running short of time, and have a bit too much luggage along, this option is for you. Because you do not have to switch buses in between, travelling by taxi to Girona, is the quickest.
It costs about 70 – 75 euros and requires about an hour to reach Girona. You can book your fare online or by making a direct call. You can easily get in touch with the taxi service providers through the staff of the hotel you are staying at.
---
Self-Drive- If you have a car of your own, it's pretty easy for you to travel from Pals to Girona.
It costs less than 15 euros and you can reach Girona in just 45 – 50 minutes.
You can check sites like Rental cars to do a comparison on figuring which car would work out to be the cheapest for you. Then pick a suitable option for you to hire a car on your way back.
If you're looking at a day trip, using the same car you hired form Girona to get back is the best and cheapest option.
---
Does Spain require a tourist visa for non-EU travellers?
---
To visit Spain for tourism, you will need to have a Schengen Visa if you're a non EU national. Many non-EU countries are exempt for a short duration.
Other tourists from almost 107 countries including India need a Schengen Visa to visit Spain.
With a Schengen visa, it is possible to visit 25 other participating Schengen countries like Finland, France, Germany, Greece, Hungary, Iceland, Italy, etc.
This tourist visa is usually valid for up to 90 days (once issued) for tourists, unless specified otherwise on the visa.
For Indians, acquiring a Schengen Visa can cost around Rs. 8000 for adults and about Rs. 5500 for children between the age group of 6-12 years.
It is recommended to apply for the Schengen Visa, at least 2 to 3 months in advance before planning your trip to Spain. This can avoid cancellations and last-minute changes before your Spain trip.
To submit a Schengen Visa application you will need to visit the Spanish embassy in your country. Sometimes you may need to apply for your visa via a provider such as VFS.
---
How much does it cost from Girona to Pals?
Considering what you choose as the mode of transport from Girona to Pals, here's a quick overview of Girona to Pals travel costs:
By Bus – Costs approximately 10-15 Euros

By Taxi – Costs approximately 70-75 Euros

By Self Drive – Costs approximately 20 euros
The costs completely depend on the chosen transport company and the number of people travelling with you. The above costs are for a single adult.
Also, pre-booking your travel can probably help save money. It is important to choose your mode of transport by considering the luggage you would be carrying and, the availability of time and budget.
Places to Stay in Pals
Pals is a great place to be and stay at if you choose to visit for more than a day. It will amaze you with its medieval architecture and beautiful landscapes. Here are a few stay options in Pals, that will definitely help you get the most out of your trip.
Arkhé Hotel Boutique Pals – This place is one of the top-rated and best luxury hotels in Pals.
It is known for its exceptionally beautiful property that is surrounded by nature, beaches and creeks. The hotel is well-decorated and has a top-notch service team, and a set of cosy yet luxurious rooms, that makes your stay more than amazing.
The nearby major tourist attractions are worth visiting, but at the same time, the hotel facilities too are worth checking out, in case you choose to stay indoors. Book here
Hostal Barris B&B – This is a budget stay option, and a fantastic pick for comfort and convenience.
It is close to the major attractions of Pals. The rooms are well-maintained, clean and have all necessary amenities with good room service. Book here
Hotel El Cau de Papibou – The hotel is located in an 18th-century building in Peratallada.
Equipped with the best amenities, it offers a comfortable stay at a reasonable price. A few good restaurants and attractions of Pals like Santa Coloma de Fitor are within walking distance from this place. Keep in mind this is an adults only resort so worth checking out if you're a couple or travelling without kids. Book here.
It is recommended to book your stay at least a week prior to your visit to Pals. This will not only save some cost but will also make your trip easy and smooth if you are travelling during the peak season.
---
Things to do in Pals / Popular places to visit in Pals
Located on the top of a mountain, Pals is a medieval-time village graced with exceptional natural and architectural beauty. Since it is very close to Girona, Spain, visiting Pals is highly recommended.
Walking along the cobbled streets of Pals seems to be quite an experience which many visitors find fascinating however not many are aware of, due to which you won't find many visitors here. It isn't crowded.
You can choose to stay in Pals for a day or two or more, depending on the time available to you while on the trip to Spain. It is highly recommended if you're on a Catalonia itinerary.
Pals is the right place to visit for a day trip as well as a longer one from Girona.
On reaching Pals, if you have come down by driving your own vehicle, you can park your vehicle in the allotted parking outside the village and choose to walk through the streets.
If you're visiting Catalonia for longer, places in the vicinity like Begur, Calella De Palafrugell are stunning and definitely worth visiting.
---
Tower of the Hours / Torre de les Hores – Built as a castle between the 12th and 13th centuries, it was destructed during the Catalan civil war in the 15th century.
Later, it was converted into what it is today, a Gothic-style bell tower, the Tower of the hours. While at the top, it offers a panoramic view of Medes Islands, Montgrí Massif, Canigó and Sierra de l'Albera.
---
DETAILS
Torre de les Hores
Address: Carrer de la Torre, 9D, 17256 Pals, Girona, Spain
Timings: Open Saturdays and Sundays 10.30 AM – 2.30 PM, 3 PM – 6 PM
---
Museu-Casa de Cultura Ca La Pruna / Edifici Ca la Pruna Casa de Cultura – It is a 15th-century museum and exhibition centre in Pals.
People visit it to explore the ancient and rare forms of wines and pharmacies. It also displays objects that were found on an English warship, which had sunk during the War of Independence in the year 1808.
---
DETAILS
Edifici Ca la Pruna Casa de Cultura
Address: Carrer de la Creu, 7, 17256 Pals, Girona, Spain
---
Explore the local cuisines – Pals and the whole of Catalonia is known for its cuisine that is scrumptious.
The town has pretty looking, tiny cafes and restaurants that serve local and tasty fare. It is highly recommended to try dishes such as Catalan fayre, Arròs de Pals a la Cassola and other rice dishes.
---
Rice Tours– This is a unique experience and you can be sure of getting to experience it only in Pals.
You can find local guides who give a 90-minute tour of the rice fields to explore the Pals' 500-year-old tradition of producing rice. The tour explains a lot about Pals' rice production, its procedures/methods, and the working of traditional rice mills.
More info and dates can be found here.
---
Platja Gran de Pals (Pals Big Beach) – Platja Gran de Pals is one of the best beaches situated near Pals, in Costa Brava.
You can choose to relax or have fun on this sandy beach. There are plenty of watersports available for adventure and experiencing them is totally worth it.
If you wish to visit a quieter beach place, you can head south to Platja Gran de Pals beach. It is ideal for relaxing, photography, and less-adventurous water sports like surfing, kayaking, paddle surfing, etc.
---
So, no matter how much time you spend in this picturesque town, travelling from Girona to Pals will be worth it!
It may not be a massive town however when combined with other scenic locations in the area like Calella de Palafrugell it will be a trip you won't forget easily for years to come!
---
Frequently Asked Questions – Girona to Pals
Is Pals worth visiting?
Pals is worth a hundred visits! Not only is this tiny geography packed with endless tourist attractions, but its beauty doesn't fail to leave you surprised every other time you visit it.
What to carry for Girona to Pals trip?
It is recommended to carry comfortable pairs of footwear and dresses. You may also want to carry some extra cash, a camera, battery backup, a first aid kit, and your identity documents.
What is the best time to visit Pals?
The best time to visit Pals is in the months of  June, July, and August. The climate is relatively stable and highly recommended for tourism.
Is it necessary to know Spanish in Pals?
It would be great to know some basic Spanish phrases to avoid awkward silences and go smooth with basic conversations at restaurants, markets and shops. However, you can also find people understanding basic English in Pals.
When does the rice harvest festival take place in Pals?
The rice harvest festival in Pals takes place in October. It offers rice meals of local farm-grown and harvested rice to visitors.
---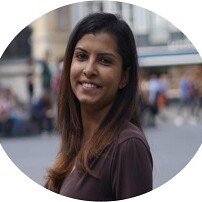 Award-winning Analyst, multi-nominated digital content creator and photographer Lavina Dsouza's words capture stories about culture and tradition mainly through its food and people. She has written and contributed to publications such as The Washington Post, Lonely Planet and Matador Network, to name a few. She is the editor of UntraditionalHumans.com, a non-profit created to share inspiring stories from women of colour who break free from traditions and choose happiness.
She's also a speaker passionate about DEI and champions solo travel. She has collaborated with numerous renowned brands such as Intrepid Travel, TripAdvisor, Travel and Leisure and Adobe, to name a few.
She can be found on Twitter and Instagram.
---
---
EXPLORE MORE OF ITINERARIES
---
Some of the links on this post are affiliate links. These do not cost you extra to use, but will help provide Continent Hop with a small commission if/when you purchase through them, to recover some of the costs of running this website and providing free content to help you plan your travel. I appreciate your support!
---