Winter in Malta is surprisingly pleasant due to its location in the Mediterranean. Most activities and attractions are open and you can have fun without it being too busy or spending lots to get to Asia for some winter sun. Malta in December is warm too! Read on for info about the exciting Malta winter holidays.
Have you thought about escaping those snowy streets and being somewhere warm where the sound of the ocean will accompany you? Then, Malta in winter is the place for you!
You may have heard that Malta is a summer destination, but believe me when I say that it has the potential for being the best country for winter vacations.
Yes, Malta in winter turns into this cosy island country where you can spend days wandering.
You can skip your winter jacket and go hiking even in December. Lazing on the Malta beaches as the winter sun shines on you will be as relaxing as it sounds.
And with that, you get to enjoy lesser crowds, inexpensive flights, and cheaper accommodations.
Oh, do not forget about all those Game of Thrones filming locations in Malta as well! Maltese winter vacation is your chance to step into GOT world without a flock of tourists around.
So, here is the perfect blog that will guide you through everything you need for your Malta winter vacation. From places to stay and weather details to winter activities and tours, read on to know all the details of Malta in the winter season –
---
Winter in Malta – weather on your Malta winter holiday
As Malta enjoys a Mediterranean climate, you will find the winter season here is mild and perfect for outdoor activities.
You can stop worrying about frosty weather and snow-clad roads. Winter in Malta is all about day temperatures that range between 15 degrees Celsius to 20 degrees Celsius.
Yes, the air can be a bit chilly during Malta winter season, but it is nothing compared to other European countries. Do not worry about snowfall, because Malta witnessed the last snowfall in 1962!
Malta in December may experience cold days where the temperature drops t 1 or 2 degrees Celsius (34 to 36 °F). So, pack your winter jacket, but you will probably never need it.
---
Why visit Malta in winter?
Wonderful weather 
Who wouldn't want to be in the sunniest places in Europe and that too during winter?
Malta winter is where you can actually get away with not carrying any heavy winter clothing. With a temperature that hardly goes below 17 degrees Celsius in December and stays around 10 degrees Celsius in January and February, Malta winter season ensures you have a lovely time outdoors.
You may experience strong wind and occasional rain, but apart from that, Malta winter season is something you will crave during snowfall.
Less crowded
Malta has always been a popular summer destination and that means the peak tourist season is over when winter starts.
When you visit Malta in December or January, you will find almost no touristy crowd on the streets. It will be a memorable experience to get those Instagrammable streets all to yourself!
Even February and March see lesser tourists and you can plan a visit anytime during winter.
Lower prices 
No peak tourist season means no crowd and no crowd means cheaper prices. That goes for flight tickets, accommodation, and even tour prices. Do you need another example? Even a bus ticket comes down to €1.50 from the usual €2
---
---
Where to stay in winter in Malta?
When you are visiting Malta, it is recommended to stay in Valletta or Sliema. As these two cities offer a range of accommodations and are well-connected with the rest of the island.
Valletta is the city often preferred for accommodation. You can book any of these Valletta hotels depending on your budget and preference.
The Phoenicia Malta in Valletta this hotel is conveniently located near the bus station and a ferry terminal. Its 1920's style decor is something that will catch your eye.
When it comes to staying in Sliema, Ax the Palace is a 5-star hotel where you can stay comfortably. Its rooftop spa with infinity pool offers a lovely view of the sea and you will find it only a few minutes away from Valletta ferry and bus terminus.
You can also consider staying in one of the hotels in Gozo as this island has a different vibe than the main island and has so much to offer. Grand Hotel Gozo is popular amongst tourists for being near the beaches.
---
How to get around Malta in winter?
The island country of Malta is served by only one international airport. So, flying around Malta is not an option. But this tiny island is well-connected by public buses, a network of taxis, and a ferry service between Malta and Gozo. You can also rent a car or two-wheeler or cycle.
By bus –
Getting around by bus is the cheapest and easiest option in Malta. The ticket price for the Malta winter season is only €1.50 during the day and €3 for night journeys.
You can consider buying an 'Explore Flex Card' as there are several card-dispensing machines in Malta. This card is also available at the Malta International Airport in arrival halls and at the Valletta bus stop.
When you are in Malta for a short period of time and want to use public buses to enjoy winter in Malta, then the option of customizable 24-hour, 4 days, and 7 days passes are also available.
You can visit the Malta public transport desk at the Malta airport for further assistance or you can also check the official routes and schedules here. Keep in mind that public buses in Malta are notorious for running late on less-travelled routes.
By a rented car –
Renting a car to get around Malta is the most convenient option. If you are comfortable driving on the left, then Maltese roads will take you to all the corners of the country.
As many off-the-beaten tracks and less-popular beaches in Malta are not reachable by bus, renting a car is the perfect way to enjoy Malta winter sun. You will find several car hires around and if you want, you can opt for the chauffeur-driven cars as well.
The rates usually range between €16 – €28 for a day but can vary depending on the car hire you go with.
By taxi –
There are different taxi and cab operators in Malta.
Travelling around Malta by taxi is easier as it saves you from finding a parking spot along those narrow streets of Valletta, Mdina, or Sliema. It will also be convenient when you are not looking to go off the beaten path and stick to popular tourist spots. Prices will be different depending on the routes.
---
---
By ferry –
This option is ideal to get around the Maltese islands and then travel by bus or taxi.
There are car ferries available, but as you are planning to visit during winter in Malta, this service may face disruptions due to the rough sea. You can choose to go from Malta to Gozo by ferry and it will take less than half an hour. You will also find regular boats that connect every island with Comino.
'Dghajsa' – traditional Maltese boats are used as water taxis and can be found in Grand Harbor.
---
---
Things to do in winter in Malta
Malta is the perfect combination of indoor tourist attractions like museums and churches and outdoor activities like hiking and scuba diving.
And the best part about Malta winter is you can explore this combination without worrying about frosty weather. Check this list of some of the best things to do in Malta in winter for your next trip.
---
Go hiking
Did you know it rarely snows in Malta in winter? And by rarely I mean less than 15 times in the last 160 years.
Yes, no matter how crazy that sounds, when half the world is being painted white, Malta enjoys warm sun and pleasant weather. Blue Grotto in Qrendi is located near the southeast coast of Malta and has become one of the popular points of interest in Malta over the years.
Even though a direct bus or a car can be used to reach this point, you will have fun walking from Qrendi to Blue Grotto.
The route is known for its scenic beauty in Malta in winter and you can also visit the Wied iz-Zurrieq village from this point. If you are not looking for a tiring uphill hike, then skip Wied iz-Zurrieq.
Dingli Cliffs and Fawwara trail is also nearby and is usually not very crowded. This 9.3-km loop trail is good for walking and hiking and can be covered in less than 3 hours.
The area around Golden Bay in Mellieha is also good for spending time outdoors.
You can opt for Golden Bay to Gnejna Bay trail as it is easy and can be done in around 2 hours. It can be the perfect activity if you are visiting Malta in wintertime. This trail offers a view of rocky cliffs along the coastal area.
---
---
Go scuba diving in winter in Malta
To all the diving enthusiasts out there, here is your chance to go scuba diving in winter! Visit Malta in December and you can go scuba diving without worrying about freezing water temperature.
You may have wondered if it is too cold to dive in Malta in winter season, but let me assure you it is not.
You can consider booking this Half-Day Guided Scuba Diving with 2 Fun Dives in St Paul's Bay.
St Paul's Bay, along with scuba diving, also offers parasailing, glass-bottom tours, and jet skiing. So, do reserve a day or two for this area as you will find plenty of things to do in St Paul's Bay to keep you busy.
The average sea temperature in Malta during winter is around 17 degrees Celsius. The winter diving season is considered from November to March. You will find several dive centres in Malta to choose from.
Keep in mind that most of the centres may stay closed for the Christmas holidays. So, check the dates before booking your sessions and plan accordingly.
---
Walk around Valletta Mdina and Rabat in peace
Malta is one of the popular tourist destinations and you will find it pretty swamped with travellers from July to September.
But come winter, the streets in Malta return to being a little quieter. So, this is your chance to explore the best of Valletta, Mdina, Rabat, and Sliema in peace.
You can opt for this 3 hour walking tour of Valletta to understand the history of the city and then, you can explore Valletta on your own depending on what interests you.
The combination of the Street Food and Culture Walking Tour of Valletta is also a good choice.
Many tours are seasonal and may not be operational after the peak season ends. So, if you are here during Malta winter holidays, then it is advisable to confirm the tour availability well in advance.
For Mdina and Rabat, you will find several one-day tours from Valletta. Rabat, Mdina, & San Anton Gardens Tour is a popular option as it covers all the major attractions.
You can also explore these cities without taking a tour when you are here in Malta in winter.
Make sure you are adding St. John's Co-Cathedral, Upper and Lower Barrakka Gardens, Grandmaster Palace Courtyard, and National Museum Of Archaeology to your Valletta itinerary.
---
---
Enjoy the carnival in Valletta and Gozo
This is your chance to soak in the celebrations!
Of course, Malta celebrates Christmas and New Year's Eve with great enthusiasm, but attending this carnival during the winter in Malta season is a must.
The history of Malta's winter carnival goes back 6 centuries and it is celebrated for five days every year.
In light of the Covid-19 pandemic, you may see a little toned-down version of this carnival, but nonetheless, it is a celebration worth witnessing. From floats and bands to parades and late-night parties, you will find everything here.
Even though all the towns and villages celebrate this carnival, you will find the main festivities in Valletta. Another location for being a part of this carnival is Nadur village on Gozo Island.
So, plan your vacation in Gozo in winter and you will love how this tiny island turns into a colourful bash. You can read more about this Maltese Carnival and understand its history.
---
Have fun at Popeye's Village
A film-set village that is now transformed into a fun park, Popeye's Village is something for all age groups.
This 1980s set was used for the feature film Popeye which was also a live-action musical. From different shows and rides to museums and playhouses, this place has everything on the premises.
Visiting Popeye's Village has become one of the top things to do in Malta in winter due to its popularity. It has cleverly used the rustic wooden buildings to its advantage. Even though it is an old set, you can still experience how filming is done here.
The opportunity of seeing yourself on the big screen is also available here. Do not forget to stop by Santa's toy town when you are at Popeye's Village.
You can check the available packages at Popeye's Village to find the one that suits your travel plans.
---
DETAILS
Address: Triq Tal-Prajjet, Il-Mellieħa, Malta
Timings: 10 AM – 6 PM every day
Ticket prices: Adults – 20 Euros, Children (3-12) – 15 Euros, Pensioners – 15 Euros. Teens under 16 need to be accompanied by an adult
---
---
Go quad biking in Gozo
Here is the fun part of exploring Gozo in winter – you can spend a whole day outdoors and the weather will be just as pleasant!
The landscape of Gozo is best explored when you are quad biking on the island. It will help you explore tiny villages, the inland sea, and other hidden gems where public buses or taxis cannot go.
Prices of these tours vary depending on the routes they cover and if food testing is included. It may start from €70 and may go above €100. Keep in mind that you need a valid driver's license for renting and driving a quad bike.
You can also book this Gozo Full-Day Quad Tour w/ Private Boat to Gozo & return.
---
Spend a day on Comino island
Comino is the place that's perfect for your winter in Malta itinerary! As the island is popular for its snorkelling and swimming opportunities, it is swamped with tourists in the summer.
And when the winter months hit, Comino becomes much quieter and more pleasant to explore.
This tiny island can be explored on foot in a day and what better time to do it than winter? Hiking on Comino in winter is an experience in itself. You can truly be in the heart of nature with the sound of the ocean to accompany you. It is for those who love to get away from all the hustle and bustle of city life.
But remember that there aren't many shaded spots on Comino to save you from the heat. So, cover yourself well, stay hydrated, and keep a leisurely pace. Also, do not forget to check the weather forecast as it may affect ferry services.
You can consider booking this Comino: Blue Lagoon, Crystal Lagoon, and Seacaves tour to make the most of your time.
---
---
So, no matter for how many days in Malta you stay for, your winter vacation will be full of sunny days, warm weather, and pleasant sunsets. I hope you will have as much fun as I did with all the leisure activities and adventure tours here.
---
FAQs about Malta in winter
What is Malta like in winter?
Malta in winter is all about pleasant sunshine along with occasional rain and wind. When most of Europe starts preparing for winter snow, Malta enjoys temperatures that rarely fall below 15 degrees Celsius during the day.
How warm is Malta in the winter?
Malta is all about mild sunshine during winter and that helps it keep around 16 degrees Celsius during the day and 10 degrees Celsius at night in January and February. In December and March, the average high temperature is 17 or 18 degrees Celsius.
Is Malta good to visit in the winter?
Malta is one of the best winter destinations in Europe if you want to get away from snowfall and icy wind. The mild Mediterranean weather ensures you get to enjoy outdoor activities and that too without crowds.
Most of the museums, churches and other tourist spots are also open. The flight tickets and accommodation is cheaper.
Is there a winter in Malta?
Yes, winter in Malta season is from December to March. The temperature starts dropping in mid-November and hits as low as 10 degrees Celsius on some winter days. Occasional rain and high wind may happen on some days, but apart from that, winter in Malta is a pleasant experience.
---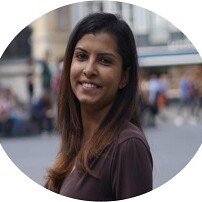 Award-winning Analyst, multi-nominated digital content creator and photographer Lavina Dsouza's words capture stories about culture and tradition mainly through its food and people. She has written and contributed to publications such as The Washington Post, Lonely Planet and Matador Network, to name a few. She is the editor of UntraditionalHumans.com, a non-profit created to share inspiring stories from women of colour who break free from traditions and choose happiness.
She's also a speaker passionate about DEI and champions solo travel. She has collaborated with numerous renowned brands such as Intrepid Travel, TripAdvisor, Travel and Leisure and Adobe, to name a few.
She can be found on Twitter and Instagram.
---
---
---
Some of the links on this post are affiliate links. These do not cost you extra to use, but will help provide Continent Hop with a small commission if/when you purchase through them, to recover some of the costs of running this website and providing free content to help you plan your travel. I appreciate your support!
---