Why visit Santorini Greece is a question many have on their mind. They wonder if it is worth visting this island that may be crowded and expensive at times. Here's all the reasons to visit Santorini if you're still wondering and are planning your trip!
I couldn't believe my luck as I sat in my jacuzzi watching the sunset by the caldera. It was one of the most stunning sunsets I'd ever seen, and it wasn't the only time I was blessed to see one.
Sunsets in Santorini were mesmerizing every single day.
For many, a trip to Greece is incomplete without a visit to Santorini – it was no different for me.
One of the most famous islands in the world, it is part of the Cyclades, which are a group of islands that form a cyclical shape.
Fun fact: the volcano on this island is one of the few active volcanoes on the European and Greek Islands.
From iconic architecture to scrumptious meals and relaxing beaches, this volcanic island has a lot to offer.
But why visit Santorini? Here are some reasons.
---
Where is Santorini?
A Greek Island located in the middle of the Aegean Sea, Santorini is approximately 300 km from Athens, the capital city of Greece. It is located 140 km north of Crete and 150 km south of Mykonos.
You can easily get to Santorini via direct flights from most European cities in summer.
At other times, there are direct flights from Athens. You can also catch a ferry from Mykonos too, to get to Santorini.
---
Where to stay in Santorini if you choose to visit
Plan a stay from where you can enjoy views of the Caldera, such as Fira, Imerovigli, Firostefani and Oia. This is because its absolutely priceless watching the sunset while relaxing in a jacuzzi.
COCOON SUITES – We spent the night here. The massive caldera stood just in front of us, accompanied by a stunning sunset, as we dreamily relaxed in our private jacuzzi.
While booking, we also looked into several other options, which are worth considering:
CHARISMA SUITES – The ideal guests for this hotel are newlyweds seeking a romantic honeymoon. The view from the accommodation is among the most breathtaking in Oia and beyond!
LA PERLA VILLAS – Traditionally built cave suites with a swimming pool outside and a breathtaking view of the sea and caldera.
GABBIANO TRADITIONAL APARTMENTS – If you prefer an apartment, these typical caldera-view apartments with all amenities are ideal.
---
Why visit Santorini Greece: All the reasons to visit Santorini
---
Watch the breathtaking sunsets
Santorini has the world's best sunsets, irrespective of your location.
Watch the sunset into the horizon as the skies turn into stunning hues of crimson, blue and other shades with views of the Caldera and the ocean.
The most popular spot to watch this picturesque view is the village of Oia, located on the north side of the island and built on top of cliffs.
But with popularity comes huge crowds as people race to find a spot to watch the view set against the whitewashed houses.
Alternatively, choose Akrotiri, Emborio and Pyrgos, villages located on the southeastern side of the island, to watch the sun depart for the day.
They are less crowded and quieter, offering a relaxing evening.
For a more exclusive experience, set sail on a sunset catamaran tour.
The five-hour excursion includes several beaches, food and drinks whilst offering the picturesque sunsets from a different perspective.
---
Walk amongst the beautiful whitewashed houses and architecture
Marvel at the beautiful Greek architecture unique with their lanes and whitewashed houses.
Santorini is famous for the quintessential white-washed buildings. Irrespective of the town or village, wander through the narrow streets and alleyways and snap pictures in front of their buildings that are contrasted with colourful flowers.
The most interesting structures are the cave dwellings in the villages constructed in volcanic rock. They always remain in the perfect temperature that is cool during summer and warm in the winter. Also, don't forget to admire the Neo-classical 19th-century mansion houses found in almost all villages and towns that were built by wealthy captains.
---
---
Learn about the archaeology
History buffs will be excited to learn that Santorini is home to a plethora of archaeological sites.
Akrotiri is an unmissable settlement of the Minoan civilization around 4000 years ago. But a volcanic eruption 3600 years ago destroyed it and covered the settlement in volcanic ash. It managed to preserve various objects like frescoes.
Stop by the Archaeological Museum or the Museum of Prehistoric Thera to witness the loot gathered from the latest excavations.
---
DETAILS
Museum of Prehistoric Thera
Address: Thera 847 00, Greece
Timings: 8.30 AM to 3 PM everyday except Tuesday. Closed on Tuesdays
Price: 6 Euros per person
---
Relax at the volcanic beaches
Santorini was formed by volcanic activity thousands of years ago and the evidence lies in the various rock and mineral formations across the island. It also gave rise to unique beaches that offer splendid views of the Aegean Sea and crystal-clear waters and another reason why visit Santorini.
Kamari Beach is a black-sand beach with vivid nightlife. The waterfront area is filled with traditional tavernas, bars, restaurants and water sports facilities. Equally beautiful beaches are Perivolos, Perissa and Monolithos located on the east coastal side.
Also, add the Red Beach on the western side of the island to the travel itinerary. Located near Akrotiri village, it is covered in pebbled sand with different shades of red. The impressive cliffs and breathtaking views of the Aegean Sea will make for a once-in-a-lifetime experience.
Recommended: Horse Riding Trip to Black Sandy Beach
---
Take a dip in the hot springs
The tiny, uninhabited islet of Nea Kameni is home to Santorini's hot springs and the volcano.
The continuous underground activity from the nearby active volcano maintains the temperature between 30 degrees Celsius and 35 Degree Celsius of this natural wonder.
The water here is rich in iron and manganese that can stain clothes. Therefore, it is essential to be careful. However, the minerals are also said to have healing properties. Either way, take a dip in the rejuvenating hot water and melt the stress away.
Recommended: Luxury Small Group Catamaran w/ Meal & Open Bar is a good excursion to opt for as these take you to the hot springs as well as the beaches on a whole day trip
Sip on the unique flavoured wine
Pay a visit to some of the world's oldest vineyards to taste the award-winning wines of Santorini.
The island is home to 13 wineries with each of them offering a different take on the drink. The largest and must-visit winery is Santo Wines which was built in 1947. The local wines are of red, white and rose varieties with the most famous being dry and fruity whites.
To get an insight into the industry, take a winery tour. And there are many options like a guided winery tour, a private tour of Santorini or a wine tour clubbed with sunset in Oia.
Also, don't be surprised if the vineyards are not easily visible. The reason is that the grapes are grown low almost on the ground, which is something not expected of a traditional vineyard. If the grapes are cultivated along poles, the winds of Santorini will blow away much of the harvest.
---
DETAILS
Santo Wines
Address: Pyrgos Santorini ZIP CODE 84701
Timings: Four tastings daily, 10 AM, 1 PM, 2 PM, 5 PM
Price: They have about 6 tour options, prices vary depending on your selection. Details can be found here
---
Gorge on the scrumptious Greek food
Santorini is heaven on earth for all Greek food lovers. From fusion food to fine dining areas and traditional platters at taverns, it is evolving into a gastronomy destination.
Traditional Greek food contains a plethora of cold dishes, cold meat cuts and sea-inspired living. And it's no surprise that Santorini is famous for its seafood. Try the family-run restaurants along the seafronts for a grilled feast that does not need anything else except drops of lemon juice.
For people who do not eat meat or fish, the local food still has options that will satisfy cravings.
Did you know tomatoes have been grown on this island since 1890? And a puree of this fresh fruit is rolled into balls of dough and fried in oil to make the delicious tomato keftedes: a local speciality. Another dish to try is saganaki which is fried cheese wrapped in filo pastry topped off with honey.
Don't forget to visit the Red Bicycle Restaurant. A fine dining open-air experience, the taster menu consists of experimental food based on traditional local dishes. Another restaurant that is recommended and personally tried is Salt and Pepper.
---
DETAILS
Salt and Pepper
Address: 25is Martiou 405, Thira 847 00, Greece
Timings: Lunch 1.30 PM – 3.30 PM, Dinner 7 PM – 11 PM
---
The windmills of Santorini
The Cyclades are very windy and many locals have taken advantage of it. They harnessed the wind power to grind flour by constructing windmills. And the locals in Santorini are no different.
Spot the traditional windmills on the island, especially in Oia. For a fantastic view of them, stand on the Oia castle. And adventure lovers can also stay in a windmill to get a feel of it from the inside.
---
Explore the hiking routes
Another reason why visit Santorini are the scenic hiking routes.
The most popular hiking route is from Fira to Oia, which is an 11 kilometres hike that can last between 2 to 5 hours depending on the pace. Start in Fira and walk through the stunning villages of Imerovigli and Firostefani and end the hike at Oia.
It is an incredible experience featuring beautiful landscapes and views.
---
A photographer's dream
From the above points, it is clear that Santorini is very photogenic.
The outstanding views, breath-taking sceneries, colourful beaches and the traditional whitewashed houses make the perfect landscape for shooting a month's worth of Instagram content.
Photograph the village of Oia, the most famous sunset spot all over the world. It is an icon featured in all postcards and island pictures across the globe.
---
It isn't too expensive
The best thing about Santorini is that the budget will never be an issue. There are amenities for everyone, irrespective of the spending capacity and the best reason on the list why visit Santorini.
Places to stay on the island range from full-service resorts to private villas and quaint hostels.
Many gourmet restaurants cater to the wealthier crowd. But equally, many affordable restaurants and taverns offer a unique Greek experience without having to loosen the purse strings.
---
Irrespective of the budget and stay duration, a holiday in Santorini will be unforgettable. Every village, view, food, drink and landscape is unique to the island and that adds to the charm of the place.
I hope I've added enough to answer the question of 'why visit Santorini'. If you still have any, feel free to reach out via socials.
And now I have one question: When are you planning to visit Santorini?
---
FAQs – Why visit Santorini Greece
How many days in Santorini?
Santorini is more than picturesque beaches and blue dome buildings. The island offers a surprising number of fun activities that suit various travel styles and budgets.
We recommend setting aside at least two to four days during a trip to Greece to gain enough time to relax, try local cuisine, view popular sites and cover most of the island.
When is the best time to visit Santorini?
The best time to visit is either from April to May or September to October. During these months, the weather is warm and tourists are scarce, thus, giving you an opportunity to explore the island peacefully.
Santorini, like the other Cyclades, welcomes most visitors during the summer months between June to August. Therefore, it would require making reservations months in advance plus the trip would be heavy on the wallet.
How to get around Santorini?
The two best ways to get around Santorini are through bus or foot. It is easy to walk around the tiny seaside towns but the buses are the most viable option to get from one town to another.
The KETL bus routes go from the capital city of Fira to many different destinations around the main island. They also offer services to the airport though we recommend taking a cab for ease to travel.
For island hopping, there are ferries available from Athinios, which is around 8 kilometres south of Fira.
---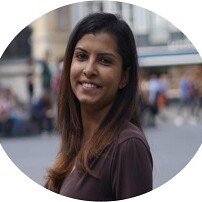 Award-winning Analyst, multi-nominated digital content creator and photographer Lavina Dsouza's words capture stories about culture and tradition mainly through its food and people. She has written and contributed to publications such as The Washington Post, Lonely Planet and Matador Network, to name a few. She is the editor of UntraditionalHumans.com, a non-profit created to share inspiring stories from women of colour who break free from traditions and choose happiness.
She's also a speaker passionate about DEI and champions solo travel. She has collaborated with numerous renowned brands such as Intrepid Travel, TripAdvisor, Travel and Leisure and Adobe, to name a few.
She can be found on Twitter and Instagram.
---
---
What's a Mediterranean destination you love?
I'd love to hear them in the comments below!
---
---
Some of the links on this post are affiliate links. These do not cost you extra to use, but will help provide Continent Hop with a small commission if/when you purchase through them, to recover some of the costs of running this website and providing free content to help you plan your travel. I appreciate your support!
---