Mykonos is a destination that many visit with Santorini. If you're wondering how many days in Mykonos to spend, this post should help as this has info on how many days you'll need exactly to see all the sights in Mykonos.
Mykonos is a vibrant island with beautiful towns and glamorous bars and clubs.
It is known world-wide for its wild parties, as there are luxury hotels scattered across with tourists drinking and dancing.
The second most popular tourist destination of Greece often included in a Greece itinerary has often been described as the Ibiza of Greece.
But apart from the buzzing nightlife, this Greek island has a lot to offer during the daylight hours, catering to all kinds of travellers.
With so many options, tourists find it difficult to figure out how many days in Mykonos is enough.
It can differ according to the requirements of every kind of traveller. A partying traveller would find 2 days enough while for a slow traveller, figuring out how many days in Mykonos would be easy – you'd need at least 4 days to start with.
From all-day partying at beaches to breathtaking views and sightseeing, Mykonos has a lot to offer.
If you're unsure, read on to know more about the best things to do in Mykonos and figure out how many days in Mykonos are enough for your trip.
---
Here's how many days in Mykonos you need
based on how many nights in Mykonos you have
---
One day in Mykonos
Mykonos is a very trendy destination for cruises and generally, one day is spent by those passengers. Although the time is limited, there is still much that can be explored in 24 hours.
Walk along the narrow paved paths of Chora for a genuine Cycladic-style experience.
Take in the whitewashed houses with the bright hues illuminated in the Grecian sunlight with each corner offering a picture spot. On the way, spot Petros the Pelican, which is the mascot of Mykonos.
Spend some time in Little Venice, which is the romantic portside neighbourhood featuring houses that look like they travelled from the Italian city.
The coffee shops, restaurants and bars in this space have a bustling and sophisticated feel. Additionally, the small shops selling sandals, jewellery and other souvenirs pay an ode to the craftsmen on the island.
Don't miss the historical windmills of Mykonos that are scattered around the island. The most famous spot is by the flour mills, where five mills stand together offering unforgettable scenery.
Another windmill that is worth visiting in Boni in Apano Myloi offers views of the lovely white-washed houses and sparkling water. These are also great places to watch the sunset.
Also, spend the afternoon at one of the famous beaches of the island. For recommendations on the best beaches, see the section under '3 days in Mykonos' further down in the post.
Grab dinner at one of the restaurants on the harbour. Or head to a 24-hour beach club for scrumptious local food, beach views, cocktails and dancing all at one spot.
For recommendations, see the section under '3 days in Mykonos'
---
After spending the first day as described above, on the second day visit the beautiful church of Panagia Paraportiani.
With over 600 churches in Mykonos, this traditional stone church is the most photographed one of the island.
This all-white church consists of 5 churches built on top of one another and is located outside Mykonos town's entrance.
After that, spend time at the neighbouring island of Delos, a UNESCO World Heritage Site. This paradise for history lovers was the birthplace of Apollo, the god of light and music, and, thus, it is considered a sacred island for the Greeks.
They built a temple to Apollo and a theatre for performances on the island. But, gradually, it came a popular trade centre and the centre of the Athenian League.
There are many full-day and half-day boat trips that connect from Mykonos to Delos.
This island is frequented for its ancient sites and especially the Street of the Lions, which lined the path to the temple.
There is also a small archaeological museum in Delos that displays the findings of the excavations.
If you'd rather spend more time on the island, refer to the recommendations in the section below.
---
---
Where to stay in Mykonos
Anywhere in Mykonos can be a good place to stay, however in the peak season, it can get a little crowded and pricey in the areas around Little Venice and the windmills. Here are a few of the top places to stay while visiting the island:
ANEROUSSES MYKONIAN TRADITIONAL HOUSES – a luxurious stay with some of the best amenities and decor that is about 3 minutes from Houlakia's beach, with views of the Aegean Sea and is surrounded by palm trees.
Some other stays which you can consider:
PENELOPE VILLAGE – A few feet from Kavo Livadi's shoreline, this is a semi-luxury building with some rooms offering mesmerizing sea views. Easily accessible from the town and equipped with hot tubs and swimming pools.
ANGELA'S ROOMS – Located in an area highly preferred by tourists, the beach is about a 10-minute walk from this traditional lodging. Despite being close to the city, it's not too crowded.
---
---
3 days in Mykonos
Spend the first two days as described above.
On the third day, spare time to dive into Mykonos culture and history. And the best way to do that is through museums.
The best museums to visit on the island are:
The Archaeological Museum of Mykonos houses the findings from the Prehistoric to the Hellenistic period.
Folklore Museum was established in 1858 that features the 18th-century exhibits found in the former house of the sea captain.

Lastly, Maritime Museum displays nautical instruments, exhibits and tools.
After that spend the rest of the day, lounging and enjoying cocktails at another beach in Mykonos. While there are too many beaches on this Greek island, here is a list of the best ones to enjoy in Mykonos.
Paradise Beach – Originally known as Kalamopodi, this is one of the most popular beaches on the island. It houses many beach bars, water sports and one of the oldest diving centres on the island.

Super Paradise Beach – This beach is very vivid during the summer season and is known as Greece's most queer-friendly bay. During the peak season, they host night-long parties.

Agrari Beach – Looking for beaches and bars minus the wild party scene? Agari Beach is pretty and great for hanging out at taverns and bars.

Paralia Megali Ammos – A quiet beach located outside of town, this long beach offers plenty of space to spread out. It is the ideal place to kick bank on the sand for a few hours without any crowds around.

Agios Stefanos – Another beach located away from the main town, it is tucked into a small way. This beach is an ideal location for swimming and other casual water sports.
Lastly, before dinner, watch the sunset at Armenistis Lighthouse which offers incredible views over the Aegean. The 1891-built lighthouse has a view of Tinos Island on the northwest coast of Mykonos.
Spend one more night exploring and enjoying the wild nightlife of Mykonos. Some must-visit clubs are:
Cavo Paradiso – The island's most beloved open-air club hosts EDM parties with the beautiful sun and sand serving as backdrops.
Skandinavian Bar and Club – Located in the midst of Mykonos Town, this place has its own open-air dance floor and patio.
180 Sunset Bar – With a chilled-out atmosphere, sip exotic cocktails at this open rooftop bar with panoramic views.
---
---
---
4 and more days in Mykonos
---
With 4 or more days to spend in Mykonos, it is time to visit the lesser-known places. After finishing the first three days as said above, here are some additional things to add to the itinerary.
Visit Ano Mera
Another village in Mykonos, Ano Mera is an under-appreciated place and, therefore, retains its local self. It has many cafes and bakeries and is a definite must-try.
The main attraction here is the Monastery of Panagia Tourliani, which dates back to the 16th century. This beautiful church is filled with intricate carvings and grand frescoes.
Another place to explore here is Gyzi Castle, located on a hilltop overlooking the town.
Go on a biking tour
The best way to discover the beauty of the Mykonian landscape is via a bike. Rent a bike on your own and paddle through the streets of the island to experience every corner.
Relax and party at a seaside pool
The SantAnna beach bar and restaurant was founded in 2017 and houses the largest seaside swimming pool in Europe.
With two separate bars, gorge on the delicious fusion cuisine, relax by the pool on the comfortable loungers and frolic in the pool. During the summer season, they host multiple music events and private parties.
Savour wines at a wine-tasting tour
We believe that tasting the local flavours provides an insight into the place. And that is definitely true with Mykonos and its wine-making tradition.
The rich soil and windy nature of the island result in excellent deep, earthy-flavoured wines. And therefore incorporating a wine-tasting tour can help you savour them.
There are two options: the winery of Mykonos Vioma or Mykonian Farm. The first one is in Ano Mera and can be clubbed with a visit to the village.
Watch a movie in open-air
Imagine Greek summertime mixed with fresh popcorn and a soft drink. That's right! Cine Manto in Mykonos Town has a romantic environment where movie enthusiasts can watch classic and blockbuster movies underneath the stars.
This cinema offers throughout the tourist season. And it also has a bar restaurant that caters to all the stomach needs.
Tour Rhenia Island
There are countless daily boat trip options from Mykonos. And one of the must-visit is Rhenia Island.
The history of Rhenia is intertwined with Delos as it once served as its necropolis. This island is visited for its crystal clear water which helps balance out the busy atmosphere of Mykonos.
Sample the local Greek cuisine
Mykonos has a fantastic gastronomic scene and is internationally popular for its local Greek cuisine.
To try homemade Greek dishes, head to To Maereio in Mykonos Town or Fokos at Myrsini Bay. For a more upscale dining experience, try Hippie Fish which offers Greek Mediterranean flavours.
Admire art at Dio Horio
Mykonos has a pretty impressive contemporary art scene.
And Dio Horio has some fascinating pieces. They also run a residency program giving an opportunity to meet the artists and discuss the artworks personally.
The gallery also has a rooftop bar, which is considered a hidden gem. Enjoy a cocktail or two whilst enjoying views of the island.
---
---
Tips for your Mykonos trip
Book all your ferry tickets online

Accommodation sells out quickly during the peak season. Plus it is also very expensive. Therefore, plan a trip to the island outside of July and August, the peak summer months

Mykonos is a relatively small island. But I recommend using the local bus or hiring a car to explore the whole of Mykonos if you have only a few days to spend in Mykonos

It is possible to visit the island via a cruise, however, keep in mind you will have only a few hours, about 4-5 dedicated ones to visit the island. If you plan on doing this yourself plan in advance

The windmills of Chora and the colourful streets are a short walk away from the port however on a sunny day it can get quite hot so it is best to opt for the shuttle that takes you from the port to the town

Ferries leave from Athens to Mykonos almost on a daily basis. You can also catch one from Santorini to get to Mykonos

The shoulder months of April, May and September and October are some of the best months to visit Greece
---
Irrespective of how many days in Mykonos you spend, it can be a fun-filled and adventurous trip.
It is worth visiting Mykonos even if it is just once, you won't be disappointed!
---
FAQs – How many days in Mykonos
How to travel from Santorini to Mykonos?
Take a 2.5-hour ferry ride from Santorini to Mykonos. Between April and October, the Greece ferry system runs multiple trips between the two islands. Remember to book your ticket ahead of the trip online.
Where to stay in Mykonos?
It depends on the kind of traveller. If nightlife is the main purpose, stay in Mykonos Town to be within walking distance from all bars and restaurants. For a relaxing quiet beach kind of vacation, stay outside Mykonos Town and rent a car for exploring the island.
Is 3 days enough in Mykonos?
3 days on this Greek island is enough time to enjoy the main highlights of the island like the beaches, nightlife, Mykonos Town, Little Venice, and day trips.
What is the best time to visit Mykonos?
The peak tourist season in Mykonos is during the summer. However, visit the island in April-May or September-October for great weather, affordable prices, and fewer crowds.
How to get around Mykonos?
For visiting sites in the town area, walking is the best option as everything is close by. However, for visiting the less touristy places, the two options available are renting a car or bus.
---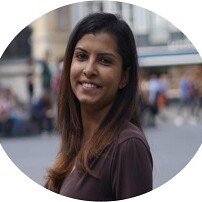 Award-winning Analyst, multi-nominated digital content creator and photographer Lavina Dsouza's words capture stories about culture and tradition mainly through its food and people. She has written and contributed to publications such as The Washington Post, Lonely Planet and Matador Network, to name a few. She is the editor of UntraditionalHumans.com, a non-profit created to share inspiring stories from women of colour who break free from traditions and choose happiness.
She's also a speaker passionate about DEI and champions solo travel. She has collaborated with numerous renowned brands such as Intrepid Travel, TripAdvisor, Travel and Leisure and Adobe, to name a few.
She can be found on Twitter and Instagram.
---
---
EXPLORE MORE OF ITINERARIES
---
Some of the links on this post are affiliate links. These do not cost you extra to use, but will help provide Continent Hop with a small commission if/when you purchase through them, to recover some of the costs of running this website and providing free content to help you plan your travel. I appreciate your support!
---