April in Greece is as fun as summer in the Mediterranean! Many people flock to the Mediterranean when its summer, however the shoulder months tend to be less busy and offer budget-friendly prices! April in Greece may have slightly lower temperatures however it is still perfect for planning a vacation to Greece! Here's deets!
Cheaper flights in April meant travelling to Santorini sooner than anticipated.
Other than possibly the sea being a few degrees colder, April in Greece was turning out to be quite a surprising holiday as we came across lesser crowds, better prices and experienced quite a relaxing trip.
The sunsets and sunrises were stunning and the food delectable as ever.
There wasn't any reason I wouldn't visit Greece in April again and I wanted to make sure you had all the required info for planning a vacation to Greece : the best islands, things to do and info about temperatures + more.
This beautiful Mediterranean country during spring season is pleasant, wildflower-filled and affordable!
Read on and have the best time if you plan to spend April in Greece!
---
April in Greece: Spending spring in Greece
---
Weather in Greece in April
April is considered one of the best months to visit Greece, as the country witnessed plenty of sunny days, crystal clear skies with minimal rain.
The average temperature of the country is observed at 15 degrees Celsius with maximum touching 19 degrees Celsius. The cherry on the cake is that evenings can be a little cooler than the afternoons offering an overall ideal vacay weather.
Greece has 14,000km of coastline with six different island groups that surround the mainland.
Therefore, the weather can vary from one part of Greece to the other. It is best to head south for warmer weather, choosing Athens, Crete, Santorini, Mykonos or the Saronic over the Northern islands.
---
---
Places to visit in April in Greece
---
Athens
The Greek capital is the perfect starting point in a travel itinerary.
One of the oldest European cities, Athens is magical during the spring season. The neighbourhoods that date back over 2,500 years in the city are blooming with poppies and daisies with the warm weather making it the ideal time for sightseeing.
Add gardens and parks to the travel list for a more flower-filled vacation.
Keep time aside to explore the city's top attractions minus the crowds like the Acropolis, Roman Agora, National Archeological Museum and the Temple of Olympian Zeus.
For hiking enthusiasts, visit the hilly area of the Kolonaki district for picturesque landscapes. Additionally, take a day out to climb mount Lycabettus to enjoy gorgeous views of the city and stop at local favourite bars and restaurants on the way back.
---
Thessaloniki
A port city on the Thermaic Gulf, Thessaloniki should also make it to your list.
The Macedonia capital houses the White Tower, an iconic landmark built in the 15th century for the city's defences.
Today, it offers an enchanting view of the Thermaic Gulf from its high point with a mini-museum displaying local artefacts and photographs that dictate the story of the port city.
After a tour of the tower, visit the seafront promenade that runs to the landmark. It boasts of many great coffee shops and bars, offering authentic Greek coffee.
Furthermore, there are many day trips to embark on from Thessaloniki. From Kerkini Lake to exploring local rural villages around Serres and spending a day at the Pozar thermal baths, the options are endless.
---
Islands to visit in April in Greece
---
Santorini in April
A trip in April in Greece is incomplete without a visit to Santorini. During the summer months of July/August, the experience on the island is not the same when they are thousands of tourists at every popular spot.
But how did Santorini come into existence? A volcano erupted in Greece over three thousand years ago with the remains of the volcanic crater forming the country's most photogenic island.
For adventure lovers, hike from Fira to Oia to witness spectacular views of the sparkling Aegean Sea stretching for miles.
Take a tour of the island, strolling through the whitewashed villages overlooking the sea. And to get rid of the stress, spend time at the black lava pebble beaches.
You could also visit vineyards and sample wines, go island hopping, visit the caldera and thermal pools or even go on a stunning sunset cruise – with meals included!
---
Mykonos in April
Mykonos is all my favourite vacation things packed into one island. While it is known as the Greek party island, it is much more than that.
Part of the Cycladic Island chain, it is filled with beautiful beaches, whitewashed buildings, luxurious resorts, vibrant beach clubs, boutique shopping and wild nightlife.
Walk through the quaint streets of Little Venice. For beach spots, enjoy the sand and sun at Panormos beach and tour the surroundings at Platis Gialos Beach. Don't forget to rejuvenate and relax at the Beautyworld Spa.
---
Chios
The fifth-largest Greek Island, Chios is popular for the whitewashed villages and the 11th-century monastery. It is also known as Mastic Island among the locals due to the vast scale of production of mastic.
Chios is blooming in spring and is the perfect locale for those seeking peace and nature lovers. Visit the enchanting mediaeval settlements and walk along the black sand beach, Mavra Voila.
Don't miss out on visiting Neo Moni, the UNESCO-listed Byzantine monastery, popular for being breathtakingly beautiful and serene.
---
Corfu
Corfu is an integral part of Greece, as it is where all the mythological Greeks wars took place. The word 'Corfu' means the city of peaks, which refers to the two peaks of the Palaio Frourio.
Spring in the second largest Ionian Island and is mesmerising with its villages, lush inland, the stunning main town and fabulous beaches. Explore the various museums of the island for a peek into the history and culture of the place.
Remember to take a walking tour to explore the quaint streets and interact with the locals.
Additionally, the Holy Week is grand at Corfu with both the young and old gathering together to celebrate the festival. They also have unique easter traditions like pot smashing on Holy Saturday.
---
---
What to do in April in Greece
---
Orthodox Easter celebrations
A trip in April in Greece is incomplete without attending Orthodox Easter celebrations. The dates can vary but always fall between April 4th and May 8th with the majority of the festivities occurring on Friday and Saturday.
Since many Greeks are religious, this event is as big a deal as Christmas around the world. People from islands, villages and cities partake in this festival with candlelight processions and midnight fireworks held across the country.
In the days leading up to Easter Sunday, locals buy sweet bread, dye the eggs red and buy ingredients to prepare the feast for Easter Sunday dinner.
Since many Greeks attend church service on Saturday before Easter Sunday, visit them to witness the spectacular celebration. Easter Sunday is usually quiet as the locals spend time with their families and Monday is spent in recovery.
Shops, banks, museums and archaeological sites are shut during the four days.
---
Rocket war
The Easter Eve highlights in Vrontados, a small village near Chios Town, is rocket war.
In this most anticipated event on Easter, two rival churches of Agios Markos and Panagia Erithiani fight every year. The origin of this weird custom remains unknown but is a sight to watch.
---
Wild Tulips in bloom
Chios is home to four wild varieties of Kampochora and spring is the perfect time to catch them in full bloom.
However, the blooming period of this beauty lasts only seven to 10 days.
The Department of Environment of the Aegean University and the municipality of Chios are researching ways to extend the blooming period to have more visitors enjoy this nature's magnificence.
---
---
In the mood to explore the islands via cruise? Multiple companies operate sailing cruises during the summer months from April to October like Royal Caribbean and Star Clipper's Eastern Mediterranean cruises.
Explore spring in Greece by sailing through the transparent Aegean Sea that stops at various islands including smaller ports that are not accessible by large cruise ships.
Furthermore, witness dramatic sunsets across the blue sparkling waters while exploring the temples, amphitheatres and villages of Greece.
---
What to pack when visiting Greece in April
Thinking about what all to pack for a comfortable trip to the Land of the Greek Gods?
April in Greece can have unpredictable weather. Therefore, it is best to pack a mixture of clothes.
A casual dress, types of denim or light clothing can be worn during the daytime. However, nights can get chilly. Therefore, carry a light jacket or cardigans to enjoy the nightlife.
For those planning to spend time exploring the attractions on foot, pack comfortable walking shoes.
Also, don't forget credit cards, sunglasses, sunscreen, hat, currency and anything that would be required for a relaxing trip.
---
Swimming in April in Greece
Spring in Greece beaches is serene and good for swimming if a little cold is bearable.
However, if not, don't get disheartened and forget the swimming gear at home.
Take a dip in Lake Vouliagmeni located 20 kilometers to the South of Athens, which records the lowest temperature in winters at 22 degrees Celsius.
The brackish-water lake offers a natural, unique and relaxing experience of a thermal spa.
---
Things to keep in mind when travelling in April to Greece
Your trip in April in Greece has the potential to become an unforgettable trip with a little pre-planning.
Read fiction
Who said fiction books do not give an insight into the visiting country? To enrich your understanding of Greece, immerse in Homer's The Iliad and the Odyssey. For novels on ancient myths, The Song of Achilles, Circe, The King Must Die should be on the list.
There are hundreds of literary works set in Greece and finding the calling for the perfect destinations to visit should not be tough through them. Furthermore, the experience of visiting different places and islands will certainly be unique.
Places like Delos Island, Ithaca, Mount Olympus, Aegena are some places you can still visit that have mythological references.
Learn the local lingo
While learning Greek is not necessary for this English-speaking country, there is no downside to it.
The benefit is that your trip to Greece will be much more immersive. Additionally, the locals do not expect foreigners to know their language. And they love it when someone knows it.
---
No matter where you plan to visit in Greece, you won't be disappointed!
The windmills, pristine beaches and stunning ocales will keep you asking for more irrespective of when you visit and hopefully this guide whet your appetite to visit Greece in April!
---
April in Greece – FAQs
Is April a good time to visit Greece?
April is an excellent time to visit Greece as it is the start of spring. The summer rush is over, there are lesser tourists, and the weather is still mild.
The days are sunny and perfect for sunbathing. The blooming flowers and changing landscapes will ensure you have an Instagrammable vacation. April in Greece also means you can get some of the shoulder-season prices.
Is April too cold for Greece?
No, Greece is not too cold in April. The average daily temperature in Greece in April is a maximum of 19° C and rarely falls below 5° C. The days are long and sunny. The spring is starting and the weather is perfect for sunbathing.
How hot is it in Greece in April?
Greece in April starts getting warmer with the average daily temperature reaching a maximum of 20° C in Athens. It stays around the same in other parts of Greece.
You will not need any layers when wandering outdoors during the day, but you may need to carry a light jacket for evenings as the temperature may drop to 10° C at night.
Is Greece rainy in April?
Yes, it may rain in Greece in April. There are around 6 rainy days in April, but rain showers do not last long and are scattered.
Cloudy days are not uncommon and you will need to carry an umbrella to be on the safer side.
---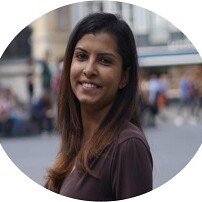 Award-winning Analyst, multi-nominated digital content creator and photographer Lavina Dsouza's words capture stories about culture and tradition mainly through its food and people. She has written and contributed to publications such as The Washington Post, Lonely Planet and Matador Network, to name a few. She is the editor of UntraditionalHumans.com, a non-profit created to share inspiring stories from women of colour who break free from traditions and choose happiness.
She's also a speaker passionate about DEI and champions solo travel. She has collaborated with numerous renowned brands such as Intrepid Travel, TripAdvisor, Travel and Leisure and Adobe, to name a few.
She can be found on Twitter and Instagram.
---
Where's someplace you've stumbled by accident and loved? Let me know in the comments below!
---
---
Some of the links on this post are affiliate links. These do not cost you extra to use, but will help provide Continent Hop with a small commission if/when you purchase through them, to recover some of the costs of running this website and providing free content to help you plan your travel. I appreciate your support!
---