Athens in a day can be tricky, some believe it can be explored in a day. While Athens definitely needs more than a day, for people passing through and visiting Athens on a cruise, this itinerary for Athens should help you get the most of one day in Athens!
The historical capital of Greece, Athens, has today transformed itself from a once city of decline to an important financial hub of Europe.
The rapidly expanding infrastructure, has made Athens as one of the most significant ports by the Mediterranean.
With attractions galore and a nightlife as vibrant if not at par with London or even Paris, a day in Athens can conjure up an experience, unparalleled anywhere else in Europe.
So if you are hard-pressed for time and want to explore the major sights of Athens in a day, don't be disheartened!
All the important places are within short walking distance. Here's a tailor made itinerary which will allow you to see the top attractions at an easy pace, irrespective of whether you're passing by Athens or are visiting as part of a cruise trip!
---
Recommendations for a last minute trip to Athens
This is of course if you're not in Athens due to a cruise trip and have only the day to spend in Athens. Since you have only a day, stay as central and close to the main sites as possible.
The heart of the city is Syntagma Square, from where the Acropolis is within walking distance.
Budget hotel: Arethusa Hotel – Excellent central location with simple and tasteful decorations and amenities.
Mid-range hotel: Evripidou Suites – Located in the heart of Athens, this chic hotel with great decor is in close proximity to places like Monastiraki Square, Omonia Square and Ermou Street-Shopping Area.
Luxury hotel: Intercontinental Athenaeum – Located close to major sites and metro stations, the rooms are spacious and elegant.
---
One day in Athens itinerary
---
8 AM
Start the day with a good Greek breakfast!
If you're someone who can't get around without having a good meal first especially when it's the start of the day – well then the best way to kickstart your one day in Athens is by heading to iFeel Brunch or Melina Mercouri Cafe.
Two of the best places for some steaming hot coffee and authentic breakfast in Athens, these are located about a 10 minute walk from the Acropolis so even if you have a little more you can walk it off as you head to the Acropolis, one of the must-do things in Athens in a day!
Some other cafes that are also good are Telaro, Acron cafe, all in the vicinity of the Acropolis.
---
DETAILS
iFeel Brunch
Address: Karaiskaki 33, Athina 105 54, Greece
Timings: Open weekdays from 8 AM – 12 AM, weekends 8 AM – 1 AM
Melina Mercouri Cafe
Address: Lisiou 22, Athina 105 56, Greece
Timings: Open everyday from 9 AM – 2 AM
---
9 AM
Start the day with the highlight of Athens – The Acropolis
Head to the one place in Athens which is on everyone's lips and list, Acropolis! This UNESCO site is located on a hillock overlooking the city and houses the most iconic landmark of Athens, the Parthenon.
One should ideally spend at least an hour here, taking in the 5th century structures made of Pentelic marble, displaying a stark reminder of the Greek civilization when it was at its peak.
One of the most famous of all the existing structures of ancient Greece, the Parthenon was constructed after the Persian war in honor of Goddess Athena.
Having survived many battles and acts of vandalism, the country, somehow, managed to save the important sculptures and restore the Acropolis and the Parthenon to their erstwhile splendour and glory.
Pro tip – Embarking on private travel experiences when in Athens can really enhance your trip, have skip-the-line tickets and help you see more in less time!
Private, local tours in the city take you to insider spots you wouldn't know otherwise. So, if you just have 24 hours in Athens, it's wise to spend a few on a local experience.
---
DETAILS
Address: Athens 105 58, Greece
Opening Hours: Sunday – Saturday 8 AM – 8 PM. However do check updated timings for holidays at the site mentioned below
Additional details: You can check the website here
---
11 AM
Proceed to the neighborhood of Plaka in Athens + lunch
In spite of the growing number of tourists, the enchanting neighborhood of Plaka, at the foot of the Acropolis, has managed to retain its old charm. Both the upper and lower Plaka areas flock with visitors who come to shop and enjoy the local cuisine, in the company of street musicians performing in the town's squares.
The red tile roof houses with their beautiful flowery presentation, lined up on either side of the maze of narrow lanes, has to be seen to be believed.
Within the boundaries are housed some of the most spectacular museums namely, Benaki Museum of Islamic Art, Jewish Museum, Museum of Greek Folk Art and the Kanellopoulos Museum among others.
Make sure to grab lunch here at one of the many street cafes here that offer a large variety of cuisines in Plaka.
---
---
Attractions and things to do in Athens in a day – post lunch
---
---
12.30 PM
Head to the Theater of Dionysus
Situated on the slopes of the Acropolis, lies the Dionysus theatre, the remains of a once venue of performing arts. Carved out of the natural rock of the hillside, it is estimated that this arena could hold up to 17,000 spectators at one time.
The 4th century amphitheater is said to be the birthplace of European theater, and this enjoys great cultural significance. About a kilometer away is Hadrian's Arch.
Erected in the 2nd century AD, the 18 meter high Hadrian's Arch stood as an honor to the Roman emperor, Hadrian. The inscriptions on the arch reveal that the city was once divided into two parts namely, old and new Athens.
---
DETAILS
Address: Mitseon 25, Athina 117 42, Greece
Additional details: You can check additional details and skip the line purchase tickets here
---
3 PM
Temple of Olympian Zeus
After having some delicious authentic Greek salads and dishes, head to the Temple of Olympian Zeus, situated southeast of Acropolis, the temple of Zeus, the temple is said to be the largest in Greece.
Visitors marvel at the massive structure, much larger than the Parthenon, which originally had 104 pillars, out of which sadly, only fifteen remain today, each having a diameter of two meters.
---
---
4 PM
Pay a visit to the Acropolis Museum
This museum was established mainly to protect and preserve many of the architectural finds, relics and treasures which once were an integral part of the Acropolis.
These important structures, by way of neglect, environmental impact and pollution found their way into foreign homes or were dismantled to be utilized as building materials. Today, about 4000 of these priceless objects are housed in the 25,000 square meter area of the Acropolis Museum.
---
DETAILS
Address: Dionysiou Areopagitou 15, Athina 117 42, Greece
Additional details: The official website for more details can be found here
---
OR
Pay a visit to the markets!
When I visit a new city and feel I don't have enough time to do as much as I'd like, I slow down and take some time out to spend time in one of the markets!
It's a fascinating way to get to know the city, its locals and also to pick up some edible souvenirs!
You're surely won't buy fish or veggies unless you plan to make a meal however one day in Athens isn't sufficient to do that!
However, what you can buy and what I usually do as well is buy some spices and herbs! If you're from the U.K. chances are you will find these to be quite budget-friendly here in addition to other snacks you can enjoy then and there!
---
DETAILS
Address: Athinas, Athina 105 51, Greece
Timings: Everyday from 7 AM – 6 PM. Closed sundays
7 PM
Dinner at a rooftop restaurant and bar with stunning views of the Acropolis!
Athens is filled with restaurants that offer stunning views of the Acropolis and having a relaxing evening at one of these is the perfect way to end your one day in Athens.
The Thea Terrace Bar is well recommended by many visitors due to its charming and stylish decor. There's vertical flower gardens and delicious Greek and Mediterranean inspired food. The bar of course has a large wine selection too!
---
DETAILS
Thea Terrace Bar
Address: Apollonos 21, Athina 105 57, Greece
Timings: 11 AM – 12 AM everyday
Website can be found here
---
Still wondering what to do? Head to Monastiraki Square or the Psiri neighbourhood!
If you prefer not to spend time at one of the popular rooftop bars and prefer small but budget-friendly places for dinner then the Psiri area is where you'll find the Chinatown and Little India of Athens in addition to many small but authentic restaurants.
If you're visiting during summer and it is still bright after dinner you can head for a post-dinner stroll and check out the street art in the area which is one of the best things to do in Athens in a day.
Alternatively you could opt to go to Monastiraki square which is a 3 minute walk from Psiri and try your luck to see if any of the street vendors are still around that sell almost everything from clothes, accessories to any Knick knacks you can think of!
---
Additional rooftop bar alternatives for your one day in Athens
One of the best bits about Athens is that since it is the capital of the country there's no dearth of some great rooftop restaurants and bars – and almost all of them come with a great view of the Acropolis as it is located on a hilltop!
Some additional suggestions to spend a relaxing evening after a busy one day in Athens are:
Safestay Athens Rooftop Bar – Located near Monastiraki Square and not too expensive, with 360-degree views of the city of Athens along with great cocktails!

Air Lounge roof bar – One to head to if you're looking to grab some after meal drinks and are not really keen to grab dinner! Located in Hotel Fresh, they do serve Mediterranean meals however the bar is the highlight as are the views!

Acropolis Secret at Divani Palace – One for special occasions, this one is located at the new museum of Acropolis on the rooftop of the 5 star Divani Palace. A 'secret' restaurant that offers fine dining with a romantic setting, is the highlight of this place1
---
Things to do in Athens at night
The bubbling nightlife of Athens offers something for everyone, from elegant cocktail bars to speakeasies. Whatever the choice, it will be a night to remember.
Enjoy a Greek Bouzoukia
A place that plays traditional Greek music is known bouzoukia and there are some huge concert-style places in Athens. But we recommend visit intimate tavern-style establishments for an exciting and culture-immersed night.
Plaka houses many of tavern-style bouzoukia that offers a fun and casual atmosphere. Musicians also sometimes handout instruments to the patrons to make them dance and sing on the tables.
The best part? There is very less chance of meeting tourists at these places as they are frequented by locals solely.
Athenian Rooftops
The excellent rooftop bars in Athens provide a magical setting. Imagine sipping on a Negroni while watching the Parthenon illuminated and the spectacular scene of the Acropolis.
The Art Lounge is another good option however there are other various places as well. The Couleur Locale in Monastiraki is a hidden cocktail bar with amazing drinks and food and views of the Acropolis.
---
Additional things to do in Athens in a day
---
Explore the Monastiraki Square
The Monastiraki Square is popularly known for the flea market, without actually being one. With a little bit of Middle-Eastern Bazaar feel, it is a great place to shop for souvenirs, clothes, jewellery and other knickknacks.
However, be careful as some things can be fake. Also keep your purses and belongings safe in this crowded area.
Visit the Athens Central Market
Located beside Evripidou street, the Athens Central market is the largest market in the city. The Greeks still prefer shopping at these traditional style markets, thus, offering an insight into their rich culture.
Browse their huge selection of fish, meat, vegetables etc. However, avoid the market if the smells of meat and fish bother the nostrils.
Stop at the Roman Agora and Ancient Agora
The Roman Agora is a marketplace constructed in the 1st century BC using funding from Julius Caesar. While the site is small, it is worth a visit. From this area, follow the pathway through the crowded market avoiding street vendors on the way to arrive at the Ancient Agora.
One of the most important museums in the city, the Ancient Agora was the place where locals would assemble to hear important speeches and announcements.
Marvel at the architecture at Anafiotika
The best kept secret of the streets of Plaka is the village of Anafiotika. A small residential neighbourhood, Anafiotika is located on the slopes of the Acropolis hill and is famous for its architecture.
The houses here are cycladic- style that is adorned in blue and white, giving the impression that it belongs on an island than the capital. The residents of Anafi island missed their island paradise and decided to build their new homes in style of the old homes.
Since it is a residential area please be respectful of its inhabitants when taking pictures or wandering around!
---
Shop at the stores at Evripidou Street
A short walk from Plaka and Anafiotika, the fragrant Evripidou Street is packed with vendors selling cured meats, spices, trinkets, antiquities and more.
Expect to also find locals selling flower seeds, homeopathy bath products and seeds. Remember to request the deli-style stores to guide you to charcuterie board for sampling the produce.
Head up Mount Lycabettus
Mount Lycabettus is the highest point in Athens. Even though it is 277 metres above sea level, the climb to the mountain is not taxing. But the sweat of climbing uphill will be worth it as there are magnificent views awaiting at the top.
Looking for Instagrammable locations in Athens? Then this is one of them!
Watch the mountains around Athens, the sea and the city filled with plains. The best time to visit and snap some photographs is during sunset or sunrise but the view is spectacular anytime of the day.
Visit the National Archaeological Museum
The largest museum in Greece, the National Archaeological Museum has incredible items on display and a heaven for history lovers. From frescos from the island to 2,000 year old statues, the entire museum houses many cool things that explain the rich history of Greece.
Address: 44, 28th of October (Patission) str., Athens 106 82
Ticket prices: 6€ (November 1st – March 31st) & 12€ (April 1st – October 31st)
Explore the street art of Athens
A fan of street art? Then, don't miss the most interesting neighbourhood, Psyri. Art began in Greece during the economic crisis around 10 years ago. And there is whole revolution of graffiti in this area.
Plus the other street art is also incredible. This neighbourhood is also home to taverns, cafes, bars, shops and some of the best food in Greece. Furthermore, spot small artisans shops here with craftsmen that make handmade leather goods, homewares and fashions.
---
Athens is a great city to explore in a day. And even a single day is enough to see much of Athens …. however just its popular sites.
But do remember to dedicate the whole day from early morning till late at night to see the city in its full glory.
Have fun and don't forget to leave your questions in the comments below!
---
FAQs for Athens in a day
Here are answers to common questions about visiting Athens in a day.
How do I get to Athens?
From the airport, the two options available are metro or taxi. The metro will take an hour and is the more economical option between the two.
If you are disembarking at the Piraeus Port, you can take the bus that runs 24 hours, the metro line or the taxi. The entire city is generally walkable, especially the itinerary above. However, you also have the option of taking a 24-hour pass on the metro.
What essentials are required?
Remember to pack a pair of comfortable walking shoes as you will be walking around a lot. Sunscreen and a hat are a must for preventing tans and burns.
Additionally, a portable charger so your phone does not run out of juice when you figure out transportation routes to main attractions.
---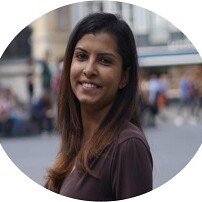 Award-winning Analyst, multi-nominated digital content creator and photographer Lavina Dsouza's words capture stories about culture and tradition mainly through its food and people. She has written and contributed to publications such as The Washington Post, Lonely Planet and Matador Network, to name a few. She is the editor of UntraditionalHumans.com, a non-profit created to share inspiring stories from women of colour who break free from traditions and choose happiness.
She's also a speaker passionate about DEI and champions solo travel. She has collaborated with numerous renowned brands such as Intrepid Travel, TripAdvisor, Travel and Leisure and Adobe, to name a few.
She can be found on Twitter and Instagram.
---
---
---
Some of the links on this post are affiliate links. These do not cost you extra to use, but will help provide Continent Hop with a small commission if/when you purchase through them, to recover some of the costs of running this website and providing free content to help you plan your travel. I appreciate your support!
---