A Mykonos itinerary isn't complete unless you've seen the windmills, churches, Little Venice, visited the beaches and wandered the streets if possible. The good news is one day in Mykonos is good to get a feel of the place. If that's all you have this itinerary should help you get acquainted with Mykonos!
With its narrow picturesque streets, stunning views and windmills, Mykonos should be definitely included in a Greece itinerary. It is one of the most popular Greek islands that attracts countless visitors every year, as it is famous for its chic bars and party atmosphere.
However, sometimes there is only so much one can spend vacationing and, therefore, have to cut short time spent on certain islands.
If that is the case and there is only one day for Mykonos, that is also enough. Although you may want to check how many days in Mykonos you may need if you're still unsure and are yet in the planning phase.
Here is a comprehensive one day Mykonos itinerary that will ensure a visit to all the major sites to make the most of the time on 'the island of the winds'.
---
Mykonos Itinerary – for one day in Mykonos
---
9 AM
Start the day at a local bakery
Start your one day in Mykonos like a local and head to one of the best bakeries of the island. Some options are Il forno di Gerasimo and Gioras Wood Medieval Mykonian Bakery.
One of the must-try local pastry delights is tiropita or spanakopita, which are traditional spinach pies made from the world-famous phyllo dough. For sweet-lovers, opt for bougatsa that is a short puff pastry filled with the goodness of custard.
Looking for a Greek breakfast experience? There are a dozen coffee shops that offer a huge scrumptious spread to satiate your cravings.
---
DETAILS
Il forno di Gerasimo
Address: 13 Agiou Gerasimou, Mykonos Town, Mykonos 846 00, Greece
Timings: 6 AM to 12 AM everyday
——
Gioras Wood Medieval Mykonian Bakery
Address: Agiou Efthimiou, Mikonos 846 00, Greece
Timings: 8:30 AM to 3 PM, 4 PM to 12 AM
---
10 AM
Explore the Mykonos Town of Chora
With meandering cobblestone streets, Chora is filled with bright bougainvillaea set and the famous white-washed buildings. Soak up the beauty of the Greek Isles with photographic spots at every turn and corner.
Some of the attractions to visit at the town are:
Churches: The historic old 600-800 churches at Chora have small rooftop crosses and a climbing bougainvillea.

The most famous one is the 17th century Paraportiani Orthodox Church complex that consists of five interlinked whitewashed churches

Boutiques and shops: Over the years, Mykonos town has become a popular spot among locals and tourists for its wide range of boutiques and shops that sell designer brands, artisanal products and high-quality goods

Wander the streets while shopping for souvenirs, jewellery, clothes and more

Gallery and Museums: Hidden away in the streets of Mykonos town are galleries and museums that house an array of contemporary art, sculpture, handmade furniture and mosaics.

Some of the most popular are Lifeline Art Studio and Municipal Art Gallery

Virgin Tourliani / Panagia Tourliani – A functioning monastery, it is located just outside of Mykonos Town.

It houses a stunning marble fountain and a museum of religious artefacts that are worth seeing.
---
DETAILS
Paraportiani Orthodox Church complex
Address: Mikonos 846 00, Greece
Timings: 24 hours
——
Lifeline Art Studio
Address: 7 Skardana Street, Chora, Mykonos, Cyclades, Greece, 84600
——
Municipal Art Gallery
Address: Matogianni 33, Mikonos 846 00, Greece
Timings: 11 AM to 2 PM, 7 PM  to 11 PM
——
Virgin Tourliani / Panagia Tourliani
Address: Ano Mera, Mykonos, Greece
---
1:30 PM
Gorge on a traditional Greek lunch
Mykonos has a large gastronomy scene with fine dining and traditional taverns dominating the island to fill up the stomach. Imagine sea-inspired dishes  scented with fresh tomatoes and drizzled in olive oil. There are also plenty of vegetable-inspired dishes for non-meat or fish eaters.
Captain's – Food for sharing – It is a must-try place. Known for its cultural and culinary experience, this restaurant offers the concept of mezze-eating in the most authentic and tasteful way.
The place is known for sharing food with loved ones, enjoy local treats while sipping on wine or other traditional spirits. Some of the impeccable mezze dishes are chicken saganaki in red sauce and sheftalia – traditional lamb and pork patties.
Avli Tou Thodori – With authentic local flavours and moderate prices, the menu of the restaurant consists of common delicacies cooked to perfection using fresh materials. From saganaki cheese with caramelized figs to grilled calamari with tomato, the flavours are mind-blowing.
After lunch, satisfy your sweet tooth by heading to Kyklamino. A local's best-kept secret, the family-run shop has been involved in the production and sale of desserts, using high-quality raw materials since 1980.
---
DETAILS
Captain's
Address: Mykonos Waterfront, Mikonos 846 00, Greece
Timings: 7 AM to 1 AM
——
Avli Tou Thodori
Address: Platis Gialos, 84600 Mykonos, Greece
Timings: 12 PM to 12 AM
——
Kyklamino
Address: Mykonos 846 00, Greece
Timings: Monday to Saturday 8 AM to 9:30 PM, Sunday 9 AM –1 PM, 5 PM – 9:30 PM
---
Where to stay in Mykonos?
Anywhere in Mykonos is good however the area around Little Venice and the windmills can get a little busy and expensive in the high season. Here's some of the best options to stay while on the island
ANEROUSSES MYKONIAN TRADITIONAL HOUSES – a luxury property, located about 3 minutes from the beach of Houlakia with views of the Aegean Sea, lush with palm trees and some of the best amenities and architecture.
Other options we checked and worth considering:
PENELOPE VILLAGE – a semi-luxury property, located a few yards from the coastline of Kavo Livadi with some rooms providing unobstructed views of the sea. A short drive from the town and with amenities like hot tubs and pools.
ANGELA'S ROOMS – Traditional rooms about a 10 minute walk from the beach. Close to town yet not too busy. In one of the most preferred areas by tourists in Mykonos
Another option is Matogianni Hotel, in the main Mykonos town of Chora. Close to Little Venice, the port and all the restaurants and bars. Since public transport options are low at night, partying through the wee hours or going out at night becomes relatively easier when everything is at walking distance. Additionally, this is a budget-friendly hotel even during the peak season.
---
---
3 PM
Relax on one of the pristine Mykonos Beach
Lather up on the sunscreen, grab your hat and sunglasses and head to one of the variety beaches of Mykonos.
The island is home to 25 beaches that cater to all tastes and needs. On one side there are loud, wild and extravagant beaches and on the other are quiet beaches away from the hustle and bustle.
Super Paradise Beach is famous all over the world with its six-kilometre stretch and golden sand. Laze on the loungers while sipping cool cocktails.
The other option is Platis Gialos, which is known for sandy stretch and sparkling clear water.
The third option is the village of Psarrou that attracts thousands of visitors all year round. Psarrou is home to the Psarou beach. Take a walk between Psarou beach and Paradise beach, one of the most popular walks of the island.
---
---
5 PM
Windmills and Little Venice
Spend the evening of your one day Mykonos itinerary by heading up to the Kato Mili windmills. The 16th-century mills are no longer operational today but the strong winds were once harnessed to ground grain.
Currently, there are 16 windmills remaining on the island, five of which can be found in Chora. The most popular windmills are Kato Myloi, which are five windmills together.
From the viewpoint of the windmills, enjoy the colourful houses of Little Venice. Witness the 10th-century district illuminated by the last rays of the sun, as elegant and gorgeous houses dominate the area.
Additional sunset spots for one day Mykonos itinerary
While Santorini may be famous for its sunsets, Mykonos also has great spots to watch the end of the day. While there are half day sunset tour options, the island also has incredible places that offer spectacular views.
Armenistis lighthouse – Even though it can get crowded in the peak season, this space offers beautiful views and feel miles away from the noisy world. Tip: Walk past the lighthouse to feel as if the edge of the world is right there.
180 Sunset bar – If sunset views are very important, then there is no better place than this bar. Remember to make a reservation in advance, especially during the peak season.
---
7 PM
End the day with drinks at Little Venice on your Mykonos itinerary
Built on the sea bank, take in the feeling of being in the famous Italian city without actually being in it.
The mesmerising neighbourhood is the perfect place to enjoy an evening drink. Delicious cocktails and friendly atmosphere is combined with striking views, the perfect way to end the day.
Some of the top choices are Kastro Bar, Semeli and Scarpa for a relaxed night filled with chit-chat, scrumptious food and unique cocktails. Alternatively, stroll through the streets to find other establishments for a memorable night.
Additional things to do at the end of your one day Mykonos itinerary
After drinks at Little Venice, there are two options. Calling it a day or heading out to see the world-famous nightlife of Mykonos. For those seeking to make the wild partying dreams come true, here are some clubs that should be your next stop.
Tropicana Mykonos Club –  Known for the loudest and most eccentric beach parties, this club holds the title of the 'Sexiest Beach Bar in the World' awarded by Travel Channel in 2012. They host the biggest names in the DJ industry every year and is the best place to experience the party life of Mykonos
Astra – Located in the heart of Mykonos town, the bar has a simple and elegant interior. It is the perfect amalgamation of Mykonian night life with a unique and friendly bar
Void – The Void features unique architecture whilst keeping the minimal design roots of the island. With three different levels inside the club, immerse in the music and sip their fancy cocktails
---
DETAILS
Kastro Bar
Address: Agion Anargyron 1, P.O.Box 69 Paraportiani Church,Little venice, Mikonos 846 00, Greece
Timings: 10.30 AM to 12.30 AM
——
Semeli The Bar
Address: Xenias, Mikonos 846 00, Greece
Timings: 10 AM to 5:30 AM
——
Scarpa
Address: Mikonos 846 00, Greece
Timings: 8 AM to 5:30 AM
---
Additional things to do for 1 day in Mykonos
Go on a shopping spree at Matoyianni Street
After exploring Little Venice's scenery, shop at one of the most fantastic spots, Matoyianni. Walk through a long alley filled with excellent handmade souvenirs, crafts, art and international brands.
Sail to Delos Archaeological site
Many tourists always add Delos to their Mykonos itinerary, as it is one of the most historical islands in Greece. The island was a political and economic force in the first and second centuries CE. Now it is a UNESCO World Heritage site.
Since the island is only three kilometres in size, it is easy to explore in a day. The ruins of the ancient capital are spread across along with statues, frescoes and mosaics. Delos also has an archaeological museum offering an insight into ancient Greece.
With only a 25-minute boat ride, there are many guided full and half day tours to Delos.
Visit other archaeological sites
For history and culture buffs, Mykonos also has other archaeological sites dotted around it. Hire a taxi driver to take you between these stunning locations.
Kastro Panigiraki – Located on the outskirts of Chora, it is an old castle complex with fortification windows and high stone walls. This site looks over the Aegean Sea and houses the Anemos Windmill.

The Archaeological site of Ftelia – Located between Mykonos Town and Ano Mera, it features a beach with ancient ruins. To understand the significance of the ancient rubble and stone, do a thorough research.

Thule Tomb – The 2nd century BC circular tomb was unearthed during the construction of the Tharroe of Mykonos Hotel. The tomb has been supported by a wooden frame to keep it standing and the hotel has dedicated space to the site.
---
This itinerary can easily be adapted for a two or three day Mykonos itinerary if required by adding and subtracting some places.
For any other questions, do leave it in the comments below!
---
FAQs for Mykonos itinerary one day
How to travel to Mykonos?
There are two options for arriving in Mykonos. And they are either by plane or cruise ship. The latter is more famous as many passengers spend the entire day on the island during a stop on their cruise tour.
How to get around Mykonos?
Local buses – They are the relatively quick and cheapest way to get around this small island. Buy your tickets from the driver. But remember to keep change handy, as the drivers might not have the exact change.
Car or scooter – If finding bus stops and waiting for them is too much hassle, hiring a car or scooter is also an effortless way to get around the island. But finding parking in some places can be a challenge.
Taxi – Another popular way to get around Mykonos is taxis. But since there are only 30 taxis on the island, it can involve some waiting time.
When is the best time to spend one day in Mykonos?
The peak season in Mykonos is the same as the other Greek islands and that is July or August. Alternatively, April, May and October are the best time to avoid the crowds, scorching sun and peak prices.
---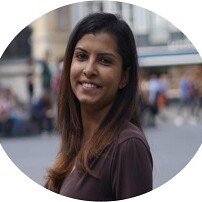 Award-winning Analyst, multi-nominated digital content creator and photographer Lavina Dsouza's words capture stories about culture and tradition mainly through its food and people. She has written and contributed to publications such as The Washington Post, Lonely Planet and Matador Network, to name a few. She is the editor of UntraditionalHumans.com, a non-profit created to share inspiring stories from women of colour who break free from traditions and choose happiness.
She's also a speaker passionate about DEI and champions solo travel. She has collaborated with numerous renowned brands such as Intrepid Travel, TripAdvisor, Travel and Leisure and Adobe, to name a few.
She can be found on Twitter and Instagram.
---
---
---
Some of the links on this post are affiliate links. These do not cost you extra to use, but will help provide Continent Hop with a small commission if/when you purchase through them, to recover some of the costs of running this website and providing free content to help you plan your travel. I appreciate your support!
---