Oia is one of the most prettiest yet crowded villages in Santorini. Yet there are many things to do in Oia. If you're wondering where to start and what to do in Oia, this Oia guide should help you get the most of your time here even if you spend just a day in Oia.
Of the week we spent in Santorini, we'd saved Oia for last.
Maybe it was the fear of crowds, maybe it was the feeling of Oia not standing up to the hype.
However, hesitatingly we made our way to Oia on the second last day. As mentioned in my 2 days in Santorini itinerary, the most photographed spot in Santorini, the one you'd find on most postcards, was also probably the most crowded.
Some like me were there to capture it and check if it was worth it.
Others knew it was something to check off their things to do in Oia list.
The funny thing about travel, now more than ever, is that there's always the impending question: Is it worth it?
How would one know unless one experiences it? You need to be of strong mind and not have FOMO to know exactly what you're looking for on your travels, how much is responsible tourism important to you and if you're alright skipping the touristy bits.
The sunset sure was mesmerizing.
Was it good enough to jostle the crowds? Not for me as it was noisy and it isn't the way I'd like to experience a sunset.
However, exactly 10 minutes after sunset, it was deserted – and it was the perfect setting to enjoy THAT location at that point.
So I thought of putting together this guide with tricks like these to help you decide what to do in Oia, what to avoid and what to pick. Hope it helps you get the most of this beautiful village in Santorini, Greece!
P.S. Travel questions are covered at the end of the post.
Fun things to do in Oia, Santorini
A guide to the best places in Oia
---
How to get to Oia, Santorini
BY FLIGHT – Santorini has a small airport and has a few flights coming in every day. You can directly fly to the island however it may not be budget friendly.
Once you get here, Oia is located in the Northernmost part of the island, about 15 kilometers away from the airport and it takes about 20 minutes to get here.
MYKONOS TO SANTORINI FERRY – We visited Santorini after we'd visited Mykonos. We got the ferry from Mykonos to Santorini, details can be found here. It takes about 2 hours to get to Santorini from Mykonos.
You don't need to get here only from Mykonos. You can pick any island and use a ferry to get to Santorini. Depending on where you come from, Oia should be about 30 – 45 minutes away.
---
Where to stay in Santorini
I'd highly suggest a hotel which provides a view of the caldera. Watching the sunset sans the crowds, while you're relaxing in your Jacuzzi is priceless.
The regions in Santorini that have a view of the caldera are Fira, Imerovigli, Firastefani and Oia.
COCOON SUITES – Where we stayed with unobstructed views of the caldera, great sunset view and a private jacuzzi
Other options we checked and worth considering:
CHARISMA SUITES – One of the best properties for honeymooners, which have the best views in Oia and otherwise
LA PERLA VILLAS – Cave suites built in a traditional way, with an outdoor pool and a great view of the caldera and the sea
GABBIANO TRADITIONAL APARTMENTS – If you'd rather prefer an apartment, these traditional apartments with a view of the caldera are perfect with all amenities
---
1> Oia Castle aka THE sunset spot
Oia Castle or the Byzantine Castle of Agios Nikolaos is where the crowds and so is the best sunset spot in Oia.
If this is the only reason you're visiting Oia, plan to get here at least 2 hours before the estimated time sunset is to occur that day.
It isn't located on the main central road of the island and you will have to refer to Google Maps to get here. A tiny lane which is located just a little ahead of Atlantis bookstore should get you to Oia Castle which is in ruins.
Hence it is advisable to be very careful when getting here. If you have equipment, you will need to be even more cautious.
Since the crowds disappear 10 minutes after the sunset, I'd suggest getting here after the sunset if you'd like to have almost the whole place to yourself and sunset isn't too much of a priority.
You're guaranteed breathtaking views of the caldera and the endless sea beyond irrespective of when you visit.
---
---
2> Other Oia sunrise and sunset spots
If just getting 'that' sunset picture isn't on the top of your things to do in Oia list, there are a few other places in the village itself that you can enjoy sunrises and sunsets.
Here's the alternate spots to do so:
North shore pier on the West of Oia

A random location on the streets of Oia in the same direction as Oia castle (to the left)

The windmills of Oia

Kantharos and Paralia Kantharos beaches

Dinner at one of the many scenic restaurants (booking in advance highly recommended)
As with sunrises, there are bound to be few tourists and sunrises can be just as enjoyable from these spots. It is a calming yet refreshing feeling to see the soft light envelope the caldera and the buildings around before the island starts buzzing.
You will however have company for sunset, but it will be less crowded than Oia castle.
---
---
3> Amoudi Bay
We avoided exploring Oia altogether on our very first day here (saved it for the last 2 days) and got to Amoudi bay to get on a catamaran cruise that took us sailing to view the gorgeous sunsets here at sea.
Amoudi Bay by itself is very picturesque. You'll find plenty fish taverns here, serving fresh and delicious Greek seafood.
You'll also find octopus and squid here, hung like clothes on a line, left to get dried.
It's quite a walk down via the 300 steps from Oia to get to Amoudi. Once here you can also take a swim in the crystal clear waters or jump of the cliff (which isn't recommended as the cliffs are quite uneven).
There isn't a beach here so you can't relax and sunbathe at Amoudi Bay.
---
4> Hop on a Catamaran cruise
While at Amoudi bay, since there isn't a beach due to the rocky coastline, a great option to get to one of the sandy Black and Red beaches on a different part of the island is by hopping on a cruise.
Most cruises are very budget-friendly, take you away for a day or half a day depending on your preference and have meals and beer included!
Some popular spots on the day trip are:
The Red Beach

Volcanic Hot Springs

Nea Kamani (the volcanic crater)

Around Akrotiri lighthouse
It is definitely one the best things to do in Oia and on the island itself and is one of my most fondest memories of Santorini.
---
DETAILS
Address: Santorini, Oia, Ammoudi 847 02, Greece
Timings: Vary depending on the cruise chosen. Check the tour operator for additional options
Price: Vary depending on the cruise you pick. Prices usually start around 60 Euros.
---
5> Explore the churches and the Blue Domes
The Blue Domes have been photographed so much that you will find signs in Chinese and English pointing to the location once you get to Oia.
Tour buses that take visitors around the island (and sometimes even cruises that dock for the day here) get to Santorini and Oia about 9 AM. So the best way to get a picture without the crowds or someone in it is to get here as early as possible.
Try to aim for about 7 AM and you're sure to have the spot to yourself except for maybe other zealous photographers as yourself!
The Churches of Agios Spiridonas and Anasteseos are two of them.
To get here, first get to the centre of Oia. Once here, find the Panagia Platsani Church and keep walking to the right with the Church behind you. Find the Bulgari store that is opposite to the Gold an Silver store and take the tiny road right before the store that turns left.
You'll get to a door that seems randomly suspended. From here, pick any road, either to the right or left to get your picture.
The best time to avoid the crowds if of course, once again, early morning.
There is an Airbnb that you can stay in, right near the Blue domes. It is located right behind where I'm standing in this picture. Details here.
---
---
6> Visit the main Church of Oia – Panagia Platsani
Panagia Platsani is one Church you can't miss, yet many people walk past it as there's so much to do on everyone's things to do in Oia list!
While the Church how it stands now was built in 1965 as it had to be rebuilt after the earthquake of 1956, the origin of the original church dates back to before 1820, when the icon of the holy mother was found in the sea
While many photographers use this spot as a backdrop for photoshoots, it is worth a visit if you're looking to find some quiet time and check the architecture and stories associated with the Church.
---
7> Go on your own photography walk to find the hidden best places in Oia
The most interesting bit about Oia and Santorini is that you don't really need a guide or refer to exact locations to capture stunning pictures.
There's a picture-perfect scene in almost most places, be it Churches, beaches or the blue and white-washed architecture of the island.
Grab your camera and head out on random walks in Oia or elsewhere to find the best places in Oia. If you're looking to have the place to yourself, choose to take a walk early morning, or when people head off to prepare for their dinner after the sunset.
This will not only help you get some unique captures but will also get you acquainted with the area around Oia.
---
---
8> Visit the Beaches
While Ammoudi Bay doesn't technically have a beach there are some hidden beaches in Oia you can visit. Many aren't aware of these as you won't find them on the typical 'things to do in Oia' lists.
Kantharos

Paralia Katharos

Baxedes

Columbo

Armeni

Ammoudi
are the beaches in Oia.
You can get to the Kantharos beaches rom the Agios Ioannis Church and the Katharos Lounge vegan meze bar. It's free to visit, but you won't find any umbrellas, shops or sun beds here, it's that isolated!
All the beaches are rocky, there's hardly any sand and swimming isn't recommended at Kantharos. Cape Columbo and Baxedes are more swimmer friendly.
Note that there aren't any stairs to get to most of the beaches.
If you're spending just one day in Oia, this should keep you busy and should not make you wonder what to do in Oia!
---
9> Find the 4 bells of Oia – Agia Ekaterini
Another photography spot, the 4 bells of Oia with the island of Therasia in the background draws hordes of visitors.
Located quite close to Oia castle, it is another thing best visited at sunrise.
---
10> Hike to Fira (Thira) via Imerovigli
We chose to stay at Cocoon suites in Imerovigli as the views of the caldera here were unmatched. While you can hike in either direction, one end of the path starts in Oia and the other in Fira.
The walk is about 7 kilometers and takes about 4-6 hours depending on you pace and passes through the west of the island.
It is quite a scenic route and will take you through many rooftops, Churches and restaurants along the way, each more beautiful than the other. It is quite steep in some places so not recommended for everyone, especially for those with a pram.
---
---
11> Visit Atlantis bookstore
While Atlantis is hugely popular and sometimes can be quite crowded, it is still a cool place to get your hands on some books (or even enjoy the smell of books!)
They stock books not only in English and Greek but also Italian and French to name a few.
It is quite instagrammable and the views from their terrace are quite picturesque. Definitely the spot to grab a book to read while relaxing at your suite or to purchase a book for someone as a souvenir from Oia.
---
DETAILS
Address: Nomikos Street, Oía 847 02, Greece
Timings: 2 PM – 8 PM everyday
---
12> Armeni Bay
The other bay in Oia is Armeni Bay that you can get to from the path that starts from between the restaurants Thalami and Ambrosia. armeni was the old harbor of Santorini however after Ammoudi came into existence, many don't have it on their radar.
You will still need to climb many stairs to get here but it is worth it to get away from the crowds.
Armeni bay is where diving classes are held as there is a diving center located here.
---
Some more unique things to do in Oia Santorini
HIRE A PRIVATE YACHT
If you're looking to have a luxurious time on the island, hiring a private yacht for yourself is possible in Oia. Or you could hop onto a private chartered yacht service like Oyster Yachts that take you on a custom tour of your choice which can also include Santorini.
RENT AN ATV HERE TO EXPLORE THE WHOLE OF SANTORINI
You can rent an ATV almost anywhere on the island, inquiring at your resort would be a good place to start however if you are staying here, you can also opt for one here and explore the island at a leisurely pace.
OPT FOR A HELICOPTER TOUR
If you thought watching the sunset while on a catamaran was ofbeat, a helicopter tour is even more unique. Of curse, it will be pricey to do so.
VISIT THE LOCAL WINERY
The Domaine Sigalas is the local winery in Oia where you can have wine tastings of the local wine produced here and some wines from the other areas in Greece. Booking a tasting in advance is recommended.
HEAD TO ANOTHER ISLAND!
You can also hire a boat or get on a ferry from Oia to visit another island for the day like Ios, Thirasia Folegandros and Anafi.
SHOP FOR SOUVENIRS
While the main city, Fira has numerous shops that you can buy souvenirs from, there are many shops and cafes here that sell quite a few offbeat souvenirs to take home.
---
As we waited till the last of the crowds had disappeared from Oia castle we realised that it had taken us almost 5 years to get to Santorini.
We weren't sure if it was worth the hype but Santorini was one of those destinations that had lived up to it even with the crowds.
The sunsets were surreal and the views divine, no matter which part of the island you chose to stay at and given the chance we would revisit it all in the blink of an eye.
---
HERE'S SOME MORE INFO TO HELP YOU PLAN YOUR TRIP BETTER
Restaurants in Oia, Santorini
Restaurants in the capital of Fira (Thira) are more budget-friendly and there's more options to pick from. As for a view of the sunset while having your dinner, it is possible to do so from any location on the West side of the island.
However, if you are staying in Oia and it is here you'd like to do both, here are a few options to choose from. Ensure you book well in advance!
(Please check latest info to check if there's been any changes due to the pandemic)
NOTE: These may or may not have a view of the sunset. Please check when booking.
Armeni : Rated the best restaurant in Oia, for good reasons. Clean decor, hospitable staff that arrange to pick you up from Ammoudi Bay and authentic Greek cuisine. Popular for its shrimp in Phyllo, calamari and tuna dishes.

PitoGyros traditional Grill House : Budget-friendly, and quoted as the best gyros in Oia (and probably the island!). Good portions and fresh food.

Melitini : Great terrace with a view of the caldera, needs booking for a spot on the terrace. Serves tapas style meals so might seem pricey for many.

Karma : Has a great romantic setting and is very peaceful on the courtyard. Accommodating staff and great if you have meal preferences.

Roka Kafeneio Ouzeri : A great tavern for authentic Greek cuisine, vegetarian dishes and seafood

Lycabettus Restaurant : Probably a restaurant with one of the best views. Creative food, a little pricey but worth it especially if you'd like a sommelier helping you with your pairings!

Dimitris Ammoudi Taverna : One of the best taverns in Ammoudi Bay for fresh seafood, and a great view of the sunset. May be pricey for some.
---
Bars and pubs in Oia
While some of the best drinking spots will be found in Fira, here's a couple in Oia that might help:
Hassapiko : Not too touristy, has great local, retro vibes

Catch Bar and restaurant : Great if you'd like to hang around after your meal for some lovely cocktails

Sun Spirit Cocktail Bar : Great for sunset watching with your drinks but can be quite busy and slow even with a good staff.
---
A final note for your Oia Guide: Many articles suggest you get a 'tourist taxi' aka a donkey taxi on your way to Ammoudi or Armeni Bay.
Just a quick look at these donkeys will have you worried as they're in the sun for long hours without proper food and water and are carrying more than the recommended weight for donkeys (which is usually a child about 40 – 50 kgs).
Keep in mind that these hikes can be strenuous for many and its best to avoid it as there is no other means of transportation to get up and down the about 300 steps.
---
IS IT WORTH GOING TO SANTORINI?
Prices vary. On average, the price per meal is about 20 – 25 Euros per couple. A meal of gyros is definitely cheaper. Dining at restaurants is cheaper than eating at your resort.
Most people who visit Santorini go there for a luxurious holiday and it is worth it. It is most expensive in summer with average hotel prices around $150 per night. There are however areas like Kamari, Emborio and the south of the island that you can stay at and AirBnb's you can opt for too to make it budget-friendly.
HOW MANY DAYS DO YOU NEED IN SANTORINI?
For a quick getaway, you need at least 3 days in Santorini. However consider spending 5 days in Santorini, to visit the usual attractions and have a relaxing time too.
The island of Santorini is located in the Aegean Sea about 2 hours from Mykonos. It is also located about an hour from Athens by flight. Santorini sits in a dense cluster of islands in the Mediterranean sea that also include Ios, Paros, Sifnos etc. to name a few.
HOW TO GET AROUND SANTORINI
HIRING A CAR/QUAD/BIKE/2 WHEELER
The most convenient way of getting around Santorini is by hiring a rental vehicle. The best way to do this is by asking for the rates at the hotel, online, or even walk in at any of the shops in Thira.
However, keep in mind that it may get really busy in summer and hence booking in advance may be helpful.
TAXI
Taxi's are available in Santorini however they are very difficult to get hold of and not easily available as there are only a handful. You may find most of them in Fira however if you plan to go to Akrotiri and wait, you may not get one there and it will be expensive to have a taxi wait till the sunset is over!
PUBLIC TRANSPORT
Buses do not run from one end of the island to the other and only connect Thira/Fira to tourist spots like Perissa (Black Beach), Kamari Beach, Akrotiri (Red Beach), Oia, as well as Athenios port, and the airport.
All of them run from the station in Fira and the schedules tend to change frequently hence it can be unreliable. Prices vary depending on destination.
FROM THE AIRPORT
It costs about 30 to 40 Euros to get from the airport to Oia, 20 – 30 to Fira, and 25 – 35 to the ferry port.
WHERE TO STAY IN SANTORINI
HOTELS
As mentioned above, the best locations to stay in Santorini are towns that provide a view of the caldera. These are Fira, Imerovigli, Firastefani and Oia. There are a range of hotels you can pick from hostels to luxury resorts, each will have their own amenities however nothing beats splurging a little and staying in a luxury resort or hotel.
I stay in Cocoon Suites and it was one of the best in Imerovigli.
AIRBNB
If you prefer to stay in a Airbnb, prices for a private place can be from about £20- £30. If you're new to Airbnb, sign up using this link to get £30 off your first booking.
---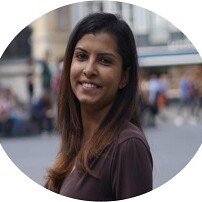 Award-winning Analyst, multi-nominated digital content creator and photographer Lavina Dsouza's words capture stories about culture and tradition mainly through its food and people. She has written and contributed to publications such as The Washington Post, Lonely Planet and Matador Network, to name a few. She is the editor of UntraditionalHumans.com, a non-profit created to share inspiring stories from women of colour who break free from traditions and choose happiness.
She's also a speaker passionate about DEI and champions solo travel. She has collaborated with numerous renowned brands such as Intrepid Travel, TripAdvisor, Travel and Leisure and Adobe, to name a few.
She can be found on Twitter and Instagram.
---
---
Do you prefer to visit crowded spots and attractions or avoid it altogether? Or do you have any tips to visit such destinations?
---
---
Some of the links on this post are affiliate links. These do not cost you extra to use, but will help provide Continent Hop with a small commission if/when you purchase through them, to recover some of the costs of running this website and providing free content to help you plan your travel. I appreciate your support!
---