Burano is located about an hour away from Venice and is the perfect option for a day trip. There's many things to do in Burano and this article will share how to get from Venice to Burano and info about the Venice to Burano ferry.
Burano is a small island, about 9 KM from the floating city of Venice. The fisherman's island of Burano is mainly known for its brightly painted houses that stand out.
The island's name comes from 'Porta Boreana', a door in Altino — the island was founded by Romans who fled Altino during the Barbaric invasion. Burano was home to modest fishermen.
The exact reason the houses were painted in bright red is unknown. But the most believable legend is that the houses were painted in bright hues so that the fishermen could recognise and navigate to their houses when fog blanketed the lagoon.
The pretty island is also known for its lacework and seafood. The island is home to a small population of about 3000 people who engage in fishing, lacework and tourism.
Many tourists take a day trip to Burano and the nearby islands of Mazzorbo, Murano and Torcello to get away from the crowd in Venice. Getting from Venice to Burano takes about 40 – 45 minutes. Read on to find out how to get to Burano from Venice and what to do in Burano.
---
How to get from Venice to Burano – via water bus/ferry
---
The easiest way to get from Venice to Burano is to take the Vaporetto (water bus) from Fondamenta Nova ferry terminal (F.te Nova). Take the route 12 water bus which stops at Murano, Mazzorbo, Torcello, Burano, Treporti and Punta Sabbioni.
Ferries leave every 20 – 30 minutes throughout the day. You can get the timetable for the ferry service from Venice to Burano here.
If you are making only a day-long trip to Burano from Venice and want to return to Venice on the same day, you can take a ferry back from Burano, a ferry returns to Fondamenta Nova terminal every 20-30 minutes.
---
Ferry Venice to Burano – Tickets
ACTV is the service provider for the Venice to Burano ferry and all ferries for the urban area of Venice. Vaporetto tickets are available at self-service machines at ACTV docks, the ticket window at the dock or the AVM app. You can also buy a ticket from the conductor once you board the ferry from Venice to Burano.
---
Cost of getting to Burano
The ferry to Burano will cost €7.5 for your one way trip from Venice to Burano or, instead, even further as long as it takes 75 minutes or less. The tickets are priced in a way that a one-way ticket for 75 minutes or less costs €7.5 (You can use more than one line, but this ticket won't cover a return trip). A two-way ticket costs €15.
If you want to make multiple stops and spend time at the other islands like Murano and Torcello, consider buying the day pass for €20. This pass will also allow you to travel by buses and trams and make travel cheaper if you are spending longer in Venice.
Passes are also available for two days, three days, and seven days. You can buy the day-based pass here.
---
How to get to Burano from Venice – Via Private taxi
---
Taking a private water taxi from Venice to Burano will cost 130 – 140 € one-way. This does not include waiting time if you want to come back by the same taxi.
The ferries are efficient: it's cheaper to travel through one. If you are keen on travelling by private boat, it would be cheaper to travel in a group and split the cost for the boat trip.
---
How to get to Burano from Venice – Via day tour
---
Organised half-day or day-long trips from Venice from Burano are available for as low as 20€. Packages through a private boat cost 100-200€. Check for Burano tours here that also include Murano and Torcello.
You could also do a half day trip to Burano and Murano. Lagoon tours take you around the islands and Venice lagoon for the whole day and are also worth checking.
---
What to do in Burano
Wander the streets
The main reason people come to Burano is to see the beautiful, bright houses. Burano is so small, you can easily discover the island on foot. There are no cars here! You can either walk or get around using a boat. Any of the colourful houses here is a photogenic background for clicking photos.
See the Terrenova and Tre Ponti bridges. And don't miss out on Casa di Bepi Suà, the most famous and colourful house on the island.
You can also walk to the nearby island of Mazzorbo connected by a wooden bridge called 'Ponte Longo' by the locals.
Visit the lace museum
The popularity of Burano's lacework goes back to the 16th century when nobility would use lace from here in their homes, and other European nations failed to replicate the intricate lacework of the Burano women.
Now, handmade lacework is more of a traditional art form, as commercial, machine-made lace products are more common. If you spend time in Burano, you may spot one of the locals sitting in their window and making a product by hand.
Handmade lace products are still sold in shops here. If you want to learn about the history of lace making in Burano, visit the Museo del Merletto – the lace museum in Galuppi Square.
---
DETAILS
Museo del Merletto / Lace Museum
Address: P.za Baldassarre Galuppi, 187, 30142 Venezia VE
Timings: 12 pm – 4 pm from Thursday to Sunday, closed from Monday to Wednesday
Cost: €5 for full ticket, €3.5 for students for children, students and visitors over 65, free for Venetian residents and citizens
---
Visit the local church 
Visit the St. Martin church, a Roman Catholic church built in the sixteenth century. You can also visit the Leaning Bell of Burano nearby, a tower that leans towards the ground due to the uneven land it is built on. The Santa Barbara Chapel is another place worth visiting here, located right next to the St. Martin church.
---
DETAILS
San Martino, Burano/ St. Martin Church
Address: P.za Baldassarre Galuppi, 20, 30142 Venezia VE
Timings: 8 am – 12 pm, 3 pm – 7 pm
Cappella di Santa Barbara/Santa Barbara Chapel
Address: P.za Baldassarre Galuppi, 22, 30142 Venezia VE
Timings: 8 am – 12 pm, 3 pm – 7 pm
---
Eat and shop at the Galuppi street
Stroll through Via Galuppi, the main street lined with shops and restaurants. If you want to buy lace, beware that many shops sell machine produced lace products. Ask for handmade lace products categorically. The handmade lace products are pretty expensive. Check out popular shops like La Perla and Dalla Lidia Merletti D'Arte to buy beautiful Burano lace products.
Try the local fish, shrimp and sardines at any cafe here. If you are in the mood to splurge, the island has a well-known Michelin recognised restaurant called the Trattoria Al Gatto Nero. This restaurant is well known for its seafood and pasta.
And while in Burano, do try the special dessert from this island – the Bussola. You can buy these Venetian butter cookies from any bakery in Galuppi street.
---
There are limited options for accommodation in Burano –
Views of the Lagoon and and a holiday home full of art, this property is managed by a local and rooms are done beautifully!

The most popular one is Casa Burano. They have restored rooms in the cottages across the island.
---
Best time to visit Burano
Tourism in Burano corresponds with that in Venice. Venice is charming in any season.
You can visit Burano any time of the year. Here are a few things to keep in mind –
Burano is more crowded during the summer season, i.e. from June to August, and during the Venice Carnival every year

It is susceptible to flooding during the period of November- January

Burano is more crowded during weekends

To beat the crowds, start early in the morning. As the day progresses, more tourists visit for a half-day tour of Burano and the surrounding islands
---
If you're wondering whether you need to spend more time in Venice to be able to visit Burano and Murano? The answer is yes!
You could attempt to visit both islands and while the houses may seem similar the history and attractions aren't.
Stay on longer and wander the tiny alleyways to make you feel you're the only ones on the island especially in off season, the feeling is unparalleled and will make you want to visit these islands again!
---
FAQs – From Venice to Burano
How do I get from Venice to Burano?
From the Fondamenta Nova ferry terminal, take the Vaporetto (water bus) route 12 to Burano. Throughout the day, a water bus operates every 20 to 30 minutes. To find out how to take a ferry from Venice to Burano, check the timetable here.
From Venice to Burano, a private water taxi will cost at least 130 to 140 euros.
How long does it take from Venice to Burano?
It takes 40 – 45 minutes to get from Venice to Burano via a water bus
Is it worth visiting Burano?
It is worth visiting Burano for its colourful streets – there are few places as colourful as this island. Most tourists spend half a day or a day here wandering around the streets, learning about lacework and trying the local seafood. You can also visit the nearby island of Murano to see a demonstration of how Venetian glass is made by hand
How much does it cost to go from Venice to Burano?
It costs €7.5 for a one way trip from Venice to Burano and €15 for a two-way trip. Consider buying the day-based pass if you plan to make multiple stops or spend a few days in Venice and want to get from Venice to Burano for cheaper. You can buy a one-day, two-day, three-day or seven-day pass here. This pass allows you to travel on the local buses in Venice as well as the water bus.
---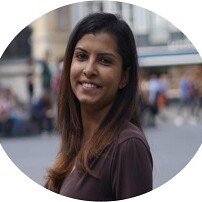 Award-winning Analyst, multi-nominated digital content creator and photographer Lavina Dsouza's words capture stories about culture and tradition mainly through its food and people. She has written and contributed to publications such as The Washington Post, Lonely Planet and Matador Network, to name a few. She is the editor of UntraditionalHumans.com, a non-profit created to share inspiring stories from women of colour who break free from traditions and choose happiness.
She's also a speaker passionate about DEI and champions solo travel. She has collaborated with numerous renowned brands such as Intrepid Travel, TripAdvisor, Travel and Leisure and Adobe, to name a few.
She can be found on Twitter and Instagram.
---
---
What's the best offbeat getaway you've chanced upon?
Let me know in the comments below!
---
---
Some of the links on this post are affiliate links. These do not cost you extra to use, but will help provide Continent Hop with a small commission if/when you purchase through them, to recover some of the costs of running this website and providing free content to help you plan your travel. I appreciate your support!
---