Santorini is busy but worth a visit at least once! This list of Santorini quotes should help inspire your next holiday! Categories like quotes about Santorini, Santorini puns, Santorini sunset quotes and Santorini instagram captions should help!
Santorini, the crowned jewel of the Cyclades, is enveloped in extraordinary beauty. Its distinctive blue and white domes, mesmerising sunsets and gorgeous caldera are instantly recognisable in photographs that look perfect.
The island also has quiet villages like Emborio, (Oia is busy),good beaches, and a large volcano to explore.
Santorini is a dream destination for many travellers but is more expensive than other Greek islands. This guide can help you decide how many days in Santorini Greece is enough for you.
If you plan on seeing other islands in the area and have multiple islands on your Greece itinerary, 2-3 days should be enough for Santorini. Use this 2 days in Santorini itinerary to plan your trip if you want to spend only two days in Santorini.
The following Santorini quotes are the best quotes I found about the island. I've also added Santorini Sunset quotes, Santorini quotes for Instagram and Santorini puns as separate categories.
Santorini quotes : 50 Top Santorini quotes for inspiration
---
I've put together these Santorini quotes and captions in different sections so that it's easier for you to find what you're looking for. I've also added imagery in case you'd like to save it on your Pinterest board.
Save this page or bookmark it for later if Santorini is on your mind.
---
1. Santorini Quotes/Quotes on Santorini
---
These Santorini quotes are mostly from authors. As they are from books, these Santorini quotes are not short. They are not ideal to be used as captions for social media. But I hope these quotes about Santorini make you curious about the impressive island.
Not only are these inspiring but I hope they help you think reminiscence about good times and think about Greece and life in general!
"According to some theories, the legendary Atlantis said to have sunk beneath the sea in a great cataclysm, is in actuality the Greek Island of Santorini, which sank partially during the eruption of a volcano around 3500 B.C.E."

– Laura Brooks

"And now Percy has his arms around me and Santorini and the sea are spread like a feast before us and there is sky all the way to the horizon. And what a sky it is."

–  Mackenzi Lee, The Gentleman's Guide to Vice and Virtue

"Arthur tried to hold her hand to steady her and reassure her, but she wouldn't let him. He held on to his airline hold-all with its tin of Greek olive oil, its towel, its crumpled postcards of Santorini and its other odds and ends. He steadied and reassured that instead."

– Douglas Adams, So Long, and Thanks for All the Fish
---
"On a summers night, I have sat on the balcony drinking Ouzo, watching the ghosts of Greek Heroes sailing past, listening to the rustle of their sail cloths and the gentle lapping of their oars…and lain alongside Pythagoras watching him study the myriad of triangles in the constellations twinkling above us. Whether it was Crete, the heat, the Ouzo, or a combination, it is unequaled anywhere other than Santorini, in my humble opinion.

– Phil Simpkin
"We descended from the chariot and walked across the volcanic island in the Cyclades group of Greek islands. A fear did wake me like the active Santorini. I felt, anytime my mind outbreaks with the real passion of words. But I maintained my mind with silent revenge, which was active, secretly in my inward cavity."

– Nithin Purple
"One of the purest joys that man can afford in this world is to visit the Aegean Sea in the spring, with a breath of light breeze; I have never been able to imagine paradise in any other way. This joy grows right upside down, but God does not allow it to escalate so that the beloved visible world does not disappear with it, on the contrary, the invisible world becomes visible, and what we call God and eternal life and bliss join us on the ship and accompany us on the voyage. In the bitter hour of your death, close your eyes, and you will see Santorini, Naxos, Paros, Mykonos."

– Nikos Kazantzakis
---
2. More Santorini quotes
---
Here are the best sunset quotes that can be used as Santorini sunset quotes for Instagram. These quotes are apt for describing the breathtaking sunsets in Santorini.
"The sky broke like an egg into full sunset, and the water caught fire."

– Pamela Hansford Johnson

"Sunsets are proof that no matter what happens, every day can end beautifully."

– Kristen Butler

It is almost impossible to watch a sunset and not dream."

– Bern Williams

"Sunset is the opening music of the night."

– Mehmet Murat ildan

"There is nothing more musical than a sunset. He who feels what he sees will find no more beautiful example of development in all that book which, alas, musicians read but too little – the book of nature."

"When your life is moving too fast, and you find yourself in chaos, introduce yourself to each color of the sunset."

– Christy Ann Martine
---
3. Santorini sunset quotes
---
"Sunsets are proof that no matter what happens, every day can end beautifully."

– Kristen Butler

"If you are in a beautiful place where you can enjoy sunrise and sunset, then you are living like a lord."

– Nathan Phillips

"Sunset is so marvelous that even the sun itself watches it every day in the reflections of the infinite oceans."

– Mehmet Murat ildan

"Sunsets are so beautiful that they almost seem as if we were looking through the gates of heaven."

– John Lubbock

"Never go too long without watching a sunset."

– Atticus
---
I am greeking out over Santorini's views.

Can't get over the blue-tiful views of the Santorini's caldera.

There's no time to feel blue in Santorini.

Olive for views like these!

Jump off the cliff in Amoudi Bay. Take a Greek cooking class. Hike to the volcanic centre. In Santorini, don't think why; think wine not.

Are you sea-ing what I'm sea-ing?
---
5. Santorini photo captions/ Santorini Captions
---
Need to caption Santorini for your social media posts? Here are the best captions for Santorini that you can use –
"Greece is the home of Gods. They may have died, but their presence still makes itself felt."

– Henry Miller

"I truly enjoyed Greece – Santorini. That's somewhere that I always want to be."

– Kendall Jenner

"Of all peoples, the Greeks have dreamt the dream of life best."

– Johann Wolfgang von Goethe

"Happy is the man, I thought, who, before dying, has the good fortune to sail the Aegean sea."

– Nikos Kazantzakis

"Greece is a good place to look at the moon, isn't it?" –

– Kari Hesthamar

"I want to have an 'Eat, Pray, Love' experience where I drop off the face of the planet and move to Greece."

– Jennifer Hyman

"Greece was a muse. It inspired creativity in magical ways that I can't even begin to understand or explain."

– Joe Bonamassa
---
6. Santorini Instagram Captions/Santorini Captions Instagram
---
Some spots in Santorini get crowded during sunset because people want to capture the beautiful views of the island. Here are some Santorini captions for Instagram that would go well with the photos of the caldera –
"Best of an island is once you get there – you can't go any farther… you've come to an end of things…"

"The sea, once it casts its spell, holds one in its net of wonder forever."

– Jacques Yves Costeau

"I felt once more how simple and frugal a thing is happiness: a glass of wine, a roast chestnut, a wretched little brazier, the sound of the sea. Nothing else."

– Nikos Kazantzakis

"If there's heaven for me, I'm sure it has a beach attached to it."

– Jimmy Buffett

Greece has got something like 1400 islands. There is so much of Greece you can't know even if you're Greek. It's sprinkled out all around the edge of the Aegean, all over the place. It's already a secret place wherever you go, even if it's somewhere huge like Athens or Corinth. The place enchanted me."

– Joanna Lumley
---
"If there's heaven for me, I'm sure it has a beach attached to it."
— JIMMY BUFFETT
---
7. More Santorini Instagram Captions
---
Santorini quotes from authors and travellers are limited and pretty long in length. If you need captions that are very short, you can use these instead of Santorini quotes for your Instagram posts. If you need very short captions for sunset photos, use any of the two here instead of the Santorini sunset quotes.
Here's a sunset photo that you won't forget

You can never take too many sunset photos

Be right back, in paradise

Beach days are the best days

Life is better on an island

Here for good vibes, sunshine and lots of vitamin-sea
---
8. Santorini quotes Instagram
---
Here are some more Santorini quotes for Instagram. These quotes would work well as Instagram post captions as they express how beautiful Greece is and how travellers find it magical –
"It takes a lifetime to discover Greece, but it only takes an instant to fall in love with her."
– Henry Miller
"Greece – The feeling of being lost in time and geography with months and years hazily sparkling ahead in a prospect of inconjecturable magic. "
– Patrick Leigh Fermor
"The light of Greece opened my eyes, penetrated my pores, expanded my whole being."
"The mention of Greece fills the mind with the most exalted sentiments and arouses in our bosoms the best feelings of which our nature is susceptible."
– James Monroe
"For me, Greece is Maria Farantouri. This is how I imagined Goddess Hera to be: strong, pure, and vigilant. I have never encountered any other artist able to give me such a strong sense of the divine."
– François Mitterrand
---
At the touch of love everyone becomes a poet."

– Plato 

"Off the Santorini cliff on a dark, starless night, I tossed a message in a bottle and love found me washed up on the black lava sand of the Aegean shore. As with my previous loves, volcanic in nature. Almost destructive before it started."

– Melody Lee

"Whatever possession we gain by our sword cannot be sure or lasting, but the love gained by kindness and moderation is certain and durable."

– Alexander The Great

"The greatest pleasure in life is love."

– Euripides
---
" The greatest pleasure in life is love"
— EURIPIDES
---
Santorini is well connected to Athens and most European cities in summer, spring and autumn….consider visiting in the shoulder season if you're looking to save some money!
The Mediterranean has some of the best climate on the planet and you won't be disappointed!
If you need an itinerary for a short trip that includes Santorini then these exciting 6 European itineraries for 2 weeks should help you plan your next Europe trip.
---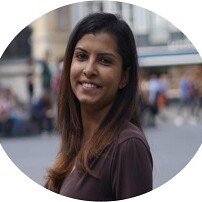 Award-winning Analyst, multi-nominated digital content creator and photographer Lavina Dsouza's words capture stories about culture and tradition mainly through its food and people. She has written and contributed to publications such as The Washington Post, Lonely Planet and Matador Network, to name a few. She is the editor of UntraditionalHumans.com, a non-profit created to share inspiring stories from women of colour who break free from traditions and choose happiness.
She's also a speaker passionate about DEI and champions solo travel. She has collaborated with numerous renowned brands such as Intrepid Travel, TripAdvisor, Travel and Leisure and Adobe, to name a few.
She can be found on Twitter and Instagram.
---
---
EXPLORE MORE INSPIRING QUOTES
---
Some of the links on this post are affiliate links. These do not cost you extra to use, but will help provide Continent Hop with a small commission if/when you purchase through them, to recover some of the costs of running this website and providing free content to help you plan your travel. I appreciate your support!
---