Santorini is truly the destination of dreams even if it can get busy sometimes! If you're wondering how many days in Santorini, Greece you need this detailed post shares what you can do with the days you have!
Santorini is arguably the most well known Greek island. Even if you've never been here, you'll probably recognise it — through the island's often-used image of the blue water and the caldera behind the white buildings and blue domes.
The first inhabitants of the island arrived in 3000 BC. The remains of Akrotiri are a testament to how advanced this civilization was. Phoenicians settled here next, followed by the Spartans.
The island has a fascinating history – lava has made the island as well as destroyed it. There were four volcanoes in Santorini. Eruptions from these volcanoes destroyed the island and added tephra to the land.
Around 1600 BC, one of the most significant recorded volcanic eruptions happened in Thera (present-day Santorini), leading to the caldera's formation.
---
Santorini has a lot to offer more than its beautiful sunsets. You can do a wine tour, photography tour, indulge in water sports, explore the local villages and learn more about the island's history.
There's so much to do in Greece, and island hopping to nearby islands of Mykonos, Anafi, Ios etc., is common amongst tourists. With so many options, tourists find it difficult to figure out how many days in Santorini is enough.
For slow travellers, figuring out how many days in Santorini are enough is easy. You'd need 5 to 7 nights: there are many beaches, villages and a few historical sites to discover.
For others, read on to know more about the best things to do in Santorini and figure out how many days in Santorini are enough for your trip.
---
Here's how many days in Santorini you need
---
based on how many days you have
---
One day in Santorini
If you have only one day in Santorini, spend your first half of the day taking a boat tour.
You can take a boat tour during the day, like this one, to see the Nea Kameni volcano, swim in the hot spring and see the Red Beach. These tour boats leave from Ammoudi Port.
If you are staying in Oia, you can simply walk to Ammoudi (this would mean descending 200-300 steps) as it is not far from Ammoudi. By evening, you'll be free to watch the sunset from Oia.
The prime spot for seeing the sunset from Oia is the Oia Castle. If this is the main reason why you are in Santorini, you'd have to reach at least two hours in advance before the estimated sunset time on that day.
There are other spots in Oia too that are good for watching the sunset. Check out this guide on things to do in Oia Santorini to know more about these spots and my experience of watching the sunset from Oia.
Alternatively, you can take a sunset cruise around Santorini. You'll get to see the volcano, swim a little, and enjoy the sunset from the boat, which means not being surrounded by crowds while enjoying the sunset.
During the day, you can visit a beach and relax at one of the beaches in Santorini (more on the beaches in the '4-5 days in Santorini' section).
---
Where to stay in Santorini if you plan to visit
My strong recommendation would be to get a hotel with a panaromic view of the Caldera. The reason? Its a once-in-a-lifetime experience gazing upon the setting sun while chilling in your private Jacuzzi! There are quite a few regions in Santorini which provide a few of the Caldera including Fira, Imerovigli, Firostefani and Oia.
COCOON SUITES – This was where we stayed. Right in front us was the imposing caldera, accompanied by a beautiful sunset. All this, as we were relaxing in our jacuzzi!
We also checked some other stays while booking which are worth considering:
CHARISMA SUITES – This property is best suited for newly married couples looking to spend an enchanting honeymoon. The room has some of the most beautiful views in Oia and otherwise too!
LA PERLA VILLAS – Traditional cave suites with an outdoor pool and a stunning view of the caldera and the sea.
GABBIANO TRADITIONAL APARTMENTS – If you'd rather prefer an apartment, these traditional apartments with a view of the caldera are perfect with all amenities
---
2 days in Santorini
For a two day Santorini itinerary, you can add one of the many activity tours in your plan. We visited Santo Wines. A wine tour is highly recommended. Santorini has several wineries, and the region is known for local wine varieties.
For spending two days in Santorini, consider the following –
Start by exploring a few villages – Fira/Thira, Imerovigli, Oia, Pyrgos, Firostefani, Kamari, Akrotiri, Pyrgos, Emborio and Perissa. It is not possible to cover all of these during a two-day trip. Choose as per whichever you find interesting. The '3-4 days in Santorini' section has more details about what's worth seeing in the villages.

Take a wine tour at Santo Wines or visit the winery. Most wine tours take tourists to Santos or Venetsanos winery.

Watch the sunset from Akrotiri Lighthouse.

Hike from Oia to Fira

Watch the sunset from a cruise.
For all the details of this itinerary, check out this 2-days-in-Santorini-itinerary.
---
3 – 4 days in Santorini
If you are spending 3 or 4 days in Santorini, you can get more time to relax at the beaches, know more about the island's history and explore more towns (Fira/Thira, Imerovigli, Oia, Pyrgos, Firostefani, Kamari, Akrotiri, Pyrgos, Emborio and Perissa). As mentioned earlier, it is impossible to explore all of these in a two-day trip.
Fira, the capital city, has the Prehistoric Museum of Thira and the Orthodox Metropolitan Cathedral. You can also visit the Catholic Church of Koimisi Tis Theotokou to see the Three Bells of Fira, a frequently photographed spot in Santorini.
Firostefani is an extension of Fira/Thira. It is quieter than Fira in Firostefani. You can walk to Firostefani from Fira and see its beautiful white and blue alleys.
In Imerovigli, you can hike up the Skaros Rock or simply wander through the alleys: Imerogivli has many beautiful staircases and alleys worth taking photos of. Skaros Rock is a large rock formation that protrudes out into the Aegean Sea. A one-way hike up the mountain would need 45 minutes.
In Pyrgos, you can see Castelli of Pyrgos and visit Santo Wines. So if you've missed out on doing a wine tour previously, you can do that while in Pyrgos.
In Kamari, you can visit Ancient Thera. This site has Byzantine, Hellenistic and Roman ruins; you can see the ruins of these eras' temples, houses, and markets.
In nearby Perissa, you can visit the Museum of Minerals and Fossils to know more about the eruptions and geological history of Santorini. It is near the Church of the Holy Cross, one of the largest churches on the island.
In Akrotiri, the Akrotiri Archaeological Site is worth visiting. The ruins show how the Minoan people lived here before the Thera volcano erupted around 1600 BC.
If you want to get away from the crowds and spend some time in solitude, consider exploring Emborio Santorini. Or stroll through Megalochori, a village full of traditional Greek homes.
If you are spending 4 days or more in Santorini, you'll have enough time for beach hopping and relaxing on the beach.
Many beaches in Santorini are different from beaches in Greece due to their special geological features. They have volcanic sand and pebbles and, of course, picturesque landscapes.
You'll be disappointed if you are coming to Santorini only for the beaches. The paradisal beaches of Greece are elsewhere – in Mykonos, Ios, Naxos, Crete etc.
---
Pick what you'd like from this list of the best Santorini beaches –
Kamari Beach, Monolithos Beach – These two are family-friendly and have shallow water. So these would be a good choice for swimming. Monolithos, too, has shallow water and soft sand for building castles.

Perissa Beach and Perivolos Beach – This is essentially one beach. Perissa is the north end, and Perivolos is the south end. These two are sandy, pebble mix beaches that are family-friendly and have many nightclubs, hotels, and restaurants.

If you walk further south, you'll reach Agios Georgios Beach. This beach has the most upscale hotels, fine dine restaurants on the island and lots of water sports facilities.

Vlychada Beach – Vlychada Beach is a quiet black and white sand beach with beautiful volcanic cliffs as the backdrop.

Red Beach – Red Beach is called so because of the reddish-ochre volcanic cliffs surrounding it.

This one is very popular with tourists. A part of the beach is not safe due to the possibility of rocks falling, but locals usually ignore it! Next to Red Beach is the quieter White beach, similar to Red Beach but surrounded by white rocks.
Ammoudi Bay is not a beach but a great place for cliff jumping and swimming. So if you haven't had the chance to do that, then you can visit Ammoudi Bay for swimming.
---
5-6 days in Santorini
If you plan on spending 5-6 days in Santorini, you will be able to explore all the villages and see many beaches here. If you want to take up other activities like the wine tour, you can take a photography or fishing tour in Santorini.
You can also take up a cooking class or food tour to enjoy and learn about the local cuisine. Food tours are often combined with wine tours.
If you've already indulged in water sports and want to indulge in something outdoorsy – you can hike up the Nea Kameni volcano to see the active, bubbling volcano. This hike takes 20-30 minutes one-way.
Or visit the Tomato Industrial Museum to learn about Santorini's well-known cherry tomatoes.

Need more fun things to do? 
The local Koo club in Fira attracts lots of party crowds around 11 pm every day.

Kamari has an open-air cinema theatre that shows English movies with Greek subtitles at around 9.30 pm. Reach early on weekends to get a good seat.

The White Door Theatro does a live show in central Fira. It is about a Greek family wedding. It's an interactive show with some food and wine. And tourists seem to love it!
---
Tips for your Santorini trip
Don't stick to Oia and Fira. While Santorini may be known for these often photographed places, there's so much to see in the nearby villages. Even if you spend a day in Santorini, take the cruise or see a little of the other towns.

Don't plan day trips from Santorini. The closest island is Ios. Unless you are spending 6-7 days in Santorini, don't plan a day trip from here as you'd miss out on so much the island had to offer.

Locals don't consider the beaches in Santorini as the best beaches in Greece. Do a wine tour, see the ruins on the island, take a cruise – indulge in other experiences the island has to offer.

Book accommodation in Santorini well in advance if you are visiting at any time other than November to April.

There is no dearth of hotels on the island. But getting your preferred accommodation at a reasonable rate can be challenging when tourists throng the island. Book at least three months in advance if you want to visit in August and September.

Plan your hikes to avoid the noontime in summer as it can get quite hot and dry. Avoid the 'tourist taxis' aka donkeys — these donkeys are made to carry more weight than recommended on strenuous paths, and owners use sticks/whips on them if they stop.
---
Irrespective of how many days in Santorini you spend, it will be some of the most memorable moments of your life, and I'm not exaggerating! Tourists visit Santorini for a reason and even though it may get crowded, it is still definitely worth a visit!
---
Is four days in Santorini enough? 
Four days is enough time to see most of what Santorini offers. There's a lot to do in Santorini. But the island is mainly known for its spectacular sunsets over the Aegean Sea.
In four days, you can relax at the beaches, get to see most of the nearby villages, do a few tours (like a wine tour or boat tour), and enjoy the magnificent sunsets.
To know more about how many days in Santorini are enough for you, plan an itinerary by choosing activities as per your interest.
Is 7 days in Santorini too much? 
Most people do not choose to stay in Santorini for an entire week. You can visit many nearby islands such as Ios, Mykonos, Naxos, Anafi etc. Island hopping is common in Greece. However, there is nothing wrong with spending 7 days in Santorini. 7 days in Santorini is enough time to see and experience everything the island offers.
Is 2 days enough for Santorini? 
Spending 2 days in Santorini is enough to see the island's highlights and enjoy the beautiful sunsets. Check out this 2 days in Santorini itinerary to have the best time.
How many days do you need in Santorini and Mykonos?
You'll need 3-4 days in Santorini and 2-3 days in Mykonos to experience most of what the islands offer.
Is Santorini expensive? 
Yes, Santorini is more expensive than many other Greek islands. Accommodation is costly on the island. Avoid visiting during peak season – late June to early September.
A mid-range hotel will cost at least $80-$100. You can choose to stay in a B&B or hostel to save money on accommodation. A meal in a mid-range hotel will cost $17-$22 per person.
Avoid any cafes with views of the caldera if you want to save money here. Street food is cheaper from small cafes and street vendors.
---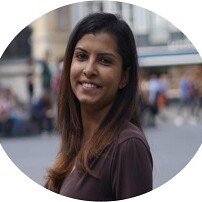 Award-winning Analyst, multi-nominated digital content creator and photographer Lavina Dsouza's words capture stories about culture and tradition mainly through its food and people. She has written and contributed to publications such as The Washington Post, Lonely Planet and Matador Network, to name a few. She is the editor of UntraditionalHumans.com, a non-profit created to share inspiring stories from women of colour who break free from traditions and choose happiness.
She's also a speaker passionate about DEI and champions solo travel. She has collaborated with numerous renowned brands such as Intrepid Travel, TripAdvisor, Travel and Leisure and Adobe, to name a few.
She can be found on Twitter and Instagram.
---
---
Where's someplace you've stumbled by accident and loved? Let me know in the comments below!
---
EXPLORE MORE OF NORTHERN IRELAND
---
Some of the links on this post are affiliate links. These do not cost you extra to use, but will help provide Continent Hop with a small commission if/when you purchase through them, to recover some of the costs of running this website and providing free content to help you plan your travel. I appreciate your support!
---