The best time to visit Grenada is definitely during the dry season. From January to May, Grenada becomes a perfect playground for beach lovers and outdoor enthusiasts. The best time to travel to Grenada can also be the month of December when the rainy season is over and tourists are yet to arrive!
Grenada – the spice island – stands true to its name and welcomes you with balmy air, the delicious aroma of food drifting through the air as you take a stroll.
This Caribbean beauty surrounded by deep blue water has a diverse land full of golden sandy beaches, lush greenery, and colourful houses.
From the popular Grand Anse beach and cascading Annandale Falls to the unique Grenada Underwater Sculpture Park and historic Fort George, Grenada has quite a few top-notch unique activities packed in a small area!
If you want to make the most of your vacation, it is necessary to plan your trip during the best time to visit Grenada because let's admit it, not many find visiting beaches fun, when you can't get a tan!
So, get ready to soak in the aromatic vibes of this Caribbean country and read all about interesting tourist attractions, exciting activities, transportation options, and most importantly, the best time to travel to Grenada in this article!
---
Best time to visit Grenada
---
---
The best time to travel to Grenada is from January to April. These are the driest months when rainfall if any, will not be an issue for exploring this tiny island.
The average daytime temperature ranges between 30 and 31 °C on most days.
As it is the best time to go to Grenada, Caribbean during these months, flight tickets may be expensive and it may get busy.
So, it may not be a budget vacation. Make sure to book flights, hotels, and tours well in advance to avoid last-minute surge prices.
But no matter which month you choose, be prepared for Grenada's hot, tropical climate. That also means plenty of sunshine and different outdoor adventures.
The best time to travel to Grenada is also considered to be December. This is the shoulder month between the rainy season and the dry season.
The prices are cheaper and flocks of tourists are yet to arrive. So, you can definitely consider December the best month to visit Grenada.
If you visit Grenada in early December, then the country will not be as crowded. But, if you are planning to visit in the last 2 weeks of December, then you will find that travellers around the world, especially US and UK, have started coming in for some winter sun!
Many even tend to extend their vacation as they find that Grenada is suited to their lifestyle. If you want to spend more time on the beautiful island. The next step you should take is to secure a citizenship. One option is to get citizenship by investment Grenada, granted by the government of Grenada to foreign investors that contribute to the economy.
June to November is officially the rainy season. The combination of stormy weather with increased rainfall ensures the least number of tourists in Grenada.
---
Best time to travel to Grenada and visit the Caribbean
---
When you are planning your Grenada trip, you can also consider visiting other Caribbean islands.
Each Caribbean country has a plethora of experiences to offer and you can consider hopping from one island to another if you have a few extra days to add to your itinerary.
The best time to visit the Caribbean too, is from December to May. These months make for the dry season in the Caribbean region.
The rainy season is from June to November and stormy weather may be expected. So, it is best avoided if you are interested in different activities and beach-hopping.
December is the shoulder month where you will not find many tourists, but the rainy season is almost over making way for sunny weather not just in Grenada but across the Caribbean!
The month of December is the best time to go to the Caribbean if you want the popular spots all to yourself. If you do not mind the touristy crowd, then head off to the Caribbean anytime between January to May.
---
How to reach Grenada
Grenada by flight: The best way to reach this island country is by flight.
Grenada is served by Maurice Bishop International Airport and is well-connected with the rest of the world. You will find different airlines like American Airlines, Air Canada, British Airways and Delta making their way here.
Major US cities like New York and Miami as well as London in Europe and other Caribbean countries offer easy accessibility to Grenada.
You can reach the main island of Grenada by flight and then choose to explore other islands either by ferry or by charter to Lauriston Airport.
If you are a budget traveller who is visiting Grenada by flight, then the best time to go to Grenada is in December month. This month sees lower flight tickets. So, you will be able to grab some airline deals that are light on your pocket.
Grenada by boat – The port of Grenada, St. George's, is connected to different Caribbean islands. But you may have to look for a yacht or a cruise as there are limited options when it comes to regular ferry services.
Not all islands are connected to each other.
---
Flights from the USA to Grenada
When you are travelling from the USA to Grenada, there are different options to choose from.
This island country is a sought-after destination for USA tourists and is loved for its laid-back vibes. Due to the popularity of Grenada, there are several direct as well as one-stop flights from different US cities.
If you are looking for non-stop flights to Grenada from the USA, then you can catch one of the flights of JetBlue Airways from New York, American Airlines from Miami, and Charlotte.
Other cities like Atlanta and Washington offer regular one-stop flights to Grenada. If you hop on a direct flight to Grenada from the USA, then you need less than 5 hours to land in the tropical paradise.
---
---
The best all-inclusive hotels in Grenada
All the islands of Grenada are dotted with different types of accommodations that suit everyone from solo travellers to family vacationers.
It is recommended to stay on the main island in St. George's as it has better connectivity with other islands and also has an international airport, making it easier to fly in and out of Grenada.
If you are choosing the best time of year to go to Grenada, booking your hotel in advance is recommended. Most resorts tend to be fully booked from January to April.
Here are a few suggestions –
We stayed at Mount Cinnamon – truly stunning rooms, perfect for families and couples no matter the size as they have cottages as well to accommodate all sizes. The rooms are stylish and almost all balconies have a stunning view of the Grand Anse beach! And for those conscious of amenities, they are top-notch – including toiletries!
Radisson Grenada Beach Resort is one of the top all-inclusive hotels in Grenada. It is loved for its stunning location as it is situated right next to Grand Anse Beach and is also near Morne Rouge Beach.
Gem Holiday Beach Resort is also near Grand Anse Beach and is only 10 minutes away from Saint George's.
If you are looking for something different, then the contemporary style of Blue Horizons Garden Resort will catch your eye. As it is a Green Globe Gold Certified complex, it can be a small attraction in itself.
You can check the other hotels in Grenada before finalizing your stay. You can also consider service apartments or villas if you are traveling with a group and want to stay comfortably.
---
---
How to get around in Grenada
When you are all set to explore Grenada, you will find a number of transportation options at your service. Rent a car, hop in a taxi, find a bus, or opt for a ferry – you can choose whatever you find comfortable.
Take a look at the detailed information and decide which transportation mode suits you the most –
Let's start with the best way to get around Grenada. Renting a car will give you the flexibility to alter your itinerary.
There are multiple car rentals available on the island, but renting a car in Grenada is a bit complicated. You will need a driver's license, which is a common requirement in most countries.
But, in Grenada, you will need to purchase a driver's permit from either a local police station or a rental company.
The minimum fee for the same is around 30 XCD (East Caribbean Dollar) or 12 USD. It varies depending on the validity period of the permit. Car rental prices in Grenada start from around 135 XCD and go up to 200 XCD.
If you choose the best time of year to visit Grenada from January to April, then the rental prices may be high.
Some rental companies need a driver to be 21 years and some companies need the age to be over 25. So, enquire about all the details before renting a car.  Traffic varies with it being quite busy during peak hours.
If you are not keen on driving a car, then you can grab a taxi easily in St. George's and Grand Anse. The charges are fixed for different routes and there are no scams.
You will also find a number of taxis on smaller islands. Even though taxis follow a fixed rate card, it is not quite cheap to use a taxi as your primary mode of transport in Grenada.
You can consider opting for a water taxi to travel between Grand Anse Beach and St. George's. The minimum charges are 10 XCD but may change depending on the number of passengers.
---
The network of public buses is excellent in Grenada. But when I say a bus, do not imagine a big bus that carries 30 or so people at a time.
Grenada has minibuses that are privately operated. These carry colour-coded route stickers to help you identify the correct bus.
Most of the public buses in Grenada run between 6 am and 9 pm, and the ticket price is 2.50 XCD for most routes.
You can use a ferry to travel between the main Grenada island to Carriacou or Petit Martinique. The ticket price for a ferry to Carriacou is 80 XCD and you need 20 XCD more if you want to take the same ferry to Petit Martinique.
---
Things to Do in Grenada during your visit to Grenada
---
Take a walk on a black sand beach
Vacationing in Grenada is all about going off the beaten path and finding spots hidden away in the heart of nature.
You may have heard all about the beautiful black sand beach in Iceland, but our tiny Caribbean island has a few in store for you.
I was keen on visiting a black sand beach in Grenada where there were lesser tourists. A place where I could take all the pictures I wanted and relax without disruptions. I know, my plans were way more ambitious. But, I did end up finding one!
The black sand beach was a private one; part of Laluna, Grenada, a gorgeous resort perfect to step out to the secluded beach or to take a walk.
Their spa rooms were quite excellent as well and the decor gorgeous! However it is one of many on the island!
---
Go snorkelling or diving in Grenada
Blessed with tropical weather and clear, warm water, Grenada is a paradise for snorkelling and diving enthusiasts.
I am usually a laid-back soul, but when visiting Grenada, I was keen on trying adventure sports just because of the temperature of the water and the abundant sea life one could admire. And let me admit, every fascinating bit you've heard about this island, known popularly as the Shipwreck Capital of the Caribbean, is true!
Diving or snorkelling to explore the combination of reefs and shipwrecks is enticing and one of the best things to do in Grenada.
I booked a snorkel trip with Eco Dive Grenada. All the positive reviews, detailed guidance about the sessions, and knowledgeable crew made for a promising tour. Ashley, our guide was super skilled!
She took us on an exciting trip to the country's first Molinere underwater sculpture park.
As you go deeper into the turquoise water and the giant and silent sculptures start coming into view, it is enough to give you goosebumps!
The silence envelops you and the sculptures, the reefs surrounding you feel eerie and surreal.
From promoting coral growth and ensuring existing corals can grow in a healthy environment, this underwater park does more than just attract tourists.
If you'd prefer to book in advance online, this underwater tour with half day sailing, lunch and drinks included is a good choice!
---
DETAILS
Eco Dive Grenada
Address: Morne Rouge, Grenada
Timings: 8.30 AM – 4.30 PM every day
---
Let Grenadian food do its magic
Caribbean food is way more than jerk chicken and even though the islands are quite close, they all have their distinct standalone cuisine and dishes. I was keen on trying some unique Grenadian dishes and Grenada did not disappoint.
True Blue Bay Boutique Resort has a restaurant, a bar, and a bakery on the premises and its highlight was the 6-course Chocolate dinner they offered.
I had to add this to my Grenada itinerary.
All meals had chocolate in them. Soup, salads, everything had chocolate in it but it wasn't sweet. It tasted just right and the taste wasn't empowering.
Each bite was so flavourful and delectable that I was ready to fall into a food coma halfway through all the courses.
If you're looking for a tour that also includes a visit to the chocolate factory, then this tour is highly recommended! Or if you'd prefer tastings of chocolate and rum, then this one is perfect!
If you'd prefer a visit to the Rum Distillery, then this one to the River Antoine Rum Distillery is perfect! If a full tour of Grenada with local delicacies is your thing, then this tour is great for foodies and first-timers!
Grenada is one of the best places for spice shopping and if you prefer taking some back to cook then this spice tour with tastings is the right fit!
---
DETAILS
True Blu Bay Resort
Address: Old Mill Road True Blue Bay, St George's, Grenada
---
---
Relax and de-stress at the beaches in Grenada
From the popular Grand Anse Beach to the little-known Levera Beach, you will be introduced to all kinds of beaches in Grenada when you visit.
You can head to Grand Anse Beach for hydro bikes, paddle boarding, and snorkelling. If you want something relaxing, head to Morne Rouge Beach and kayak the day away.
If you are here in March or April i.e. the best time to visit Grenada Caribbean, do visit Bathway beach. This is where leatherback turtles come to lay their eggs.
The white sand of Aquarium Beach and the black sand of Black Bay Beach, both make for picturesque destinations.
And if you decide to head off to Levera Beach, remember that currents here are too strong and not swimmer friendly. All these and many more Grenada beaches are perfect for sun-worshippers.
---
Plan a picnic at the Annandale Waterfalls
You cannot truly visit Grenada without visiting the famous Annandale Waterfalls, one of the many waterfalls on the island.
It's less than half an hour away from St. George's, which makes it a great spot for a half-day picnic.
A refreshing dip in the pool or a relaxing walk in the surrounding garden makes it a great spot to relax, have fun and make some fab memories. There's also a cafe next to it that has a vast array of food options and clean toilets.
If you're an avid hiking enthusiast then this tour that takes you to some of the most beautiful waterfalls on the island, including Annandale on a day tour is perfect!
---
DETAILS
Annandale Waterfalls
Address: Willis, Grenada
Timings: 8 AM – 7 PM every day
---
How many days in Grenada?
You can spend anywhere from 4 days to a week in Grenada and at the end of the trip, you will still feel it was not enough.
It is important to plan the best time to visit Grenada to make the most of your time.
This interesting Caribbean country has so much to offer that you need a minimum of 2 or 3 days to explore the main island and other smaller islands.
If you can manage 4 days in Grenada, then you will be able to explore the country at your own pace.
There are many who come to Grenada for a week. Spending a week in Grenada is for those who want to see the non-touristy spots on the island without rushing through popular sights as well.
But, it will also mean relaxing on the Grenadian beaches and doing nothing for hours. If you are someone who can watch life go by while sitting on a beach, sipping a cocktail, then a week in Grenada is for you.
---
---
Time will fly by when in Grenada.
Be ready to explore its delightful towns that are tucked away in rolling hills and visit the cities lined with stunning beaches. Have a chat with the locals, they're warm and friendly!
Grenada is a world in itself not known to many and that makes it a perfect holiday destination!
---
FAQs – The Best time to visit Grenada
What is the best month to visit Grenada?
The best month to visit Grenada is early May. This is the month when the peak tourist season is almost over, many of the tourists are done with their Caribbean vacation, and Grenada still has days to welcome the rainy season.
What is the rainy season in Grenada?
The rainy season in Grenada is from June to December. With annual rainfall that ranges between 750 to 1400 mm, Grenada is known for its story and hurricane-prone climate.
Is Grenada worth visiting?
Of course, Grenada is with visiting! Do you love lazing on a beach or hiking to a waterfall? Do you love watersports or walking through botanical gardens?
You do not have to choose because Grenada has something for everyone. And if you enjoy the company of warm and friendly people in a foreign country, then that's Grenada for you.
What is off-season in Grenada?
The month of June to November is the off-season in Grenada as these are the rainy season months on the island.
These months see most of the rainfall, making it hard to have fun at the Grenadian beaches and explore the country. And that is why not many tourists prefer to visit Grenada from June to November.
What is the best time to go to Grenada?
The best time to go to Grenada is from January to May. These months make up the dry season in Grenada and ensure you get to have plenty of fun on the beaches, enjoy outdoor activities, try watersports, and explore the smaller islands of Grenada without any hurdles.
You can also consider visiting Grenada in December as it is the shoulder month and doesn't see much rainfall.
---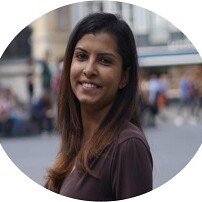 Award-winning Analyst, multi-nominated digital content creator and photographer Lavina Dsouza's words capture stories about culture and tradition mainly through its food and people. She has written and contributed to publications such as The Washington Post, Lonely Planet and Matador Network, to name a few. She is the editor of UntraditionalHumans.com, a non-profit created to share inspiring stories from women of colour who break free from traditions and choose happiness.
She's also a speaker passionate about DEI and champions solo travel. She has collaborated with numerous renowned brands such as Intrepid Travel, TripAdvisor, Travel and Leisure and Adobe, to name a few.
She can be found on Twitter and Instagram.
---
---
EXPLORE MORE OF NORTH AMERICA
---
Some of the links on this post are affiliate links. These do not cost you extra to use, but will help provide Continent Hop with a small commission if/when you purchase through them, to recover some of the costs of running this website and providing free content to help you plan your travel. I appreciate your support!
---