Ah, Greece! One of the best destinations for a Mediterranean getaway! I've been a few times so I've put together this Greece 7 days itinerary to help you get the best from your holiday! Includes Athens, Santorini and Mykonos with other options.
With picturesque landscapes, endless serene beaches and world-famous archaeological sites, Greece is on everyone's bucket list. And this Mediterranean country has something to offer for all kinds of travellers if you only have 7 days in Greece.
The delectable cuisine will transport the palettes of foodies while the thrill seekers can indulge in the ample sporting activities and history buffs have the opportunity to immerse in the thousands of years of history.
But planning a trip to any destination can be overwhelming. There is so much information on the internet that confusion is inevitable.
Therefore, here is the perfect Greece itinerary for 7 days.
Since many first-timers prefer the top spots and fly into Athens, I've picked the islands of Santorini and Mykonos as this helps you see the best of this country
However, places like Zakynthos, Thessaloniki, Corfu, Crete, Rhodes, and Meteora are stunning too so I've shared some alternate Greece itinerary 7 days at the bottom of the post along with some FAQs.
---
A Greece itinerary that covers some of the best locations in Greece!
---
Getting around in Greece and where to start your 7 days in Greece
Getting around Greece isn't too difficult as most cities are connected well however you have to keep in mind that Greece is made up of a large number of islands.
These islands are grouped together. Various destinations belong to these groups such as the Aegean islands, Ionian islands, Sporades, Cyclades etc.
Santorini and Mykonos belong to the Cyclades and are well connected to Athens via flight and ferry, however, both the islands are connected only via ferry.
You can pick any city to start your itinerary as many countries have direct flights to both Mykonos and Santorini.
If you're looking to start exploring first, start with Athens. Alternatively, if you're looking to unwind and relax start with the islands. If you like partying and nightlife, Mykonos and Athens are good options to start with.
The post has various ways to get to each city however we shall start this one with Athens.
---
What are some tips for the 7 day Greece Itinerary?
Think about the time to visit
Yes, to visit any beach destination, the summer months are a perfect time. But there are crowds at every single place. Therefore, do seriously consider planning a trip to Greece during the spring or fall season.
Greece is full of boutique hotels that cater to all types of travellers. But during the peak tourist season, they can get sold fast. Therefore, it is essential to book well in advance to also get cheaper prices.
Shop around for rental cars
If rental cars are the preferred mode of transportation in Greece, it is best to explore multiple options. Depending on the destination and time duration, the prices between local and international carriers can differ.
---
---
When to spend 7 days in Greece
Greece is a beautiful destination all year round, it doesn't tend to receive freezing temperatures in winter
However, the best time to visit Greece is not during summer when it can get super hot and when it is also quite crowded.
Shoulder months, in Spring (April to June) and Early Autumn (September and October), are the best months to spend 7 days in Greece as temperatures are pleasant, restaurants are open and hotels are budget-friendly.
If you're planning to visit in April, this post April in Greece has all the info you may need!
---
Day one of your Greece 7 days itinerary – Athens
---
Begin the 7 days Greece itinerary in the historical capital of Athens. It is one of the world's most emblematic cities that has been inhabited since the Neolithic Age.
Start the tour of Athens with a visit to one of the most famous landmarks, the Acropolis. Immerse in Greek history and discover the ancient theatre on a walk around to the side.
Don't miss out on Acropolis Museum to learn how the Parthenon and other buildings looked in the ancient age. In addition to witnessing the artefacts found at the Acropolis, the museum has a glass floor that offers an opportunity to see some of the buildings found underneath.
Below the Acropolis is the Ancient Agora, another must-visit on a week's trip to Greece. Years back this was a marketplace where locals gathered and went about their daily business. While today much of the marketplace is not visible, the site is worth visiting for the Temple of Hephaestus.
In the evening, visit a rooftop restaurant to enjoy delectable Greek food along with the sparkling views of the city and the Acropolis. Some places to visit are the Electra Roof Garden, Metropolis Roof Garden and the Art Lounge.
---
---
Day two of your Greece itinerary 7 days – Athens
Start your second day of 7 days in Greece with a visit to the Hellenic Parliament. The changing of the guard is an elaborate and one-of-a-kind spectacle.
After that, head to Stadiou Street and Panepistimiou Street for some shopping. And Voukourestiou Street is the perfect place for high-end boutiques and emptying your wallet.
On the shopping trip, don't forget to make a trip to the Varvakios Agora. From ocean-fresh fish to deli counters filled with delicious food, it is one of the most famous markets in the city.
End the day with a visit to the oldest neighbourhood of Athens, Plaka. This area is famous for its narrow streets, restaurants and cafes. Try the local Greek cuisine at one of the restaurants for a true experience of the local culture.
Refer to this post for a more detailed breakdown: Athens in a day
---
Day three of your Greece 7 days itinerary – Day trip from Athens
No Greece Itinerary is complete without some island hopping. And on the third day of a week trip to Greek explore islands via day trips from the capital city.
Here are some day trips options to discover along with must-visit sites in each.
Meteora
Visit the monasteries of Meteora that sit on top of rock columns. The view is spectacular, making it an excellent opportunity to snap photographs.
Between a day trip to Meteora, stop at Delphi to visit the Oracle of Delphi, which is a symbol of Greek Mythology. For a trip to Meteora, there are two options: either taking a guided tour or renting a car for a road trip.
Peloponnese
Reach the region of Peloponnese within an hour from Athens to soak in some fun and history. Tour the world heritage site Epidaurus, watch the steep walls of the Corinth Canal and learn about the fantastic culture of the Mycenaeans at the Mycenae.
Lastly, stop at the old town of Nafplio for restaurants, souvenir shops and ice cream parlours. Like Meteora, the two travel options are a guided tour or a rental car.
Hydra
Is Athens too chaotic and noisy? Visit Hydra, one of the Saronic Islands in Greece that is easily accessible through ferry. The island does not allow cars and local goods are transported by donkeys. Thus, it offers the perfect place to wind down and relax in the middle of the trip.
---
Where to stay in Athens
For three nights in Athens during the 7-day Greece tour, it is ideal to stay close to the Acropolis for easy access around the city.
Mid-range: Evripidou Suites – Within walking distance of the Acropolis, the rooms are large with comfortable beds. Enjoy complimentary breakfast on their rooftop restaurants that offer a view of the historical site.
Comfort: Electra Metropolis – This five-star hotel has a rooftop pool that offers a splendid view of the Acropolis. Does a drink on the rooftop terrace with the sun setting on the city sound like a dream? The hotel has this too!
Budget-friendly: Old Town Hall Suites and Apartments – For those looking to stay on a budget, rent a studio at this place. It has a modern room with a small kitchen.
---
---
Getting to Mykonos from Athens
Since you only have a week in Greece, I'd highly suggest taking a flight from Athens to Mykonos to save time. A flight to either island takes less than an hour.
If you'd still prefer a ferry, it takes anywhere from 2 hours to 5 hours to get from Athens to Mykonos. You cannot drive to Mykonos either from Athens or Santorini and public transportation isn't available either.
This post covers how to get to Mykonos in detail.
If you'd prefer to get to Santorini first, you'd again have to either fly to take a ferry. A ferry to Santorini takes anywhere from 4 to 8 hours as it's further away from Athens.
Ferry timings can be found here.
---
Day four of your Greece itinerary 7 days – Mykonos
After an adventure-packed three days in Athens, wake up bright and early and reach the Piraeus ferry terminal to catch a ride to Mykonos. There are ferry options of 2 hours 30 minutes or 5 hours 15 minutes and the fast ferry is more expensive.
After settling into the hotel, start the hunt for Petro, a peculiar pelican dear to both the locals and tourists. Walk in the old town snapping pictures of the white and blue buildings.
End the day with a visit to the popular Boni Windmill. The historic mill offers splendid views of Mykonos with the sunset splashing varied hues in the sky.
Enjoy a scrumptious dinner at Little Venice and head out to explore the budding nightlife of Mykonos.
---
Day five of your Greece 7 days itinerary – Mykonos
Spend the first half of the second day in Mykonos of the 7-day Greece Itinerary at one of its stunning and serene beaches.
The most popular is Psarou beach with many services like bars, sun loungers etc. For an unexplored less touristy beach, Lia is the ideal place for it. With crystal clear waters, it has a relaxing and lonely atmosphere.
Wine lovers can spend the second half of the day at the Mykonos Vioma Organic Farm and Vineyard. Embark on a wine-tasting tour and learn about the production and tasting techniques plus gorge on some of the delectable local produce.
End the day with dinner at Spilia Restaurant. It is perched on the edge of rocks and renowned for its scrumptious Mediterranean cuisine.
---
Where to stay in Mykonos
Luxury stays: Mykonos Blue – Located on the private part of Psarou Beach, this boutique resort consists of bungalows and villas plus a 2-level infinity pool.
Budget-friendly: Acrogiali Beach Hotel – With a 1-minute walk to the beaches, this hotel offers rooms with a sea or garden view. It has many amenities and is the perfect stay for not putting a dent in the wallet.
---
---
Day six of your Greece 7 days itinerary – Santorini
It's time to travel to the next destination and no Greece trip is complete without a stay at Santorini.
Catch a ferry from Mykonos to Santorini that will take just over 2 hours.
Start the first day of Santorini by exploring the town of Oia. Walk towards the Caldera to find the world-famous 3 blue domes. To enjoy the different views of the domes, visit the side alleys along with the main road.
After this, walk down below Oia to find Ammoudi Bay. Find a different view of the Caldera plus it is a great place to eat fresh fish.
End the day with a sunset view. There are many famous sunset viewpoints in Oia but the best place is Oia Castle, as it also offers a magnificent view of the windmills.
---
Day seven of your Greece 7 days itinerary – Santorini
Santorini has a lot to offer, no matter the interest. Therefore, on the last day of the Greece trip, choose any of the below options.
Fira
Oia can seem very artificial at times. Even though it houses a plethora of restaurants and hotels, it looks like no locals live there. Therefore, visit Fira to enjoy fantastic views of the Caldera. Plus, there are many shops, bars and restaurants to enjoy local food and drinks. Additionally, trek from Oia to Fira for an exceptional hiking experience.
Caldera boat tour
For a relaxing last day, embark on a sailing boat to spend the day around the Caldera. Walk on the active volcano, swim in hot springs and explore Thirassia.
On this day, do keep a little time to explore Red Beach. It is one of the most unique beaches in the world owing to the peculiar red colour of the rocks and the sand. It also boasts green waters and dramatic cliffs with views that kill.
As spaces are limited for cruises, pre-booking is recommended.
This cruise is a romantic catamaran cruise with buffet and wine and this one is a traditional wooden boat tour with meals and wine included. Both are highly recommended!
---
---
Where to stay in Santorini
Luxury: Aspaki by Art Maisons – The hotel offers views of the Caldera with a personal private jacuzzi. Imagine sitting in a hot tub in the room while watching the picturesque sunset minus the crowds.
Mid-range: Laokasti Villas – For a summer stay in Oia, the best option is this villa which offers a studio with white walls, blue doors and a balcony. It is very close to the town's main pedestrian street.
Budget-friendly: Galatia Villas – Stay in the town of Fira for a budget stay. Just a 10-minute walk from the Old Town of Fira, the rooms at Galatia Villas are spacious and comfortable with a common pool.
---
Alternate 7 day Greece itinerary options
The above itinerary can easily be modified to a 5-day and 10-day trip. But this is the perfect guide for what to do in Greek for one week for first-timers if you have these destinations on your mind!
However, if you have different locations on your plan here are a few ways this itinerary can be tweaked:
Athens (2 days) – Paros (1 day) – Mykonos (2 days) – Corfu (2 days)

Athens (2 days) – Santorini (2 days) – Naxos (1 day) – Hydra (2 days)

Athens (2 days) – Crete (3 days) – Santorini (2 days)
---
---
Nothing compares to a glass of chilled wine with the Mediterranean sea and the caldera as your view and Greece knows how to do it best!
There are some unforgettable memories to be made in Greece and I hope you get to visit this stunning country soon if you haven't been!
If you already have been…maybe it is time for another visit!
---
FAQs for 1 week Greece Itinerary
When is the best time to spend 7 days in Greece?
The best time to travel to Greece is in the spring season which is April/May or the fall season which is in September/October. During these months, the weather is pleasant and presents an opportunity to have a quieter and more relaxed experience.
The tourist season starts in summer roughly from Easter to October, as the hot sunny weather allows ample beach time. However, this also means huge crowds in many places and an overall expensive holiday.
How to travel to Greece?
The best airport to enter Greece is Athens. Since it is one of the largest and most tourist cities, many international air companies have regular flights to it.
There are also options to travel by ferry as many companies operate ships between Italy and Greece.
What is the best way to travel around Greece?
For transportation on the mainland, KTEL buses are the most popular. They operate on almost all big islands and offer connections between cities, towns and villages.
When travelling to different islands, the best option is through ferries. All the islands in the country are connected to at least one of the mainland ports, if not more. And ferries are must more economical than flights.
Other options available are taxis and car rentals.
---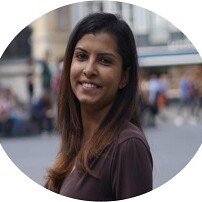 Award-winning Analyst, multi-nominated digital content creator and photographer Lavina Dsouza's words capture stories about culture and tradition mainly through its food and people. She has written and contributed to publications such as The Washington Post, Lonely Planet and Matador Network, to name a few. She is the editor of UntraditionalHumans.com, a non-profit created to share inspiring stories from women of colour who break free from traditions and choose happiness.
She's also a speaker passionate about DEI and champions solo travel. She has collaborated with numerous renowned brands such as Intrepid Travel, TripAdvisor, Travel and Leisure and Adobe, to name a few.
She can be found on Twitter and Instagram.
---
---
EXPLORE MORE OF ITINERARIES
---
Some of the links on this post are affiliate links. These do not cost you extra to use, but will help provide Continent Hop with a small commission if/when you purchase through them, to recover some of the costs of running this website and providing free content to help you plan your travel. I appreciate your support!
---