Swimming in the dead sea might look like a lot of fun and can be however you have a keep a few things in mind to ensure the water doesn't sting you! Visiting the Dead Sea Jordan is a better option and here's all the tips and tricks you need for a fun visit!
A few people continued swimming in the Dead Sea; the saltiest lake in the world, their faces caked with therapeutic mud while the sky gradually turned a blazing orange!
We were visiting the Dead Sea in Jordan, which honestly had far better amenities than the Dead Sea on the side of Israel, however, it also had one drawback: there were only a few public spots where one could take a dip in the Dead Sea.
Most areas were private, accessible only to the hotels and resorts present there. However, there were a few hotels were you could buy a day pass and head to float on the Dead Sea.
After a busy day inside Petra, it felt like dedicating a day or two here on our Jordan itinerary was justified.
After our dip in the warm waters, we walked back to our rooms while the buffet was served and belly dancers got ready to perform!
I'd visited the Dead Sea in Israel and I was ready for another swim the next day! Here's the important Dead Sea tips and tricks you need to keep in mind!
---
Why is the Dead Sea called 'Dead Sea'?
---
The Dead Sea is not really a sea but is actually a saltwater lake in the Jordan Rift Valley with the Jordan River as its biggest tributary. The surface of the lake lies at 1,412 feet below sea level and that makes the region surrounding the lake the lowest point on Earth!
What's even more fascinating is that the Dead Sea lake is actually one of the most saline water bodies in the world – even more so than the world's oceans. While oceans have an average salinity of 4%, the Dead Sea has almost 35% salinity.
It is because of these reasons that no life can flourish and the lake is absolutely devoid of any plants or animals, thus the name the 'Dead' Sea.
---
Swimming in the Dead Sea – Visiting the Dead Sea Jordan
---
The Dead Sea has been a very popular tourist destination in Israel. Most tourists visiting Israel make it a point to experience the Dead Sea, but what most do not know is that the Jordanian side of the lake is equally spectacular and is one of the best places to visit in Jordan.
What's even better is that the Dead Sea in Jordan sees far fewer tourists than Israel – meaning your experience of the Dead Sea might actually be better in Jordan than in Israel!
It is possible to visit the Dead Sea during a day trip from either Amman or Aqaba. To complete the perfect route, visit Petra first, and then make your way to the Dead Sea the next day.
For those who would like the complete experience of witnessing this saltwater lake's magic even at night, there are enough resorts to spend a night or two.
The easiest way to reach the Dead Sea is by hiring a car. It is the most convenient and fastest way. With the vast expanse of the Dead Sea on one side and Jordanian hills on the other, this by road trip is something worth experiencing.
If you're not into driving, you could also hire a taxi from Amman or Aqaba. But if you're on a strict budget and don't mind roughing it up, buses run frequently from Amman to Rame which drop you a couple of kilometers before the Dead Sea.
From here on, you could hitchhike as getting a lift is not difficult here but if you're a solo woman please ensure you put your safety first and stay aware! This is applicable for almost every country in the world.
---
Places to stay near Dead Sea Jordan
Most places to stay near Dead Sea Jordan are located on the north shore of the lake. From luxurious resorts to budget hotels and hostels, there are enough options for everyone.
For those with a cushy budget and willing to splurge, these Dead Sea resorts come with their own stretches of private beach with showers to wash off the salt after your swim.
Check best prices here:
Ma'in hot Springs (best if you'd like to stay someplace offbeat but close to the Dead Sea)
In case swimming in the Dead Sea is not something you're interested in, both these resorts also have their own pool where you can enjoy a not-so-salty swim!
There are also plenty of mid-range hotels available around the Dead Sea in Jordan. These are all affordable yet fancy enough for a comfortable stay. We stayed at the Dead sea Spa hotel and had a great time but did check out the other properties in the area too!
Check best prices here:
For those on a tight budget, these options are decent.
Dead Sea Resthouse

O Beach Dead Sea
Otherwise, consider spending the night in Amman and taking a day trip to the Dead Sea since the lakeside stay options on a budget are next to none.
However, for those looking to get out of Amman for the night and still staying within budget, spending the night in the town of Swemeh would be a convenient option.
---
Weather in Dead Sea Jordan
During the peak tourist season in the summers, the temperatures around the Dead Sea in Jordan can range from 30 to 40 degrees Celsius. On the other hand, winters can be quite chilly and make it difficult to go for a dip in the Dead Sea.
The best time to visit the Dead Sea in Jordan is usually around spring (March and April) and autumn (October and November). This is when the weather is not too hot and not too cold – making it just perfect for a swim.
Another plus point of visiting during the fringes of peak season is that you get very sparse crowds – almost as if you have the entire place to yourselves. Additionally, taxi and hotel rates also drop so it's a win-win situation!
---
---
Amman to the Dead Sea
The Dead Sea in Jordan is most easily accessible by Amman. Amman to Dead Sea is 60 kilometers and it just takes 45 minutes to drive down to this paradise.
If renting your own car is not an option, taxis can be easily booked for the day. There are also daily JETT buses that leave for the Dead Sea at 9 am and come back to Amman at 6 pm the same day. So whether you're going for a day trip or to spend a night, this is another convenient (and cost-effective) way to reach the Dead Sea from Amman.
---
Can you swim in the Dead Sea?
Swimming in the Dead Sea is much different than swimming in any other water body – for the simple reason that because of the lake's salinity, its density changes, making it nearly impossible for you to swim in the Dead Sea.
The moment you enter the water, you will feel much lighter because of your body's buoyancy and a few meters in, it will be impossible to stand or swim and floating in the Dead Sea will be the only option. Swimming in the Dead Sea is actually a great experience, but a few pointers need to be kept in mind:
IMPORTANT TIPS WHEN VISITING THE DEAD SEA
Make sure the water from the Dead Sea does not enter your nose, mouth, eyes or ears. Unlike ocean water, Dead Sea water is much saltier and will irritate you in case it enters your body

Try not shaving a few days before swimming in the Dead Sea. Due to its high salt content, open wounds can sting a lot when they come in contact with the Dead Sea water

Since the Dead Sea is the lowest point on this planet, it makes getting sunburnt much harder and you can enjoy a nice sunbathing session when here. However, it's always good to follow basic sun protection practices like applying sunscreen before entering the water (unless you've already applied some mud)

It is totally okay to wear a bikini or a swimsuit while swimming in the Dead Sea resorts in Jordan. However, if you choose to visit a public beach, it is best to gauge by yourself what clothing you feel comfortable wearing as there may be a few stares involved especially if you visit in peak season

Make sure you don't stay in the water too long in one go. The recommended time is not more than 20 minutes

Try to wear a dark colored bathing suit and not a light one as it is sometimes difficult to take the mud off!
Healing properties of Dead Sea mud Jordan
Due to the high amount of minerals found in the Dead Sea, it is often known as one of the world's first natural spas. With minerals such as potassium, calcium chloride and magnesium, this lake is far from dead. In fact, it is believed that Herod the Great built a health resort on the banks of the Dead Sea which Cleopatra wanted to invade just so she could access the mud from the Dead Sea!
A bucket of Dead Sea mud would cost you close to a hundred dollars at the mall, but it is completely free when you visit the Dead Sea in person. You just have to ask the guards at the resort to get some for you and apply it all over after a dip. The high mineral content will give your skin a moisturizer-like effect and your hair will be shiny for a whole week!
Since the Dead Sea is also the lowest point of Earth, it has 15% more oxygen than most other parts – leaving you happier than you came. The sunlight here is also used somewhat like natural phototherapy and is known to cure a number of skin ailments.
Simply put, a visit to the Dead Sea is nothing short of a full-fledged natural spa. The only difference is, it's all free.
---
Dead Sea cosmetics
As already mentioned, the Dead Sea and its water, soil and sunlight have innumerable benefits for hair and skincare. It is of no surprise then that a range of Dead Sea products is available in Jordan – both in markets and online shopping portals.
Dead Sea products are definitely some of the most sought after souvenirs for tourists to take back home for family and friends and for personal use. Some products worth looking out for include the Dead Sea mud to use as a face mask, the Dead Sea bath salts to use in baths and/or pedicures, and Dead Sea mineral exfoliators to use on the face and body.
---
Things to do in Dead Sea Jordan
---
Hammamat Ma'in – Ma'in Hot Springs
Hammamat Ma'in or the Ma'n Hot Springs are located between the Dead Sea and Madaba. There are a total of 63 springs in total with varying temperatures, up to 63 degrees Celsius! The springs are rich in hydrogen sulfide, calcium, sodium and other important elements which are known to cure skin, bone and muscular ailments.
Wadi Mujib is a river canyon near the Dead Sea in Jordan. It is home to a number of endemic birds and animals species and boasts of an interesting hike one can do while wading the shallow waters of the narrow stream.
Mukawir – or Machaerus – is a fortified palace located atop a hill overlooking the Dead Sea in Jordan. It once used to be the stronghold of Herod the Great and its ancient ruins can be explored by visitors to this date. This site is especially a great spot during sunset with the skies changing colors dramatically over the Dead Sea!
---
---
The Lisan Peninsula or Al Lisan is a piece of land that separates the North and South basins of the Dead Sea. Lisan translates to 'tongue' in Arabic and the peninsula is largely made by white calcareous sediment containing gypsum and salt.
You will also find several evaporation pools here, from which bromine, potassium chloride and calcium are extracted. It's a great place to get a panoramic view of the Dead Sea, while you also get your Instagram pics!
Sodom and Gomorrah used to be Biblical cities that were (re)discovered around the Dead Sea area between Israel and Jordan. On the Jordanian side, they have been turned into archeological sites that tourists can now visit. These include the Lot's Cave Monastery, Kerak Castle (one of Jordan's best-preserved castles) and Bab Ab-Dhraa, a fortified town from the Bronze Age which is now left abandoned.
---
Dead Sea Jordan or Israel?
Whether you decide to visit the Dead Sea on the Israeli side or the Jordanian side – the experience will be more or less the same. Ask this question to a bunch of people, and the vote would stand at about 50-50.
Each side has its own uniqueness and style. The Israeli side is more commercial. While this may mean more tourists where you go, it also means cheaper stay options and more open beaches.
On the other hand, since the Jordanian side of the Dead Sea is not very developed, it sees far fewer tourists than Israel but the beaches can't be easily accessed and mostly tend to be private; however they're worth it!
These resorts in Jordan are nothing less than spectacular and are as luxurious as they come. But this also means fewer options if you're on a budget. Ultimately, it all comes down to what is your travel style and what kind of a holiday you are looking for.
---
I had one of the best 'swims' of my life the next day as well and was utterly please with myself for including a sat at the Dead Sea on my itinerary. My skin was glowing and my hair was soft!
It was my second time swimming in the Dead Sea and the jaw-dropping experience of floating here never got old.
I left for Amman that evening hoping it wasn't my last visit here and wishing I returned soon!
---
Swimming in the Dead Sea – FAQs
Is the Dead Sea OK to swim in?
You cannot actually swim in the Dead Sea. If you think that water's high salt and mineral content will not let you drown, making it safe to swim in the Dead Sea, then you are wrong.
The water will keep you afloat, but if you try to swim in it, then it is almost impossible. Also, the salinity of water will lead to eye irritation way worse than in ocean water.
What happens if you swim in the Dead Sea?
It is not possible to swim in the Dead Sea. But if you try, the water will push you upwards, not letting you sink. As the salinity of the Dead Sea is more than 34% and it is way denser than freshwater, you will float effortlessly.
Do not let your head go underwater as this highly salty water is dangerous to your eyes.
How long can you swim in the Dead Sea?
It is recommended to stay in the Dead Sea water for less than half an hour or up to 20 minutes at a stretch. The high salt and mineral content will leave your skin soft and the chances of cutting yourself on crystals are way higher then.
Plus, spending more time in such salty water may lead to dehydration and electrolyte imbalance.
Why is the Dead Sea so hard to swim in?
The Dead Sea is 10 times saltier than the oceans and has over 34% water salinity. That makes salt and minerals in water concentrated around the bottom. So, it results in buoyancy when you try to swim in the Dead Sea.
Buoyancy is the tendency of your body to float or rise to the surface of the water.
---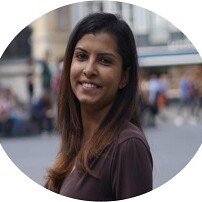 Award-winning Analyst, multi-nominated digital content creator and photographer Lavina Dsouza's words capture stories about culture and tradition mainly through its food and people. She has written and contributed to publications such as The Washington Post, Lonely Planet and Matador Network, to name a few. She is the editor of UntraditionalHumans.com, a non-profit created to share inspiring stories from women of colour who break free from traditions and choose happiness.
She's also a speaker passionate about DEI and champions solo travel. She has collaborated with numerous renowned brands such as Intrepid Travel, TripAdvisor, Travel and Leisure and Adobe, to name a few.
She can be found on Twitter and Instagram.
---
---
---
Some of the links on this post are affiliate links. These do not cost you extra to use, but will help provide Continent Hop with a small commission if/when you purchase through them, to recover some of the costs of running this website and providing free content to help you plan your travel. I appreciate your support!
---