Floating on the Dead Sea is a bucket list experience you should visit atleast once in your lifetime if possible. You'd think its as easy as getting in the sea but you need to do so cautiously as floating in the Dead Sea is just that – floating, no swimming. Here's ALL tips and tricks to help.
Floating in the Dead Sea was on top of my travel bucket list. I had imagined several times how it would feel to be so weightless in the water that it will push you to the surface effortlessly.
Once I got to the Dead Sea, the others in the group take off immediately, wide grins on their faces. Some have started applying mud all over their faces too! I gingerly make my way to the water.
I've had people tell me the water stings and burns your eyes. The beaches in Europe haven't quite been warm to my liking so I test the temperature with my foot first. The water isn't warm but isn't cold either.
I slowly start making my way into the sea. There's no sand but gravel so I slowly make my way to the water and lower my back in, to get pushed to the surface immediately!
You needn't be super cautious as I was but you do need to keep a couple of things in mind to make sure the time you spend floating on the Dead Sea is perfect as you can't spend a long duration in the water in one go.
From your waxing or shaving schedule to the list of things to carry, this article shares all the do's and don'ts of floating in the Dead Sea. So, read on to find all the useful information here.
---
Floating on the Dead Sea – all info
---
Best time to visit the Dead Sea
No matter when you are planning the Dead Sea floating, it is guaranteed to make your trip pleasurable. Tourists flock to this spot throughout the year and the weather is also usually ideal for this experience.
Of course, the months of July and August in summer make it too hot to enter the water and many avoid visiting the Dead Sea during this time. Winter may feel cold, however the water isn't freezing and it is possible to enter the sea.
But apart from that, here is the detailed season-wise analysis for floating in the Dead Sea.
The Dead Sea in fall – The fall season is from September to November and is also the best time to visit the Dead Sea. As it is the time for Sukkot, Yom Kippur, and Rosh Hashanah in Israel, the festivities and different activities attract many to the Dead Sea on the Israel side.
The weather is ideal for floating on the Dead Sea until the end of October and then the temperature starts lowering. But, it is still not so cold and you can plan your trip to the Dead Sea in November as well.
The Dead Sea in winter – The winter season is from December to February. The temperature starts falling in November itself, but still many tourists from around the world choose winter to float in the Dead Sea.
As many parts of the world experience snowfall in these months, the Dead Sea seems like a welcome trip for those who crave warmer weather.
The Dead Sea in Spring – The spring season is from March to May. The weather is warm, the chances of rain stay as low as possible, and accommodation prices are also not as high as in the fall season.
So, the months of March, April, and May are definitely the best time to visit the Dead Sea.
The Dead Sea in summer – The summer season is from June to August. The weather during this time turns a little humid and the day heat can make your Dead Sea floating experience uncomfortable.
But, do not let these things hold you back from your trip as summer also means lesser tourists and lower prices for accommodation. If you are used to warmer seasons, then summer can be okay for your vacation.
---
Best places to stay near the Dead Sea
From luxury resorts to budget stays, you will find numerous Dead Sea hotels to choose from.
The nearby areas cater to families as well as solo travellers and offer a wide range of places to stay that suit everyone's pockets. So, here are the few that are recommended by many –
Dead Sea Marriott Resort & Spa
This beachfront resort and spa near the Dead Sea is everything that you can ask for when you want a relaxing vacation.
From 5 swimming pools to 2 restaurants, Dead Sea Marriott will pamper you well. And as it is located only minutes away from the Dead Sea, you can go floating in Dead Sea whenever you want.
Kempinski Hotel Ishtar Dead Sea
This 5-star property near the Dead Sea is known for its private beach area along with a spa where you can avail of sea mud and sea salt treatments. Facilities like an airport shuttle and family rooms ensure beach-goers have a comfortable vacation.
Apart from these two, you can also consider Movenpick Resort & Spa Dead Sea, David Dead Sea Resort and Spa – Israel, and Crowne Plaza Jordan to name a few. Visits to places like the Dead Sea are to be enjoyed and this resorts and hotels make it very fun experience.
---
Dead Sea day trip
As Amman is the nearest city to the Dead Sea, Amman to Dead Sea day trip has become a popular choice amongst tourists. So, if you are visiting Amman, you cannot miss the floating on the Dead Sea experience.
The distance between Amman and the Dead Sea is 60 kilometers and you can cover this in about an hour if you are driving a car or traveling by taxi.
You can also consider traveling from Amman to the Dead Sea by bus if you are okay with using public transport. The JETT buses are a good option as these are air-conditioned and a round-trip would cost less than 15 JD. You can check the ticket availability and timetable here.
Another form of public transport available is minibuses. Even though the ticket prices are way lesser, the time it requires to travel to the Dead Sea is not convenient for a fast-paced day trip.
For price details, rental information, and bus schedules, you can check the Amman to Dead Sea post as it has everything you need. For convenience and saving time I highly recommend an organised day trip like this one, that also covers Petra and Wadi Rum. If you're looking for just a day trip then this tour is perfect!
If you're visiting from Israel, a day trip is more recommended if you're not staying at a resort as there's numerous beach options available and operators usually take you to the least crowded one which has lockers available. This one from Tel Aviv is highly recommended as it included pickup from hotel and a visit to Masada, and this one is a good option as it visits the same locations if you'd prefer to depart from Jerusalem.
---
Best locations to float in the Dead Sea
As mentioned, the Dead Sea on the Jordan side is difficult to access as most of it is located by the highway. Many resorts have private access to the Dead sea which makes it convenient to change and store valuables. These are some of the best spots to visit the Dead Sea in Jordan.
I've also mentioned exact locations if not connected to resorts/hotels.
Do note that getting to the Dead sea from the car parks and the Corniche area is difficult and you may not find Dead sea mud in these areas easily. May require some digging.
In Israel:
---
---
Why do people float in the Dead Sea – The Dead Sea floating science
For those curious souls who want to understand how everything works, this is information is for you!
You must have come across several photos and videos of people floating in the Dead Sea and you must have wondered how it is even possible, right?
The science behind the Dead Sea is actually pretty simple. The salt percentage in the Dead Sea water is more than 34% and that makes it 10 times saltier than the oceans. As the salinity levels are higher, the minerals and salt in the water are concentrated towards the bottom of the water body.
That helps in increasing the tendency of your body to float or rise to the surface of the water. This tendency is known as buoyancy and it explains the Dead Sea floating science.
As you go deeper into the Dead Sea water, you will feel more pushed to the surface.
---
Things to keep in mind before floating in the Dead Sea
Do not shave (any body part) at least a couple of days before if possible. It will sting like crazy and in some cases swell too!
If you have cuts and bruises wrap them up nicely so that the water does not make contact. Else it will burn…bad

It is all right not to keep applying sunscreen. In all the excitement if you did forget to apply sunscreen it's going to be all right. The Dead Sea being the lowest point on Earth has reduced UV levels due to the distance from the sun. So it is possible to stay exposed longer without getting burnt

There are changing rooms near the beaches (and they are clean) in Israel. There are many changing rooms depending on where you plan to head into the Dead Sea. We went near Kalia Beach and the rooms were tidy there. It was noon and crowds were sparse. However, on holidays it may not be the same so expect longer wait times

There's aren't changing rooms on the Jordan side as most areas are connected to resorts

There are lockers near the beach in Israel. It is safe to store your valuables here and the lockers have a card facility too (although the instructions are in Hebrew). It costs approximately 10 NIS

You may have to pay an entrance fee (if you are not staying at one of the hotels near the Dead Sea) of approximately about 50 NIS depending on the beach you opt to go to. Ask your hotel for discount vouchers if you plan on going to a different beach other than the one near the hotel

It is perfectly fine to wear a bikini in both countries. I always avoid wearing one in conservative countries, but that's just me. It is fine to wear a bikini. Some travellers did mention that they were stared at but it isn't necessarily so

Wear an old bathing suit or a dark one. The mud does not come off easily and will discolour your bathing suit if it's a light one

Try to arrive with your bathing suit on (underneath your outfit). It's less hassle if your changing rooms are not up to mark

Bring towels and toiletries. Some changing rooms do provide one on rent but best to get one yourself

If you're conscious keep a cover-up handy. There are chairs that you can use for free and place items that you may need immediately on them right beside the beach. I would not suggest placing other valuables here though

Carry a beach mat. If you're concerned about finding a decent spot to place your articles carry a mat to sit on or place your items on

Take pictures before getting in. You can take pictures later too, however as I do not advise keeping valuables nearby and only storing them in the locker, it's best to get your shots before you hit the water unless you have a GoPro. Some others did get out, dry themselves and then take pictures, so that is possible too

Carry warm clothing. It is pleasant during the day but once you get out of the sea it gets chilly, so keep something handy, especially in winter
---
While you float in the Dead sea
Tread slowly. There's gravel around so tread carefully. You do not want to hurt yourself and feel the sting immediately

Do not splash around (or swim). You are told so immediately by the guards before you get into the water

Do not dunk/dive in. Unless you want your eyes to burn like they have never before and wet your hair, that in turn ensures water drips into your eyes every couple of minutes or so. I'm speaking from personal experience. It wasn't fun

Float peacefully and keep your mouth shut unless you don't mind stepping out immediately to rinse your mouth (and your eyes)

Request the guards to dig some mud. You can scrape up some yourself. Dead Sea mud is usually found in chunks and hardly has any gravel in it. If you want a huge chunk the guards will happily dig and pass some over

Apply mud all over including your face, do not rub it in. Your skin will be pleased. It'll be smoother and moisturized than you've ever felt before. You can opt for treatments, and facials at a charge if you are putting up at a resort/hotel

If you plan on getting a GoPro, opt for GoPro 5 or something higher. If other specifications do not bother you much and being water resistant is a top priority, opt for GoPro 5. It does not require a case like the others

If you are using a different one, always keep it in the water as once it's out a salty film will form over it and cause the images to be blurry
---
Once you're done floating in the Dead Sea
Rinse off well (yourself and your suit). Outdoor showers are usually present immediately once you step out in Israel. Irrespective of whether you will be using the changing rooms or not, rinse off well. However, be careful, they're usually slippery

Rinse your GoPro too. If you use a GoPro or underwater camera be sure to rinse thoroughly with fresh water after as the high concentration of salt can corrode your equipment

Avoid purchases of products from unknown brands. There are many stores that sell Dead Sea products that are located near the beach

Avoid unknown brands as they may contain harmful products. The Ahava brand is quite widely used and something I trust. They are usually out of stock for the most common items in which case I'd suggest Seacrets
---
Float in the Dead Sea – Israel
The Ein Gedi beach is no longer open due to the formation of sinkholes and if you're unsure where to head off in the sea, use the facilities available at the Ein Gedi Spa for a day.
If you plan on using public transport, Egged Bus 486 & 444 travels from the Jerusalem Central Bus Station (platform 5) directly to the Dead Sea, Ein Gedi, and Masada. More details can be found here.
If you plan on driving yourself, all you need is a valid driving license from any country. An international one is not required. Ensure you stick to the timings strictly when picking/dropping a car off, when hiring one.
Pick a local sim card, if you do not have data roaming enabled and are worried about getting lost. Local transportation is not available on Shabbath (Friday noon till Saturday evening) so plan accordingly.
If you still wish to head off to the Dead Sea (or Ein Gedi/Masada) from Jerusalem on Shabbath or find planning it by yourself overwhelming, Abraham Tours has self-guided, non-rushed daily tours. Pick up is from Abraham hostels.
Here's a helpful post for your first family trip to Israel if you're travelling for the first time and need more info to continue your trip.
---
---
Sadly, the Dead Sea is drying up and experts say that it may not be possible to revive the reservoir. Some environmentalists blame the water policy of Israel, Jordan, and Syria while some blame the increasing farming and industrialization in nearby areas.
No matter what the reasons are, the truth is the Dead Sea is sinking with every passing year. So, plan your Dead Sea floating trip as soon as possible and follow all the do's and don'ts for a memorable experience.
And let us hope that experts will find a way to save this natural wonder before it's too late.
There isn't a place in the world where you can get across to a different country without moving a muscle while watching the Judean desert on one end and Jordan on the other and that place is Israel! Do not leave without visiting this miracle!
---
FAQs about floating in the Dead Sea
Can you float in the Dead Sea?
Yes, you can actually float in the Dead Sea as the Dead Sea water is 10 times saltier than the ocean making it denser as well as heavier. It increases buoyancy and water will push you towards the surface, resulting in floating.
Why do people float in the Dead Sea / why do you float in the Dead Sea?
The moment you get into the Dead Sea, the water will push you upwards, literally not letting you sink. This happens as the salinity of the Dead Sea is over 34% and it is way denser than fresh water. So, this heavier water ensures when people step in, they will float effortlessly.
What sea can you float in?
You can float in the Dead Sea. All you have to do is step in the water and experience how this saltier, denser, and heavier than usual water will make it almost impossible to sink in.
---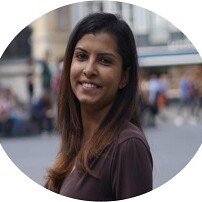 Award-winning Analyst, multi-nominated digital content creator and photographer Lavina Dsouza's words capture stories about culture and tradition mainly through its food and people. She has written and contributed to publications such as The Washington Post, Lonely Planet and Matador Network, to name a few. She is the editor of UntraditionalHumans.com, a non-profit created to share inspiring stories from women of colour who break free from traditions and choose happiness.
She's also a speaker passionate about DEI and champions solo travel. She has collaborated with numerous renowned brands such as Intrepid Travel, TripAdvisor, Travel and Leisure and Adobe, to name a few.
She can be found on Twitter and Instagram.
---
---
What's a bucket list experience you've attempted?
I'd love to hear them in the comments below!
---
---
Some of the links on this post are affiliate links. These do not cost you extra to use, but will help provide Continent Hop with a small commission if/when you purchase through them, to recover some of the costs of running this website and providing free content to help you plan your travel. I appreciate your support!
---