Petra at night is a wonderful experience however many tend to wonder: Is Petra at night worth it? The Petra night show is interesting but here's more info about Petra night tours and if you're unsure; why you should you attend or skip this Petra candle night!
I'd spent the day wandering around inside Petra: ancient monuments unknown to humans for ages till they were discovered by accident.
It was scorching and I had to take breaks during noon and had to ensure I stayed hydrated.
However, it was worth it. I was also looking forward to lesser crowds and having a quiet time at the Petra at night event the same evening, then moving on to the next item on my Jordan itinerary: Swimming in the dead sea!
That evening, making my way through the Siq was magical, however, the event was only limited to the area in front of The Treasury.
Honestly, I was underwhelmed however many other were amazed at the events to follow.
Should one spend on the Petra by night event? Is Petra at night worth it?
Read on for an honest review and all the info you'll possibly need!
---
History, and Facts of Petra
History of Petra
Between 400 BCE and 106 CE, Petra, as the world knows it by the name Rose City, used to be a prosperous trade center.
It was about 2000 years ago that the city appeared fully occupied with brilliantly carved and sculptured tombs, temples, caves, houses, halls, and even marketplaces. Petra was a crossroad between the east and west, paving the way for lavish trades across countries.
But, there occurred a sharp turn of events when an earthquake in A.D. 363 struck the city.
Thereafter, not only did the trade routes shift, but the city became a deserted land for a few centuries. Just a small tribe of Bedouins inhabited the area.
It was in 1812 that a Swiss explorer named Johann, re-discovered the land of Petra and reported it to the world, leaving people who visited this destination, awestruck!
Facts about Petra
It is one of the New Seven Wonders of the world

Petra derives its unique name from the Greek word 'Petros' which means 'rocks'

Petra is one of the least explored places on earth. It's said that less than 20% of Petra is revealed to the world

Petra is believed to be established in 312 BC, and hence is one of the most ancient cities in the world.
---
Petra at night – Tours, info and details
---
What is Petra at Night?
Petra at night is a retro-fashioned light show in Petra, which occurs when it's dark in Petra.
It is also known as a magic night show by travelers from across the world for the beautiful vibe that the place gives with its candle-lit pathways from the Siq to the Treasury.
The site is filled with gigantic cliffs on both sides and has an uneven walkway lit with candles on both sides as visitors walk through to get to The Treasury.
Once you get to The Treasury, many candles are lit and placed in front and a culture show takes place that lasts about 2 hours.
It is usually quite easy to get a ticket however it is available only on limited days.
---
Things to know before you visit Petra at night
Petra is quite vast and it takes ages to get to The Treasury. It seems even more massive since it is lonelier and quieter than usual tourist destinations at night

It is quite possible to be lost in this city without a clue of the direction you are heading towards. It is always recommended to tour around either with a map or a guide

Most roads and walkways in Petra are sunny and open, though fully covered with mountains and monuments from all sides

The Siq is known to be carved between two mountains and is the entrance to the city of Petra.

The mountains and hills around have a strange pink hue

Petra is full of natural and architectural miracles, due to which make sure you make the most of the time you spend here

Petra at night is an entirely different experience than the one during the daytime and seats are limited

I highly recommend visiting the Petra night show at the very beginning of your holiday, followed by other tourist attractions in Petra
---
Tickets for Petra, location details and Entrance fee for visiting Petra at night
Petra at night is a night show in Petra that is conducted for tourists and visitors on specific days of the week.
The Petra by Night ticket is 17 JD for adults, which is about USD 24 or 20 Euros.
It is to be noted that the Petra, Jordan night show ticket needs to be purchased separately.
It is also important to note that the Petra by night pass is not included in the regular Petra visitor day pass and Jordan pass, both. You may choose to buy the Petra by night ticket a few hours before your departure to the show from the Visitors' Center, or ask a local guide to get one for you.
The process of getting the tickets is usually hassle free.
---
Fee for children visiting Petra at night
Usually, children under the age of 10 years are allowed to the Petra by Night show free of cost. However, this may vary for children between the age group of 10 to 16 years.
You need to check with local guides or you can visit the Visitors' Center for the latest information on the same in order to avoid hurdles when visiting. However, usually, children of age 10 and above, are allowed only with a ticket same as that of the adults 17JD (which is about USD 24).
---
DETAILS

Address: Tourist street Visitors center, Wadi Musa, Jordan
Hours: Open Daily 6 AM – 6 PM
Entry Fee: Prices vary by the type of visitor
If you're staying for at least one night in Jordan: One day in Petra: 50 JD, 2 days in Petra: 55 JD, Three days: 60 JD
If you visit Petra the same day you arrive in Jordan and are staying for at least one night in Jordan: 50 JD* (* visitor to pay border ticket fees (90JD) and return in the next day to get a refund of 40 JD)
Fees for people not staying in Jordan for even a single night: 90 JD
Jordan pass: Visit to Petra is included in the Jordan Pass. Starts from 70 JD and can be booked here

Additional info: Entry is free for children under the age of 12
Jordan pass inclusion for Petra does not include Petra by night
Daylight tickets are to be purchased for Petra by Night
Guides: Prices for guides start from 50 JD for 4 KMS.
For answers to FAQs like How many days in Petra, can you go inside Petra buildings etc. please refer to the FAQ section at the bottom of the post. For how big is Petra inside, continue reading!
---
When is Petra at night available?
Visiting Petra, Jordan during the day is a wonderful experience in itself however at night the experience is quite different and surreal.
The Petra by night light show occurs only thrice a week on Mondays, Wednesdays, and Thursdays from 8:30 pm until 10:30 pm each week.
Hence it is advisable to alter your Jordan itinerary so that the day you visit Petra is one of these days in the week.
It is quite a memorable experience walking through the candle-lit path on your way to The Treasury with only a limited number of people around. Quite different to the hustle and bustle of the crowds during the day.
Since the Petra at Night show occurs on specific days, you will need to plan the rest of your tour accordingly.
---
How to reach Petra and get to the Petra by night show?
There are a number of ways to reach Petra depending upon where you are located.
The two, most convenient ways to reach Petra are by a self-driven car or by bus.
If you are on a holiday with a guided tour, the commutation hassle usually is taken care of by the guides, and you would not have to worry about it. However, if you are traveling all by yourself to Petra, here's what you would need to do:
From Amman- It is a 3.5 hours long road if you own a car of your own. You can easily self-drive and reach Petra. If you do not own a car, you could travel by the JETT bus that starts at 6:30 am every morning from Amman.

From Aqaba- It is a 2-hour drive by car. You can also travel by the JETT bus, by arriving at the Aqaba bus station, which is in the vicinity of Movenpick Hotel. Another option to reach Petra is a local cab service.
Once you reach Petra, reaching the Petra night show is stress-free.
Petra at night show can be accessed from Petra's visitor center. To start off, buy your Petra by night ticket and then head towards the Siq.
---
Tips for all visiting Petra by night
Visit the Petra by night show before visiting Petra in the daytime. You might not enjoy Petra at night as much if you have explored it already

Grab your Petra night show tickets at least 30 minutes in advance. This gives you an opportunity to start your Petra candle night tour on time and hence be at the Treasury before the crowd arrives.

It's quite nice to have the place all to yourself before the show starts

Though most people do not use it all, it is recommended to avoid using flashlights, and torches, whilst at the Petra by Night show

Make sure you are physically fit to walk around 1.5 km of a walkway twice; since there aren't transportation options available in case of emergencies
---
What does Petra at night Look like and what to expect at the Petra by night show
Petra during the day is magnificent.
If you prefer silence and candle light, then Petra by night is for you!
To give you a quick walkthrough, as you pass the narrow entrance, to finally face a wider gateway to start off your night walk with; you'll find candles lit on either or both sides as you walk towards the Siq.
Petra by night includes a 2.4 km walk from the entrance of Petra toward the Treasury. All the way long, you will need to commute by foot and there will not be any other means of transport available to reach the Treasury.
Here's what to expect:
Lesser crowds and chaos

The absence and unavailability of carts, vehicles, and animals will be quite welcome to many

A long but not too challenging walk to The Treasury

A mini tea – you are served aromatic bedouin tea, on your arrival

A melodious traditional musical night followed by the rababa and the story of Petra
---
Where to stay near Petra?
Depending upon the cost and distance parameters you have set for your stay in Petra, you can easily choose a good place to stay for a specific period or for the entire holiday.
Here's a list of the top three stays near Petra that are highly recommended depending on the overall facilities that it has to offer its customers.
Out of all the five-star hotels near Petra, Mövenpick Resort is the most luxurious one. Considering the location of this resort, it becomes extremely convenient for you to visit all the tourist attractions in Petra city.
Apart from that, Mövenpick offers spotless, luxuriously beautiful, and comfortable rooms along with prompt customer service and a beautiful ambiance inside the campus.
2. The Old Village Hotel and Resort
The romantic setting that the Old Village is located in, makes it even more delightful to spend time here. The well decorated hotel rooms, minibar, and appealing customer service puts one at ease.
Located within a radius of 1 km from the Petra Visitors' Center, Town Season Hotel is a very convenient choice for your stay at Petra. Not only are all the things to do in Petra close by, but the stay itself is quite the experience.
---
Who can Visit Petra at Night
Petra night show is open to all age groups, and there are many Petra by night tickets available.
Considering the distance of at least 1.2 km toward the treasure, and back; it might be a challenge for individuals with walking difficulties. With no availability of wheelchairs and vehicles or animals for transport, attending the Petra by Night show could be tricky.
Similarly, younger children/toddlers, who might not be willing to walk such longer paths, could make the tour challenging for their guardians.
---
Where does Petra at night take place and how do you get there?
You can reach Petra at night with the help of your own car or hire a local cab to reach the entrance of the visitor's center.
You need to get to the Siq which is where the show takes place.
The path through the Siq is 1.2 km long and is usually silent and windy, but is beautifully lit with candles on both or either side.
It usually takes less than 30 minutes to reach the Treasury if you do not stop by for rest or photographs.
---
Is Petra at Night worth it?
This is one of the most frequently asked questions with, more than one right answer.
Petra at night personally did not have the 'wow' factor for me as I'd already visited Petra during the day and it just felt underwhelming even with all the beautiful candles lit everywhere.
Many do happen to mention that it is worth doing Petra at night first, the night you get to Petra, then following it up with a visit to Petra again the next day.
Here's some factors to consider:
Petra does look quite serene in the dark, so if you'd like to see it when it is comparatively quieter opt for Petra at night

If you are a photographer, Petra at night does offer opportunities for night photography. However keep in mind that the event takes place near the Siq and the rest of the area is off limits. Hence to capture pictures of the whole of Petra it is best visited during the day.

You will also need a tripod if you wish to capture pictures

Petra by night show last for about 2 hours and includes a tea, and traditional storytelling. It does not include exploring the area at night

It can still get quite busy here as sometimes there are higher number of tickets released during peak season hence it may not always be quiet here in comparison to day visits

It can get quite chilly at times and it may be possible that the path on the way back may get quite dark once the candles get extinguished
I personally would suggest visiting however, do so, a day before visiting Petra during the day as after a tiring day in the sun, you will hav eto walk the same path again and back, if you plan to do it the same day.
This can get quite exhausting.
---
Various things to do in Petra by Night
Apart from the performance at Petra by Night, and hiking through the mountains, there's a lot more to do when in Petra, Jordan at night.
You can have a delicious meal prepared by the locals at some of the restaurants that tend to stay open till late

There are also a number of places in Petra to buy some really beautiful souvenirs like jewelry and artefacts made by local artisans

If you do not wish to be outdoors, you can always choose to spend a comfortable time in a fancy resort as many like the Movenpick are quite fun and relaxing
---
Things to carry to Petra by Night
Enough Water – The Petra by Night show involves walking, which might leave you exhausted. Carrying a bottle of water is always recommended irrespective of whether you're exploring inside Petra or the Petra at night show

Mini first Aid Kit – The path is lit very low and there are high chances of minor injuries so some paracetamol and plasters would help

Power bank – In case of A power bank can be a lifesaver in case your battery gets discharged

Tissues – One can't ever have too many tissues!

Identity documents – Since you are traveling as a foreigner, carrying your identity documents always helps
---
---
What to wear at Petra by Night
Considering the overall climate, which is cool and windy at Petra at night, it is recommended to wear clothes that cover your body almost fully as even if it is pleasant at the start, keep in mind you have to spend 2 hours here!
Also, wearing your most comfortable set of clothes while at the night show at Petra is essential, as the place calls for walking on an uneven path for more than an hour altogether.
Fabrics that keep the temperature of your body unchanged are highly recommended.
---
Best Time to Visit Petra
It is during the spring i.e. March, April and May, or during the fall i.e. September to November, that Petra is in its best form.
During these spans of the year, traveling, exploring, hiking, etc. becomes more comfortable and more convenient than usual due to the pleasant temperature.
It is also during Spring and Fall that Petra isn't too crowded, unlike summer which draws in a lot of crowds. Petra remains the most crowded from June to August, so it is not recommended to travel to Petra Jordan during this span.
---
In all honesty, I wouldn't have attended the event however I'm sure I would have been absolutely stunned if I would have visited Petra by night first then gone back after a good night's rest to see Petra by day.
Visiting Petra by day and day in a single day wasn't a great idea and I highly encourage you not to plan it that way.
That being said irrespective of whether you plan to see the event or not, make sure you do not skip Petra from your itinerary as the place is truly magical and definitely worth having on your bucket-list!
---
FAQs for Petra at night
What kind of food is available in Jordan?
The Middle East, the Mediterranean, North Africa, Persia, and Iran all had an impact on Jordanian cuisine. Jordanians frequently eat foods like falafel, hummus, kunafa, and shawarma.
What can women wear in Jordan?
Jordan is traditionally an Islamic country, however compared to most other countries in the Middle East, there are a few more exceptions for female tourists. Women are permitted to dress in T-shirts and jeans, but it's important to remember to adequately cover your shoulders, chest, and legs. However, you can also see a lot of female tourists wearing bikinis in locations like the Dead Sea!
Is drinking alcohol in Jordan allowed?
Yes, even though Jordan is a Muslim country, drinking alcohol is permissible.
Is it dangerous for tourists to visit Jordan?
The Middle East is notorious for being a dangerous region for travellers, but Jordan's security and governmental procedures are much stronger, ensuring that visitors have a very positive and safe experience.
---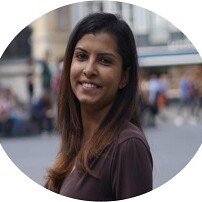 Award-winning Analyst, multi-nominated digital content creator and photographer Lavina Dsouza's words capture stories about culture and tradition mainly through its food and people. She has written and contributed to publications such as The Washington Post, Lonely Planet and Matador Network, to name a few. She is the editor of UntraditionalHumans.com, a non-profit created to share inspiring stories from women of colour who break free from traditions and choose happiness.
She's also a speaker passionate about DEI and champions solo travel. She has collaborated with numerous renowned brands such as Intrepid Travel, TripAdvisor, Travel and Leisure and Adobe, to name a few.
She can be found on Twitter and Instagram.
---
---
What's the best experience you've had on your travels?
I'd love to hear in the comments below!
---
---
Some of the links on this post are affiliate links. These do not cost you extra to use, but will help provide Continent Hop with a small commission if/when you purchase through them, to recover some of the costs of running this website and providing free content to help you plan your travel. I appreciate your support!
---