The best thing about Jerash is that the ruins of Jerash are so huge there's enough space for everyone without feeling cluttered and it is only 40 minutes away from Amman. Jerash ruins are worth a visit and here are the best things to do in Jerash!
There was a whole hour to go, however, due to the sheer size of the Jerash ruins, the guards wanted to make sure everyone knew that it was time to leave soon.
We were sat near the South Gate and most people had left except for another couple sat on the far right.
It felt as if we were the only people in the ruins of Jerash in Jordan (the best preserved Roman ruins in Jordan) and as the sun set in the horizon, it enveloped the whole amphitheatre in a warm orange glow.
Not only was it quite romantic, but it was also quite fun to visit a historical location not swarming with tourists, that you could enjoy just forty minutes from Amman.
While Amman does have the Citadel and Downtown area, markets etc, Jerash has a lot to offer, more than the Jerash ruins. There are forests, traditional food and museums, perfect for someone who loves history and offbeat destinations and is worth adding it to your Jordan itinerary!
---
What to do in Jerash ruins + things to do in Jerash
While there may be quite a few things to do in Jerash, the ruins in Jerash are still the best place to start or end your day in Jerash.
The entrance to Jerash is included in your Jordan Pass. If you've paid for this before coming to the country, it will help you save time and money.
Here are details if you've not purchased it in advance.
---
DETAILS
Jerash Roman ruins Entrance Fee
Address: 7VHQ+GP8, Jerash, Jordan
Hours: Open Daily 8 AM – 6.30 PM
Entry Fee: The entry fee is 12 JD. Entry is free for children under the age of 12. Included in the Jordan Pass. Includes your entrance to the archaeological museum.
Transport Options: Best to self-drive as public transport to Jerash is unpredictable
---
Essential tips for your visit to Jerash, Jordan
Make sure you get a visa to Jordan. Many countries need a visa and it's easier to get one before you arrive. Alternatively, you could also get one on arrival. It costs about 40 JD for a visa on arrival

Getting a Jordan Pass works out to be cheaper if purchased together with the visa. It costs about 70 JD and entry to numerous sites is included and you can skip the queue!

Most people understand and speak English however Arabic is the local language

Make sure to dress appropriately especially when visiting places of worship. However, in most places, it is alright to wear jumpsuits and maxi dresses as Jordan isn't quite conservative

The best time to visit Jordan is May to October when temperatures are between 25-30 degrees. For cooler temperatures, in the other months, it dips below 20 and can get quite cold in places like Wadi Rum

Make sure you get travel insurance before you travel and rent a car at the airport itself if you plan on driving yourself
---
Within the ruins of Jerash – Temple of Artemis
---
This sanctuary was constructed as a shrine to Artemis, the patron goddess. She was the Greek goddess of wild animals, the hunt, vegetation and childbirth.
The temple resides inside a gigantic courtyard. Construction of the sanctuary started around 200 AD, but it was never completed. Only 12 of the planned 32 columns were built. The ancient ruin sits on an extensive system of underground vaults, for which their specific purpose is still unknown.
Later in the 27th-century, Byzantine era, it was used as a fort by a group of Crusaders. Visiting this exquisitely well-preserved Roman ruin. It provides a hefty dose of history and is not to be missed.
---
Within the ruins of Jerash – Arch of Hadrian
---
This colossal arch was built in recognition of the Roman Emperor Hadrian during his stay here in 130 AD. This arch is the largest known arch in the Roman Empire, standing over 20m high and 25m wide.
Luckily when the arch was discovered, all fallen pieces could be saved and reattached. The reconstructed ruin provides an authentic look at its preserved beauty.
This is yet another unfinished ruin in Jerash. The arch was originally not intended to be lone-standing, but rather act as a grand entrance to the city. Unfortunately, the city walls weren't ever built there. Now it's just stones steeped in history.
---
Within the ruins of Jerash – Oval Plaza
The Oval Plaza is an iconic ruin known for its size and detailed tilling. The oval shape is not commonly seen in Roman architecture, but it was chosen to accommodate the odd angles of the land.
Outlining the oval courtyard are high columns, reaching up to 8m high. The columns were built in 200 AD, but the paving was only done much later due to financial depression.
Leading up to the Oval is the Cardo Maximus, an 800m paved, column-lined street that makes the entrance that much grander. When you're done admiring the exquisite Roman style, this Archaeological site in Jordan has tons more to be explored.
---
---
Within the ruins of Jerash – Hippodrome
A Hippodrome isn't to race hippopotamuses, but rather ancient Roman horse chariots.
This stadium was built in the early 300 AD and measures 265m long with space for 17,000 spectators.
While this ruin is a spectacular sight, it is uncertain if the track was ever completed.
By 400 AD, the north part of the stadium was turned into an amphitheatre for gladiator fighting and other popular sports. Additionally, the south side was deserted and became a place for squatters.
In 600 AD it was changed again to a quarry to repair the city wall and by 700 AD it became a burial site for those who didn't survive the plague. Finally, in 749 AD an earthquake crumbled it.
Today you can view the hippodrome and take a walk through history, witnessing history that's left behind
---
---
Within the ruins of Jerash – Temple of Zeus

Zeus was the God of Lightning as well as the chief Greek deity. The sanctuary of Zeus was used as a place of worship from the bronze age through to the Roman era.
The site is made up of two terraces. The lower terrace was built in 27 AD and the upper, larger temple was later built in 160 AD. There is a grand staircase leading from the bottom to the top.
The temple was used throughout the centuries by settlers, farmers and craftsmen. But after the 749 AD earthquake, the temple was abandoned and only used by groups of crusaders in the 12th Century.
You will be spending a lot of time walking in the hot desert sun, so make sure to bring sunblock and water with on this excursion.
---
---
Within the ruins of Jerash – Jerash Museum
Before you go, make sure to visit the museum and visiting center. This museum used to be nestled inside one of the vaults of the courtyard of the Artemis Temple but was moved in the 80s.
The Jerash museum houses some exquisite artifacts including mosaics, glass, gold jewelry and coins found in the underground tombs of the Jordan ruins. The Museum has informative and interesting displays of the Jerash region and history.
While the artifact selection is rich, visit Jerash museum as it also offers endless views of the rolling hills of Jerash and the ancient, modern spread on either side.
---
---
Outside the archaeological Jerash Ruins
---
If you'd like to spend more time in Jerash, here's a few things to do in Jerash other than the Jerash ruins.
King Talal Dam
The King Talal Dam lies between the hills of Northern Jordan and the Zarqa River. The dam was built in the 1970s to store over 80 million liters of water for the cities. The reservoir lake is over 7 km long and up to 450 m wide.
There are stunning hiking trails that lead to the dam and around it. The views over the camel-coloured dunes and arid hills are breathtaking. Hiking to the dam makes for a great outdoor activity for families and groups of friends.
Location: Can be found here
—————
Lebanese House
Nicknamed 'Umm Khali', this nomadic restaurant is just a 10 minutes stroll from the center of Jerash. The restaurant has been open since the 70s.
Not only is this national treasure rich in history, but they offer an array of hot and cold mezze, fresh homemade bread, wondrous salad selections and splendid food off the grill.
This establishment is the top choice for traditional Lebanese food in the city and is not to be missed during your stay.
Location: Can be found here
Timings: 12 PM to 11 PM everyday
---
---
Dibbeen Forest Reserve
The Dibbeen Forest Reserve is a national park in Jerash Jordan. The park consists of eight square kilometers of lush alpine and oak forest. Walking under the canopy fills your lungs with a damp wooded aroma that creates a sense of peacefulness.
While this park is small, making up only 1% of Jordan's land area, it's home to 17 endangered species and is recognized as a national biodiversity hotspot. You can spend hours walking through the reserve's marked trails, learning about the indigenous fauna and flora of Jordan.
---
---
Jerash, Jordan and How To Get There
By flight: If you're on another continent, and planning on traveling by plane, you'll most likely travel to Amman first. Amman is the capital and largest city in Jordan. Most cities have connecting flights to Queen Alia International Airport.
By Road: If you're coming from surrounding countries, like Israel, or have just landed at the airport, you can hop on a bus to Jerash. At the Raghadan station near downtown Amman, you can get the North Terminal bus straight to the ruins of Jerash. But note, that if you're going to cross the border from anywhere other than Israel, you'll need to get a visa.
You can also rent a car and drive to and around Jerash city. Prices start at around £4 Per Day from local car hire companies in Jordan. The roads are well-maintained and comfortable to drive on, making it a great option for families.
Just 1.5 hours away, make a stop and unwind by floating in the Dead Sea, It's a great and relaxing addition to your Middle Eastern Trip and is thought to have amazing benefits to your mind and body.
---
---
Where to Stay in Jerash Jordan
If you're staying for a few days to explore Jerash city, somewhere like Atoom Hotel is a great choice. Atoom Hotel is in the heart of Jerash and is easier to travel from than the outskirts of the city. The Jerash Ruins are less than 2.5 km or a 30 minutes stroll away.
Wanting to stay somewhere a little more local? Ajion Mihna Guest House has spectacular views of the city and hillside as well as uber accommodating hosts. During your stay, you'll be treated to a Jerash breakfast buffet to jump-start your day. The accommodation has a car rental service, which you can use to visit attractions like, Ajloun Castle, just 10 minutes away which is another spot worth adding to your Jordan itinerary.
---
To be honest, I only visit museums if they have something offbeat to offer, like an airplane museum in Estonia, however this archaeological site is not to be missed just for the sheer size and well-preserved ruins.
While you could spend the whole day here, if it's a hot day it is worth at least a half day visit. Make sure you cover well to avoid the sun, wear sunblock and carry water with you as there isn't a store inside the site.
Jerash is sure to be one offbeat trip you're sure to remember from your Jordan visit, it certainly won't disappoint!
---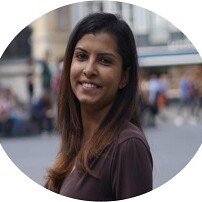 Award-winning Analyst, multi-nominated digital content creator and photographer Lavina Dsouza's words capture stories about culture and tradition mainly through its food and people. She has written and contributed to publications such as The Washington Post, Lonely Planet and Matador Network, to name a few. She is the editor of UntraditionalHumans.com, a non-profit created to share inspiring stories from women of colour who break free from traditions and choose happiness.
She's also a speaker passionate about DEI and champions solo travel. She has collaborated with numerous renowned brands such as Intrepid Travel, TripAdvisor, Travel and Leisure and Adobe, to name a few.
She can be found on Twitter and Instagram.
---
---
---
Some of the links on this post are affiliate links. These do not cost you extra to use, but will help provide Continent Hop with a small commission if/when you purchase through them, to recover some of the costs of running this website and providing free content to help you plan your travel. I appreciate your support!
---