Since Jordan isn't an easy destination to navigate due to it's limited public transport options, many choose to either drive or opt for day trips from Amman to get to the Dead Sea. I'll cover all feasible options from Amman to Dead Sea – distance, driving time, etc. to help you plan better.
I watched in alarm as almost everyone but us was above the speed limit on the road from Amman to Dead Sea.
We weren't sure if us sticking to the speed limit would actually cause us issues but we continued within the limit and within an hour had reached our resort, the Dead Sea Spa hotel intact!
Having driven previously in India definitely had it's perks as the driving style and traffic in Jordan didn't bother us however not having easy access to public transport would have been a problem if we hadn't rented a car.
The best bit about the Dead Sea in Jordan (as compared to Israel) is it's easy accessibility from Amman.
Even if you're not keen to drive, there's private buses and numerous day tours.
For us, it was about finally taking a break from sightseeing in cities like Petra and Wadi Rum, avoiding the afternoon heat and spending a day near the Dead Sea, relaxing and enjoying the blissful sunsets at our spa!
Read on to find the various option to get from Amman to Dead Sea and what works best for you!
---
Amman to Dead Sea
All transportation options
---
You can get to the Dead Sea from Amman, Aqaba, Petra or Wadi Musa. The closest city to the Dead Sea is Amman. Amman to Dead Sea distance is about 60 kilometres; you can reach there in less than an hour if you're driving yourself or have a private hire.
While day trips are popular among tourists and locals in Jordan, you can also stay back at one of the many resorts near the beaches to spend a relaxing evening enjoying some of the stunning sunsets and therapeutic mud baths by the Dead Sea.
You could also spend more than a day here and cover some of the area's attractions (details at the bottom of the post).
Here are four ways to travel from Amman to the Dead Sea –
Amman to Dead Sea by renting a car

Amman to Dead Sea by bus transfer

Amman to Dead Sea by getting on a day tour

Amman to Dead Sea by taxi
Here are more details of each medium.
Amman to Dead Sea – Private transfer
A private transfer would be the most favourable option. Hiring a car with a driver from the city to the Dead Sea would cost apprx. 75 JD which can be booked from Amman's Queen Alia International airport to the Dead Sea.
Renting a car to self-drive is another option. Renting a car would cost around 20-25 JD. Route 65 or the Dead Sea highway is a dual highway with well-marked signs that will lead you to Amman beach.
Driving yourself or a private transfer from Amman to the Dead Sea is a better option if you want to access the Dead Sea for free and explore spots during the drive that offer good views of the salty shorelines.
---
Amman to Dead Sea – Taxi
Getting from Amman to Dead Sea by taxi would cost you around 20-25 JD for a one-way trip.
Taking a cab is cheaper than hiring a car but offers lesser flexibility in terms of stops. If you want to explore different pitstops across the route for Instagram worthy sunset pictures, hiring a car is a better option. Ridesharing apps like Uber or Careem can also be used to book a cab.
Ensure you arrange for a return pick up with a cab driver for getting back to the city. The Dead Sea resorts can arrange for a cab associated with them, but this can be costly.
Amman to Dead Sea – Bus
There are two options if you're keen to take a bus from Amman to the Dead Sea and you're travelling on a tight budget – taking a JETT bus or a minibus.
JETT buses run from the JETT offices at the Abdali station, 3rd circle and 7th circle in Amman and drop visitors to Amman beach. Do check in advance regarding ticket availability and bus schedule. The bus leaves from Amman city at 9 am and leaves the Dead Sea at 4 pm.
While these air-conditioned buses are a budget-friendly and comfortable option, taking the JETT bus would mean you would have to wait at the beach or resort till 4 pm compulsorily. This round-trip would cost you 12 JD.
If you'd like to reduce costs further, you can take the minibus from Muhajireen station to South Shuna and then wait for another minibus to Swemeh.
Tickets for the minibus would cost 1 JD, and taking a cab from Swemeh to Amman beach will cost around 4 to 5 JD. Choose travelling this way from Amman to Dead Sea only if you're willing to take the trouble for a few dinars – there is no direct route to Amman beach, and the buses can be crowded.
---
Amman to Dead Sea – Day tours
There are a few companies operating day tours from Amman to the Dead Sea, which can be a good option if you don't like spending time figuring out travel logistics.
Choose a tour that includes nearby spots like Madaba, Mount Nebo and Bethany Beyond the Jordan so that you don't miss out on these fascinating sights nearby.
Here's a few options that are well priced and highly rated (booking in advance recommended):
However if you're looking for it to be more relaxing, there are ones that have only the Dead Sea on the list like this one:
Tour costs can range from 70 JD – 250 JD depending on the duration and number of places included.
Entrance fees for Amman beach and other sites are not included in the tour prices of many tours, which would be an extra cost you would incur.
---
The entrance fee to the Dead Sea public beach/ Amman beach costs 25 JD. There are many facilities available here – a restaurant, an amusement park, lounge chairs, basketball courts, freshwater stalls, change room and towels for hire. A buffet at the restaurant here will cost 14 JD.
However, if you are looking for more amenities, you can get a day pass at one of the resorts nearby. The cost for this would vary depending on the resort you choose.
A budget option such as the Dead Sea Spa Hotel would cost you 25 JD rather than 68 JD for a five star one, such as the Kempinski Hotel Ishtar Dead Sea. You can also book 'swim and lunch' packages for the Ramada Hotel or Movenpick resort when you book JETT bus tickets online.
To float in the Dead Sea for free, like the locals, visit the Herodus springs area, 10 km away from the resort strip.
You can use the water from a small waterfall here to wash off the salty water, but there are no change rooms available here. This area can be crowded on weekends. For more privacy, you can try finding spots southwards along the coast where the cliffs are such that you can climb down and get access to the beach.
---
Resorts and Hotels at the Dead Sea
Honestly, there aren't many options, considering the beach on the Jordan end isn't huge and many people prefer to opt for a day trip. Which is why most options aren't too budget-friendly BUT they do work out cheap if booked in advance!
I'd highly suggest staying here at least for a night as the sunsets are magical. There's something about taking a dip in the sea here during the golden hour and watch the resort light up that'll stay with you forever.
Also, having the beach just for the resort with the option to shower off later and having a tub of freshly excavated dead sea mud is super handy!
So here's a few of the best options (I've personally visited) in the Dead Sea area:
LUXURY : Kempinski Hotel Ishtar Dead Sea
There's private pools. spa treatments of dead sea salt and mud, private sea-facing balconies and a romantic oasis like feel. What more can one ask of the best luxury resort here?
An alternate option: Ma'in Hot Springs
Adding a hot spring waterfall within an oasis does change things up a little! While not located at the Dead Sea but about 20 minutes away, this resort is worth adding to the list if you'd like more privacy yet experience luxury!
This is where we stayed at and had no complaints! The room was spacious, clean, had a big bathroom and the resort was massive! There were pools, a spa and a buffet style meal and entertainment every evening was included!
---
Major attractions near the Dead Sea
DEAD SEA PANORAMA COMPLEX
The Panorama complex is a popular viewing spot for tourists that also has a restaurant and museum. It is located about 10 kilometers south of the resort strip. The entry fee is 2 JD.
MOUNT NEBO 
One of the important religious sites in Jordan is Mount Nebo. From the hills, you can enjoy a scenic view of the dead sea and Jordan valley river.
If you are here on a day when there is no haze, you can also see Jericho and Jerusalem in Israel from the viewing point. Moses Memorial Church and the Brazen Serpent Monument can also be visited here. The entry fee for Mount Nebo is 2 JD.
BETHANY BEYOND JORDAN
Christs' Bethany Beyond Jordan baptism site is located north of the dead sea and is a UNESCO world heritage site.
The entry fee is 12 JD. You can pay a discounted price of 8JD if you pay for the ticket while buying the Jordan pass online.
WADI MUJIB AND MUJIB BIOSPHERE RESERVE
Known as the Grand Canyon of Jordan, Wadi Mujib, is a river canyon surrounded by sandstone mountains about 40 km away from the dead sea. This place is an excellent spot for those interested in hiking and canyoning.
The Mujib Biosphere Reserve is located between the King's Highway. The Biosphere reserve is home to numerous plants, animals and migratory birds, including some rare ones.
The most popular Siq trail at the reserve costs 21 JD along with an additional 16% tax. The other routes cost between a range of 21 to 44 JD.
HAMMAMAT MA'IN / MA'IN SPRINGS
The Ma'in spring, situated 18.5 km from the dead sea resorts, can be accessed by paying an entrance fee of 15JD. The spring water here is believed to have medicinal properties.
---
I had be able to stop when I needed to take pictures, thanks to self-driving, was protected from the sun due to it as well and it had hardly taken us an hour to get back to Amman, this helping us maximize our stay here.
It was my second time visiting the Dead Sea and it was everything I'd imagined it to be, maybe even better!
---
HOW LONG DOES IT TAKE TO GET TO THE DEAD SEA FROM AMMAN?
About 40 minute sto an hour only if you're driving yourself. you can get to the Dead Sea Spa hotel which is the closest and budget friendly and opt for a day pass if you're not planning to stay
IS THE DEAD SEA WORTH VISITING?
Absolutely! It is one of the coolest and most rare experiences one should have in their lifetime. The Dead sea mud and salts also have therapeutic properties
CAN YOU SWIN IN THE DEAD SEA?
You can but staying above 20 minutes isn't advised. Also due to splashing around you may end up with water in your eyes and it's not pleasant!
WHAT'S THE DISTANCE BETWEEN AMMAN AND THE DEAD SEA?
---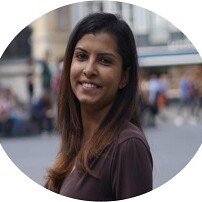 Award-winning Analyst, multi-nominated digital content creator and photographer Lavina Dsouza's words capture stories about culture and tradition mainly through its food and people. She has written and contributed to publications such as The Washington Post, Lonely Planet and Matador Network, to name a few. She is the editor of UntraditionalHumans.com, a non-profit created to share inspiring stories from women of colour who break free from traditions and choose happiness.
She's also a speaker passionate about DEI and champions solo travel. She has collaborated with numerous renowned brands such as Intrepid Travel, TripAdvisor, Travel and Leisure and Adobe, to name a few.
She can be found on Twitter and Instagram.
---
---
Have you visited any countries that have been difficult to get around due to lack of proper public transportation options?
Let me know in the comments below!
---
---
Some of the links on this post are affiliate links. These do not cost you extra to use, but will help provide Continent Hop with a small commission if/when you purchase through them, to recover some of the costs of running this website and providing free content to help you plan your travel. I appreciate your support!
---