This jordan itinerary shares how to have the best time in 5 days in Jordan. It will tell you about places to visit in Jordan, give you all the details you need for one day in Amman, what to see in Wadi Rum, a day trip to Petra on the way to the Dead Sea, visiting the Dead Sea and finishing with a half day trip to Jerash. Read On!
Millions of stars twinkle above us as the desert is enveloped in darkness. It looks like a painter lightly flicked a paintbrush across the sky to create a glittering streak that we call the Milky Way.
I'm sleeping on my back staring at the galaxy we call home, as the last embers of the campfire die out.
It's shoulder season in Jordan and there are about 15 people in the Wadi Rum desert camp we're staying for our first night out of our 5 days in Jordan..
People slowly head back to their tents while I keep my eyes peeled for shooting stars.
My efforts pay off as I witness 2 shooting stars in an hour.
There must have been more as no matter which direction I turn in, the sky is sparkling!
It's the second time in my lifetime, I've had the fortune to see the sky lit up like this. The last time I did so, was in The Philippines about 5 years ago.
I not only watched the Milky Way in Jordan but also read a newspaper on the Dead Sea while floating, and hiked through the Rose City of Petra. Jordan is full of once in a lifetime experiences, UNESCO Heritages sites, Nabataean structures created in times BC and has one of the 7 New Wonders of the World.
People don't prioritize Jordan as they're skeptical about safety here however I felt quite safe, (just like I did in Israel) no matter which part of the country I was in at any time of day.
If you're a first time visitor, travel fast and would like to get the most out of this country in 5 days, here's a 5 day Jordan itinerary that will take you to some of the most fabulous spots in the country, some that will be included in the Jordan Pass too.
It will also give estimates for budgeting and suggest the best places to stay, things to do in Jordan, what to eat in Jordan and trips or activities that you should not miss out on.
---
5 days in Jordan
A Jordan itinerary for 5 days
---
DAY 1 – Amman
One day in Amman
HOW TO GET TO AMMAN – Amman has two international airports, Queen Alia International Airport in Amman and King Hussein International Airport in Aqaba.
Many visitors fly to Amman as it's more convenient and has more connectivity. I flew to Amman with Royal Jordanian and they had great service. It takes about 5 hours from London with a direct flight.
It then takes about 45 minutes to get from the airport to Amman city. I'd highly suggest renting a car from the airport itself as it may cost about 25 – 40 JD (Jordanian Dirhams) to get to the city from the airport.
Hence you will need the day you get to Amman to rest, check-in and take a quick wander around the city.
Here's an Amman itinerary for what you can do in Amman in a day. Depending on when you get to the city, visit the attractions mentioned accordingly. You may even want to split spending a day in Amman to only spending half a day over 2 days, the days you fly in and fly out.
It is worth spending at least 24 hours in Amman as the city will give you a feel of what to expect on your Jordan itinerary.
WHERE TO STAY IN AMMAN
We stayed near the 2nd circle which was a 5-minute walk from Rainbow street. We flew to Jordan and found great options in all of the cities via lastminute. Other localities that are good to stay in, are the Downtown area.
We spent about 3 nights in Amman and stayed out till late, and not once did we feel unsafe no matter which area we spent time in.
Here's a #tripscreatedbyus guide on what to see in Amman in a day .
---
START THE MORNING BY EXPLORING JABAL AMMAN AND RAINBOW STREET
While speaking with the locals I was told that they usually tend to spend their free time at The Boulevard shopping center, however for visitors, your Amman city tour should start in Jabal Amman.
Amman is divided into 'circles' based on location and Jabal Amman is known as the 1st circle. It is becoming popular every passing day for its bohemian atmosphere and its mix of the old and new.
There's cafes, book-stores and shops here waiting to be explored. Rainbow street is the most famous street in Jabal Amman and the busiest.
There are numerous street food stalls and restaurants here, serving not just local Jordanian food like fresh falafel at Al-Quds but also Egyptian fare like Feteer Meshaltet. There's plenty of ice cream shops to choose from too!
---
STREET ART IN JABAL AMMAN
While taking a walk in Jabal Amman, I noticed a great mix of quirky street art and graffiti. While most of them seemed quite melancholy, they were done quite well and showcased a different side to the city.
There are also a few illustrations on the road connecting Rainbow street and Downtown that passes next to the restaurant Sufra, which are worth a watch.
The lane right in front of Mr. Lollies is where you'll find street art on Rainbow street and also the hanging lanterns.
---
SMOKE SHISHA OR A HUBBLY BUBBLY
Shisha, hookah or a 'Hubbly Bubbly' as its called here, is a favorite past-time for the locals irrespective of the time of day. You'll find people smoking a hubbly-bubbly as early as 10 AM, sometimes as an accompaniment with breakfast!
I found Rainbow street to have many hookah establishments for a fair price ( 4 – 5 JD). Many places will also serve tea for free once you're done with your shisha. While it is black tea it is not the same as Moroccan tea which is more sweeter and minty.
It is a great activity to watch locals and tourists go about their chores while you smoke on your pipe.
---
WANDER AROUND THE DOWNTOWN AREA – AL BALAD
The Downtown area sits in the middle of the surrounding seven hills and where Hashem restaurant, as well as Habiba, are located. It is the best place in Amman to get a taste of local life and commerce in the city.
Also called Al Balad, in addition to the numerous street food options here, you will also find souvenirs as well as other things you may need daily. I saw shops selling CDs, juices, shoes, leather goods to name a few.
You'll find souvenirs at Al-Hashemi street and carpets and fabrics at King Talal Street.
You can also make your perfume made from essential oils, also called 'Ittar' or 'Attar' at one of the shops here. You may be surprised to find some of your favorite perfume brands here at a fraction of the price, but be wary that it may be a replica!
---
HAVE SOME OF THE BEST LOCAL FARE AT THE RESTAURANTS HASHEM AND HABIBA
Hashem is where the King and Queen have dined in Amman and it is for a reason!
They have a fixed menu, it is vegetarian and we ended up paying 8 JD for a plate of freshly fried falafel, hummus, beans, fresh salad, pickled vegetables, pita bread, chips and a cup of mint tea!
It will be the most affordable and satisfying meal you will have in your whole 5 days in Jordan!
If you'd like to have something sweet to finish the meal, a minute's walk away opposite Cafe Central is Habiba sweets where you can try Knafeh, the most well-liked Jordanian dessert. It is super sweet, delicious and costs about 1 – 2 JD per piece.
---
DETAILS
RESTAURANT HASHEM
Address: King Faisal Street Amman, Jordan
Timings: Open 24 hours
HABIBA SWEETS
Address: K. Hussein St., Amman, Jordan
Timings: 8 AM – 12 AM
---
The King Abdullah Mosque is the biggest and the most impressive mosque in all of Amman. It can be seen from a distance due to its distinct blue dome.
It is one of the only mosques open to non-Muslims and you can enter the mosque to see it from the inside. However, if you'd like to see it just from the outside the best view would be from Al Mamoun street. Getting a parking spot is tricky hence it is best to park a little away and then walk to the mosque if you're driving around town.
There are tours conducted here for visitors who'd like to be shown around the mosque. Please dress appropriately if you plan on visiting or hire/buy an 'abaya', a robe-like cover-up at the souvenir stalls outside. Shoes need to be taken off before entering.
Another mosque you can visit is the Al Husseini mosque in the Downtown area on King Talal Street. Located near the spice souk ( Souq Al-Sukar) and the souvenir souk (Souk Bukharia) it is convenient to visit if you are in the Downtown area.
---
DETAILS
KING ABDULLAH MOSQUE
Address: Near Suliman Al Nabulsi Street, Amman
Timings: Please check timings locally when in the area as timings differ
Price: 2 JD, NOT included in the Jordan Pass
AL HUSSEINI MOSQUE
Address: K. Talal St. 1, Amman, Jordan
Timings: Not open to non-Muslim visitors
---
Located right in the middle of Amman is the Roman theater. If you're visiting the citadel, there are stairs that you can take to get to the theater from the citadel.
The Roman theater has an interesting history. It dates back to Roman times when Amman was called Philadelphia and performances were held here regularly. The Roman theater is still in use and concerts and cultural activities are still held here, including the Amman book fair.
The theater seats about 6000 people and is located near the Nymphaeum, the elaborate partially preserved Roman public fountain and the Jordan Folklore museum which you can also pay a visit to, if you have time to spare.
---
DETAILS
Address: Taha Al Hashemi, Amman, Jordan
Timings: 8 AM – 10 PM
Entry: Free
---
VISIT THE CITADEL FOR THE BEST VIEWS
Located in the center of Downtown Amman, the citadel is located on one of the seven hills that made Amman. It is one of the oldest continually inhabited places in the world dating back to the Neolithic period.
The major sites at the citadel are the Temple of Hercules, a Byzantine church, the Jordan Archaeological museum and the Umayyad Palace.
The gigantic columns is the temple of Hercules which is visible from almost everywhere in the city.
The Citadel in Amman is one of the places you must visit on your one day in Amman. It is culturally significant to Amman and has the best views of the city. It will help you understand how big Amman is and you will get some of the best pictures of the Amman skyline here!
There are a lot of steps to get to the top if you're walking so either drive to the top (parking is free) or take a taxi which will cost about 1 – 2 JD depending on where you hire it from.
---
DETAILS
Address: K. Ali Ben Al-Hussein St. 146, Amman, Jordan
Timings: 8 AM – 7 AM Saturdays to Thursdays between April and September and 8 AM – 4 PM from October and March. 10 AM – 4 pm on Fridays throughout the year
Entry: 2 JD, free with the Jordan Pass
---
TRY LOCAL JORDANIAN FOOD AND A MEZZE PLATTER
Amman is one of the best cities in Jordan to try local Jordanian food, some sugar cane juice and a Shawarma.
Shawarma is grilled, marinated meat, shaved from a vertical skewer mixed with salad and a yogurt dip, rolled into a loaf of pita bread.
Like Cyprus, if you'd first like to try what's on offer, you should try Mezze, which is similar to tapas or small plates of appetizers.
Jordanian mezze consists of hummus, falafel, baba ghanoush, tabbouleh, pickles, fattoush served with pita bread. It is perfect, especially for vegetarians.
For drinks, alcohol isn't served at most places in Amman and you have to check if the restaurant states it a 'restaurant and bar' if you're looking to get some alcohol. However, almost all places will have a wide selection of juices.
You can get some sugarcane juice or a mint-lemon which were my favorites at all places. Downtown Amman has the most stalls selling juices.
If you're someone who likes cooking, you can even take a cooking class here to learn how to make Jordanian food.
---
While not famous for its Turkish baths, Amman still has a few located around the city and if you're a spa lover, it is worth indulging in the experience.
If you're looking for a trendy spot in the city, definitely head to The Boulevard where you'll also find a duty-free shop for tax-free shopping.
Amman also boasts about having a great nightlife, however, I spent most of my evenings eating away and hence can't recommend places to party!
While many tend to stop in Amman only for a few hours before heading to one of the other cities in Jordan like Petra or the Dead Sea, these things to do in Amman will help you get a glimpse into the local way of life and hence it deserves at least a day to be spent here.
If you're looking to spend more time in Amman, the city requires at least 4 days so that you can explore the various neighborhoods better.
---
DAY 2 – Wadi Rum
What to see in Wadi Rum
---
GETTING TO WADI RUM – The next stop on our 5 day Jordan itinerary was Wadi Rum. Amman to Wadi Rum is about 5 hours away from Amman and is an easy drive. You may have to start early to get a complete day or you can split your time to two half days in Wadi Rum if you plan on spending only one day in Wadi Rum.
There are no bus services directly to Wadi Rum from Amman. You will have to take the bus from Amman to Aqaba and then take another bus from Aqaba to Wadi Rum. Jett is the most frequently used bus service and the schedule can be found here.
If you're interested in knowing how driving in Jordan is, please refer to the section 'Driving in Jordan' at the bottom of the post.
To get to any lodge in Wadi Rum, you will have to pass through the Visitor Center where you will also have to register yourself. You will also find guides if you need, at the visitor center.
Once you have registered yourself, you then need to get to Wadi Rum village where you will need to park your vehicle irrespective of whether you're here just for the day or staying overnight.
You will find basic facilities here like a restaurant and a washroom.
If you're staying overnight, you may need to pack just the things you will need for the night in a smaller bag as sometimes if there's more people on your tour, there are limited space for luggage in the 4×4.
OPTION 2 – If you'd rather not drive that far, you can also get from Amman to Petra first. The drive roughly takes about 3.5 hours and you can even get a bus from Amman to Petra if you plan on using public transport.
---
If you're wondering what to do in Wadi Rum, there's quite a few things to do in Wadi Rum, however, you will need to opt for a Wadi Rum jeep tour with a guide as the terrain is only suited for a 4×4.
Here's a Wadi Rum itinerary for a few things you can do in Wadi Rum. If you choose to go on a private tour, you can let your guide know what you'd like to see from the list below. Else please compare the things you can do in Wadi Rum to the items mentioned here to check if you will get to see them on your tour.
Things to see in Wadi Rum
Once we were on our way I realized that the landscape in Wadi Rum was unlike any I'd ever seen before.
The circumstances that helped in the formation of Wadi Rum must have been extraordinary as even today you can see mountains that look like someone put a layer of icing over them. It won't be incorrect to compare Wadi Rum to Mars on earth. Since almost none of us have been to Mars, getting to Wadi Rum is probably the closest you'll get to being on Mars!
LAWRENCE SPRING
Our first stop on our Wadi Rum day tour itinerary was the Lawrence Spring. Also known as Ain Abu Aineh it will probably be the first stop on your itinerary too.
While many say that it isn't the spring that T.E. Lawrence aka Lawrence of Arabia and Faisal used to water their camels before the attack on Aqaba during the Arab revolt, if you hike up the rocky slope, the views of Khazali Canyon and Wadi Rum are impressive.
Some say Ain Shalaaleh is the original spring as mentioned in his book 'Seven Pillars of Wisdom', however, both the locations are beautiful and have historical value.
There's also a massive boulder at the bottom that has Nabataean inscriptions.
LAWRENCE HOUSE
Lawrence made Wadi Rum famous as he used the location as his military base and even stayed here for a while so expect a few locations in Wadi Rum to be dedicated to the time he spent here.
The Lawrence House is a Nabataean structure he used to store weapons during the Arab revolution and is a quick stop on the itinerary.
KHAZALI SIQ (CANYON)
Khazali canyon or siq as it is called here was the most interesting spot in the whole of Wadi Rum for me as ages ago Bedouins used this canyon while passing through the desert to rest, get a drink of water and even pitch tents and stay.
The Siq cuts through Jebel Khazali and there are ancient inscriptions and petroglyphs here aka engravings of feet, Orynx, elephants, etc. at various intervals on the walls of the canyon.
The first few feet are easily accessible and you can maybe hike in the canyon however due to the inscriptions, it isn't encouraged.
---
AL HASANY RED SAND DUNES
The Wadi Rum desert isn't brimming with dunes however every few miles you will come across a few dunes of red sand. These are ideal for sand-boarding!
If you haven't tried sandboarding before, it is a lot of fun but it can get tiring trying to get to the top of a dune as if the sand is fine, you might find yourself in the same spot even after taking a few steps!
The views from the top are great too and you can even roll down the dunes if you wish!
The Al Hasany dunes are located quite close to Ain Abu Aineh.
ANFASHIEH INSCRIPTIONS
Another spot in Wadi Rum to see some rock petroglyphs from the Thamudic and Nabataean times is the Anfishieh jebel (range of hills). You'll find many carvings of camels here.
UM FROUTH ARCH
Another stunning location to see in Wadi Rum is the Um Frouth Arch. A natural rock bridge, it is one of the three arches in Wadi Rum. You can climb to the top of the arch and even walk over it. It is a beautiful spot to get some pictures.
BURDAH ROCK BRIDGE
The biggest of the three arches in Wadi Rum, the Burdah rock bridge is the most popular for hikers as it is challenging and provides breathtaking views once you're at the top.
It is also sought after for rock climbing. While the hike itself is moderately difficult, the final hike up to the Jebel Burdah Rock Arch is a little dangerous as the wind makes it difficult but it is worth it.
---
BARRAH CANYON
Barrah Canyon is ideal for hiking, sand boarding, rock climbing and to take a camel safari through the desert. We tried sandboarding here and the sand was so fine it was possible to try it out only once as it was quite demanding.
There's a natural platform in the canyon that makes for a good spot to watch sunsets.
JEBEL RUM
Jebel Rum has the most opportunities for hiking as this compact range of hills has several pathways from the Nabataean and Thamudic times that were used by the Bedouins to collect medicinal herbs and for hunting.
A guide is required to go hiking in these parts and you can hire one at the visitor center.
SEVEN PILLARS OF WISDOM
Named after the book by Lawrence, while Lawrence never referred to the mountain in his book, the mountain called Jabbal Al Mazmar is located right opposite to the visitor center. 5 pillars are visible while 2 are tucked around the corner of the mountain.
It is one of the most photographed locations in Wadi Rum.
---
Many of these attractions and activities in Wadi Rum will either be covered on a day in Wadi Rum or it could be split between 2 – 4 days depending on how much time is spent hiking in these locations.
Irrespective of how it is done, chances are you will be treated to a special Bedouin lunch during your trip.
Our guide had brought all the ingredients required with him to cook a meal and while we swapped stories with each other he cooked a really tasty mince gravy served with hummus, pita bread, salad, and sesame cookies. Once we were done eating we had a steaming cup of tea given to us to finish our meal.
Once it was time for sunset our guide took us to an elevation so that we could see an uninterrupted view of the sunset while he brewed another cup of tea for us.
Only visitors who are staying over for the night in a Wadi Rum desert camp are taken to see the sunset as it can get dark quick after.
While I believed the best part of the day was the incredible sunset, I was in for more surprises after having a dinner of 'Zarb' – the Bedouin version of a grill. Once the lights were switched off, we could see the Milky Way galaxy clearly with our eyes and even spotted a few shooting stars.
No matter which direction our heads turned, innumerable stars shone brightly and the constellations were visible clearly, making it the highlight of our 5 days in Jordan, we liked it better than Petra!
Wadi Rum is definitely worth spending at least a night here as it will leave you spell-bound.
---
DETAILS
Address: Wadi Rum Rd, Wadi Rum Village, Jordan
Timings: 8 AM – 4 PM every day
Price: Wadi rum entry fee – 5 JD, free with the Jordan Pass
---
OPTIONS TO EXTEND – Spend 2 -3 days in Wadi Rum by indulging in hikes around the area and staying in Bedouin camps. you can spend up to a week here and keep busy with all the hiking areas and activities on offer
---
DAY 3 – Petra
A Day trip to Petra
---
GETTING TO PETRA – After a wonderful day in Wadi Rum, the next stop on the 5 day Jordan itinerary is the Rose City of Petra. The drive takes about 3 hours via the King's highway and the road is quite deserted but goes through the mountains so expect many turns along the way.
You can also use the Jett bus service to get to Petra (Wadi Musa) from Wadi Rum or from Amman to Wadi Musa. There's only one service per day and takes about 4 hours from Amman.
NAVIGATING AROUND PETRA – Entry to Petra is included in the Jordan Pass and the price of the pass changes depending on whether you choose to buy a 1/2/3 day entry to Petra.
It's always safer to choose a 2 day entry as walking around Petra can be super tiring in just one day.
You will have to get tickets at the visitor center even if you have the Jordan Pass.
While there are donkeys and horses you can pay extra to ride to the Treasury, the way the animals were treated didn't seem humane (although there was a sign that said they were) so we did not choose to do so. There are also camels and they seemed to be the only decent option to pick if needed.
The total distance from the Petra visitor center to the Monastery on the other end is about 6 kilometers one way so if you're not keen to walk 12 kilometers, the best option is to get a taxi to the Monastery which costs about 20 – 30 JD for the whole vehicle.
Once there, you then have to hike down and walk back to the visitor center, while visiting the attractions on the way, which is easier.
---
Truth be told, Petra was the reason I wanted to visit Jordan right from the time I was a child as the image of the Treasury in Petra stuck with me after I'd seen it in a few movies and once I'd laid my eyes on the Treasury through the Siq, I knew my visit was worth it!
Just like Wadi Rum, Petra is massive and while you will get a map at the visitor center which mentions all the major attractions in Petra, numerous details around Petra are quite exciting to take a look at.
ATTRACTIONS IN PETRA – The first attraction on the route will be the Djin blocks and you may miss out on them if you're after the Treasury! You will also come across many natural craters and rock formations along the way before you get to the Siq.
Unfortunately, you cannot enter the Treasury but you can enter most other attractions.
Here's a list of the things to do in Petra that will also be marked on the map.
The Petra Treasury (Al-Khazneh)

The Royal Tombs (Urn Tomb, Silk Tomb, Corinthian Tomb and the Palace tomb)

The Petra Theater

Street of Facades

Colonnade street (last site before you have to leave the main trail and start hiking to get to the Monastery and the following sites)

Byzantine Church

The Winged Lion

The Al-Habees museum

Archaeological museum

The Petra Monastery
There is a network of routes that you can use to hike around Petra. Most of them are marked on the map. If you're an avid hiker you can pick any (or all) of them to see Petra from different angles and levels.
There are signs showing where some of them start on the main route. More info can be found here.
Some of these hikes are to the Place of High Sacrifice and the Petra treasury overlook.
The sun lights up the Treasury only for 30 minutes every day between 8 – 9 AM and it's a good time to visit if you'd rather not visit early or would like to stay or circle back to the Treasury to watch this.
Try as much as possible not to touch the sites as over time due to tourists and them touching or leaning on it, the sandstone has receded by almost 40mm.
---
---
PETRA BY NIGHT
The treasury faintly lit with the light of lanterns is another sight that draws people to Petra.
While many prioritize and time their visit to coincide with Petra by Night, I honestly believe that it was not worth it for the price I paid.
More than a 1000 lanterns light the whole way, from the visitor center to the Treasury. Once you get to the Treasury, you will be entertained with some Bedouins playing the flute for about 40 minutes followed by a short story about the history of Petra.
You're also given tea for free. Once this is done, the show is over!
The reason I didn't find it worth it is because if you leave (or it's your first day and the Petra by night show is your first visit) you're walking at least 5 kilometers in total just for a show that lasts an hour or so and you pay 17 JD/24 USD/19 GBP per person for the same which does not justify the costs.
The Treasury isn't as brightly lit as can be seen from the pictures as those pictures are taken with the help of a tripod and long exposure.
PRO TIPS
The best time to visit is when the visitor center opens up early morning. If that is too early and if you're there on a day that the Petra by Night show takes place, (Monday, Wednesday and Thursday) then buy the ticket for the Petra by Night show at the ticket counter. It is not included in your Jordan Pass.

Then once Petra is shut for the day you can tell the officials you have a ticket for the Night Show when asked to show it and stay inside itself to see the attractions at peace without the crowds.

You get up to 2 hours till the next set of tourists come in for the night show giving ample time to get pictures too.

If you can only spare 1 day, try to break it into 2 half days if possible so that you don't tire yourself out in a single day trip, however a Petra 2 day tour is recommended

Wear comfortable walking shoes, carry a scarf as it can get really hot and water as well

Bargain if you have to choose to take a ride but I wouldn't recommend it as I've mentioned previously they aren't well looked after

You don't need a guide to visit Petra but if you still think you need one, hire one for half a day from the visitor center, so you have free time to check the sights on your own. Or you can book one in advance

There are 2 restaurants inside Petra near Colonnade street and it can get quite busy so I'd suggest carrying a sandwich or a small meal with you as well
Petra is something you should tick off your bucket list and while it may seem that a day isn't enough, if done right you will be able to see quite a few sites in a day and while it may seem hectic, it can be done as a day trip from Amman too.
---
DETAILS
Petra by Day
Address: Tourism St, Wadi Musa, Jordan
Timings: Monday – Sunday 6:00 AM – 6:00 PM
Entry: 50 JD – 1 day, 55 JD – 2 days, 60 JD – 3 days. Children under 12 go free. Prices differ for visitors coming from Israel. Details can be found here
Petra by night
Timings: Monday, Wednesday and Thursday every week from 8.30 PM – 10.30 PM
Entry: 17 JD. You can only purchase in advance if you have a day ticket. Else ticket sales start at 7.30 PM – 8.30 PM. There are unlimited tickets but can be purchased only on the day
---
DAY 4 – The Dead Sea
Visiting the Dead Sea in Jordan
---
GETTING TO THE DEAD SEA – The drive to the Dead Sea from Petra takes about an hour and is very picturesque. It also takes about an hour to get from Amman to the Dead Sea.
There are quite a few stops you can take on your way to the area where the resorts are concentrated in the Sweimeh area. While it is all right to stop where possible, some signs say it isn't safe to bathe in the area and it may be wise to exercise caution.
It may not be possible to get to the resorts in the Dead Sea area by public transport.
OPTION 2 – If you'd traveling in the opposite direction, Petra to Wadi Rum takes about 3 hours and there are also buses that operate between the two cities, once daily.
TIPS FOR VISITING THE DEAD SEA – There aren't any public Dead Sea beaches in Jordan however there is a spot near Cafe Break Abadi that you can use to head into the water. However, unless you stay at any of the resorts, you will not find any freshwater to wash off.
It is advisable not to spend more than 20 minutes in the Dead Sea at a given time as prolonged immersion in water concentrated with those salt levels can cause issues like dehydration and electrolyte imbalance to name a few.
However, that should not keep you away as the benefits far outweigh the negatives.
As 20 minutes is all that's needed, taking a dip anywhere is fine but it is fun to spend a whole day here as its difficult to find mud in public locations.
Once you've applied mud all over your body and let it dry, you can wash it off to complete the ritual!
There are a few things you need to keep in mind before you enter the Dead Sea. Here's info about precautions to take before visiting the Dead Sea.
---
---
When at a resort, chances are they will have a spa and you can ask for a discount voucher at the reception for it. Most resorts provide one.
The spa, visits to the Dead Sea and relaxing by the Dead Sea should keep you busy for a whole day and give you ample time to relax after a busy few days.
Floating in the Dead Sea is unlike anything you'll ever experience in your lifetime. I did try to read a book and even got through a few sentences! As long as you float on your back and do not let the water enter your eyes, it is fabulous. The mud works wonders on your skin too.
Many Dead Sea resorts provide live music and entertainment in the evening and have a couple of restaurants within the resort.
If you're planning to visit a different restaurant in another of the resorts you will be asked for an exorbitant amount as a cover charge for entry and payment for food. So its best to stick to the resort you're staying in. We stayed at the Dead Sea Spa resort which was budget friendly and had all the amenities required.
---
DAY 5 – Jerash, Amman
Getting from Amman to Jerash for a half day trip
---
GETTING FROM AMMAN TO JERASH – Jerash is about 45 minutes away from Amman and is a quick drive if you've rented a car. The car park is the same location where the other tourist buses are parked and not at the visitor center.
You can also get a bus from Amman to Jerash from the Tabarbour Bus Station (North Bus Station) in Amman which costs about 1 JD for a one way trip. Its a quick walk from the bus stop to the Jerash ruins.
If you plan on using a taxi, keep in mind that it may be quite expensive depending on who you ask. The meters in some taxis are meddled with so they will not state the right fare. Negotiate in advance and depending on your skills expect to pay about 40 – 50 JD for a return trip where taxi drivers will wait for about 2-3 hours till you complete sightseeing.
You can also opt for a private day tour and ask for the same at your hotel or book in advance here
---
While Jerash can't be compared to Petra, it is still an astonishing archaeological site and deserves a visit. If you're not keen on spending time in Amman but have a couple of hours to spend here, I'd highly suggest visiting Jerash.
Jerash known in Greco-Roman times as Gerasa, and Ajloun castle which is also located on the way, together, make for a perfect day trip from Amman. The locations are well preserved and the scale and magnificence is extraordinary. It was one of my favorite things to do on my 5 day Jordan itinerary.
Here's a list of all the things to do in Jerash in brief:
Hadrian's Arch

The Hippodrome

The Oval Plaza

The temple of Zeus

The North Theater

The South Theater

The Nymphaeum

Colonnaded Street

The temple of Artemis

North Gate

West baths
Even with the amount of tourists visiting the location is massive and you can expect to have sites within Jerash all to yourself in the evenings! Try to time your visit if possible during closing hours so you can see the sunset from one of the Theaters. It'll be worth it as you'll probably have the place all to yourself!
Dedicate at least 3 hours to see all the sites in Jerash.
---
DETAILS
Address: Jerash visitor center, Jerash, Jordan
Timings: Winter 8 AM – 4 PM, Summer 8 AM – 6.30 PM, April and May 8 AM – 5.30 PM, Month of Ramadan 8 AM – 3.30 PM
Entry: 12 JD including the archaeological museum, free with the Jordan Pass
---
Jordan will amaze in you in more ways than one and will undoubtedly leave you spell-bound! It is definitely the trip of a lifetime as the experiences here are one of a kind.
While the Jordanian Dinar is strong, if you visit during shoulder season (more details below) and sort your flights first this will help keep the costs low.
Push Jordan to the top of your travel plans, it'll give you memories to last a lifetime.
---
Officially called the Hashemite Kingdom of Jordan, Jordan is a middle-eastern country located on the east bank of the River Jordan. The Dead Sea is located on its western border and it also has a short coastline on the Rea Sea in the south near Aqaba.
WHAT IS THE BEST TIME TO VISIT JORDAN
Shoulder season from September – November and February – April is the best and the most budget friendly duration to visit Jordan.
No matter when you visit, the country has pleasant weather however it can get colder during winter in the desert.
Peak season is during summer from May – August, temperatures can go beyond 35 degrees and it gets really hot. It is also expensive to visit during this time.
HIRING A CAR
The most convenient way of getting around Jordan is by hiring a rental car. The best way to do this is by getting one at the airport itself as you then don't need to spend on getting to Amman, as the airport is about 30 minutes away from the city.
You can always rent even for a single day as needed and drop it off in a different city as well.
TAXI
Taxi's are easily available in Jordan however be aware that meters are tampered with and they do not display the right fare. Always ask for the price, before you get in the taxi and bargain too. Here's a table with estimated fares
PUBLIC TRANSPORT
It is difficult to get public transport easily in Jordan and Google Maps do not specify the routes nor the timings. However, as mentioned above, Jett operates buses on a daily basis and info can be found here
HOTELS
Anywhere close to Downtown or the 1st or 2nd circle is a good location to stay in Amman. For Petra (Wadi Musa), try to stay close to the visitor center as your feet will thank you once you're done visiting Petra.
For Wadi Rum, all Bedouin camps have decent accommodation and bathrooms are usually shared but clean. If you need an en-suite bathroom, you will have to opt to stay in a luxury camp.
All resorts near the Dead Sea are located in the Sweimeh area and there are only a handful that are budget-friendly. Most of them are luxurious but provide good amenities.
AIRBNB
If you prefer to stay in a Airbnb, prices for a private place can be from about £20- £30. If you're new to Airbnb, sign up using this link to get £30 off your first booking.
---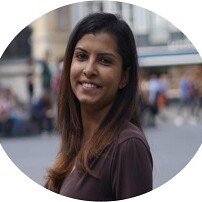 Award-winning Analyst, multi-nominated digital content creator and photographer Lavina Dsouza's words capture stories about culture and tradition mainly through its food and people. She has written and contributed to publications such as The Washington Post, Lonely Planet and Matador Network, to name a few. She is the editor of UntraditionalHumans.com, a non-profit created to share inspiring stories from women of colour who break free from traditions and choose happiness.
She's also a speaker passionate about DEI and champions solo travel. She has collaborated with numerous renowned brands such as Intrepid Travel, TripAdvisor, Travel and Leisure and Adobe, to name a few.
She can be found on Twitter and Instagram.
---
---
EXPLORE MORE READY-TO-GO ITINERARIES
---
Some of the links on this post are affiliate links. These do not cost you extra to use, but will help provide Continent Hop with a small commission if/when you purchase through them, to recover some of the costs of running this website and providing free content to help you plan your travel. I appreciate your support!
---