Cyprus in September is perfect! Why you ask? Because the school holidays are over in the UK, children are back to school and prices have dropped! However, the Cyprus weather in September is still pleasant and the sea is still warm! Here's all the info you need!
As I was taking a stroll on the promenade, I realised Cyprus in September was such an undiscovered location for many people chasing the summer sun.
It was one of the best places to add to a European itinerary and September was one of the best months to visit.
Families mainly from the UK had gone home as schools had reopened and crowds were sparse. Beaches were sandy, sunsets were some of the best and the traditional food in Cyprus was delish.
People were warm and so was the sea. Many resorts were lined up by the sea and prices were budget-friendly.
Cyprus was perfect for those interested in history, archaeology and surprisingly wine. It was one of the best for honeymoons as well!
If you're confused about which places to visit and the things to do in Cyprus in September, this is your guide to help you through!
---
Cyprus in September – Stays, weather, activities & travel tips
---
Basic Info
WHEN | September
WEATHER |  Sunny and hot during the day however not as scorching as the summer months. Temperatures range from 20-28 degree Celsius with a pleasant refreshing sea breeze in the coastal areas.
TOURIST CROWD | quite sparse. However, some areas like Paphos may be moderately busy
---
---
Cyprus weather in September
---
Cyprus in September has its own unbeatable charm. One of the best months to visit Cyprus is September owing to its excellent weather apart from other amenities.
The Cyprus weather in September is sunny and hot during the day. The evenings, however, become comparatively cooler but are still warm enough to enjoy outside activities without feeling chilly.
Although September is still one of the hottest months in Cyprus, the weather won't discourage you to explore the area and to attempt a few things to do.
Owing to the amazing beaches surrounding Cyprus, the sea breeze makes the evenings the perfect time to take a walk on the beach or if you love exploring the local nightlife when travelling, the evenings are perfect to do so.
The weather, although hot and sunny, is slowly moving towards the kind of weather that you would expect in the cooler months. If you're visiting only for swimming in the sea, the weather is just right to do so; in the pool as well!
---
Best time to visit Cyprus
The best months to have a holiday in Cyprus are undoubtedly September and October, closely followed by May and June. August is one of the hottest and best avoided if possible.
The weather in these months is warm but not uncomfortably hot and you can opt for these months to head off on a beach holiday to Cyprus.
Whether it is a swim or just to soak in the sun, a holiday in Cyprus in September is worth it.
The crowds are much thinner than the usual tourist months, which may seem less attractive to some but it is actually a blessing in disguise since it allows you your own space and time to take in all the wonderful festivals and activities going on around you.
Along with many other tourist activities that you can plan to visit, the Limassol Wine Festival in September is hard to miss, especially if you love wine!
---
---
Average temperatures, rainfall, and humidity in Cyprus in September
Cyprus's temperature in September is the best that you can expect and want for a pleasant holiday.
The average temperature in Cyprus in September during the day is around 27-28 degrees Celsius. The maximum temperature ranges from 24 degrees Celsius in the mountains to 34 degrees Celsius in the inland of Cyprus.
The West has a maximum temperature of 29 degrees Celsius and the South East has that of 31 degrees Celsius. However, the minimum temperature falls to about 20 degrees Celsius.
Don't forget to pack your swimming costume because this weather in Cyprus in September will keep pulling you back into the pool for a lovely swim.
The sun shines for a long duration of 11 hours in September in Cyprus, allowing you to explore without the worry of falling short of time each day. The sun sets at around 7:30 in the evening, after which the land becomes considerably cooler due to the sea breeze.
The cloud cover is gradually increasing during this month and if you're lucky you can even experience mild rainfall of about 3mm in September.
The humidity drops during September in Cyprus from 75% to about 40% with autumn slowly approaching by the end of September.
---
Things to do in Cyprus in September
---
Stavrovouni Monastery
Stavrovouni Monastery is a Greek Orthodox monastery located between Limassol and Larnaca in Cyprus on a hill called Stavrovouni. Founded by Saint Helena in around 327–329 AD, this is a go-to in practically any month if you like history and archaeology.
However, if you visit in September the sunsets here are not to be missed. The best part about the monastery is that even though it can be quite strenuous to explore the whole place, you do not have to do any hiking.
Due to its location, one is guaranteed excellent views of the countryside from the monastery.
---
DETAILS
Address: Near Pyrga, Larnaca district. The location can be found here
Timings: from September to March are: 7 am to 11 am and 2 pm to 5 pm, April to August: 7 am to 12 noon and 3 pm to 7 pm
Price: Entry is free for everyone all year round
---
Mezze at Kolios Winery
Kolios Winery is a local winery in Cyprus about a kilometre from Statos Agios Fotios village.
Apart from the local charm, it is also the highest-located monastery on the island.
You can view the entire valley from here. The Mezze wine is un-missable. Apart from the delicious food which is grown and prepared by the owner's wife, they also give you free wine tasting of some of their finest. Organic vineyards can be found just outside the winery.
---
DETAILS
Address: Statos – Ayios Fotios, Paphos 2651, Cyprus
Timings: Open in summer from Monday to Saturday 8:30 am to 4 pm, and in winter from 9 am to 3 pm. On Sundays, the winery only allows private parties of 50-plus people
Price: Entry is free for everyone all year round
---
Sunset picnics with champagne
One of the best things to do in Cyprus in September is to make good use of the scarce crowds and make good use of the space by indulging in a picnic, especially on the many beaches. (More info on beaches below)
The sea caves of Paphos are an excellent point to have your picnic in Cyprus.
Though the best spot is definitely the Akamas peninsula in Cyprus. The beaches and rocks in the peninsula are surprisingly easy and comfortable to sit on.
To top it off, the supermarkets around have readymade sandwiches. You don't need to stress about getting a picnic ready, visit a supermarket and you should have everything you need to have a perfect evening here.
---
---
Swim at Blue Lagoon
To the north of the Akamas peninsula is the Blue Lagoon (not to be confused with the Blue Lagoon of Malta) a remote cove, to have your perfect September swim. The largest bay in the Akamas region it is also sometimes known as the Isle of Chamili.
It is one of the Paphos excursions you can take from Paphos as it is located in the district.
The reef located here is crystal clear and perfect not just for swimming but also for snorkelling and diving.
The best way to reach the lagoon is by renting a boat from Latchi. They have a number of cruise options, some of which also include a barbeque lunch. The more simple ones cost 18 Euros and include a drink and fruit to keep you company. You could also get to Latchi and continue to the village of Neo Chorio towards Peyeia and turn right from Fontana Amoroza.
Another way to get to the lagoon is via the coastal road that passes through the Baths of Aphrodite.
---
---
Quad biking
If you prefer outdoor activities, Quad biking is for you.
You can hire bikes of different models, depending on what suits your requirement and budget. You can ride these bikes not only on the designated tracks but also on the road. It is permitted and safe to do so as long as the roads are wide enough.
The most expensive bike cost about 100 Euros, which when shared doesn't turn out to be too expensive for a day. Most bikes have storage at the back and can go up to 80 km/h.
Pro tip : Wearing loose clothing may be an issue as they may get stuck in the wheel. It is best to avoid white clothes as well to avoid stains and dust.
---
Visit the villages of Troodos
The Troodos mountain range is the highest in Cyprus with Mount Olympus being its highest peak. The Troodos villages in the mountains are your go-to to escape from the September day heat. These are a part of the wine-tasting routes, so that's more reason to visit.
The three main villages there that are unmissable are Kakopetria, Omodos and Kalopanyiotis.
Kakopetria is a popular summer escape with an old centre surrounded by nature. Omodos is famous for its monastery and wines. However, it might be crowded at times in the month of September but worth taking a chance.
Kalopanyiotis is lesser known than the first two but just as pretty. It is located deeper into the mountains and it takes longer to get here.
There are numerous other villages as well, each with something unique to offer and all of them can be found here. UNESCO Heritage activities can also be found in the mountains.
---
Night out in Ayia Napa
The nightlife in Ayia Napa is legendary and one of the best-kept secrets in Europe. With more than 80 bars offering a wide variety of options, there's something on offer no matter how you prefer to spend the evenings.
Bars and clubs play a wide range of music and parties are held at almost all restaurants and bars, some even hold foam parties and paint parties. Beach parties at Nisri Beach at Protaras in Fig Tree Bay are quite famous.
Ayia Napa is busiest from mid-June until mid-August with many world-famous DJs performing here during this period however many tend to perform in September too.
If you're planning to visit the Ayia Napa strip, it is best to take a look at some of the events being held and book in advance if you're particular about visiting certain performances.
---
---
Waterfalls
There's no dearth of waterfalls in Cyprus. Many offer opportunities for hiking as well with stunning views.
The Caledonia (Kalidonia) Falls, one of the highest waterfalls in Cyprus are located in the village of Platres. They are easy to find and can be reached via an easy walking path that's about 3 km long that lasts about 2 hours.
The Adonis Baths Falls, are located about 2 km from Kili village in the district of Paphos. Formed due to the water from the surrounding ravines, the water from the falls collects into a small lake that is said to have miraculous properties.
Taking a swim in these waters is said to restore a woman's youth and a man's strength.
In addition to this, there are other waterfalls too like Chantara and Millomeris that are worth a visit.
---
DETAILS
Adonis Baths waterfalls
Address: Location can be found here
Timings: September & October 9 AM – 6.30 PM, 9 AM – 8 PM in summer and 9 AM to 5 PM in winter
Price: €10 per person for use of the whole area
---
Go cruising on the sea
The dry sunny weather of Cyprus in September is just right to head off on a cruise, either for the whole day or for a relaxing evening.
Many companies especially around Paphos conduct cruises. The regular cruise includes options – a half-day cruise, a full-day cruise, a pirate cruise and a water sports cruise. Many also offer the opportunity to dive and snorkel too.
The pirate cruise option is one of its kind and includes a pirate show, belly dancing, and activities like walking the plank.
---
---
Beaches to visit in Cyprus in September
Nissi Beach
One of the prettiest beaches in Cyprus, named after the small island next to it, the shallow waters allow tourists to walk up to the islet easily, thus making it one of the busiest beaches in Cyprus.
Located in Ayia Napa, the coast is filled with restaurants and bars offering local food and wine to tourists. It is definitely not a beach to have a quiet time but the shallow waters and foam and snow parties held here make it quite popular with youngsters.
Make sure to get to the beach early if you're looking to grab a sun bed as they tend to go off quite quickly!
Lara Beach
Close to the main town of Paphos and located about 20 minutes from Cap St George, this beach is quite popular with people who ride quad bikes as the road to the beach is bumpy. Known for the conservation of turtles that are conducted here, chairs and other furniture are not allowed on the beach.
Some parts are even restricted so that the turtles can nest there. Hiking or biking through the dirt track is the best way to visit the beach.
Considering no furniture, there are no cafes or restaurants of any kind on the shore.
Golden Beach
Golden Beach is the easternmost beach in Cyprus and you won't find any umbrellas, sunbeds or bars here. There are a few cafes at the cliff but other than that no other facilities are available. It is also part of a national park since the loggerhead turtles hatch their eggs on these grounds.
Aphrodite's Beach
Aphrodite's beach is quite small and stony however what makes it popular is its proximity to Aphrodite's rock which is an easy walk from the beach.
Apparently, Aphrodite – The goddess of love appeared from the sea here, which is why many make put it at the top of their things to do in Cyprus list but it is the views and sunsets here that are breathtaking.
You can also climb onto Aphrodite's rock if you wish, the views get better, but the climb can be tricky.
Many cross the busy road and jump over the barriers to get to the beach but there is an underground path that runs under the road that leads directly to the beach.
---
Festivals to visit in Cyprus in September
One of the best parts about visiting Cyprus in September is the numerous festivals on offer. Try to attend at least one of them as these are planned specifically for tourists in the month of September and don't tend to get too busy due to the sparse crowds.
Limassol wine festival
Held from the end of August till the start of September for about 2 weeks, the wine festival not only has Cyprus' finest wines on offer but many events lined up celebrating music and dancing. Grape stomping is also on offer at times. Since the festival is quite popular it is best to book accommodation in the vicinity in advance.
The festival takes place at the Municipal Gardens of Limassol and tickets can be purchased at the entrance. Worth including in your Cyprus itinerary.
Paphos Aphrodite Festival/Pafos Aphrodite festival
The Paphos Aphrodite festival is held usually for 3 – 4 days anytime from the end of August to the first week of September. Each year a unique performance is held at the Paphos Castle in Kato Paphos to celebrate the culture of the region.
More details and the current dates can be found here.
Paradise Jazz Festival
Held late in September, the Paradise Jazz Festival has been showcasing some of the best Jazz music in the Paphos region. Musicians from most parts of Europe perform at the festival and is one of the most popular events to attend in Cyprus in September especially if you are spending time near Paphos.
The latest dates and news can be found here.
---
Visiting Cyprus in September is one of the best times to visit and experience this Mediterranean destination that not only has some of the best beaches in Europe but also the best sunsets I've ever experienced.
If you're keen to travel more, destinations like Israel and Lebanon are a short flight away and worth a visit too!
---
Frequently asked questions about Cyprus in September
Is Cyprus hot in September?
The weather in Cyprus in September is warm and sunny like summer. The temperature during the day is 27-28 degrees Celsius and drops a few degrees at night.
What's the weather like in Cyprus in September?
Days are usually hot with evenings starting to get cooler. Light and cool clothing are recommended
What is the hottest part of Cyprus in September?
The average maximum temperature in September is 29°C on the west coast, 31°C on the eastern-south coast, 34°C inland, and 24°C in the mountains.
---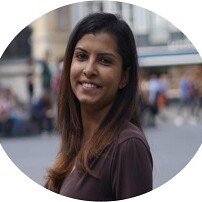 Award-winning Analyst, multi-nominated digital content creator and photographer Lavina Dsouza's words capture stories about culture and tradition mainly through its food and people. She has written and contributed to publications such as The Washington Post, Lonely Planet and Matador Network, to name a few. She is the editor of UntraditionalHumans.com, a non-profit created to share inspiring stories from women of colour who break free from traditions and choose happiness.
She's also a speaker passionate about DEI and champions solo travel. She has collaborated with numerous renowned brands such as Intrepid Travel, TripAdvisor, Travel and Leisure and Adobe, to name a few.
She can be found on Twitter and Instagram.
---
---
---
Some of the links on this post are affiliate links. These do not cost you extra to use, but will help provide Continent Hop with a small commission if/when you purchase through them, to recover some of the costs of running this website and providing free content to help you plan your travel. I appreciate your support!
---