If you're wondering what to do in Jordan, it shouldn't be surprising to know that there's plenty and it's all highly beautiful! These are some of the best Jordan places you shouldn't miss when visiting Jordan! Hope these help you plan your Jordan trip!
As we made our way through The King's Highway admiring all the castles and towns along the way, I couldn't help but wonder as to why people assumed countries in the Middle East weren't flourishing!
Here people were happy, waved as we passed by and had time to chat with their neighbours over evening tea.
As I made my way along the winding road en route to the Dead Sea, a feeling of calm washed over me; I was blessed to be in this place, enjoy the hospitality and slow down.
I'd visited a few wonders of the world and had a few others coming up on the itinerary, yet Jordan didn't stop with the surprises.
Watching shooting stars in the Milky Way, floating on the Dead Sea, eating traditional food, wandering inside Petra….there was lots to do here and I wanted to compile a list so others wouldn't miss out!
Here's what to do in Jordan, in no particular order, with details for each Jordan attraction.
---
Getting to Jordan

By flight: Queen Alia International Airport, about thirty minutes outside of the capital Amman, is Jordan's main airport. You can get direct flights from most European, North American and Southeast Asian cities.
By bus or car: You can hop over the Israeli border to do some Jordan sightseeing, thanks to public transport from Nazareth and Tel Aviv. If you're coming from Jerusalem, though, the logistics can get complicated (for one thing, you'll have to have a visa before you reach the border). For Saudi Arabia, you can take the bus but be aware that getting a visa is very difficult so plan ahead.
By boat: You can travel between Egypt and Jordan by boat but it's actually quicker and cheaper to go overland via Israel and Palestine.
---
Where to Stay in Jordan
Staying a few nights in Amman is ideal to explore the city and plan your next steps. The W Amman Hotel is centrally located and a favourite with guests. From Amman, you can get to Jerash in just 45 minutes by public transportation.
Wadi Rum is a five-hour journey from Amman. There's no direct public transport so consider renting a car or taking a tour. Given the distance and the abundance of activities available here,  it's worth overnighting.
Alternatively, sleepover in Wadi Musa and visit Petra first. The iconic sight is a three-and-a-half-hour drive from Amman but you can get a direct bus between Petra and Wadi Rum. The Dead Sea is just an hour outside of Petra. There are quite a few resorts around Sowayma where you can overnight.
From these destinations, you'll be able to visit most of Jordan without too much hassle.
---
Here's what to do in Jordan + Sightseeing in Jordan spots
---
---
Once you're all settled in, it's time to get to the fun stuff: the many marvellous Jordan sites to see.
For many, it's picture-perfect Petra that first draws them to Jordan. Ever since its rediscovery 200 years ago, the site has left tourists in awe – so much so that it's now one of the New 7 Wonders of the World. Make sure to include it on your Jordan itinerary.
Admiring The Treasury's Hellenistic design and following the twists and turns of the Siq passageway are where you should spend your time. For the truly dedicated, taking the 850 steps up to the monastery is well worth it.
Contrary to the impression you get from that one iconic shot of Petra (The Treasury carved into the rockface), this attraction includes more than 800 sites. You'll need to set aside around two days to see it all. If you're pressed for time, take a day trip from Amman and allow a guide to show you the best sights.
---
Tickets for Petra and location details
DETAILS

Address: Tourist street Visitors centre, Wadi Musa, Jordan
Hours: Open Daily 6 AM – 6 PM
Entry Fee: Prices vary by the type of visitor
If you're staying for at least one night in Jordan: One day in Petra: 50 JD, 2 days in Petra: 55 JD, Three days: 60 JD
If you visit Petra the same day you arrive in Jordan and are staying for at least one night in Jordan: 50 JD* (* visitor to pay border ticket fees (90JD) and return the next day to get a refund of 40 JD)
Fees for people not staying in Jordan for even a single night: 90 JD
Jordan Pass: A visit to Petra is included in the Jordan Pass. Starts from 70 JD and can be booked here

Additional info: Entry is free for children under the age of 12
Jordan pass inclusion for Petra does not include Petra by night
Daylight tickets are to be purchased for Petra by Night
Guides: Prices for guides start from 50 JD for 4 KMS.
For answers to FAQs like How many days in Petra, can you go inside Petra buildings etc. please refer to the FAQ section at the bottom of the post. For how big is Petra inside, continue reading!
---
The Dead Sea
Floating on the Dead Sea is a once-in-a-lifetime experience.
This Jordan point of interest is just an hour's drive from Amman. It is quite convenient to get from Amman to Dead Sea. And you can easily join an overnight tour, so there's no excuse not to tick it off your bucket list!
As you'll know from all the cosmetics that contain Dead Sea salt, the water minerals have healing properties. To really pamper your skin, lather yourself with mud from the sea, another substance with remarkable properties. Just don't shave the day before because the salt can sting!
Keep in mind that there aren't many public beaches near the Dead Sea in Jordan so it's best to book accommodation at least for a night when here.
Some recommended hotels are:
Ma'in hot Springs (best if you'd like to stay someplace offbeat but close to the Dead Sea)
The only public beach is located only a few 100 meters from the entrance to Wadi Mujib. The location can be found here.
Entrance to the Dead Sea and access to the mud is free if you stay at one of the resorts.
---
---
Wadi Rum
When you traverse the desert landscape of Wadi Rum, you'll quickly understand why it's known as 'The Valley of the Moon'. As the filming location for much of Lawrence of Arabia and a UNESCO World Heritage Site, Wadi Rum is one of the top Jordan destinations.
The area is alive with impressive rock formations and sculptured dunes. The Zalabia Bedouin, a local group, runs rock climbing, camel or horse rides, and  ATV tours.
Make sure you plan time to hike to Khazali Canyon, the location of art dating from the 8th century BCE.
Contemplating the stars during the pitch-black desert nights is another opportunity to revel in the sense of communion across the millennia.
---
DETAILS
Wadi Rum Visitor Center
Address: Wadi Rum Rd, Wadi Rum Village, Jordan
Hours: Open Daily 8 AM – 4 PM
Entry Fee: The entry fee is 5 JD for non-residents and 1 JD for residents. Entry is free for children under the age of 12. Included in the Jordan Pass
All of these things are open 24 hours and free once you get inside Wadi Rum however it is best to not visit alone as it is easy to get lost.
---
Jerash Archaeological Site
The Roman Empire may be long gone, but you can still get a taste of its power and majesty at the Jerash ruins.
Standing at eleven metres, Hadrian's Arch is an imposing welcome to this Jordan attraction. In the Hippodrome, Roman sports come to life. With daily displays of the chariot racing and gladiator fights that would've taken place back at the dawn of the first millennium.
Bring plenty of water and a hat, and prepare for a good few hours of exploring, as that's not even half of Jerash's architectural wonders. The Forum, the Temple of Zeus, and the South Theatre also deserve a visit.
---
DETAILS
Jerash Roman ruins Entrance Fee
Address: 7VHQ+GP8, Jerash, Jordan
Hours: Open Daily 8 AM – 6.30 PM
Entry Fee: The entry fee is 12 JD. Entry is free for children under the age of 12. Included in the Jordan Pass. Includes your entrance to the archaeological museum.
Transport Options: Best to self-drive as public transport to Jerash is unpredictable
---
---
---
 Amman Citadel
The highest hill in Amman, Jabal Al Qala'a, was originally occupied by Bronze Age people, who were the first in a long line of residents to leave their mark on this Jordan attraction.
The Citadel was primarily a defensive fort, and you can see this in the over-a-kilometre-long wall encircling it. The Romans left behind the Temple of Hercules for you to admire, but the Umyadd Palace dwarfs that.
With a throne room, Byzantine mosaics, and a sophisticated cistern system to view, navigating the Umayyad Palace is one of the top Jordan things to do. To get the full experience, hire a guide at the entrance who can bring it all to life for you.
---
DETAILS
Amman Citadel
Address: K. Ali Ben Al-Hussein St. 146, Amman, Jordan
Hours: Open Daily 8 AM – 4 PM
Entry Fee: Entrance to the Amman Citadel is 2JD about 3 USD or free with the Jordan Pass
Transport Options: Best to self-drive as public transport to Jerash is unpredictable
---
Aqaba
You're never really far from Jordan's mammoth history, but Aqaba makes it easy to let your hair down and relax in the present. The resort town is the only coastal city in all of Jordan, so it offers a host of aquatic Jordan attractions that you won't find elsewhere in the country.
Aqaba sits on the Red Sea, which is admired globally for its spectacular underwater scenery. Here, your diving adventures are rewarded with abundant marine life.
If you're new to underwater activities, try snorkeling instead, which is also excellent but a bit more beginner-friendly.
---
---
Mount Nebo
It was at the peak of Mount Nebo that Moses finally saw the Promised Land. Indeed, on a clear day, you can look out across the landscape and spot Israel and Palestine.
For many, this is a spiritual Jordan sight, but you don't have to be religious to appreciate the sweeping views across the camel-coloured mountains.
Perched on the hill is the Moses Memorial Church. This quaint little church has recently undergone a renovation, resulting in a modern design that incorporates elements of the older buildings (there has been a church on this site since the 4th century).
The vibrant mosaics and the monuments around the complex are charming attractions.
---
---
Jordan Museum
The modern design seamlessly meets ancient civilisations in the Jordan Museum. It's one of the best such institutions in the Middle East.
The oldest human statues, Dead Sea scrolls and Archaeological features from Petra are the most popular exhibits. Get a guide who can weave the history of the many civilisations who occupied the land into one Jordanian story.
Indeed, getting lost among the museum's many treasures is one of the top things to do in Jordan. Don't miss it: it's open daily except for Sundays and Tuesdays.
——
DETAILS: Tickets cost 5 JD and more details can be found here
---
Dana Biosphere Reserve
Wondering what to do in Jordan when you're looking for solitude and quiet reflection? Why not hike through the Dana Biosphere Reserve?
This is Jordan's largest natural reserve which protects many endemic species of plants and animals. It's your best bet for getting up close to Jordan's wildlife.
You'll find citrus groves and date palm trees between sandstone cliffs ranging from 50 to 1700 metres tall. The 180 species of bird and 25 kinds of endangered mammals (including caracals and gazelles) mean there's a lot to spot.
Try to visit in spring to revel in the blossoming flowers – or in autumn when the thinning plants make it easier to spot the animals.
---
DETAILS
Dana Biosphere Reserve
Address: Dana, Jordan
Hours: Open 24 hours
Entry Fee: Entrance is 8 JD + 16% tax or free with the Jordan Pass
---
---
King's Highway
King's Highway crosses over mountains, dams and canyons in the centre of the country. The views you get from here are incredible.
Equally alluring are the forts along the route. Karak Castle, built by the Crusaders and later home to the Mamluks, is one such destination. Shobak is another monument that's worth looking around.
Kings Highway has so many twists and turns that public transport doesn't even venture onto the route. Don't let that put you off, though, since there are plenty of tours (including budget options) that carry out this epic road trip.
---
Madaba Mosaics
One of the loveliest, most poignant things to see in Jordan is the Madaba Mosaic Map. This old artefact is a depiction of Christian geography, mapping out places, like Jerusalem and Galilee, that have meaning in the religion.
You'll come across the Mosaic in situ in a roped-off section of the floor in St George's Church. The building is open daily but you can't view the map early on Friday and Sunday mornings when there are services (which you are welcome to attend).
The church isn't the only Jordan site with a striking Mosaic in Madaba. In the archaeological park, you can gaze at a beautiful depiction of the Virgin Mary, as well as Jordan's oldest Mosaic, which dates from the first century BCE.
---
Wadi Mujib
Wadi Mujib is an ancient river canyon that is most commonly attributed to the Arnon Stream from the Biblical era. This magnificent geographical phenomenon also forms the Mujib Nature Reserves which holds a special place in the hearts of adventure lovers!
The terrain of this canyon is mostly barren but places such as the Zara hot springs have some unique vegetation around them. Wadi Mujib is also a great place for birding enthusiasts with species such as the bearded vulture, Egyptian vulture, Dead Sea Sparrow and Tristram's starling amongst others frequent here.
The river flowing through the canyon ultimately drains into the Dead Sea and activities like rock climbing and hiking are common here. Add to that the historical and geographical importance of this surreal place, it surely must sit on the top of your Jordan bucket list!
---
DETAILS
Hours: Open 24 hours
Entry Fee: For a 7 hour hike on the Mujib trail it costs 45JD (64 USD) per person. All trails must be booked in advance at the RSCN's Wild Jordan office in Amman
---
---
Umm Qais
In an otherwise mostly barren country, Umm Qais is a sight for sore eyes with its sprawling greenery, thanks to its close proximity to the Yarmouk River and Tiberias Lake. Locally known as Gadar, Umm Qais is most famously associated with the ruins of the Decapolis city of Gadara, the Roman ruins in a village reminiscent of the Ottoman era.
Since Umm Qais is located high up in the hills of Jordan, the village acts as a vantage point overlooking three countries – Israel, Palestine and Syria along the Sea of Galilee, Mount Hermon and Golan Heights. Umm Qais is now famous for its hiking and biking trails and makes for an amazing short road trip from Amman.
---
Ajloun Castle
Ajloun Castle is truly one of the most off-beat sites to visit in Jordan. This 12th-century castle is perched upon a hilltop in the town and is also sometimes referred to as Jabal 'Auf – after a Bedouin tribe who had captured this fort back in the day.
What's even more fascinating is that the castle stands on the ruins of what once used to be a monastery. The castle is open to tourists for exploring and one can even visit the Ajloun Museum which houses artefacts from various time periods.
---
---
Khazali and Burrah Canyons
The Khazali and Burrah are two of the most popular canyons in Jordan amongst tourists. Of these, the Khazali Canyon owes its popularity to the Arabian Nights, an Islamic folk tale that is set here in the canyon.
Many tourists come to Khazali Canyon to experience the traditional lives of the region's Bedouin tribes. The canyon's shadowing walls provide a much-needed respite from Jordan's summer heat to the nomadic tribes passing through here.
One can even spot several Anfashiyeh Inscriptions including paintings and prayers engraved on the walls of this canyon from thousands of years ago.
Burrah Canyon, on the other hand, is known for its fascinating rock bridges that have taken Instagram by storm, and give visitors the perfect photo ops! The most polar rock bridges include the Burdah Rock Bridge and Um Fruth Rock Bridge – both of which can be hiked up in a couple of hours.
The night skies in Burrah Canyon are beyond comparison and one must find the time to spend at least one night in this deserted canyon, in company with the stars.
---
DETAILS
Address: Located within Wadi Rum
Hours: Open 24 hours once inside Wadi Rum
Entry Fee: Free
---
---
Ma'in Hot Springs
Also known as Hammamat Ma'in, the Ma'in Hot Springs are a collection of several waterfalls and hot mineral springs located close to one another between the city of Madaba and the Dead Sea.
The minerals in these springs and waterfalls attract a unique kind of medical tourism. People suffering from ailments such as joint pain and skin diseases come here for the natural healing properties of the springs.
The most popular attraction here is the Ma'in Spa Resort which has several sauna rooms, natural pools and even professional masseuses and masseurs for a complete therapeutic experience!
---
DETAILS
Address: Ma'in, Jordan
Hours: Open daily 9 AM – 9 PM
Entry Fee: A pass to visit the public area of the resort which is a day pass to Ma'in Hot Springs Resort and Spa costs 10 JD (14.10 USD). Else you could spend a couple of days here at Ma'in hot Springs
---
Jordan is a melting pot with architecture, history, geography, and mythology all coming together to form this unparalleled destination.
With such rich Biblical as well as Islamic mythological and folk stories flowing through the wadis of Jordan, adding to its natural beauty this country definitely has some of the most unique experiences one can have in the Middle East.
With its culture intact, Jordan has cautiously embraced urbanization, a combination just perfect for any kind of tourist!
---
---
FAQs for What to do in Jordan
What kind of food is available in Jordan?
Food in Jordan is influenced by a number of regions including North Africa, Persia, the Middle East, and the Mediterranean. Some of the most common foods in Jordan include falafel, hummus, kunafa and shawarma.
What can women wear in Jordan?
While Jordan is traditionally an Islamic country, for female tourists the rules are a little bit more relaxed than most other places in the Middle East. While wearing T-shirts and jeans is considered okay for women, the key thing to remember is to cover shoulders, chest and legs well. However, in places like the Dead Sea, you can even spot many female tourists donning a bikini!
Is drinking alcohol in Jordan allowed?
Yes, drinking alcohol in Jordan is not a social taboo – even though it is a Muslim country!
Is it dangerous for tourists to visit Jordan?
The Middle East is often infamous for being a danger zone for tourists but security and government policies in Jordan are much stricter, making for a very pleasant and smooth-sailing experience for visitors.
---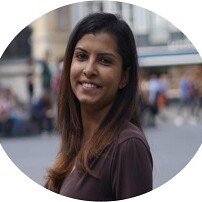 Award-winning Analyst, multi-nominated digital content creator and photographer Lavina Dsouza's words capture stories about culture and tradition mainly through its food and people. She has written and contributed to publications such as The Washington Post, Lonely Planet and Matador Network, to name a few. She is the editor of UntraditionalHumans.com, a non-profit created to share inspiring stories from women of colour who break free from traditions and choose happiness.
She's also a speaker passionate about DEI and champions solo travel. She has collaborated with numerous renowned brands such as Intrepid Travel, TripAdvisor, Travel and Leisure and Adobe, to name a few.
She can be found on Twitter and Instagram.
---
---
---
Some of the links on this post are affiliate links. These do not cost you extra to use, but will help provide Continent Hop with a small commission if/when you purchase through them, to recover some of the costs of running this website and providing free content to help you plan your travel. I appreciate your support!
---