Petra is a historical lover's daydream. Ever wondered what's inside Petra and how to best go about visiting Petra? Here's a guide to Petra: how to get there and what to see and do. Be a day trip Petra or couple of days visiting Petra, Jordan, you'll find all you need here!
I tried to imagine what it must have felt like filming in Petra in 1989 – the year the last Indiana Jones movie, 'Indiana Jones and the last crusade' premiered.
Petra and what was inside Petra and Wadi Rum, was almost unknown to the world. This golden pink mini city although discovered, wasn't on people's radar till they saw on the big screen what it had to offer.
Almost 20 years later, Petra still continues to be fascinating and magical – and even the large number of tourists visiting it, can't take the beauty away.
We spend 2 days in Petra and honestly, if you're a fan of history, architecture and ancient lore, even a week isn't enough.
So here's all you need to know about Petra – one of the top things to do in Jordan, what's inside of Petra and images of Petra so when visiting Petra this article works as a guide to Petra, be it for a day trip or more!
An inside Petra map is also included!
---
How to get to Petra
By flight: A trip to see the inside of Petra is fairly easy to arrange, as it is a major tourist attraction in Jordan. The closest airport is King Hussein International Airport in Aqaba (100 KM or under 90 minutes by road to Petra)
Alternatively, visitors can fly into Queen Alia International Airport, which is just outside of the central city of Amman – the best place to start your Amman to dead sea adventure. From here, you can visit Petra Jordan – Petra is only 200 km away from Amman. That's about three hours by car.
By bus: A JETT bus travels from Amman to Petra – but only one bus runs per day, at 6.30 AM The bus starts from the JETT bus station in Abdali. You can also catch a bus from Aqaba if you arrive at King Hussein International Airport. The bus starts from the JETT office, on King Hussein street, about 10 KM away from the airport. Both buses cost around 12£ for a one-way trip and 19£ for a two-way trip. Remember to budget for a taxi between airports and bus stops.
On foot: Once in the town of Wadi Musa, the only way to enter Petra is on foot or by mule or camel. Buy a ticket at the visitor centre and make your way into the Al-Siq from there. It's worth noting that because a lot of your visit here will be spent on foot, the best time to visit Petra is between September and November.
If you're exploring more options, this should help.
---
Tickets for Petra and location details
DETAILS

Address: Tourist street Visitors center, Wadi Musa, Jordan
Hours: Open Daily 6 AM – 6 PM
Entry Fee: Prices vary by the type of visitor
If you're staying for at least one night in Jordan: One day in Petra: 50 JD, 2 days in Petra: 55 JD, Three days: 60 JD
If you visit Petra the same day you arrive in Jordan and are staying for at least one night in Jordan: 50 JD* (* visitor to pay border ticket fees (90JD) and return in the next day to get a refund of 40 JD)
Fees for people not staying in Jordan for even a single night: 90 JD
Jordan pass: Visit to Petra is included in the Jordan Pass. Starts from 70 JD and can be booked here

Additional info: Entry is free for children under the age of 12
Jordan pass inclusion for Petra does not include Petra by night
Daylight tickets are to be purchased for Petra by Night
Guides: Prices for guides start from 50 JD for 4 KMS.
For answers to FAQs like How many days in Petra, can you go inside Petra buildings etc. please refer to the FAQ section at the bottom of the post. For how big is Petra inside, continue reading!
---
Inside Petra Jordan : A comprehensive guide to Petra
---
---
There's so much to see in Jordan – consider spending at least 5 days in Jordan. You can do a Petra trip in a day. But if you think it would be too hectic, it's worth staying back to explore the historic area.
The Petra Guest House Hotel is right at the entrance of Petra. Its walls are lit up colourfully at night, and the Cave Bar offers a delicious variety of local and European delights.
If you're prepared to stay just outside Petra. The Petra Marriott Hotel is a mere 3.5 km from the entrance to Petra and features lots of classic Arabian decor touches, a pool and a top restaurant.
The most popular Petra travel accommodation spot is the Mövenpick Resort Petra, a 5-star, first-class hotel resort at the entrance to Petra itself. Guests here love the rooftop garden terrace, which offers views of the Petra hills.
---
---
Here's things to do and see inside of Petra with descriptions for each
More than likely, the image of the Treasury in Petra is familiar to you. It's been featured in movies, magazines and world heritage culture for decades. To make it even cooler, to get here, you need to walk through a mysterious path through a ravine.
This path – walked or taken by horse – is the gateway to Petra and its most astounding attractions.
Here is a list of all the attractions you should visit in Petra.
---
Bab Al-Siq Triclinium
Inside Petra, the first historical monument you're likely to discover near the visitor's centre is The Triclinium or the Bab Al Siq. The name literally translates to 'the gateway to the siq' in Arabic.
The Triclinium is known for its three 'Djinn blocks' which are massive block tombs carved out of the rock; the monument's first feature the moment you see it. The Bab Al Siq is – or was – a ceremonial chamber that hosted feasts every year. The devout would sacrifice offerings to the dead here.
A lesser-known spot around the Triclinium is the Snake Tomb. To reach here, you must go climb up a narrow trail over the dried-up stream bed of Wadi Musa which was meant for horses to pass through.
The climb might feel like a bit of an effort but once you reach it, the architectural design of the tomb makes it all definitely worth it. It is believed that the tomb must have been a burial site for a family inside Petra. Beyond the site are two impressive relief walls with Nabatean snake imagery running up.
The Bab Al Siq sets the tone for your journey into Petra, serving as the gateway to the Siq and the sites beyond.
Entry fee: None
Visiting hours: 6 am to 6 pm
Obelisk Tomb
There are a number of royal burial sites around Petra. The Obelisk tomb is a funeral hall that is among the first monuments on the Siq walk. The tomb is actually made up of two sections: The triclinium or ceremonial hall, and the tombs, sitting above.
The tombs are said to be even more remarkable in the evening light, as the sun sets. The low light gives colour to the rocks, which are quite unique and beautiful.
The Obelisk Tomb derives its name from the four obelisks towering above the tomb. This monument is a piece of architectural marvel. Its design takes from a beautiful mix of Nabatean, Indian, Greek and Egyptian architectural styles.
The tomb is said to have been constructed in the first century CE and features four pyramids or nafesh over it, as well as a statue that symbolizes the five people buried under the tomb.
Somewhere on the pathway to the tomb inside of Petra, is also an ancient inscription that dates back to when the owner of the tomb was still alive. The inscription is carved in Greek and Nabatean language and lists three generations from his paternal lineage.
Entry fee: None
Visiting hours: 6 am to 6 pm
---
The Siq
The Siq is a canyon walk that has existed for a thousand years or more. Traces of the ancient Nabateans and their culture still survive here.
They ran a complicated water supply system, and constructed many statues and monuments all of which can be discovered by an observant visitor on the walk.
Though one could access the Nabatean metropolis of Petra from all main directions, the Siq remained the main entrance to the city. You can take the 1.2 kilometres route by foot, camel or mule (and even a drawn cart).
This ancient entrance to the main city of Petra begins at the Dam and ends inside Petra at the Treasury. The rocky landscape of the Siq is an impressive sight to behold in itself, but its intricacies are remnants of the Nabatean skills and techniques.
Throughout the Siq, you can find Nabatean sculptures adorning the rock walls – most of which are dedicated to gods. On both sides of the Siq are also rock-cut canals and terracotta pipes through which drinking water flowed into the city. The Siq is a brilliant photo tour to be a part of – with each nook and cranny unearthing magnificent historical sites one after the other.
Entry fee: None
Visiting hours: 6 am to 6 pm in summers and 6 am to 4 pm in winter
---
---
Al Khazneh – The Treasury
Towards the end of your Siq tour, you'll discover Al Khazneh, literally translating to 'the Treasury' in Arabic. It stands just over 40 M high. It is highly recommended you try to see the treasury at night.
There's a certain mystical element to the monument when artificially lit by candles. Unfortunately, you can't enter the treasury. But the view of the facade alone is said to be well worth the price of admission.
Though the name might suggest it to be an administrative building, Al Khazneh was actually a Nabatean temple carved out of sandstone rock. This temple is believed to have been the mausoleum of the Nabatean King Aretas IV and is one of the most elaborate structures in all of Petra.
The name Al Khazneh was actually given to the place by the Bedouins who believed that pirates hid their treasures inside the structure. The Treasury has not only been popular with historians and tourists but has also been popular in movie culture.
This remarkable site has made an appearance in an Indiana Jones film, a Mortal Kombat film, one of the Tintin's Adventures and many other TV shows, video games and movies.
---
Outer Siq
As you wind up your visit of Al-Khazneh or The Treasury and begin going further into the inside of Petra city, the massive narrow winding lanes flanked by tombs and other ruins give way into a vast open area known as the Outer Siq.
This plain area has now become a thriving – albeit small – marketplace. There are several shops selling souvenirs and other memorabilia as well as quick meals and beverages.
Local bedouins can also be seen dressed in their traditional clothing, selling knick-knacks and offering rides on their camels decked up with eye-catching saddles.
If you're on a walking tour of this ancient city, the Outer Siq might be a good place to stop and rest for a while and soak in the contrast, between the then and now of the city of Petra.
---
---
Streets of Facades
The Streets of Facades inside Petra, Jordan, consists of monumental Nabatean tombs lined up one after the other right past The Treasury. These massive, mansion-like tombs have been carved on the southern cliff face adjacent to The Siq and are a wonderful site to visit for all art and architecture enthusiasts.
These tombs have been built in the 'crow step-style' which dates back to the Assyrian style of architecture. Of these rows of tombs, the one that stands out is the BD 70 tomb tower which is unusually high and freestanding, towering the other tombs at 15 meters.
All the facades on this street are Hegra type facades, some still showcasing their intricate details on the otherwise withered walls.
As you walk past the Treasury, the narrow gorge suddenly widens for a bit, revealing over 40 of these ancient tombs. BD 67 is another tomb worth exploring, thanks to its unusual funeral chamber on the upper floor. Another one is the BD 825 which is fascinating because of its 17 graves and beautiful details. The Uneishu Tomb is also worth having a look at, standing tall atop the Jabal al-Khubtha massif.
Entry fee: None
Visiting hours: 6 am to 6 pm in summers and 6 am to 4 pm in winters
---
Petra Roman Theatre
The Petra Theater is a Nabatean monument dating back to the first AD. A huge chunk of this theater was carved out of a single rock and this massive theater is believed to have hosted as many as 8500 people at once.
Though the Petra Theater looks more Roman in design, the simple characteristic that it was carved out and not constructed makes it more Nabatean in style.
---
Royal Tombs
Carved out of the Jabal al-Khubtha rock, the Royal Tombs of Petra are one of the best things to see inside Petra. These fascinating historical sites lack enough archaeological evidence to associate them to a particular Nabatean ruler, but these tombs definitely do belong to that era.
Of these mausoleums, the Urn Tomb is one that stands out for its intricately carved out facade. It is said that the Urn Tomb was also an important site of worship during the Byzantine Empire.
Other notable tombs in this lineup include the Silk Tomb – named so because of the rich texture of the sandstone it was built from, Corinthian Tomb, Tomb Of Sesto Fiorentino and the Palace Tomb.
---
---
Byzantine Church
Also known as Petra Church, the Byzantine Church inside Petra, Jordan is one of the finest monuments remaining from the Byzantine era in Petra. Located at Colonnaded Street, this church is where the 140 papyri were founded, which enabled scholars of that time to document life in Petra and for scholars of the present era to find and preserve them.
The Byzantine Church is one of the three famous churches from the Byzantine Era. The other two include the Ridge Church also known as the Red Church and the Blue Chapel made of Egyptian granite.
This church is believed to have been built during the 5th and 6th century CE. It sits on an elevated surface in the center of the city and one must hike a bit to get here.
The Church is famous for its mosaic decorations but also bear iconography from Romanic and Hellenistic schools.
These mosaics depict a wide variety of things including animals, people, pottery, seasons, plants and more.
---
Colonnaded Street
Originally founded during the Nabatean era, the Colonnaded Street (there's one also in Jerash) was later refurbished when the Romans took over. This street has been the go-to place for shopping in Petra since ancient times.
Traders and buyers alike would line up here and it was the center of most commercial activity in the region. Right at the beginning of the Colonnaded Street also used to be the Nymphaeum, a place to worship nymphs, but today, only its ruins remain.
Built around 106 AD, Colonnaded Street inside Petra, marks the center of Petra city.
At the end of the Colonnaded Street is the Temenos Gateway dating back to the 2nd century AD. This gateway featured massive wooden doors and towers on the side. Temenos Gateway separated the commercial hub of Colonnaded Street from the sacred courtyard of Qasr al-Bint to retain the temple's sanctity.
---
Great Temple
The Great Temple lies south of Colonnaded Street and is one of the grandest attractions amidst the ruins of Petra city. From here, you can see Qasr-al Bint, the Siq and the Lower Market in different directions, making it a prime spot inside Petra.
Though the name of this monument signifies a place of religious worship, archeologists are still unclear on whether it was really that, or an administrative or parliamentary building.
Even if it was a religious place, it is unknown who this religious space was dedicated to. Regardless of the purpose of this grand monumental complex, it is definitely one of the most spectacular places you can visit inside Petra.
It is believed that the construction of the Great Temple was completed in the first century CE, under the rule of King Aretas IV. As is traditional with the Nabatean style of architecture, you can find rectangular cellars at the heart of the Temple after climbing up the stairs.
This space opens up to a vast 'theater' of sorts, with a capacity to house about 600 people. The Great Temple is definitely an architectural marvel with stucco columns carved into the rock face – a treat for architecture and history buffs!
---
Qasr al-Bint
Also known as the Temple of Dushares, Qasr al-Bint is a temple supposedly dedicated to one of the main Nabataean gods, Dushara, though no clear inscriptions remain for a clear answer.
The name 'Qasr al-Bint'' translates to 'the palace of Pharaoh's daughter' and is said to have been given by a bedouin; the origin of which is associated with a local folk tale. This temple is one of the best surviving buildings from the past and is well known for its stucco decorations found both inside and outside the temple.
---
The Monastery (Ad Deir)
The Ad Deir, ad-Dayr or el-Deir Monastery itself is a marvel on its own. You'll need to do a fair hike to get there, but the effort is well worth it. Your hike might take up to 90 minutes at a moderate pace, going up a steep 800 steps path, while you're still inside Petra.
Thankfully, locals offer a mule climb to the monastery for about £10 GBP. On the way to the top, you can also check out Lion's Tomb, Wadi Kharrubeh as well as several small grottos and biclinia.
The Monastery was originally a tomb, and may also have been used as a church during the Byzantine era. Carvings of crosses adorn the walls, and you can still see remnants of the courtyard, where ceremonies would take place. It is because of these carvings, the local Bedouins of the region named the site Ad Deir which literally translates to 'the monastery' in Arabic.
Ad Deir is also where you can start the 6 KM walk to Little Petra mentioned below. Apart from its historical and archeological significance, the Ad Deir Monastery is a great viewpoint as well. From the top, the landscapes and stunning gorges of Wadi Araba will take your breath away.
---
The High Place of Sacrifice (The best view)
There is a particular spot in Petra that is reputed to have the 'best view'. The view encompasses the surrounding hills and mountains. And it is found just a few steps from the old monastery. The location is called the High Place of Sacrifice.
These days, it's not as sinister as it may sound. It is, however, holy ground for the ancient Nabateans, and a site where many religious ceremonies were performed. Presumably, it was agreed to be a great setting for these rites and rituals, with good reason.
The High Place of Sacrifice inside Petra, is built atop Jebel al-Madhbah, a mountain in Petra which literally translates to 'mountain of the altar' in Arabic. Situated at a height of 1,070 meters above sea level, it is also believed that Jebel al-Madhbhah is the Biblical Mount Sinai.
The site at High Place of Sacrifice is dedicated to the Nabatean gods of Al 'Uzza and Dushara. The hike to the top is not very long (about 2 KM), but is definitely a steep climb and takes about 45 minutes to complete starting from the Theatre at Petra.
The views of Waid Musa from the top are unmatchable. From here, consider walking further through Wadi Farasa and combining other attractions like the Garden Tomb, Garden Triclinium and Soldier's Tomb.
Entry fee: None
Visiting hours: Open 24 hours
---
Things to do outside Petra
---
Little Petra
A few kilometers north of Petra is an archeological site known as Little Petra – or Siq al-Barid. In Arabic, Siq al-Barid literally translates to 'cold canyon'. The 'little' in its name refers to its smaller scale, though it is still a part of the larger Petra Archeological Park.
It is thought to have been built at around the same time as the main Petra site, during the first century BC. It is a worthwhile addition to a Petra visit, especially as it requires no tickets to visit.
That said, you will need to gain access to the main Petra site first, in order to get here. Apart from the obvious route to Little Petra from the main city of Petra, you can also attempt the 6 kilometers long hike starting from the end of the canyon and going all the way to Ad-Deyr in Petra.
The purpose of the Siq al-Barid is not abundantly clear. However, some archeologists believe it to be a suburb of sorts to the Nabatean capital of Petra. It is believed this suburb usually hosted traders on the Silk Road visiting Petra.
Later when the Nabatean Empire fell, Little Petra was more or less left entirely vacated and was then taken over by the nomadic Bedouins passing through the region. The ancient paintings and frescoes here are extraordinary examples of the Nabataean and Dionysiac influences in the region.
Entry fee: None
Visiting hours: 6 am to 6 pm
---
Meet The Bedouins
The desert people are welcoming of visitors and are more than willing to share their stories and traditions while you wait at any of their camps.
The Bedouins have also set up tent camps to provide much-needed shade and refreshments – it gets hot out here.
The B'doul tribe is the biggest Bedouin tribe in Petra, and are believed to be descendants of the Nabatean people. Also known as Al Bdoul or the Bedul tribe, it is most likely you will run into someone from the B'doul tribe on your visit to Petra.
The village of Umm Sayhoun is where a lot of B'doul people live now, and most of them are engaged in the tourism industry – running hotels or camps, or offering horse and camel rides. You can still find many people dressed in their traditional Bedouin clothes, however, signs of modernization are very evident as well.
---
Wadi Musa
Literally meaning 'Valley of Moses' in Arabic, Wadi Musa is the neighboring town you'll encounter when you travel to Petra. And many of the accommodations and standard facilities will be found here. In fact, it is the gateway to Petra, so you're likely to spend some time here, especially if you're staying in one of the hotels or resorts.
Wadi Musa is said to be an important Biblical town as well. It was here where Moses struck water for his followers at Ain Musa or Moses' Well. Jebel Harun, a mountain believed to be the Biblical Mount Hor, where Moses' brother Aaron is said to be buried, is also located very close to Wadi Musa.
While here, why not check into a traditional hammam? The Turkish bath experience involves a spa, massage and a traditional steam bath. It is available to men and women.
---
Cave Bar
The famous Cave Bar of Petra located inside Petra Guest House, is believed to be the oldest bar in the world, and as the name suggests, it is located inside a 2000-year-old cave! This cave was originally built by the Nabateans as a tomb and most of its structures still remain intact today – where one can now wine and dine.
This dimly lit Indiana Jones type cavernous atmosphere might not be the first place that comes to mind when thinking of nightlife in Petra, but its traditional musical performances and local Jordanian wine are sure to put you in a good mood.
Entry fee: None
Visiting hours: 2 PM to 12 AM
---
Petra, also fondly known as 'the rose city' is a unique place to visit when in Jordan. With its many archeological sites, it almost feels as if you have walked back in time.
The landscapes of Petra are as unique as the city's historical sites. The High Palace of Sacrifice is the perfect place to go hiking on a good day and making your way through Wadi Rum will take you to a whole different world entirely.
Everything about Petra is just near perfect. The nightlife is amazing with bars and restaurants lining up the city, and there are plenty of photo ops throughout the city to get your Instagram game rolling, making Petra a must-visit place in Jordan.
---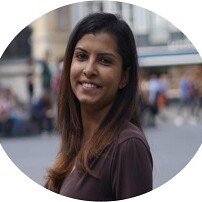 Award-winning Analyst, multi-nominated digital content creator and photographer Lavina Dsouza's words capture stories about culture and tradition mainly through its food and people. She has written and contributed to publications such as The Washington Post, Lonely Planet and Matador Network, to name a few. She is the editor of UntraditionalHumans.com, a non-profit created to share inspiring stories from women of colour who break free from traditions and choose happiness.
She's also a speaker passionate about DEI and champions solo travel. She has collaborated with numerous renowned brands such as Intrepid Travel, TripAdvisor, Travel and Leisure and Adobe, to name a few.
She can be found on Twitter and Instagram.
---
---
Have you visited any countries that have been difficult to get around due to lack of proper public transportation options?
Let me know in the comments below!
---
---
Some of the links on this post are affiliate links. These do not cost you extra to use, but will help provide Continent Hop with a small commission if/when you purchase through them, to recover some of the costs of running this website and providing free content to help you plan your travel. I appreciate your support!
---