Just one day in Amman can get quite busy as if you've never been to a Middle Eastern or Asian destination it can be quite overwhelming! So take your pick from these Amman things to do based on your interests to see the best of Amman in a day in Amman!
While I wasn't in Asia, taking a walk through the streets of Amman felt quite close to being home – yet the food and history around did make sure to make me feel I was exploring a new place as well!
Amman, the capital city of Jordan, is where most tourists start or end their Jordan itinerary. The well-connected city is the country's cultural, political, and economic centre.
The city, which is pretty modern now, is, in fact, one of the oldest continuously inhabited cities in the world. An excavation in 1994 uncovered homes that are believed to have been built during the stone age around 7000 BC.
I'd suggest you keep at least one day in Amman for sightseeing.
Or maybe split it in half a day from when you arrive and when you leave Jordan if you're flying in and out from here. Two days is ideal if you want to experience most of the fun things to do in Amman.
There are many Amman things to do, from fascinating ancient ruins to eating delicious hummus and kunafa.
Here is a list of all things to do Amman: pick and choose depending on the time you have.
---
One day in Amman – The best Amman things to do!
---
Amman things to do: See the Roman Theatre and Amman Citadel
The Roman Theater was built between 138CE and 161CE during the reign of Antoninus Pius when the city was under the control of Romans and was actually called Philadelphia!
This second-century architectural marvel is a set of curving stairs built to seat about 6000 people in a way that would shield spectators from the sun. The Theatre still hosts plays, summer concerts and important cultural events.
The Theatre is flanked by two museums: the Jordanian Museum of Popular Traditions and the Jordan Folklore Museum. The museums display handicrafts, costumes and jewellery from Jordanian and Palestinian folk heritage.
You can also see the Roman Nymphaeum, just a few metres away from the Theatre. It's a partially preserved public fountain that dates back to the 2nd century.
A kilometre and half away from the Roman Theatre is the Amman Citadel National Historic Site. The places worth seeing here are the Temple of Hercules, ruins of the Byzantine church, the Umayyad Palace and the Jordan Archaeological Museum.
The inscription close to the Temple of Hercules dates it to around 160 CE. A huge statue of the Roman hero Hercules was built here. Today, only the hand of the large statue remains, along with some temple pillars.
The other place worth visiting is the Umayyad Palace, a palace that was built when the Umayyad dynasty ruled the city. The Palace is actually a ruin: most of it was destroyed due to an earthquake. A restored domed entrance and walls with Islamic art remain here.
The ruins of the Byzantine church of the 6th century also lie within this complex. Expect to see the church's pillars, floor plan, and mosaics here.
You can learn more about these ruins and see other artefacts from archaeological sites in Jordan in the Jordan Archaeological Museum situated next to the church.
Visiting these two sites is a must on an Amman things to do list , even if you spend only one day in Amman.
---
For a city like Amman what to see when the sun sets?
The Citadel offers beautiful panoramic views of the city. So if it's possible, finish visiting the ruins before sunset and catch a gorgeous sunset from here.
There are steps connecting the Theatre and the Citadel. You can actually climb stairs and walk up to the Citadel from the Theatre.
---
DETAILS
Roman Theatre 
Address: Taha Al-Hashemi St., Amman, Jordan
Timings: 8 AM – 8 PM
Cost: Free
Amman Citadel 
Address: K. Ali Ben Al-Hussein St. 146, Amman, Jordan
Timings: Sunday to Thursday: 8 AM to 7 PM
Cost: 2JD
Pro tip: Ramadan affects hours of operations for monuments and public places in Amman. Check if hours have been reduced when you decide what to do when putting together an Amman things to do list.
---
Amman things to do: See the colourful old city centre: Al-Balad or Downtown Amman
Explore the downtown area and visit one or more of the souks here.
You can visit Souk Gold for gold and silver jewellery (just opposite Souk Mango), Souk Mango for dresses and bridal wear and Souk El-Khodra, a local market for fruits and veggies.
If you have more time for places to go in Amman in the downtown area, see the Duke's Diwan, a well preserved local home that was constructed in 1924 and is one of the city's oldest buildings. Or, better still, admire Amman art, i.e. street art in downtown Amman.
You can also make your perfume made from essential oils, also called 'Ittar' or 'Attar' at one of the shops here. You may be surprised to find some of your favorite perfume brands here at a fraction of the price, but be wary that it may be a replica!
---
Amman things to do: King Abdullah Mosque
Close to the Souk El Khodra is the beautiful, blue King Abdullah Mosque, one of the best places to go in Amman.
The blue-domed mosque was built between 1982 to 1989 by King Hussein as a memorial to his grandfather, Abdullah I of Jordan.
The large mosque can accommodate up to 10000 visitors. A small section of the mosque can accommodate 500 women.
One of the only one open to Non-muslims – people can enter the mosque only if they're dressed appropriately.
Men are expected to wear full-length trousers and shirts. Women are allowed to enter fully covered, without bare arms or legs and wear something covering their hair.
Shoes need to be taken off before entering.
Another mosque you can visit is the Al Husseini mosque in the Downtown area on King Talal Street. Located near the spice souk ( Souq Al-Sukar) and the souvenir souk (Souk Bukharia) it is convenient to visit if you are in the Downtown area.
---
DETAILS
KING ABDULLAH MOSQUE
Address: Near Suliman Al Nabulsi Street, Amman
Timings: Please check timings locally when in the area as timings differ
Price: 2 JD, NOT included in the Jordan Pass
AL HUSSEINI MOSQUE
Address: K. Talal St. 1, Amman, Jordan
Timings: Not open to non-Muslim visitors
---
Amman things to do: Stroll, shop and eat on Rainbow Street and Jabal Amman
Rainbow street is a lively city area full of cafes, hookah establishments, shops and fun places in Amman.
I was told that it is at The Boulevard shopping center that the locals tend to hang most often when they have time to spare, however start your Amman things to do tour at Jabal Amman.
Jabal Amman is the 1st circle – the city of Amman is divided into circles for administration.
Another from the list of popular places to go in Amman is the Al-Quds, famous for its fresh falafel. While in this area, you can also eat at the well-known Gerard ice cream.
---
Amman things to do: Street art in Jabal Amman
There's an interesting mix of graffiti and quirky street art in Amman especially at Rainbow street.
While at the Citadel, you will notice many buildings have massive art on them however it is at Rainbow street that you will find the most colorful!
There are also a few illustrations on the road connecting Rainbow street and Downtown that passes next to the restaurant Sufra, which are worth a watch.
The lane right in front of Mr. Lollies is where you'll find street art on Rainbow street and also the hanging lanterns.
---
Amman things to do: Smoke Shisha or a Hubbly Bubbly
One of many Amman attractions includes hookah shops where you can try hookah/shisha, or 'hubbly-bubbly' as it's called here. You can observe and interact with locals here.
Shops offer it for a price of 4-5 JD. This street is also where a lot of young people hang out. If you want to explore pubs and nightlife, then Rainbow street is the place to be. Potion Lounge, The Corner's Pub and Cantaloupe Gastro Pub are some of the popular options for pubs here.
If you'd like more places to go in Amman for art, consider visiting the nearby local art galleries like  Nabad Art Gallery or Jacaranda Images.
If you're here on a Friday between May/June to the end of September, you can shop at the Souk Jara, a vast flea market for handicrafts, souvenirs, clothing, jewellery etc. The market is open from 10 AM to 10 PM every Friday during the summer period.
---
---
Amman things to do: Spend time at museums in Jordan
There are four more museums worth your time in Jordan while picking Amman things to do. Pick which you based on your interests and time available :
Jordan Museum

Jordan Museum brings Jordanian history and culture to life through exhibits, antiques and heritage properties.

For those visiting Jordan for the first time, it's a great way to get acquainted with Jordan's cultural sites and cities. It is the largest museum in Jordan, with multiple exhibition areas, a conservation centre and a library.

The museum exhibits Ain-Ghazal statues, one of the largest known plaster based human figures from around 6500 BC.
Jordan National Gallery of Fine Arts

The Jordan National Gallery of Fine Arts displays work from all around the world but focuses on Middle Eastern art from in and around Jordan.

It displays over 3000 works of drawings, paintings, sculptures, installations, graphic art, ceramics and photography.

The Gallery also hosts different exhibitions, screenings, workshops, etc., from time to time. Check out what's on currently here.
---
Wondering what to see in Amman for more contemporary art? Consider visiting the Darat Al Funun, not far away from the Citadel. It exhibits contemporary Arab art in beautifully restored buildings from the 1920s.
---
Royal Automobile Museum 

Established in 2003, this Museum displays King Abdullah II's collection of vintage and modern cars and bikes. Vehicles displayed here include cars from the pre-1950s, modern sports cars and Rolls Royces.
Royal Tank Museum

This is a large exhibit space with more than 140 tanks, many of which were used in actual battles. You can learn about the country's military history through exhibits and military artefacts.
---
DETAILS
Address: Next to Greater Amman Municipality Building. Ali bin، Abu Taleb St., Amman, Jordan
Timings: Saturday – 10 AM – 3 PM, Monday, Wednesday, Friday – 10 AM – 2 PM (Ramzan hours), Closed on Tuesday and Friday
Cost: 1 JD for Jordanians, 5 JD for Non Jordanians
Jordan National Gallery of Fine Arts 
Address: XW58+53Q, Amman, Jordan
Timings: 9:00 AM – 5:00 PM, Closed on Fridays and public holidays
Cost: 1 JD for Jordanians, 7 JD for Non Jordanians
Address: XRMG+4GQ, At Tibbiyya, Jordan
Timings: 10 AM – 7 PM every day, Closed on Tuesdays
Cost: 3 JD without an audio guide, 5 JD with an audio guide
Address: Amman, Jordan
Timings: 10 AM – 6 PM, closed on Tuesdays
Cost: 2 JD for Jordanians, 5 JD for Non Jordanians
Amman things to do: Try local Jordanian food
Amman has abundant street food as well as fine dining restaurants.
Souks are great places to try street food. There are many great options to explore in downtown Amman and Rainbow street as well.
Locals eat Ful medames for breakfast. Ful medames, or simply ful, is a stew of fava beans cooked with olive oil, spices and herbs.
For the main course, go beyond falafel, knafeh/kunefe and baklava.
The national dish of Jordan is Mansaf. 'Mansaf' means large platter. It is a meal of tender meat (usually goat, check for camel meat) cooked in sheep milk's yoghurt. The meat is then laid on rice and wrapped in shrak (thin bread).
Other things worth trying are the fattet hummus, shawarma and maqluba.
You can also get Bedouin tea/coffee and Zaarb here. But try these in Amman if you are not heading to Wadi Rum.
If you are visiting Wadi Rum, i.e. spending some time with Bedouins or staying at a Bedouin overnight camp, you will be served Zaarb and Bedouin tea here. Zarb is a Bedouin dish with slow-cooked meat and vegetables.
In Amman, you must try fresh fruit juices sold around Souks or any places that serve food in the city.
The best places to have local jordanian fare in Amman is at Hashem. This is where the King and Queen have dined in Amman and it is for a reason!
They have a fixed menu, it is vegetarian and costs 8 JD for a plate of pita bread, simple salad, hummus, falafel, pickles and a cup of fresh mint tea!
Try Knafeh at Habiba sweets opposite Cafe central for something sweet! Costs 1 – 2 JD and it is super traditional!
---
Where to go in Amman to try the best food?
Here are some of the top-ranked places for food places to go in Amman –
Hashem Restaurant
Al Quds (Rainbow Street)
Gerard Ice cream
Habibah Sweets for Kunafa (Several branches in the city, there's one in the downtown area)
These are primarily cheap places to eat, some mid-priced. If you are looking for fine dining, try the Sufra restaurant on Rainbow street.
---
DETAILS
RESTAURANT HASHEM
Address: King Faisal Street Amman, Jordan
Timings: Open 24 hours
HABIBA SWEETS
Address: K. Hussein St., Amman, Jordan
Timings: 8 AM – 12 AM
---
Amman things to do: Relax at a Hammam
Amman may not be known for its Turkish baths or 'hammams', but there are a few excellent ones in the city.
If you're heading to the Dead Sea, you can book a hotel with spa facilities in case you are spending a day there. That way, you get access to the Dead Sea from the hotel and spa facilities later in the same place.
If you are going to the Dead Sea only for half a day or plan to access the public beach at the Dead Sea, consider one of these top-rated Turkish baths in Amman –
Willow Stream Spa 
Sultan Ahmad Turkish Hammam
Gaia's Cocoon 
---
---
While you'll need at least a day for things to do Amman, if you plan on staying here longer, I'd suggest day trips from Amman to Jerash or from Amman to Dead Sea. Both Jerash and the Dead Sea are 50 km away from Amman.
Here is a guide on what to do when you visit Jerash ruins.
I've been to the Dead Sea and feel swimming in the Dead Sea is an unmissable experience. So you must take the short road trip and visit the Dead Sea if you've travelled to Amman.
There are many 2-3 day tour packages that couple Aqaba, Dana, Petra (Wadi Musa) and Wadi Rum, the Dead Sea and Jerash in different permutations and combinations.
If you choose to visit these places as a part of a day tour package, choose wisely. These places are full of sights and offer unique experiences which need a reasonable amount of time.
It'll probably be a rushed, unsatisfactory sightseeing trip if you choose a day tour package with too many sites and cities. There's so much to do and see in Wadi Rum.
If you don't plan enough time for Wadi Rum, you'll miss out on magical experiences like stargazing under the clearest skies and spending time with Bedouins in a camp.
You'll need an entire day at least inside Petra (Or consider staying the night too in the city if you want to do a Petra at night tour).
Here is a list of what to do in Jordan with all the tourist spots, and it's pretty long. Pick and decide what interests you.
If you have the time only for a short 5-6 days or a week-long trip to Jordan, here is a 5 days in Jordan itinerary.
---
Amman may be just the capital to pass by on their trip to Wadi Rum, Petra or the Dead Sea but its actually the entry point to Jordanian culture and the way of the people!
You should do your best to spend at least one day in Amman – the food and the people will make sure you return to this unforgettable destination!
---
One day in Amman / Amman things to do – Frequently Asked Questions
Is Amman worth visiting? 
Amman is worth visiting for its ancient Roman ruins, souks and delicious Jordanian food.
You can easily spend a day or two here. Besides, the well-connected city serves well as a base if you want to go to Petra, Jerash, the Dead Sea or even Wadi Rum.
What is there to do in Amman in 2 days? 
In 2 days, you can do most of the Amman activities listed above.
A plan for seeing Amman in 2 days would give you enough time to see the Citadel and Roman Theater, wander through souks in the city, try some of the Jordanian food, enjoy nightlife and possibly see a museum or two in the city.
How many days do you need in Amman? 
I would recommend 2-3 days in Amman if you wish to see most of the city.
In 2 days, you can cover most of the things to do Amman suggested in this post.
In 2 days too, you should be able to see the Citadel and Roman Theater, visit the souks, enjoy the food in the city and see a museum or two. If you are spending only 1 day in Amman, see the Roman Theater, the Citadel and visit either the downtown or Rainbow street area.
Is Amman a beautiful city?
Amman cannot be compared to Wadi Rum or Petra when it comes to natural beauty, but the city has its own charm.
Beautiful ancient ruins, gorgeous views from the Citadel, some of the best souks for Jordanian things and friendly, warm locals make the city worth visiting.
---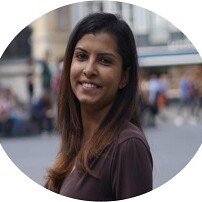 Award-winning Analyst, multi-nominated digital content creator and photographer Lavina Dsouza's words capture stories about culture and tradition mainly through its food and people. She has written and contributed to publications such as The Washington Post, Lonely Planet and Matador Network, to name a few. She is the editor of UntraditionalHumans.com, a non-profit created to share inspiring stories from women of colour who break free from traditions and choose happiness.
She's also a speaker passionate about DEI and champions solo travel. She has collaborated with numerous renowned brands such as Intrepid Travel, TripAdvisor, Travel and Leisure and Adobe, to name a few.
She can be found on Twitter and Instagram.
---
---
---
Some of the links on this post are affiliate links. These do not cost you extra to use, but will help provide Continent Hop with a small commission if/when you purchase through them, to recover some of the costs of running this website and providing free content to help you plan your travel. I appreciate your support!
---