Is Marrakech safe? Is Marrakech safe for female tourists? Is Marrakech safe at night? These are some of the questions on people's mind when travelling to Marrakech. Stories about tourists, burglary and women's safety does sometimes make you wonder if you should visit. But Marrakech is safe and these tips for safety in Marrakech should help when you visit.
It is fair to question travelling to places like Syria, South Sudan and currently Ukraine.
War ravaged one, there's conflict in another. However, when reports about burglary and crimes against tourists do the rounds on social media many instantly write off destinations.
When I visited Marrakech, locals were warm, friendly and hospitable. They made sure to help out when possible however, some vendors were pushy.
It is tricky to avoid Marrakech as it is the capital and it is here you'll be able to see places like Jemaa El Fna. Many tours including ones from Marrakech to Merzouga start from here.
However, you may get hassled by snake charmers, women offering henna art for free then asking for money and some others posing as guides offering to take you around for free – then asking for money later.
If you ever questioned is Marrakech safe? – then the easiest way to tackle these annoyances is to come prepared with these tips for safety in Marrakech.
Chances are with a little prep, you may end up having a great time, at less than half the price for the same experiences in most other countries!
---
Is Marrakech safe? Here's all your questions answered + tips
---
---
Is Marrakech safe for travel?
As a general rule, Marrakech is a pretty safe tourist destination regardless of which country you are from.
Though some countries – such as Canada – consider Morocco a 'high risk country' to travel in – I believe that is a very biased perception that the West has of most African/ Middle Eastern/ Islamic nations.
So if you are wondering 'is Morocco dangerous?' then the answer would mostly be no. The International SOS – and most of Europe – consider Morocco a low risk country.
That is not to say, however, that Marrakech is the safest place to travel to. There are certain things to be kept in mind for your safety in Marrakech – as is with any other destination you'd travel to.
---
Is Marrakech safe for female tourists?
Marrakech is generally a pretty safe city for solo female travellers.
People in Marrakech are typically quite friendly and hospitable, and they'll go out of their way to make sure you enjoy yourself while visiting their country.
Keep in mind that Morocca is a very conservative country. Women should dress modestly and clothing that covers you well and is not too exposing is ideal for wearing in Marrakech – or almost anywhere in Morocco. I recommend not to step out at night alone without company as it may not be safe.
If you are looking for clothing recommendations, you can consider long skirts, loose pants, jeans, kurtis, loose shirts etc. But do remember to also have a scarf on you, just in case.
Even with these precautions in mind, though, solo female travellers safety in Marrakech might still be compromised.
The best advice for Marrakech safety for women would be to politely ignore strange men who may approach you to offer unsolicited help or to show you around.
The medina is quite busy at most times however hotels and Riads outside do tend to be quite isolated, especially at night.
Pick hotels in locations that are busy where you won't have to walk alone at night. It does get quite quiet early at night so unless you have someone with you or locals are accompanying you, make sure you know the way well and don't stay out too late!
---
Is Marrakech safe for LGBTQIA+ people?
I identify as a heterosexual however here's info that should help based on talks with people that don't.
In theory, male homosexuality is illegal in Morocco.
However, as many online forums and Facebook groups recount, the law is not very aggressive when it comes to homosexuality in Morocco. In fact, you might be surprised to note that homosexuality is actually a very common and acceptable part of Moroccan culture!
Of all cities in Morocco, Marrakech is considered to be the most open-minded about the LGBTQIA+ community. This is perhaps mostly due to the number of queer expats – mostly French – who come and live here.
Though you will not find pride parades or gay clubs in Marrakech, there are a few spots across the city that are commonly known to be the hangout spots for queer people.
Tangier once used to be very open and welcoming to LGBTQIA people, but not anymore. Agadir, on the other hand, is an up and coming LGBT-friendly place to visit in Morocco.
However, even with these facts in mind, it would be best for queer people to use discretion while travelling through Marrakech – or any other part of Morocco.
Through conversation, try and understand the perception of the locals towards homosexuality and act accordingly.
Another important thing to remember is that sometimes unmarried straight couples have difficulties getting a room in Marrakech – or other parts of Morocco as sex outside marriage is generally frowned upon in the country.
However, most hotel and riad owners are more accepting of such things towards foreign tourists. Public display of affection between couples – whether gay or straight – is also often looked down upon.
All in all, Morocco might just be the most LGBTQIA friendly country in all of Africa, but it is still wise to use your discretion while travelling here as a queer person.
This article and this thread may help for more info.
---
Is Marrakech safe for families?
Marrakech is definitely one of the safest places to visit in Morocco for families.
Morocco is generally a very family-centric country. Most homes in Morocco have large families and kids are loved dearly wherever you go in Morocco.
You might even just enjoy Morocco more as a family than you do as a solo – or couple – traveller.
This is because of Moroccan's huge regard for children. Children also often tend to break the ice easily with locals, leading to warm conversations and experiencing a better understanding of their culture.
Another advantage of travelling with kids to Morocco is that most scammers will usually stay away from you.
However, due to its bustling markets, sounds and sights, Marrakech might be a little overwhelming for children.
It's important to slow down while exploring Marrakech with children and not rush through your day.
The sun can also be too harsh for children and might exhaust them easily so make sure to take it easy from noon till 3 or 4 pm and keep them adequately covered and hydrated.
---
Is Marrakech safe for driving?
Though people generally drive well in Marrakech and follow most traffic norms, car accidents are still a very common occurrence in the city.
It's best to avoid driving in Marrakech as far as possible and opt for walking around the city or using public transportation instead. This should not be much of a problem anyway since Marrakech is not a very big city and can easily be explored without driving around.
If you need to get a taxi in Marrakech, it is better to opt for a petit taxi and not a grand taxi. Grand taxis are old, run-down cars often without air conditioning.
Petit cars are much newer and safer to travel in. Also, it would be best to agree on the fare of the taxi before starting the journey.
Most drivers around Marrakech will inflate the actual prices for tourists – a common scam everywhere in Morocco. To avoid this, choose taxis that have an operational meter, or ask your hotel or riad to hook you up with a trusted, reliable taxi driver.
---
Is public transport safe in Marrakech?
The public transport in Morocco is not the best.
The question is not so much about safety as it is about just how not very convenient and accessible public transport in Morocco can be.
Local buses in Marrakech and elsewhere in Morocco are typically old, run down and frequently overcrowded.
Public transport in Marrakech might not be for you unless you are used to this type of humid, dusty and crowded travel style or want to have a true local experience.
The buses in Marrakech are run by a local company called Alsa which has a schedule, route and fare chart for their buses plying across the city. This can come in very handy if buses are going to be your primary mode of transport in Marrakech.
To sum it up, public transport in Marrakech is definitely doable but not everyone may be cut out for it. There are intercity buses as well that take you to other destinations in Morocco.
These are usually much more comfortable (with air conditioning) than the local city buses.
The main safety advice you should take into consideration when utilising public transport in Marrakech is to always be on the lookout for pickpockets and take care of your luggage.
Additionally, buses in Marrakech can be a little intimidating for a female traveller travelling alone; I advise caution to and keep an eye on gropers.
---
Is Marrakech safe at night?
Marrakech is generally a safe city – even at night.
You have very few chances of getting mugged or assaulted at night – especially if you steer clear from far in the outskirts of the city and stay close to the centre.
The Jemaa el Fena in Marrakech especially comes to life at night.
So if you're planning to visit this market square, make sure you time your visit just before sunset so you can get to experience the pretty colours of the market shops, as well as gorge on the uncountable Moroccan food stalls that prop up once the sun goes down here.
From snail soup to lamb skewers and much more…there's a lot going on here at night – all without really having to worry about your safety because everyone is generally busy having a gala good time!
However, not all parts of Marrakech are as safe at night as Jemaa el Fena is.
To avoid getting into trouble, it is best if you avoid areas such as Hivernage and Gueliz. These parts are commonly known to be where sex workers come seeking clients. Many times, street fights also randomly happen in this area.
As a general rule, it is best to avoid drinking too much especially once it is dark, so as to avoid getting into any kind of trouble and always stay alert. Driving at night can also be risky due to dimly lit roads, potholes, and drunk drivers so it is best to avoid that as well.
However, overnight train or bus journeys are quite common and it shouldn't be a huge safety risk while embarking on such journeys – practice caution, that is all.
---
Is it safe to eat street food in Marrakech?
As is when travelling to any new country, it is usually advisable to proceed toward street food with caution.
A number of factors might not sit well with your stomach – whether it is the use of too much oil, stale food, bad water or too many spices in the food.
Though the street foods from Morocco – especially in Marrakech in parts like Jemaa el Fena – is an experience worth having, it is also important to know what works for your stomach and what does not.
Food poisoning may not be uncommon, so make sure you have an emergency medical kit handy if you would like to venture out with street food in Marrakech.
But apart from street food, the restaurants and cafes in Marrakech serve delicious, hygienic meals which seldom go wrong.
So in case you have a weak gut or are unsure of how your body might take the street food, consider eating at restaurants and cafes instead.
---
Is it safe to drink tap water in Marrakech?
Usually, the locals will most likely be found drinking tap water everywhere in Morocco – including Marrakech.
While the locals have grown up drinking this tap water and their bodies have adapted to the pathogens in it, tap water in Marrakech may not suit all stomachs – especially if you are not a regular traveller and you are body cannot tolerate changing water too often.
Tap water may still be safe in more remote areas like the Atlas Mountains where the water mostly comes directly from natural water sources.
However, the closer to the city (like Marrakech) you get, the chances are, the water is going to be polluted – and/or treated with chemicals. While most people will offer packaged water as a solution to this problem, the use and throw bottles can be quite polluting for the environment.
So the right alternative would be using filtered water bottles such as the LifeStraw Bottle which comes with an inbuilt filter that makes the water safe to drink before you sip on it.
That being said, the tap water in Marrakech is not necessarily bad and generally safe to drink, but it is worth considering that your body might not take this change well.
---
Minor crimes/Marrakech scams
As has already been established in this article about Marrakech safety, Marrakech is generally a very safe city to travel to as a tourist, it is still important to practise general caution while out on busy streets and beware of petty crimes.
Pickpocketing is a common crime in crowded open-air marketplaces and souks of Marrakech.
It is important to stay vigilant about your belongings and avoid using bags that might give easy access to your belongings.
In case you're carrying your backpack, consider wearing it frontways instead of your back so your belongings never leave your sight. Also, remember to leave important belongings and documents in your hotel room and only go around with what is absolutely necessary.
Do not leave all your cash in one place, keep it distributed in small amounts across your luggage so you always have some emergency cash ready should things go south.
Also, do not forget to get travel insurance which safeguards you against theft and loss of belongings as well. Other things like a money belt or anti-theft bag would be some good products to look into before planning your Marrakech travels.
---
---
Serious crimes and terrorism in Marrakech
Many tend to refer to Gov.UK and other official sites when it comes to checking travel info about terrorism. Currently it states that it is quite likely!
However, the last terrorist attack that shook Morocco was in 2011. The location of the terror attack was a café which killed 17 people – most of whom were tourists.
These are tragic incidents but it is important to remember that they are not isolated to Morocco – or African/ Middle-Eastern/ Islamic countries. Even in the West, terrorist attacks are getting increasingly common – shootings are common on a daily basis in the US!
The only difference is that the media paints a much more horrific picture of these events when they happen elsewhere. Having said that, there have been no terrorist attacks in the country since 2011 and it has gotten increasingly safer to casually stroll the streets of Morocco now.
Since the attack, Morocco has responded by tightening its security and ensuring locals and outsiders feel safe here. Serious crimes almost never occur in Marrakech – and even if they do, almost none have been reported to be targeted toward tourists.
As mentioned earlier, Morocco is listed as a low-risk country on International SOS – the same as North America and Europe. So that should definitely give you an idea about how safe it is to travel in Morocco.
---
---
Common tourist scams in Marrakech
If there is one safety measure you must take as a tourist in Marrakech, it has to be avoiding the common tourist scams that are prevalent all over the city.
Here are some tourists scams in Marrakech and how to avoid them –
• When scammers see tourists on their phones, feeling lost or disoriented about their location or destination, they will approach them in a very friendly and hospitable manner and offer to show them to their destination.
Once you accept and reach the destination, they will ask for money for their troubles and will not let you go until you pay up. It is best to politely ignore these scammers as they approach you and offer to take you to your destination.
Tell them you will figure it out on your own. This tourist scam in Marrakech is most common around the medina area where the large tanneries are located.
• A very common tourist scam in Morocco – and often in other countries as well – is when the taxi drivers over inflate the prices just because you are a tourist. It is best to take a metered taxi or agree on a fair price before starting your journey.
• Another common tourist scam in Marrakech happens often at the street food stalls of Jemaa el Fnaa. When you order food, you will be given a 'regular' menu with regular prices.
But once you have eaten and are ready to settle the bill, the prices will be inflated without your knowledge and the menu will be replaced with special 'tourists' prices written on it.
It will not matter how much you argue – you will never see the 'regular' food menu again. It is best to either pay up front while ordering your food or to take a picture of the 'regular' menu as you order so you end up paying only what is required.
Another way to avoid this scam is by simply paying the assumed initial cost and walking away.
---
---
Summary of the safety tips for Marrakech/Morocco
If you're a solo female traveller, ensure you dress appropriately and avoid wandering around late at night by yourself

Opt for licensed guides that you book yourself. Avoid hiring random guides that offer to help

Pick hotels in the centre of the city or ones that are not too isolated

Use discretion if you're homosexual

Public displays of affection are usually frowned upon

Ensure you don't leave children unattended in public places especially the medina

Fix taxi prices with the driver before starting your journey

Try staying in locations where you may not need a taxi frequently

Public transport isn't reliable. If you still do use it keep an eye out for pick pocketers and gropers

Make a note of the dodgy areas if staying out at night

Avoid drinking too much if solo

Overnight bus journeys are alright if you stay alert

Street food is safe, however avoid stalls that don't have too many customers or locals

Opt for filtered or bottled water

Keep an eye on your backpack in crowded areas especially the medina

Opt for a travel insurance before you fly to Marrakech

Do not carry all your cash and important documents with you. Keep some at the hotel in a safe

If people offer to help out when not needed say 'No, thank you' and keep walking!

Keep in mind no service or item is ever free!
---
Is Marrakech safe – Frequently Asked Questions
1. Is Marrakech safe to walk at night?
Depending on which part of the city you are in, Marrakech safety at night varies.
Places like Jemaa el Fena especially come to life at night with their street food stalls everywhere. So city centres like such are usually a safe place to walk.
However, areas like Hivernage and Gueliz should be mostly avoided at night – as already mentioned before.
2. Can you drink alcohol in Marrakech?
Consuming alcohol in Marrakech is illegal. However, it can still be procured rather easily. If you are a woman, it is best to be extra careful with who you are drinking alcohol and only drink in a trusted company.
3. Is it safe for a woman to go to Marrakech?
Marrakech is generally a safe city for women to travel to. General safety precautions must be practised, however – as is this case with any other city you travel to, as a female traveller.
4. What should I avoid in Morocco?
Try and avoid getting into tourist scams as far as possible. Avoid hiring unregistered tour guides and only go with trusted sources. Apart from general safety protocols, Morocco is a pretty relaxed country to travel to.
5. Is Marrakech safe for families?
Marrakech is a very friendly country if you are travelling as a family. Moroccans love kids and you are most likely to find warm and welcoming behaviour from the locals if you travel with your family.
6. What not to wear in Marrakech?
It is best to avoid very revealing clothes while travelling through Morocco. Shorts, tight tank tops, bikinis, small skirts, and deep-neck shirts should generally be avoided. Loose clothes are mostly the way to go.
7. Is Marrakech a good place to visit?
Marrakech is definitely an excellent place to visit. Especially for food, culture, history, art, and architecture lovers, Marrakech is going to be an experience to remember and it should most definitely be on your list!
---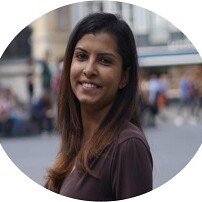 Award-winning Analyst, multi-nominated digital content creator and photographer Lavina Dsouza's words capture stories about culture and tradition mainly through its food and people. She has written and contributed to publications such as The Washington Post, Lonely Planet and Matador Network, to name a few. She is the editor of UntraditionalHumans.com, a non-profit created to share inspiring stories from women of colour who break free from traditions and choose happiness.
She's also a speaker passionate about DEI and champions solo travel. She has collaborated with numerous renowned brands such as Intrepid Travel, TripAdvisor, Travel and Leisure and Adobe, to name a few.
She can be found on Twitter and Instagram.
---
---
Have you ever visited any small towns in Morocco?
I'd love to hear in the comments below!
---
---
Some of the links on this post are affiliate links. These do not cost you extra to use, but will help provide Continent Hop with a small commission if/when you purchase through them, to recover some of the costs of running this website and providing free content to help you plan your travel. I appreciate your support!
---