Wadi Rum was one of the best nights of my life! If you're wondering what to do in Wadi Rum, there are numerous shooting stars, the Milky Way that can be seen with the naked eye and a beautiful romantic setting! Here are some things to do in Wadi Rum!
Wadi Rum is the closest you'll get to Mars on Earth.
The desert, especially at dawn and dusk is Arabian Nights materialised into real life. Rippled red sand dunes, and massive orange granite rocks peppered everywhere, make it ethereal!
It would be quite difficult to get to Mars anytime soon but Wadi Rum is possible!
Wadi Rum is the real-life desert that has played Mars in a few movies.
'Wadi Rum' which means 'Valley of the Moon', is a dramatic red landscape in the far south of Jordan and home to the nomadic Bedouin tribe.
The fascinating rock paintings, petroglyphs and inscriptions in this region are a testament to the fact that it has been inhabited since prehistoric times.
Walking through the vast Khazali Canyon while admiring these paintings is just one of the things to do in Wadi Rum, but if you're wondering what to do in Wadi Rum beyond this, this vast almost untouched space has lots in store that will make you go go speechless!
---
---
Getting to Wadi Rum
Wadi Rum is closest to Aqaba. It is also easily accessible through Petra and Amman and, in fact, a short detour from the Desert Highway between the two cities.
There's a detailed section at the bottom of the post explaining all routes and options, but here are some quick tips:
---
Quick tips on travelling to Wadi Rum from Petra, Amman and Aqaba
---
Travelling by bus would mean you'd be spending more time on the road as compared to travelling by cab or a rented car
Ridesharing is common in Jordan. So if you're comfortable, you can travel conveniently in a cab but share it with others and save money

In case you wish to rent and drive yourself, the roads are signposted in English, which makes navigating roads easy. It is still a good option to have a phone with GPS and a navigation app

Local buses are crowded on all days. They do not run on Fridays

Find out in advance regarding JETT bus schedules and ticket availability through your resort operator or tour guide since buses can get packed during the tourist season.
---
Once you arrive at the Visitor's Centre in Wadi Rum, you can buy tickets from the counter to enter the protected area.
If you've paid for the Jordanian Pass before coming to the country, entry to the Wadi Rum protected area is included in the pass fee. Buying the Jordan Pass before visiting the country will help you save time and money.
If you've rented a car for the trip, the rented car would only be allowed till the Visitor's centre, where you can park it for free. Only 4×4 cars are allowed in the desert area, which you should book from the Visitor's centre while buying your ticket unless you are already booked in advance with a tour provider.
---
DETAILS
Wadi Rum Visitor Center
Address: Wadi Rum Rd, Wadi Rum Village, Jordan
Hours: Open Daily 8 AM – 4 PM
Entry Fee: The entry fee is 5 JD for non-residents and 1 JD for residents. Entry is free for children under the age of 12. Included in the Jordan Pass
---
Scams at Visitor Center Wadi Rum Jordan
Beware of scammers here just like in the Marrakech souks. They ask tourists for money outside the Visitor's Centre to buy tickets or arrange for tours, but instead, pocket the money and disappear. You need not pay any middlemen here and should buy the ticket directly at the counter.
Make sure to book tours in advance as spaces (and jeeps) are limited and run by the local tribe folk that live in Wadi Rum. One of the best ways of doing this is contacting the camp you're staying at directly.
---
If you're wondering what to do in Wadi Rum, there's a lot and you may not be able to tackle it all, depending on the time you have. It's best to pre-plan what to do in Wadi Rum with your local guide's help and choose to do a few of these.
Exploring the desert region through a 4×4 with a Jeep tour of Wadi Rum with a local driver is the best way to see it. The driver will also guide you through the sightseeing.
You can choose to cover any of these key sights depending on how much time you're spending here.
NOTE: All of these things are open 24 hours and free once you get inside Wadi Rum however it is best to not visit alone as it is easy to get lost.
---
---
i) Visit Lawrence Spring (Ain Abu Aineh) and Lawrence House

The British General, T.E Lawrence, purportedly slept here during his time in the desert and hence the name, Lawrence House. The house is built on an ancient structure built by the Nabateans.
People visit this place for the views of the desert from the top, and there is not much to see in the house itself except a few ancient Nabatean inscriptions. The house is about 14 km away from the Visitor's Centre.
Ain Abu Aineh has been named 'Lawrence's Spring' in honour of Lawrence's evocative description of the place in his book 'Seven Pillars of Wisdom'. The spring is about 10 km away from the Wadi Rum Visitors' Centre.
There is an ancient Nabatean inscription here that is an ancient signpost for water. The views of the desert from here make visiting the place worth it.
Location | Lawrence Spring
---
---
ii) Visit/Hike to the beautiful rock bridges 
There are many rock bridges in Wadi Rum. These three rock arches are well known for spectacular views of the desert –
Little bridge: The little bridge is easy to climb and offers a panoramic view of Khor Al Ajram. It is at the beginning of the desert and an easy climb as compared to the other bridges.

Umm Frouth rock bridge: The Umm Fruth bridge is a massive natural formation that balances a single stone slab between two tall peaks. The views from the top make it worth climbing the bridge. It is one of the most photographed places in Wadi Rum. You can expect to wait here for a while to climb and click photos unless you are visiting the off-season.

Burdah rock bridge: This is the highest bridge in the area, and the plateau above it offers an excellent stargazing location. You can see the bridge during a jeep tour, but climbing the bridge would need around 4 to 5 hours, and you'd need to keep half a day aside for it.
Location | Umm Frouth Bridge
---
---
iii) See the Khazali Canyon 
Nabatean, Thamudic and Islamic inscriptions cover Jebel Khazali's inner walls. Some of them are as ancient as 2000 years old. There are more than 25,000 petroglyphs in Wadi Rum, and this peak is home to some of the best petroglyphs in the region.
—————
iv) Try sandboarding or rolling down the Al Hasany dunes
While there are many dunes in the desert area, the Al Hasany red sand dunes are quite close to Lawrence Spring and are the easiest to climb.
You can also try sandboarding here. Many companies offer it for free along with the day tour package. If not, this will cost you around 15 – 20 JD separately for the sandboarding equipment.
—————
v) Hike through Abu Khashaba Canyon 
The canyon is named after Jebel Khashaba, the sandstone mountain it cuts through.
Due to the canyon's narrowness, it is not possible to pass through it in a jeep. But it takes only 20 minutes to pass through the canyon. This canyon is one of the few locations in the desert where you can see slow-growing desert trees native to the region.
Location | Abu Khashaba Canyon
---
---
vi) See the Anfisheyyeh and Alamaleh inscriptions 
The Nabateans were based in Petra, but their influence included the surrounding area of Wadi Rum.
The Almaleh inscriptions, which depict camels heading towards the north, can be seen on rocks at Almaleh. The Anfashieh inscriptions, which depict stick figures of children and camels, are located on the south-facing side of Jebel Anfashieh towards Jebel Um Kharg.
These sites are of great archaeological importance as they trace the early development of the alphabet and the influence of the tribes of the region.
—————
vii) Visit the Nabatean temple and the Seven Pillars of Wisdom 
The Nabatean temple is known for its inscriptions dating back to the 2nd century BC and the ruins of an old bath behind the temple considered to be the oldest in Jordan.
The Seven Pillars of Wisdom is an impressive rock formation named after T.E Lawrence's book named the same. This location is not included in many of the tours due to its location just opposite the Visitor Centre. You can visit it before starting your tour of the desert.
You can also consider visiting Mushroom Rock, Jebel Rum and Jebel Umm Ishrin in addition to any of the above-mentioned places.
---
Activities in Wadi Rum
If your visit to Jordan is centred around Wadi rum and you plan to spend at least 4 – 5 days here, you could attempt to do even more here.
Wadi Rum is perfect if you love the outdoors and are into hiking. While the top things to do in Wadi Rum are covered in the section above, here are a few activities in Wadi Rum you could attempt.
Some you could do just from your camp, others it is best to book a tour in advance.
NOTE: Some activities like Stargazing are of course free once you get inside Wadi Rum however it is best to book other tours like camel rides in advance and not attempt them alone as it is easy to get lost.
Here's a list of the activities to do in Wadi Rum:
There are many locations to watch a sunset in the desert (quite different to the ones you'll see in places like Oia) and the local guide should be able to guide you to a suitable place near the camp you will stay in at night or on your way out of the desert, if you're here only for a day.
You can watch a sunrise from the camp, but this could require waking up very early in the morning, depending on the season.
---
Another free thing to do in Wadi Rum is watching the milky way at night and gazing at shooting stars. This was the highlight of my Jordan itinerary. Wadi Rum's night sky left me spellbound, and this is why I recommend staying for at least a night in Wadi Rum.
Enjoy traditional Bedouin lunch/dinner and tea
You won't find street food in Wadi Rum. Most of the camps provide 'Zarb', traditional food cooked in an underground oven lined with bricks. Also, try the Bedouin tea, a special tea made by the tribe with lots of sugar.
If you're staying overnight at a camp, some camps also have musicians who sing traditional Bedouin songs for entertainment.
Hiking tours are popular here, and you can choose one that suits you – they can be a few hours or even a day long. It is best to hike in a group as it is easy to get lost in the desert.
The Jordan Trail, a 650 km hike across Jordan, is the longest hike you can take in the country, which involves hiking from Petra to Wadi Rum and Wadi Rum to the Red Sea in this region.
You can also choose to do one of the many routes for rock climbing. Rock climbing in the Wadi Rum is mainly traditional rock climbing, and there are a few options for amateurs with anchor points installed on the rocks.
---
There are full-day long options that offer to explore the desert through a camel ride. You can also take a short camel ride as an add-on to your tour. These short tours for an hour or two would cost you 20 – 30 JD.
Opt for the short tours – the longer ones would slow you down (exploring the desert through a 4×4 is better any day), and sometimes riding a camel for long is uncomfortable.
If you are here in October/ November, you can witness the Sheikh Zayed Camel Race Festival in Wadi Rum. More than 500 camels participate in this race every year. If you are here during another time and interested in watching a camel race, ask your tour operator/guide for camel race events.
Take a Hot Air Balloon tour
A hot air balloon ride is a great way of watching the sun rise over the surreal landscape. These rides start early in the morning before the sun rises and take 1.5 to 2 hours. It will cost around 130 JD per person.
Ride a horse through the desert
Bedouin families have well-trained horses that you can ride to explore the desert. Horse riding in the vast, open space of the desert would be easier for those who are competent riders.
The red landscape of the desert is a popular choice among Hollywood filmmakers to depict a Martian setting. Wadi Rum has been featured in several films, like The Martians, Star Wars, and Disney's Aladdin. The first film to be shot here was The Lawrence of Arabia in 1962.
It would be difficult to find exact locations from the movies across the vast desert on your own. Joining a film tour is a good option if you want to see specific spots where films were shot.
This is an exhaustive list of activities in Wadi Rum however you could find more things to do in Wadi Rum if you speak to your guide depending on your itinerary.
---
Aqaba is only 72 km away, less than an hour-long drive from the city. Here are a few options to travel to get from Aqaba to Wadi Rum –
Aqaba to Wadi Rum by taxi
A taxi to Wadi Rum from the Aqaba town centre will cost you 25 JD and 30 JD from South Beach/Tala Bay/Ferry Port. You can also arrange for a return trip for around 50 JD.
Aqaba to Wadi Rum by rental car
Renting a car would cost 30JD or higher depending on your requirements. You should also consider the extra fuel cost if you rent a car.
Aqaba to Wadi Rum by bus
A round trip through the JETT bus will cost you 18 JD, and a one-way trip will cost you 12 JD. JETT buses run daily, and you can get more details of the bus schedule here.
Some local buses/minibuses run from the city to the Wadi Rum village daily except Fridays. They cost only 3 JD, but they are usually crowded, and I do not recommend taking them.
Aqaba to Wadi Rum – Day tour 
If you're short on time, you can choose to do a day tour. Here are a few options for day tours –
---
Petra is often used to refer to Wadi Musa when considering travel between two places in Jordan. Many tourists find this confusing. Petra is the name of the archaeological site located in the city of Wadi Musa.
Petra/Wadi Musa is about 113 km away from Wadi Rum, and you would need 2 to 2.5 hours of travel to traverse the hilly King's Highway.
Here's how you can get from Petra to Wadi Rum –
Petra to Wadi Rum by taxi 
You can book a local cab or Uber. Either should cost around 40 – 45 JD.
Petra to Wadi Rum by rental car 
If you choose to rent a car, you can stop for views along the scenic road to Wadi Rum. Renting a car will cost at least 35 JD or more depending on your requirements.
Petra to Wadi Rum by bus 
A minibus runs daily and departs Wadi Musa around 6-6.30 am. Ensure you book tickets in advance through your guesthouse/hotel as the bus is a popular choice among tourists and can get full.
The bus picks up tourists from their hotel in Wadi Musa and drops them off at two places in Wadi Rum – at the Visitor's Centre and next to the Rest House in Rum Village.
The same bus returns to Wadi Musa at 9 am, and you can take it the next day to return to Wadi Musa/Petra.
This trip will cost you 7-10 JD one-way, depending on the passengers travelling on that day.
Instances, where hotels lie to the customers about this bus not running on a particular day, have been reported earlier. They do this to get the tourist to book transportation with their contact. While this can happen due to road closure or a lack of enough passengers to take the bus, it is not very common.
---
Amman is 321 km away from Wadi Rum and needs at least four hours without considering any stops you make on the way.
Here's how you can get from Amman to Wadi Rum –
Amman to Wadi Rum by taxi
A taxi from Amman to Wadi Rum will cost you around 100 – 110 JD for a one-way trip.
Amman to Wadi Rum by rental car
Renting a car would be a costly but convenient option. Renting a car would cost around 30 – 35 JD, but fuel costs would be high for the long journey.
Amman to Wadi Rum by bus
There is no direct bus from Amman to Wadi Rum. You can take the JETT bus to Petra, which leaves Amman in the morning and costs 11 JD. From Petra, you can take a cab to Wadi Rum (40 – 45 JD) or the early morning bus on the next day if you want to spend the day sightseeing here. You can also take a bus to Aqaba and then a cab/bus from Aqaba to Wadi Rum.
---
---
Weather in Wadi Rum Jordan
The best time to visit Wadi Rum is Spring (March, April, May) and Autumn (September, October, November).
Wadi Rum Weather – Spring and Autumn
These are the peak tourist seasons in Jordan. During Spring (March, April and May), daytime temperatures are getting warmer, and the nights are not extremely cold, but you'll still need an extra layer. The temperature ranges from 15 – 30°C during this time.
If you are visiting in early March, check the weather beforehand for sand storms/snow/rain since these can possibly occur during the end of winter and the beginning of spring.
Autumn (September, October, November) is also a good time to visit Wadi Rum due to the moderate temperatures. The daytime temperature is ideal for trekking in the desert. During this season, there is lesser dust which means clearer skies for stargazing and clicking photos. It is also easier to enjoy a sunrise in the desert in this season since the sun rises around 6.15 and 6.30 AM, and you wouldn't have to wake up in the middle of the night to be able to see the sunrise.
If you are into birdwatching, definitely visit Wadi Rum in the autumn season. In autumn, Wadi Rum is a resting haven for migratory birds such as steppe eagles, steppe buzzards and honey buzzards.
---
Wadi Rum Weather – Summer and Winter 
It's best to avoid visiting Wadi Rum during the summer months, i.e. during June, July, and August. The temperature is too high during the daytime – it goes up to 33°C on average and can also go up to 40°C on hot days.
Winter, too, is the low season in Wadi Rum. Jordan experiences less rainfall. However, most of this rainfall is in the winter season. Daytime temperatures are in the range of 13 – 15°C. However, nights are freezing cold with temperatures in the range of 2 – 4°C.
If you are staying back in the desert region during this season, choose to stay in a camp that has heating. It can also snow in the winter. So it's best to check before you make a booking.
---
Camping in Wadi Rum Desert
It is not possible to see the entire area in a day. I highly recommend staying back for at least a day to have an experience that doesn't feel rushed.
If you take a look at these Jordan images, you'll know why spending a night camping in Wadi Rum, and eating Bedouin food under the peaceful, glistening night skies is an activity in Wadi Rum many consider to be special.
You can arrange in advance for camping in the wadi rum desert by booking with one of the many companies. Bear in mind that camping here is unlikely to be like traditional camping.
A Bedouin campsite in Wadi Rum is very different from the usual experience – the camps have large tents with good facilities, heating, private/shared toilets and food. Luxury camping in Wadi Rum is also popular amongst tourists.
---
---
Whether you choose to pre-book camping/tour arrangements before you reach Wadi Rum or book when you arrive at the Visitor's centre, ensure you book it with a well-reviewed, licensed camp and tour operator. There are operators here who operate without a license and try luring tourists through the promise of discounts/lower rates.
Most camp providers include meals in their prices which is a good deal since you are likely to spend that much or more on food if you stay the night in the desert. Do not book your tour with your hotel in Wadi Musa as the hotel owners receive a commission out of the tour fee, and the tour operator/guide would receive lesser money and show you around lesser places.
You can either choose to stay in a simple Bedouin camp in the desert or choose a luxurious one for glamping.
---
Here are a few Bedouin camp options you can choose from –
Luxury Camping in Wadi Rum
Here are a few glamping/ luxury camping options you can choose from –
---
Irrespective of the amount of time you spend in Wadi Rum, this wonder will leave you asking for more!
As I went off to sleep in my cosy camp after staring at the Milky Way for hours, I knew this was a once-in-a-lifetime moment and definitely worth visiting again.
---
FAQs – What to do in Wadi Rum
How much time do you need in Wadi Rum?
It is recommended to stay at least 1 night in Wadi Rum for the perfect camping experience. You will get enough time to explore what this desert has to offer during the day and then you can spend some peaceful time enjoying Bedouin food under the stars at night.
If you are looking for a laid-back experience where hiking and rock climbing are possible without any rush, then consider spending 2 nights in Wadi Rum.
What is Wadi Rum famous for?
Wadi Rum is a protected desert wilderness that became popular after British officer T. E. Lawrence passed through here during the Arab Revolt in 1917–18. His autobiography 'Seven Pillars of Wisdom' talks about the aftermath of this revolt. Wadi Rum is also home to the Zalabieh tribe who have created eco-adventure tourism.
Can you hike Wadi Rum without a guide?
It is recommended to hike Wadi Rum only with a local, experienced guide as these rugged landscapes are usually hot. The harsh weather conditions and vast dry valley make it impossible to hike Wadi Rum entirely on your own. Only seasoned hikers who are familiar with this land can consider hiking Wadi Rum without a guide.
Why do people visit Wadi Rum?
Wadi Rum is known as the Valley of the Moon due to its unique landscape. This protected desert wilderness is known for its sprawling red sand valleys, sandstone mountains, and rugged rock formations. People mainly visit Wadi Rum for adventure activities and camping. You will also find nature lovers and photography enthusiasts here.
---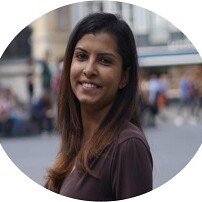 Award-winning Analyst, multi-nominated digital content creator and photographer Lavina Dsouza's words capture stories about culture and tradition mainly through its food and people. She has written and contributed to publications such as The Washington Post, Lonely Planet and Matador Network, to name a few. She is the editor of UntraditionalHumans.com, a non-profit created to share inspiring stories from women of colour who break free from traditions and choose happiness.
She's also a speaker passionate about DEI and champions solo travel. She has collaborated with numerous renowned brands such as Intrepid Travel, TripAdvisor, Travel and Leisure and Adobe, to name a few.
She can be found on Twitter and Instagram.
---
---
EXPLORE MORE OF READY-TO-GO ITINERARIES
---
Some of the links on this post are affiliate links. These do not cost you extra to use, but will help provide Continent Hop with a small commission if/when you purchase through them, to recover some of the costs of running this website and providing free content to help you plan your travel. I appreciate your support!
---