Switzerland needs no introduction. This post on Swiss quotes has numerous sections such as Quotes on Switzerland from Swedish personalities, Switzerland quotes, Swiss quotes about chocolate, Quotes about Switzerland that are funny. I hope these inspire you to plan your next Swiss holiday!
If you've been to Switzerland, you'd agree with many of the quotes on Switzerland in this post.
Snow Capped mountains, gorgeous lakes amidst impressive medieval buildings, castles, and delectable cheese and chocolate… it's tough not to like Switzerland.
Whether it's trekking in Seealpsee, skiing in Zermatt, or walking through walking through the old town in Geneva….Switzerland has it all for outdoor enthusiasts!
If you haven't been, these Swiss quotes should help spark that wanderlust and help motivate you to plan your next Swiss holiday.
Irrespective of how you use these top Swiss quotes, be it for Instagram, wallpapers, or just to take you down memory lane, these Swiss quotes are the best quotes you'll find about the country.
Quotes on Switzerland : 100 Top Swiss quotes for inspiration!
---
Here's the list I've collated on Swiss quotes. They are under different categories so that it's easier for you to find what you're looking for, be it for printing purposes or just to read through.
I've also added in imagery in case you'd like to save it on your Pinterest board.
Save this page or bookmark it for later for the best Swiss quotes.
---
1. Switzerland Instagram captions / Switzerland quotes for Instagram
These quotes on Switzerland are perfect for that quick Instagram or Reel caption, or for that Pinterest pin!
It could also be used for that postcard, or destination themed invite!
---
"It's tough to find a place not to like in Switzerland."

– Michele Bachmann

"I'm quite fond of Switzerland. I love Switzerland."

– James Balog

"Switzerland is my favourite place now because it's so – nothing. There is absolutely nothing to do."

– Andy Warhol

"In a country where peace prevails in every corner, everything looks prettier, calmer and wiser!"

– Mehmet Murat İldan

"Switzerland's hallucinatory landscapes demand immediate action – grab boots, leap on board, toot bike bell and let spirits rip."

– Nicola Williams

"Swiss cities remind me of the kid at high school who's great at sports, has perfect hair, the best girlfriend, and the teachers all love him. He's just too perfect."

– Rick Steves
---
2. Switzerland Quotes / Switzerland captions
These quotes about Switzerland talk about the sheer beauty of this place, many by famous personalities.
They also talk about how clean and crisp Switzerland is!
---
"I look upon Switzerland as an inferior sort of Scotland."

– Sydney Smith

"I keep my opinions to myself. I'm neutral – like Switzerland."

– Sistine Stallone

"No one really likes Switzerland, except those who prefer cleanliness to life."

– Trevanian

"Even in Switzerland, your memory came through, where can I go without you?"

– Mel Torme

"I've always considered the French-speaking part of Switzerland as a province of France."

– Jean-Luc Godard

"I left Britain because I fell in love with someone who lived in Switzerland – that was the main thing."

– Phil Collins

"Thinking ahead is highly valued in Swiss everyday life, whether you are making plans, or catching a bus."

– Margaret Oertig-Davidson
"One time a long time ago on a mountain in Switzerland, there lived a fair young maiden, lovely but lonely."

– Roger Miller

"The Caribbean is great, but I also love the mountains as well. I'm a big skier, and I love spending time in Switzerland skiing."

– Lance Stroll

"This is a strange, little, complacent country, in many ways the USA in miniature but of course nearer the centre of disturbance!"

– Eleanor Roosevelt

"The Swiss have perfected the negative mental attitude so that it works positively. They have the happy knack of seeing the downside of any situation."

– Paul Bilton

"Norway and Switzerland are two countries marvellous countries that I very much admire, the most advanced countries in the world in fact with great qualities of life."

– Jose Manuel Borosso.

"Switzerland is a small, steep country, much more up and down than sideways, and is all stuck over with large brown hotels built on the cuckoo clock style of architecture."

– Ernest Hemingway

"In war, everybody always knows all about Switzerland, in peace times it is just Switzerland but in wartime, it is the only country that everybody has confidence in, everybody."

– Gertrude Stein
---
"To be an artist at all is like living in Switzerland during a world war. To be an artist in Zurich, in 1917, implies a degree of self-absorption that would have glazed over the eyes of Narcissus."

– Tom Stoppard

"We tried to sleep up in the banks of snow but soon discovered it was far too cold so we then retreated into town to find a place where there was level ground. Oh, call home. Oh oh, Switzerland."

– The Last Bison

"After a summer trip to Switzerland, which was rich in experiences, I started writing. In the beginning, I aimed at descriptions of nature and folklife until, as the years passed, the description of man became my chief interest."

– Henrik Pontoppidan

"I love Switzerland. It's so clean and cool. We don't get much snow where I live so I get real excited in Lausanne and Geneva. I'd like to buy a house there when I'm older and settle down. It's all so cute that it looks like a movie set."

– Michael Jackson

"When you think of a safe and solid arbitration place, you think of Switzerland, Sweden, Canada. Those attributes may be associated with clichés, but I think they resonate with a lot of people and they are a solid base for Canada to co-operate and help others."

– Christine Lagarde

"I am convinced that when Nietzsche came to Switzerland and went insane, it was not because of venereal disease, though he did have this disease. Rather, it was because he understood that insanity was the only philosophic answer if the infinite-personal God does not exist."

– Francis Schaeffer

"The Swiss are rich but like to hide it, reserved yet determined to introduce themselves to everyone, innovative but resistant to change, liberal enough to sanction gay partnerships but conservative enough to ban new minarets. And they invented a breakfast cereal that they eat for supper. Privacy is treasured but intrusive state control is tolerated; democracy is king, yet the majority don't usually vote; honesty is a way of life but a difficult past is reluctantly talked about; and conformity is the norm, yet red shoes are bizarrely popular."

– Diccon Bewes, Swiss Watching: Inside Europe's Landlocked Island
---
"Thinking ahead is highly valued in Swiss everyday life, whether you are making plans, or catching a bus"
— MARGARET OERTIG-DAVIDSON
---
3. Quotes about Switzerland
---
These Swiss quotes are perfect for short captions and sayings about Switzerland that you can use not only on social media but also presentations probably. These Swiss quotes also include many by famous celebrities!
"Switzerland would be a mighty big place if it were ironed flat."

– Mark Twain

"I never left France for Hollywood nor stashed my money in Switzerland."

– Brigitte Bardot

"Switzerland is simply a large, lumpy, solid rock with a thin skin of grass stretched over it."

– Mark Twain

"I've been to a lot of places while touring, but I'd have to say Switzerland was my favourite."

– Drake Bell

"If we heard somebody starved to death in Switzerland or Sweden, we would be shocked."

– P.J.O' Rourke

"I am Switzerland. I refuse to be affected by territorial disputes between mythical creatures."

– Stephenie Meyer

"I initially moved to Switzerland for work on an animated feature film, and have been here ever since."

– John Howe
 "Switzerland is a curst, selfish, swinish country of brutes, placed in the most romantic region of the world."

– Lord Byron

"When all the world is socialist, Switzerland will have to remain capitalist, so that it can tell us the price of everything."

– Nikita Khrushchev

"I have been to Switzerland a handful of times, and it is quickly becoming one of my favourite places to climb."

– Tommy Caldwell

"The Swiss franc is a better bet than gold and the Swiss economy more solid than the granite face of the Matterhorn."

– Paul Bilton

"Switzerland still has a huge share of the watch market, all advertised at the airport on illuminated hoardings. Gosh, they are ugly."

– Simon Hoggart

"Senator John Kerry released his plan today to eliminate the deficit. He said all we have to do is find a really rich country like Switzerland and marry it."

– Jay Leno
---
"I've been to a lot of places while touring, but I'd have to say Switzerland was my favourite"
— DRAKE BELL
---
"I am, I flatter myself, completely a citizen of the world. In my travels through Holland, Germany, Switzerland, Italy, Corsica, France, I never felt myself from home."

– James Boswell

"If I go to someplace like Switzerland, I find a lot of uptight people because they're living amongst so much beauty; there's no urgency in trying to find the beauty within themselves."

– George Harrison

"Switzerland has no competition. It sits in the middle of Europe, it has the highest technological development, it's legally safe and the political circumstances are never going to change."

– Jean Ziegler

"They may be big in Switzerland, but so are yodellers, and nobody wants to watch them fight. Heavyweight title fights should be huge events, not an after-thought in a country most famous for producing Toblerones."

– David Haye

"In Italy, for thirty years under the Borgias, they had warfare, terror, murder and bloodshed but they produced Michelangelo, Leonardo da Vinci and the Renaissance. In Switzerland, they had brotherly love; they had five hundred years of democracy and peace and what did that produce? The cuckoo clock."

– Orson Welles, Graham Greene and Carol Reed

"She thought about Switzerland. Where a smile will give you away as an American. Where what isn't taboo is de rigueur. Cold, efficient Switzerland. where the woman is comely and the men are well-groomed and everyone wears a determined face. Switzerland. The roof of Europe. Glacier carved. Most beautiful where it is most uninhabitable. Switzerland with its twenty-six shipshape cantons. Industrious Switzerland. Novartis. Rolex. Nestlé. Swatch."

– Jill Alexander Essbaum
---
4. Quotes on Switzerland
---
Some of the following quotes on Switzerland are lengthy so they're perfect if you're trying to catch the attention of the reader or want to move away from single line Switzerland captions!
---
"My main place is in Switzerland, but I live on a plane, really."

– Christopher Lambert

"My rank is the highest known in Switzerland: I'm a free citizen."

– George Bernard Shaw

"Switzerland is a country where very few things begin, but many things end."

– F. Scott Fitzgerald

"I don't like Switzerland; it has produced nothing but theologians and waiters."

– Oscar Wilde

"In an ideal world, I'd spend every weekend at my home in Zermatt in Switzerland."

– Vanessa Mae

"The outbreak of the war found my wife and me in Switzerland, where we were taking a cure."

– Fritz Kreisler

"I see the cliffs, glaciers, torrents, valleys of Switzerland – I mark the long winters and the isolation."

– James Joyce

"When I'm in the Switzerland backcountry and nobody around looks like me, people were like, 'Can I touch your hair?"

– Dhani Jones
---
"I wouldn't burden any decent system of faith by participating in it. I'm not agnostic. Just nonpartisan. Theological Switzerland, that's me."

– Jim Butcher

"For some reason, there is a purity to the Swiss Alps – certain energy – that is very reminiscent of my snowboarding experiences in the Himalayas."

– Frederick Lenz

"How could you get mad at someone who neither needed to attack nor was at all worried about being able to defend? It was like getting mad at Switzerland."

– Karl Marlantes Matterhorn

"In Switzerland, on a high mountain, not far from Lucerne, there is a lake they call Pilate's Pond, which the Devil has fixed upon as one of the chief residences of his evil spirits."

– Martin Luther

"Internationally, I love going to Switzerland. I went there many times for shooting and loved the Alps, the tranquility, cleanliness, the greenery and the warmth of the people there."

– Chiranjeevi

"The first time I passed through the country I had the impression it was swept down with a broom from one end to the other every morning by housewives who dumped all the dirt in Italy."

– Ernesto Sabato

"It's the change of rhythm which I think is what keeps me alive. In Spain I hear so much noise from my window that can't stand it. In Switzerland it's the lack of noise that drives me crazy."

– Geraldine Chaplin

"Since Switzerland has nothing else to identify it and since both its national products, snow and chocolate, melt, the cuckoo clock was invented solely in order to give tourists something solid to remember it by."

– Alan Coren
---
"For some reason, there is a purity to the Swiss Alps – certain energy – that is very reminiscent of my snowboarding experiences in the Himalayas."
— FREDERICK LENZ
---
---
"The Swiss will never be the wild child of Europe; you only have to look at their lovingly tended vegetable patches to see that. But whether they are boring or not most likely depends on the eye of the beholder."

– Clare O'Dea

"Every country has its cocktail-party question. A simple one-sentence query, the answer to which unlocks a motherlode of information about the person you just met. In Switzerland, it is, Where are you from? That is all you need to know about someone."

– Eric Weiner

"When you're dealing with Switzerland, Mr. Allon, it's best to keep one thing in mind. Switzerland is not a real country. It's a business, and it's run like a business. It's a business that is constantly in a defensive posture. It's been that way for seven hundred years."

– Daniel Silva

"The Swiss have a healthy belief that whatever originates in their own country, and preferably their own area, is the best, particularly the people. Thus, if the supermarket offers Italian strawberries at half-price, the Swiss will still buy locally-grown ones in the firm belief that theirs are vastly superior."

– Paul Bilton

"Switzerland, Europe's mountain playground, is a classic tourist draw that remains consistently popular. Visitors from the world over travel here to ascend the slopes of the Alps, breathe the crisp air, and feel on top of the world. When they come down from the mountains, they find thriving, cosmopolitan cities that are steeped in history and culture."

– Fodor

"Entire countries are reduced to their metonyms. Kenya is a safari, Norway is fjords. And Switzerland is mountains. This is an exaggeration, but the truth in it is worth thinking about: it is a country built largely in the lee of the Alps, the towns and cities formed from old human migrations that came to rest in valleys, on lakeshores, and, sometimes, in higher regions."

– Teju Cole

"I get all my ideas in Switzerland near the Forka Pass. There is a little town called Gletch, and two thousand feet up above Gletch there is a smaller hamlet called Über Gletch. I go there on the fourth of August every summer to get my cuckoo clock fixed. While the cuckoo is in the hospital, I wander around and talk to the people in the streets. They are very strange people, and I get my ideas from them."

– Dr. Seuss
---
A post about the quotes on Switzerland couldn't be complete about Zurich quotes, the capital of the country which is eclectic and a lot of fun!
---
"You go to a place for a visit and deep in your heart you think that this place can be your own home and Zurich is such a place!"

– Mehmet Murat Ildan

"So often was Zürich ranked as one of the world's best cities. She thought about that, then conceded that if she hadn't been so sad the last nine years she might have seen it."

– Jill Alexander Essbaum

"It is always easy to create an ordinary city; what is difficult is to create an extraordinary one, peaceful and restful one, smart and tidy, artful and cultivated one, in short, a livable one! And Zurich is such a city!"

– Mehmet Murat Ildan

"When I came to Zurich, the most materialistic city of Switzerland, there was nobody ready-made for my needs. I then shaped some for me. They were meant for this experience. One could see it from their dreams."

– Carl Jung
---
""You go to a place for a visit and deep in your heart you think that this place can be your own home and Zurich is such a place!"
— MEHMET MURAD ILDAN
---
Geneva…another beautiful city in Switzerland needed its own section in this Swiss quotes article! Some by popular personalities, some that talk about the beauty of the place!
---
"Geneva has the sleepy tidiness of a man who combs his hair while yet in his pyjamas."

– Lewis Mumford

"I love the region around Lake Geneva. The landscape is beautiful, very peaceful, and such a nice place to relax and spend time outdoors. It's always a pleasure to come back home."

– Stan Wawrinka

"Geneva is a city where the living conditions and hospitality provided by both the population and authorities of Geneva – at all levels – are exemplary and greatly facilitate the work and daily life of WHO employees."

– Margaret Chan

"Somewhere along the way, New York became all about money. Or rather, it was always about money, but it wasn't all about money, if you know what I mean. New York's not Geneva or Zurich yet, but we're certainly heading in that direction. London is, too."

– Graydon Carter
---
7. Swiss proverbs / Quotes about Switzerland
---
'The devil hides himself in details.'

'A clean house is a clean mind.'

'Words are dwarfs, deeds are giants.'

'When in doubt who will win, be neutral.'

'A greedy person and a pauper are practically the same.'
---
8. Swiss quote/Swiss quotes from famous Swedish personalities
---
"Switzerland is the world capital of dealing in stolen goods."

– Jean Ziegler

"The seasons had always been a part of the way I cooked and ate in Switzerland."

– Daniel Humm

"There was a joke about Switzerland being an island surrounded by land. This was never true."

– Samuel Schmid

"I grew up in Switzerland, in this kind of rigidity. It was Protestant, and I was rather shy. That influenced me a lot."

– Rene Burri

"I have fond memories from growing up in Switzerland and drinking a glass of warm milk with a spoonful of honey before bed."

– Daniel Humm
---
I've always enjoyed playing in Switzerland. The crowd support is amazing here, and Basel is one of the best indoor tournaments in the world.

– Stan Wawrinka

"We have so many rich people in Switzerland. They should take more responsibility for the general public. There is almost no tradition of philanthropy here anymore, unlike in the U.S."

– Hansjorg Wyss
---
9. Swiss quotes about chocolate
---
"I'm from Switzerland, so I grew up with great chocolate."

– Daniel Humm

"I'm Switzerland; neutral as can be, and also with great chocolate."

– Neal Shusterman

"I'll splurge on Toblerone. I love Toblerone with the Swiss chocolate and nougat in it."

– Jordin Sparks

"Switzerland is a place where they don't like to fight, so they get people to do their fighting for them while they ski and eat chocolate."

– Larry David
---
"I'm from Switzerland, so I grew up with great chocolate."
— DANIEL HUMM
---
10. Swiss quotes about politics
---
"Space, like Switzerland, should be neutral."

– Andy Rooney

"Landlocked Switzerland: They're nice and neutral only because they're tiny."

– Marisha Pessl
---
11. Swiss quotes that are funny
---
"I've always wanted to go to Switzerland to see what the army does with those wee red knives."

– Billy Connolly

"Switzerland is only bearable covered with snow like some people are only bearable under a sheet."

– Graham Greene

"It is the middle of December now, and we are about to travel to Switzerland – where we plan to ski a little, relax a little, and shoot a Dutch politician a little."

– Hugh Laurie

"A U.N. study claims the happiest country in the world is Switzerland. When asked why they're so happy, Swiss people couldn't answer because their hands were counting money and their mouths were full of chocolate."

– Conan O' Brien

"The Swiss have an interesting army. Five hundred years without a war. Pretty impressive. Also pretty lucky for them. Ever see that little Swiss Army knife they have to fight with? Not much of a weapon there. Corkscrews. Bottle openers. 'Come on, buddy, let's go. You get past me, the guy in the back of me, he's got a spoon. Back off. I've got the toe clippers right here."

– Jerry Seinfield
---
There's more to Switzerland than Interlaken, Lucerne and Bern. Want to enjoy the alpine landscapes minus the crowds ? Consider hiking in Appenzellerland.
Stay on longer, wander through the mountains and enjoy the outdoors in Switzerland!
---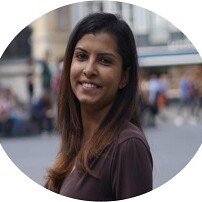 Award-winning Analyst, multi-nominated digital content creator and photographer Lavina Dsouza's words capture stories about culture and tradition mainly through its food and people. She has written and contributed to publications such as The Washington Post, Lonely Planet and Matador Network, to name a few. She is the editor of UntraditionalHumans.com, a non-profit created to share inspiring stories from women of colour who break free from traditions and choose happiness.
She's also a speaker passionate about DEI and champions solo travel. She has collaborated with numerous renowned brands such as Intrepid Travel, TripAdvisor, Travel and Leisure and Adobe, to name a few.
She can be found on Twitter and Instagram.
---
---
---
Some of the links on this post are affiliate links. These do not cost you extra to use, but will help provide Continent Hop with a small commission if/when you purchase through them, to recover some of the costs of running this website and providing free content to help you plan your travel. I appreciate your support!
---