If you've always wanted to visit Venice, make sure you don't miss out on visiting the colorful island of Burano! Burano can be done in a day! Plan your trip using some of these best things to do Burano (Italy) Venice!
Venice is a magical place. It is easy to get lost among the labyrinth of cobblestone streets combined with the canals and the beauty of this floating city. However, there is much to the island than the city itself.
Venice is surrounded by many beautiful and picturesque islands that make up the Venetian Lagoon. And one such island is Burano.
Burano, a small fishing town, is only a ferry ride away from Venice and is home to colourful houses, little artisan shops, Burano lace and more.
Intrigued? Here is a guide on things to do in Burano that will help in exploring the entire island.
---
Best things to do in Burano, Venice
---
But first – Getting to Burano
Take the Vaporetto (water bus) on route 12 from Fondamenta Nova ferry terminal to get from Venice to Burano. A water bus runs every 20 – 30 minutes throughout the day.
Check the timetable here to figure out how to get from Venice to Burano by ferry.
A private water taxi will cost at least 130 – 140€ for a one-way trip from Venice to Burano.
A ticket via ferry to Burano will cost about €7.5 one way and €15 return.
More details about getting from Venice to Burano , ferry tickets and costs (including stops to other islands) can be found in this article.
---
Here's what to do on Burano Venice
---
Things to do in Burano #1- Explore the rainbow-coloured houses
Burano is a photographer's paradise with brightly coloured houses lining the canals.
The colour of the houses have two very different but interesting theories.
The first is that some people believe that fishermen in Burano had trouble finding their houses when they returned late.
Therefore, they decided to paint their houses in the most beautiful and bright colours to make it easier to know where to moor the boats. While the second theory, states that there was a practical reason and a way of marking the houses.
While the real reason is unknown, that does not mean they should not be admired for their beauty.
Wander along the canals and the side streets as you watch the houses aligned in the colours of the rainbow and other colours between them. One is bound to spot a house that is in their favourite colour, And a common practice is finding a house that matches the colour of the dress and snapping a picture in front of it. Cliché but beautiful.
However, be mindful that these are people's homes. Therefore, respect their privacy and do not spend long hours standing in front of their home and snapping pictures.
---
Things to do in Burano #2- Visit the Leaning Tower of Burano
Next on the list of things to do in Burano, Venice is the small replica of the Leaning Tower of Pisa.
After the rainbow houses, the most prominent landmark of Burano is the leaning tower.
The former bell tower of San Martino Church looks stunning against the backdrop of the colorful houses. And the best time to capture the 53m slanted tower is during the water bus ride from Venice.
During that time, there is an unobstructed view of the tower and house, contributing to an unusual shot.
Apart from this, the highlight is Giambattista Tiepolo's painting of the crucifixion located inside the church.
---
For as little as 20€, you can take an organised half-day or full-day tours from Burano to Venice. Private boat packages cost for 100–200€. You can check out here for Burano that also include Torcello and Murano.
A half-day journey to Burano and Murano is another option. Check out the Lagoon tours, which spend the entire day taking you around the islands and Venice lagoon.
---
Things to do in Burano #3- Stop at the iconic Casa Di Bepi Sua
While there are many colorful houses on the island, the most prominent is Casa Di Bepi Sua or simply called Bepi's house. The iconic home is covered in bold geometric shapes that extend to the house's doors and shutters.
But what is the story behind the house?
Once upon a time, there was a man called Giuseppe Toselli who lived here. He worked as a maintenance man at a cinema before it shut down. After that, he went to sell candies in the town's main square earning him the name 'Bepi Sua'.
He painted the house and while it has been restored, the façade is still intact. It is also said that he used to hang a white sheet over the façade of the house to convert it into an outdoor cinema for local children.
Doesn't history add another depth to the house?
---
---
Things to do in Burano #4- Learn Burano's lace history
A trip to Burano is incomplete without an insight into the intricate and delicate lace history.
The lace tradition began on this island in the late 15th century or early 16th century and continued till the 18th century. It waned off after that but was revived in the 19th century.
Traditionally, the lace was made with needles. But the process is very slow and involves many labour hours, making the end product very expensive.
Across the island, there are many shops selling delicate lace. However, many of them can be fake, as they are either imported from China or made with machines. And the way to spot them is the price.
A handkerchief made with the original handmade lace will cost $50 or more. And one tablecloth took the women more than a year to make and can cost $500 or more.
La Perla on Via Galuppi is an excellent spot to see how the lace was made. Craftsmen here often show different techniques and also sell authentic lace. Another great place is Martina Vidal where women have been crafting laces for four generations.
To catch a glimpse of the rich history of lace on the island, visit the lace museum or Museo del Merletto. They house laces that date back to the 17th century providing an overview of the history.
---
DETAILS
Museo del Merletto / Lace Museum
Address: P.za Baldassarre Galuppi, 187, 30142 Venezia VE
Timings: 12 pm – 4 pm from Thursday to Sunday, closed from Monday to Wednesday
Cost: €5 for full ticket, €3.5 for students for children, students and visitors over 65, free for Venetian residents and citizens
---
Things to do in Burano #5- Admire the pretty churches
Next on the list of things to do in Burano, Venice are the exotic churches.
Many tourists are often left wandering near the rainbow-coloured houses.
However, Burano does have some pretty churches with beautiful architecture. The two churches that should make the cut are the Chapel of Santa Barbara and Martino Vescovo's Church.
---
DETAILS
San Martino, Burano/ St. Martin Church
Address: P.za Baldassarre Galuppi, 20, 30142 Venezia VE
Timings: 8 am – 12 pm, 3 pm – 7 pm
Cappella di Santa Barbara/Santa Barbara Chapel
Address: P.za Baldassarre Galuppi, 22, 30142 Venezia VE
Timings: 8 am – 12 pm, 3 pm – 7 pm
---
Things to do in Burano #6- Eat and shop at Galuppi street
Galuppi street is the main street in Burano lined with numerous restaurants and shops.
Since lace is popular on the island, you will find many stores selling some here, however be aware that some of it may be machine made. Hence make sure to specifically ask for handmade lace products.
Handmade lace is expensive than machine produced lace. Shops like La Perla and Dalla Lidia Merletti D'Arte are some good spots to buy some.
Since you are by the sea, if hungry and need a snack make sure to try the sardines and shrimps at the cafes here. The Trattoria Al Gatto Nero, a Michelin recognized restaurant, is located on Galuppi Street and is best known for its pasta and seafood.
Even for such a small island, Burano has its special dessert – the Bussolai!
They're Venetian butter cookies and can be found at any bakery here.
---
Things to do in Burano #7- Embark on a walking tour with a local
There is nothing like getting a local perspective when it comes to visiting any place.
There are multiple guided tours offered by various companies that are hosted by guides born and raised in Burano, Venice. These tours give an insight into the daily life on the island, insider tips on some quiet offbeat places and a list of places to enjoy the most delectable local foods.
Things to do in Burano #8- Visit the town's main square
The main square of Piazza Galuppi is a must-do on things to do in Burano, Venice.
The square houses many attractions like a stone Istrian well that dates back to the 6th century. Also, spot the status of Baldassare Galuppi, a composer from the 18th century. He was known for composing comic operas and religious music.
And he held positions like the court composer for Catherine the Great in St Petersburg, Russia and Maestro of the Doge's Chapel in St Mark's Basilica in Venice.
---
Things to do in Burano #9- Catch the sunset at Pescaria Vecia
Pescaria Vecia is an old fish market on the island that is no longer the bustling hub that it once was years ago. But the one special thing about this place is the dreamy sunset over the Venetian Lagoon.
Many tourists visit Burano for a few hours or a day and, therefore, this is a great way to enjoy some relaxation and downtime away from the crowds.
---
Things to do in Burano #10 – Snap pictures at Tre Ponti
Like Venice, Burano also has many bridges to admire. But the perfect placement for photographs is offered by Tre Ponti.
The wooden bridge is located at the crossroads of Burano's picturesque canals, offering the most photogenic vantage points. Photographers especially cannot miss out on this spot.
---
Things to do in Burano #11- Try the traditional Burano biscuits
Bussolai Buranei is Venetian butter biscuits that are a specialty in Burano. Their origin date back to years ago when fishermen's wives would bake sweet treats when their husbands were out at sea for long periods of time.
They are made from flour, sugar, butter and eggs and crafts in the shape of an 'S'. Also called Buranelli, these sweet treats can be found across various bakeries on the island.
---
Things to do in Burano #12- Shop for souvenirs at the local artisan shops
The last item on the list of things to do in Burano, Venice are the artisan shops.
Looking for souvenirs that do not lace? Along the canal, there are many small cut artisan shops that sell beautiful handmade items like clocks, jewellery, ornaments and more. Some of the shops are Over the colour, Violarancio 900 and Riflessi.
---
What are some top places to eat in Burano, Venice?
Burano has always been a fishing village. And that means delicious seafood restaurants. While there are many restaurants along the main canal, wander down the smaller streets for more local options.
Expect classic Italian dishes with a Burano local twist. Here are some highly recommended places:
– Trattoria Al Gatto Nero
This little family-run place serves the best homemade pasta, so much so that Jamie Oliver mentioned it on his TV show. It can usually be very busy. Therefore, either arrive early or make a reservation in advance.
– Osteria Al Fureghin
Located on the canal, this place is wonderful to enjoy a glass of wine and watch people pass by. They have a large selection of seafood dishes and vegetarian options, as well.
– Ristorante Pizzeria Principe
For those travelling in a large group, this restaurant is a very good option. They have a huge menu that includes seafood, pasta and pizza. Furthermore, this place is happy to make modifications according to tastes and allergies.
---
---
Looking for a one night stay on the island?
Burano has many pleasant and cozy flat rentals and guest houses, where you can explore the island at night with the locals and avoid the crowds. I would recommend the following hotels for a stay:
Casa Sul Cielo Di Burano

This AirBnB is great for larger groups and includes a patio and balcony in addition to 3 bedrooms and 2 bathrooms.

A charming, contemporary guest house with wonderful island views including all necessary amenities.

Venissa

A beautiful, chic boutique hotel surrounded by vineyards and orchards.
---
Best time to visit Burano
Tourism in Burano is similar to tourism in Venice, Italy – the best times stay the same.
Venice and its islands are great to visit most times of year however when visiting Burano, here's a few things to keep in mind:
Burano will be busy during the weekends

Between November – January some places may face flooding

Summer will always be busy in Venice and hence Burano as well. It will be super crowded during the Venice Carnival

It's best to start early morning. Many people opting for a half day tour of Burano leave mid noon thus making it quite busy this time of day
---
Even though Burano is just 45 minutes from Venice, the island has a very different vibe than other areas in Italy.
There are many things to do in Burano, Venice, like strolling through the vibrant homes and indulging in relishing local cuisine.
Make sure to spend more than one day to Venice to ensure that you don't miss out on seeing this vibrant island nearby!
---
FAQs for visiting Burano, Venice
I have highlighted some frequenstly asked questions about Burano, Venice.
When is the best time to visit Burano, Venice?
The tourism season in Burano corresponds with the tourist season in Venice. Therefore, the biggest crowds are found in the summer months. To balance good weather with fewer tourists, spring and autumn are the best times.
Winter is the low season and, thus, everything on the island is cheaper. But it rains a lot, making the island prone to flooding.
How much time to spend in Burano, Venice?
Love photography and colourful architecture? Then an entire day is enough. However, spending half a day or a few hours are also enough to see the entire island and explore the main attractions.
How to get around Burano, Venice?
The island is small enough to explore on foot or bike. There are no motor vehicles available here adding to the charm of exploring a Venetian Renaissance town. And to move around the canals, gondolas and water taxis are also available like in Venice.
How to get from Venice to Burano, Venice?
The water taxi is the best medium of transportation from Venice to Burano. Take the No.12 water taxi from the Fondamente Nove station. The water taxi station is about 1 km from Rialto Bridge.
Depending on the requirement, buy a single one-way ticket that will cost €7.50 valid for 75 minutes. Alternatively, there are also passes available for either 24 hours or 48 hours.
What is the difference between Murano and Burano, Venice?
Murano and Burano are totally distinct even though their names sound similar. Murano is closer to to Venice and a glass-making industry, which were relocated to Murano from Venice in 1291 because they constituted a serious fire hazard to the city, can be found on Murano.
Since then, Murano glass has been renowned throughout the world, and tours of the glass factories are famous.
---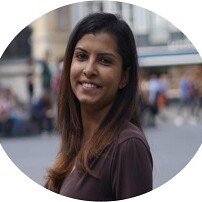 Award-winning Analyst, multi-nominated digital content creator and photographer Lavina Dsouza's words capture stories about culture and tradition mainly through its food and people. She has written and contributed to publications such as The Washington Post, Lonely Planet and Matador Network, to name a few. She is the editor of UntraditionalHumans.com, a non-profit created to share inspiring stories from women of colour who break free from traditions and choose happiness.
She's also a speaker passionate about DEI and champions solo travel. She has collaborated with numerous renowned brands such as Intrepid Travel, TripAdvisor, Travel and Leisure and Adobe, to name a few.
She can be found on Twitter and Instagram.
---
---
---
Some of the links on this post are affiliate links. These do not cost you extra to use, but will help provide Continent Hop with a small commission if/when you purchase through them, to recover some of the costs of running this website and providing free content to help you plan your travel. I appreciate your support!
---