Venice is magical and worth a visit! This quotes on Venice post has numerous sections such as quotes about Venice, Venice captions, Venice quotes Instagram, Venice travel quotes, Venice sayings, Venice love quotes etc. I hope these quotes inspire you to explore Venice next!
There is no other city like Venice on a mini break. Water canals instead of roads and boats surround you wherever you go.
Beautiful bridges, famous churches, Italian art, and great food… There's so much to do in Venice. You can also take the Venice to Burano ferry to see the nearby island of Burano and Murano.
If you haven't been to Venice, I hope these quotes on Venice by prominent authors, artists, or travellers in awe of the city, help spark your curiosity to explore the city.
Irrespective of how you use these top quotes on Venice – as Instagram quotes, Venice captions, wallpapers or to take you down memory lane, these quotes are the best quotes on Venice put together!
Quotes on Venice : 100 Top Venice quotes for inspiration!
---
This list of quotes on Venice has quotes under different sections, such as Venice travel quotes, Venice captions/Venice quotes Instagram, sayings about Venice etc. so that it is easier to read through.
I have also added imagery if you'd like to save it on your Pinterest board.
Save this page or bookmark it for later for the best quotes on Venice.
---
1. Venice Captions / Venice Quotes Instagram
These quotes on Venice are perfect for that quick Instagram or Reel caption while you're on your Italy in summer holiday, or for that Pinterest pin!
It could also be used for that postcard, or destination themed invite!
---
"In memory Venice is always magic."

– Barbara Grizzuti Harrison

"An orange gem resting on a blue glass plate: it's Venice seen from above."

– Henry James

"Venice, the most touristy place in the world, is still just completely magic to me."

– Frances Mayes

"When I seek another word for 'music', I never find any other word than 'Venice."

"If you read a lot, nothing is as great as you've imagined. Venice is — Venice is better."

– Fran Lebowitz
---
"Venice, it's temples and palaces did seem like fabrics of enchantment piled to heaven."

– Percy Bysshe Shelley

"When I went to Venice, I discovered that my dream had become- incredibly, but quite simply- my address."

– Marcel Proust

"A wondrous city of fairest carving, reflected in gleaming waters swirled to new patterning by every passing gondola."

– Sylvia Pankhurst
---
2. Quotes about Venice Italy
---
"Paris is an ideal place to become informed, while Venice is a place to think and write."

– Pontus Hulten

"Venice is the city of mirrors, the city of mirages, at once solid and liquid, at once air and stone."

– Erica Jong

"In the winter, Venice is like an abandoned theatre. The play is finished, but the echoes remain."

– Arbit Blatas

"Venice is a complicated place, physically and spiritually, and it is extraordinarily difficult to establish Venetian facts. Nothing is ever quite certain."

– Jan Morris

"If I could live in one city and do every single thing I do there, I would choose Venice. You can't turn your head without seeing something amazing."

– Nile Rodgers

"It is always assumed that Venice is the ideal place for a honeymoon. This is a grave error. To live in Venice or even to visit it means that you fall in love with the city itself. There is nothing left over in you
3. Venice Quotes by artists
---
"Venice is the most romantic place in the world, but it's even better when there is no one around."

"Venice was and is full of lost places where people put up for sale the last worn bits of their souls, hoping no one will buy."

– Ray Bradbury

"You fling the window open, and the room is instantly flooded with this outer, pearl-laden haze, which is part of damp oxygen, part coffee and prayers."

– Joseph Brodsky

"I became fascinated by marionettes, which I first saw in Venice. They were so haunted and so alive. You walked by them, and you could feel their presence, with their beady eyes just fixed on you."

– Laura Amy Schlitz

"The perennial wonder of Venice is to peer at herself in her canals and find that she exists – incredible as it seems. It is the same reassurance that a looking glass offers us: the guarantee that we are real."

– Mary McCarthy
---
"You fling the window open, and the room is instantly flooded with this outer, pearl-laden haze, which is part of damp oxygen, part coffee and prayers."
— JOSEPH BRODSKY
---
"Venice is a place that is high on reinvention. The kind of place that you can go and be whoever it is you want to be and do whatever it is you want to do, and nobody's going to ask you a lot of questions about it."

– Will Arnett

"In winter you wake up in this city, especially on Sundays, to the chiming of its innumerable bells, as though behind your gauze curtains a gigantic china tea set were vibrating on a silver tray in the pearl-grey sky."

– Joseph Brodsky

"But at night, especially when the Moon is full, and the soft illumination reflects off the water and onto the palaces – I don't know how to describe it so I won't, but if you died and in your will, you asked for your ashes to be spread gently on the Grand Canal at midnight with a full moon, everyone would know this about you – you loved and understood beauty."

– William Goldman
---
4. Quotes Venice by authors
---
"It seemed like a magical city, floating on the lagoon as if conjured by an enchanter's wand."

– Kate Forsyth

"Venice once was dear, The pleasant place of all festivity, The revel of the earth, the masque of Italy."

– Lord Byron

"His clothing marked him as Italian. The cadence of his speech announced that he was Venetian."

– Donna Leon

"The quality of Venice that accomplishes what religion so often cannot is that Venice has made peace with the waters."

– Mark Helprin

"In the glare of the day, there is little poetry about Venice, but under the charitable moon, her stained palaces are white again."

– Mark Twain

"Venice seemed incredibly lovely, elvishly lovely–to me like a dream of Old Gondor, or Pelargir of the Numenorean Ships, before the return of the Shadow."

– J. R. R. Tolkien

"In Venice, Tass's echoes are no more, And silent rows the songless gondolier; Her palaces are crumbling to the shore, And music meets not always now the ear."

– Lord Byron
---
"It seemed like a magical city, floating on the lagoon as if conjured by an enchanter's wand"
— KATE FORSYTH
---
"In Venice, if you didn't know where you were going, you usually ended up in the Piazza, and since that was always true, maybe it was always where you were going."

– Scott Stavrou

"Venice has always fascinated me. Every country in Europe then was run by kings and the Vatican except Venice, which was run by councils. I've always wondered why."

– Alan Furst

"There is something so different in, Venice from any other place in, the world, that you leave at, once all accustomed habits and, everyday sights to enter an enchanted garden."

– Mary Shelley

"This was Venice, the flattering and suspect beauty this city, half fairy tale and half tourist trap, in whose insalubrious air the arts once rankly and voluptuously blossomed, where composers have been inspired to lulling tones of somniferous eroticism."

– Thomas Mann
---
"Every time I describe a city I am saying something about Venice."

– Italo Calvino

"Venice is like eating an entire box of chocolate liqueurs in one go."

– Truman Capote

"Perhaps I am afraid of losing Venice all at once if I speak of it, or perhaps, speaking of other cities; I have already lost it, little by little."

– Italo Calvino

"And off in the far distance, the gold on the wings of the angel atop the bell tower of San Marco flashed in the sun, bathing the entire city in its glistening benediction."

– Donna Leon

"My mother took me to Venice one time and showed me all the houses where famous composers used to live. It gave me a fascination for music and the city, but also architecture. It was a valuable lesson."

– Ben van Berkel

"I am, I flatter myself, completely a citizen of the world. In my travels through Holland, Germany, Switzerland, Italy, Corsica, Greece, France, I never felt myself from home."

– James Boswell

"I'm often in Venice in November and December when it's foggy and wintry, and the decorations in the shops and the lights in the churches make the place feel both Christmassy and melancholic."

– Juergen Teller
---
6. Quotes Venice Italy on its beauty
---
"A realist, in Venice, would become a romantic by mere faithfulness to what he saw before him."

– Arthur Symons

"If anything can rival Venice in its beauty, it must be its reflection at sunset in the Grand Canal."

– Peggy Guggenheim

"I had my dreams of Venice, but nothing that I had dreamed was as impossible as what I found."

– Arthur Symons

"To build a city where it is impossible to build a city is madness in itself, but to build there one of the most elegant and grandest of cities is the madness of genius."

– Alexander Herzen

"It's so easy for me to get caught up in the feeling of a city like Venice, where Everything is just beautiful colour and gorgeous buildings that are so peaceful. You can roam around and get lost in the labyrinth."

– Nanette Lepore
---
"Venice is a city built on water. It is preposterous. If you couldn't see it with your own eyes and touch it with your fingers, you would think it was some poetic fancy. It really shouldn't be there at all. But it is. And it is beautiful beyond words."

– Russell Norman

"No one forgets the first glimpse of Venice. Whether arriving by plane, boat, train, or car, there is that startling moment when one looks across the waves and finds what should not be there – stone towers, rich churches, and packed buildings rising out of the sea. The extraordinary beauty of Venice only adds to its improbability. How does such a city exist?"

– Thomas F. Madden
---
"Venice can wash through you all the memories you have never made."

– Glenn Haybittle, The Way Back to Florence

"Nothing ever seems straightforward in Venice, least of all its romances."

– Roger Ebert

"Venice never quite seems real, but rather an ornate film set suspended on the water."

– Frida Giannini

"If a couple in a gondola kiss as they pass under each bridge, they will remain in love forever."

– Venetian folklore
---
"Venice never quite seems real, but rather an ornate film set suspended on the water."
— FRIDA GIANNINI
---
"A journey is best measured in friends, rather than miles."

– Tim Cahill

"Good company in a journey makes the way seem shorter."

– Izaak Walton

"I get a friend to travel with me… I need somebody to bring me back to who I am. It's hard to be alone."

– Leonardo DiCaprio
---
"If you want to go for a romantic break or a quick break in Italy, it has to be Venice."

– Gino D'Acampo

"I always wanted to go to Venice. It's supposed to be the romance capital of the world."

– Gordon Korman

"History and legend and art and romance meet and mingle to create that indefinable sorcery of Venice. It is like nothing on Earth except a poet's dream."

– Lilian Whiting
---
---
Here are some quotes on Venice about travel and the experience of visiting the city –
"Venice is incredible. Although you may have seen it in pictures, you can't grasp how beautiful it is until you visit."

– Gino D'Acampo

"I cannot write about Venice; I can only write about me, and the sleeping parts of myself that Venice has shocked into wakefulness."

– Jessica Zafra

"I will never forget experiencing Venice for the first time. It feels like you are transported to another time – the art, music, food and pure romance in the air are like no other place."

– Elizabeth Berkley

"Venice, Italy, for instance, pulls in a millions tourists for their own Carnival season but the actual local population is only a couple of hundred thousand. Lots of empty canals and streets at night, especially when you get away from the big hotels, and the residents pretty much have it to themselves when tourist season slows during the winter."

– Tad Williams
---
"I will never forget experiencing Venice for the first time. It feels like you are transported to another time – the art, music, food and pure romance in the air are like no other place."
— ELIZABETH BARKLEY
---
---
What many don't know about Venice is that Venice has islands in its vicinity ….and they're colorful and beautiful, full of history and culture! Murano, Burano and Torcello are the most popular.
Consider adding these to your Venice itinerary…you will be pleasantly surprised!
---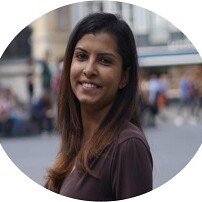 Award-winning Analyst, multi-nominated digital content creator and photographer Lavina Dsouza's words capture stories about culture and tradition mainly through its food and people. She has written and contributed to publications such as The Washington Post, Lonely Planet and Matador Network, to name a few. She is the editor of UntraditionalHumans.com, a non-profit created to share inspiring stories from women of colour who break free from traditions and choose happiness.
She's also a speaker passionate about DEI and champions solo travel. She has collaborated with numerous renowned brands such as Intrepid Travel, TripAdvisor, Travel and Leisure and Adobe, to name a few.
She can be found on Twitter and Instagram.
---
---
EXPLORE MORE TRAVEL QUOTES
---
Some of the links on this post are affiliate links. These do not cost you extra to use, but will help provide Continent Hop with a small commission if/when you purchase through them, to recover some of the costs of running this website and providing free content to help you plan your travel. I appreciate your support!
---