Travelling alone is fun and liberating, solo travel can be scary at times but is one of the best things you can do for yourself! . This post on travel alone quotes has numerous sections such as lonely travel quotes, alone travel quotes, solo travelling quotes, lone traveler quotes amongst others. I hope these inspire you to plan your next solo holiday!
Have you ever experienced a rollercoaster of emotions in one go? Excitement, nervousness, fear, euphoria, and enlightenment all in one? This experience of alone travel is the tip of the iceberg of what solo travelling has meant for me.
Beautiful places, different cultures, and lip-smacking food, but all of your choices, is what travelling solo is all about. Yes, solo travelling has its advantages in the form of freedom, peace, stepping out of your comfort zone, and mental stimulation, you experience how brave you are on this journey as a solo traveller!
A shift in mindset from the experience being a lonely travel to a revelation masked in varied beautiful experiences is what wanderlust solo travel will wrap into.
Being a solo traveller, I understand how intimidating it can be even to contemplate alone travel but be assured, it will be one of the best experiences of travelling alone you will ever have without perceiving it as a lonely trip.
Here are a few quotes on lonely travel/solo travel that will help ignite the fire in you to travel alone and nudge you to take that courageous step to see how beautiful the world is.
So are you ready to be roaming alone and stepping into this rollercoaster of a ride?
Lonely travel quotes /Alone travel quotes: 100 top travel alone quotes
---
Did you have a very long day and the thought of traveling excites you?
Here are some quotes on traveling solo that will inspire you to pack your bags and take that step of roaming alone and taking the much-needed break you deserve. Wanderlust solo travel awaits you…
---
1. Lonely travel quotes / Alone travel quotes
---
"Traveling alone makes you vulnerable to being moved by things"

– Marlowe Granados, Happy Hour

"You must go on adventures alone, to find out where you belong"

– Sue Fitzmaurice

"Some journeys can be only traveled alone"

– Ken Poirot

"To awaken quite alone in a strange town is one of the most pleasant sensations in the world. You are surrounded by adventure"

– Freya Stark

"You do not travel if you are afraid of the unknown, you travel for the unknown, that reveals you with yourself"

– Ella Maillart

"Seek joy. Seek more questions than answers. Seek jobs, friends, lovers, homes in which or with whom you feel utterly yourself. Better yet, seek experiences that challenge you to become even more yourself — that is, to grow"

– Toby Israel, Vagabondess: A guide to a solo female traveler

"I don't care to duplicate the travels that others have taken"

– Holly Winter Huppert, Cheese for Breakfast: My Turkish Summer
"I am seated here alone, a thousand miles away, from everybody, but if I have myself and my sanity, I've got nothing else to lose"

– Michael Bassey Johnson, Song of a nature lover

"Solo Travel?? Even if you take yourself along, you are traveling with a huge crowd"

– Ansh – The Mystic Rider

"We don't know what's coming next, but we can go to it with purpose. We can go to it dancing."

– Toby Israel, Vagabondess: A guide to a solo female traveler
---
You're 21 years old, 37 years old, or 64 years old, there are no age criteria when it comes to travelling alone. Here are a few Travel alone quotes to motivate you to not think about your age and just go for it.
---
"The real voyage of discovery consists not in seeing new landscapes, but in having new eyes"

– Marcel Proust
"Every dreamer knows that it is possible to be homesick for a place you've never been to, perhaps more homesick than for familiar ground"

– Judith Thurman
"There is a kind of magic-ness about going far away, and then coming back all changed"

– Kate Douglas Wiggin

"If we were meant to stay in one place, we would have roots instead of feet"

– Rachel Wolchin

"I travel not to cross countries off a list, but to ignite passionate affairs with destinations"

– Nyssa P. Chopra

"When you're traveling with someone, you share each discovery. But when you are alone, you have to carry each experience with you like a secret, something you have to write on your heart because there's no other way to preserve it"

– Shauna Niequist

"The more I traveled, the more I realized that fear makes strangers of people who should be friends"

– Shirley Maclaine
---
"And if travel is like love, it is, in the end, mostly because it's a heightened state of awareness, in which we are mindful, receptive, in dimmed by familiarity and ready to be transformed. That is why the best trips, like the best love affairs, never really end"

– Pico Iyer

"We travel, some of us forever, to seek other states, other lives, other souls"

– Anaïs Nin

"Through travel I first became aware of the outside world; it was through travel that I found my own introspective way into becoming a part of it"

– Eudora Welty
---
"If we were meant to stay in one place, we would have roots instead of feet"
— RACHEL WOLCHIN
---
3. Quotes on lonely travel
---
Oh, I wish I went here, I wish I experienced this, I wish someone would take a trip with me, what if I miss out on exploring this alluring world if no one is there to go with me? Well you don't have to give it too much thought now, here are some quotes on lonely travel that will make you get out there even if you're solo!
"The man who goes alone can start today, but he who travels with another must wait till that other is ready"

– Henry David Thoreau

"Jobs fill your pocket, but adventures fill your soul."

– Jamie Lyn Beatty

"Once a year, go someplace you have never been."

– Dalai Lama

"I am not the same, having seen the moon shine from the other side of the world."

– Mary Anne Radmacher

"Traveling is rebellion in its purest form."

– Unknown

"A journey of thousand miles begins with a single step."

– Lao Tzu

"I am never happier than when I am alone in a foreign city. It is as if I had become invisible."

– Storm Jameson

 "My favorite thing is to go where I have never been."

– Diane Arbus

"Traveling alone will be the scariest, most liberating, life-changing experience of your life."

– Unknown

"Loving life is easy when you are abroad. Where no one knows you and you hold your life in your hands all alone, you are more master of yourself than at any other time."

– Hannah Arendt
---
"I am never happier than when I am alone in a foreign city. It is as if I had become invisible"
— STORM JAMESON
---
4. Quotes for travelling alone
Travelling alone can seem to be an overwhelming experience but once you put your foot forward into this experience, be assured you will encounter a plethora of emotions. Give a read to these quotes for travelling alone.
---
"The journey of life is amazingly beautiful if you take it as a fearless adventure."

– Debasish Mridha

"When a thing beckons you to explore it without telling you why or how, this is not a red herring; it's a map."

– Gina Greenlee

"If you make friends with yourself you will never be alone."

– Maxwell Maltz

"There are some places in life where you can only go alone. Embrace the beauty of your solo journey."

– Mandy Hale

"You are the one that possesses the keys to your being. You carry the passport to your own happiness.."

– Diane Von Furstenberg

"I wondered why it was that places are so much lovelier when one is alone."

– Daphne Du Maurier
"The inner journey of travel is intensified by solitude."

– Paul Theroux
"Some beautiful paths can't be discovered without getting lost."

– Erol Ozan
"It is pointless to embark on any journey if you do not believe yourself worthy of the destination."

– Anthon St. Maarten
"The goal of my life is to tie adventure to my feet, stock memories in my pocket, hold imagination in my palms like fairy dust and sprinkle it on my tales."

– Mitali Meelan
"The steward just asked me if I was not afraid to travel alone, and I said, "Why, it is life."

– Emily Hahn

"I love to see a young girl go out and grab the world by the lapels. Life's a bitch. You've got to go out and kick ass."

– Maya Angelou

"Switzerland is a country where very few things begin, but many things end."

– F. Scott Fitzgerald

"Don't ever accept anyone else's preconceived limitations. If there's something you want to do, there isn't any reason you can't do it."

– Amy Dodson

"Do you really want to look back on your life and see how wonderful it could have been had you not been afraid to live in?"

– Caroline Myss

"You lose sight of things… and when you travel, everything balances out."

– Daranna Gidel

"Always go with the choice that scares you the most, because that's the one that is going to require the most from you."

– Caroline Myss

"Traveling solo does not always mean you're alone. Most often, you meet marvelous people along the way and make connections that last a lifetime"

– Jacqueline Boone
"The woman who follows the crowd will usually get no further than the crowd. The woman who walks alone is likely to find herself in places no one has ever been."

– Albert Eintsein

"Wanderlust consumed her; foreign hearts and exotic minds compelled her. She had a gypsy soul and a vibrant hope for the unknown."

– D Marie

"Wherever you go becomes part of you somehow."

– Anita Desai
---
"The woman who follows the crowd will usually get no further than the crowd. The woman who walks alone is likely to find herself in places no one has ever been."
— ALBERT EINTSEIN
---
---
6. Traveling alone quotes
---
Have you ever gone traveling alone in the city at night or for a morning stroll in nature? Isn't it exhilarating? Well for more traveling alone inspiration, go ahead and read these traveling alone quotes.
"Be brave. Take risks. Nothing can substitute experiences."

– Paulo Coelho

"I love the feeling of being anonymous in a city I have never been."

– Bill Bryson

"Dare to live the life you've always wanted."

– Ralph Waldo Emerson

"We must travel in the direction of our fear."

– John Berryman

"Traveling- It leaves you speechless, then turns you into a storyteller."

– Ibn Battuta

"Live life with no excuses, travel with no regret."

– Oscar Wilde

"If it scares you, it might be a good thing to try."

– Seth Godin
"We wander for distraction, but we travel for fulfillment."

– Hilaire Belloc
"To shut your eyes is to travel."

– Emily Dickinson

"Aimlessness isn't purposelessness. Not to me. Aimlessness isn't meaningless. Quite the contrary. Aimlessness isn't an absence from life, it is a full-bodied presence in it. To wander aimlessly is to move through the world without the conceit that we actually know what is coming next. That is, to move through the world with grace."

– Toby Israel, Vagabondess: A guide to a solo female traveler
---
7. Alone Travel captions / Alone journey captions
---
Alone travel doesn't seem to be such a scary thing when it comes with proper planning and zest to explore. Here are alone travel quotes to give you that extra nudge for travelling alone.
---
"One thing that I love about traveling is feeling disoriented and removed from my comfort zone."

– Sarah Glidden

"A good traveler has no fixed plans, and is not intent on arriving."

– Lao Tzu

"Always go with the choice that scares you the most, because that's the one thing that is going to require the most from you."

– Caroline Myss

"I think one travels more usefully when they travel alone, because they reflect more."

– Thomas Jefferson
"When the traveler goes alone he gets acquainted by himself."

– Liberty Hyde Bailey
"Loneliness adds beauty to life. It puts a special burn on sunsets and makes night air smell better."

– Henry Rollins
"Promise me you'll always remember: you're braver than you believe and stronger than you seem, and smarter than you think."

– Christopher Robin

"There is something so different and empowering about travelling solo. It's a unique experience and one that is so self-educating."

– Unknown
"Twenty years from now you will be more disappointed by the things that you didn't do than by the ones you did do. So throw off the bowlines. Sail away from the safe harbor. Catch the trade winds in your sails. Explore. Dream. Discover."

– Mark Twain

"I like being alone when there's no one around. It's a nice freedom to be the only one there, humming and coping, following my impulse. Being by myself in a public place is different, though, and requires a certain sturdiness. It brings in the element of self-consciousness."

– Jill Frayne, Starting Out In the Afternoon
---
"Loneliness adds beauty to life. It puts a special burn on sunsets and makes night air smell better."
— HENRY ROLLINS
---
---
8. Solo travelling quotes
---
When we hear about solo traveling a word naturally pops up in our mind which is – adventure! Traveling alone is an adventure in itself sure, but with it comes great responsibilities as well. Here are some solo traveling quotes that will tickle your adventurous bone.
---
"Solo travel not only pushes you out of your comfort zone, it also pushes you out of the zone of others' expectations."

– Suzy Strutner

"Don't be scared to walk alone. Don't be scared to like it."

– John Mayer

"A nomad I will remain for life, in love with uncharted places."

– Isabelle Eberharot

"Looking in the mirror, I saw a joyful face. And this happy girl was just about to go on a trip, with a one way ticket in her bag. Life was a never ending journey."

– Nico J. Genes
"It's a dangerous business, Frodo, going out your door. You step onto the road, and if you don't keep your feet, there's no knowing where you might be swept off to."

– JRR Tolkien

"I've been homesick for countries I've never been and longed to be where I couldn't be."

– John Cheever

"A ship is safe in the harbor, but that's not what ships are built for."

– Gael Attal

"Some journeys take you farther from where you came from, but closer to where you belong."

– Ron Franscell
"Travel far enough to meet yourself"

– David Mitchell

"Of all the books in all the world, the best stories are found between the pages of a passport"

– Saber Ben Hassen
---
9. Wanderlust solo travel quotes / Travelling alone quotes
Wanderlust- A strong desire to travel. Have a strong desire to travel alone? Read these quotes to dive into the marvelous world of wanderlust solo travel.
---
"One of the great things about travel is you find out how many good, kind people there are."

– Edith Wharton
"I am of course lost in this journey I'm on, but I do remain confident, though I am lost it will be a great adventure, this adventure will surpass my wildest imagination. So call me a fool, but I'm happy to be lost."

– Michelin Jean Louis

"As the traveler who has once been from home is wiser than he who has never left his own doorstep, so a knowledge of one other culture should sharpen our ability to scrutinize more steadily, to appreciate more lovingly, our own."

– Margaret Mead

"Travel only with thy equals or thy betters; if there are none, travel alone."

– The Dhammpada
"Adventure should be part of everyone's life. It is the whole difference between being fully alive and just existing."

– Holly Morris

"As you travel solo, being totally responsible for yourself, it's inevitable that you will discover just how capable you are."

– Unknown

"If adventures will not befall a young lady in her own village, she must seek them abroad."

– Jane Austen
---
"I see my path, but I don't know where it leads. Not knowing where I'm going is what inspires me to travel it."

– Rosalia de Castro
"Sometimes the journey has to be traveled alone in order to appreciate the strengths that lie deep inside of you."

– Steven Aitchison

"Somewhere, something incredible is waiting to be known."

– Carl Sagan
---
10. Solo traveller quotes for Instagram
Brave, confident, decisive, fun, and adventurous, are all qualities that a solo traveler possesses. We are sure you have those qualities in you as well but are unexplored, so to scout these attributes in yourself, give a read to these solo traveler captions for Instagram.
---
"Nobody can discover the world for somebody else. Only when we discover it for ourselves does it become common ground and a common bond and we cease to be alone."

– Wendell Berry

"Life begins at the end of your comfort zone."

– Neale Donald Walsch

"Adventure can be an end in itself. Self-discovery is the secret ingredient."

– Grace Lichtenstein

"Travel doesn't become adventure until you leave yourself behind."

– Marty Rubin

"To travel is worth any cost or sacrifice."

– Elizabeth Gilbert
"The beauty of traveling solo is that you wonder unexpectedly, but almost certainly into the direction you were meant to go."

– Shannon Ablesa

"People never learn anything by being told, they have to find out for themselves."

– Paulo Coelho
"It seemed an advantage to be traveling alone. Our responses to the world are crucially molded by whom we are with, we temper our curiosity to fit in with the expectations of others."

– Alain de Botton

"When the traveler goes alone, he gets acquainted by himself"

– Liberty Hyde Bailey

"Never did the world make a queen of a girl who hides in houses and dreams without traveling."

– Roman Payne
---
"When the traveler goes alone, he gets acquainted by himself"
— LIBERTY HYDE BAILEY
---
Solo travel can be scary but travelling alone is truly liberating. As someone who came from a traditional family my travels took me to Venice, Switzerland, Europe and the Caribbean. Not only were the people welcoming but it felt so good to know I could manage by myself and the people were warm, friendly and happy to help if needed.
Traveling alone won't be disappointing, all you need is to take the first step!
---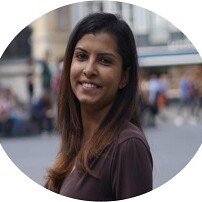 Award-winning Analyst, multi-nominated digital content creator and photographer Lavina Dsouza's words capture stories about culture and tradition mainly through its food and people. She has written and contributed to publications such as The Washington Post, Lonely Planet and Matador Network, to name a few. She is the editor of UntraditionalHumans.com, a non-profit created to share inspiring stories from women of colour who break free from traditions and choose happiness.
She's also a speaker passionate about DEI and champions solo travel. She has collaborated with numerous renowned brands such as Intrepid Travel, TripAdvisor, Travel and Leisure and Adobe, to name a few.
She can be found on Twitter and Instagram.
---
---
---
Some of the links on this post are affiliate links. These do not cost you extra to use, but will help provide Continent Hop with a small commission if/when you purchase through them, to recover some of the costs of running this website and providing free content to help you plan your travel. I appreciate your support!
---