Agritourism or agriturismo in Siena (Tuscany or Toscana) is quite popular in Italy. If this is something you're visiting the region for, here's a two day itinerary for Siena which contains the foods and products in Seina to try and things to do in Siena in a day too.
They say some of the most memorable trips you'll have will be the ones you didn't plan for. I agree and also believe that the company you have on your trip matters a lot too. The people around you make trips memorable!
As a content creator, my work sometimes involves joining a group of other creators to promote destinations. However, this time when I went on an agritourism tour to Siena in Tuscany, Italy, I was surprised to be the only content creator in a small group of award-winning journalists, one who had also been a presenter on BBC.
Located in the center of Tuscany, the historic center of Siena is a UNESCO world heritage site in the Chianti region.
Agritourism involves experiencing any agricultural based operation or activity. It can be hunting for truffles or joining an artichoke festival!
In Siena or most of Italy, where agritourism is very popular, it is about farm stays, regional dishes, and seasonal food in a rural setting. However, it also does involve buying products directly from farms or places where it's produced, picking fruit and feeding animals.
The next couple of days were some of the best times I spent in the rolling hills of Tuscany with Linda, Anna and Rupert, experiencing how some local products in Siena and Tuscany are made and trying some of the best foods on offer.
I'd tried agritourism before in Fife, Scotland and Graz but never on this scale. Here's a quick guide for first-timers who'd like to taste a small bit of Siena!
---
Experiencing agritourism in Siena via the products and activities
A two day itinerary for Siena
---
Renowned all over the world for its wine production, Chianti isn't a geographic location hence it is difficult to pinpoint the exact location. Chianti is an area between Florence and Siena where Chianti wine is produced. However, wine isn't the only product that Chianti is famous for. This agritourism itinerary lists some tasty products to try when you're visiting Siena and where to get them too. There are also some factory visits involved where you can see products being made and have the first taste!
---
---
A PANINO AT THE CAFES IN TOWN
Start the day off by enjoying some amazing views of Siena if you're staying at an elevation. I was staying in a charming B&B in the old town called I Terzi Di Siena and it had the best views of the city.
Then if you like a heavy breakfast before starting the day, head to the old town to try a delicious Panino, at one of the many lovely cafes, made from Prosciutto Toscano PDO or Tuscan ham. Salumeria Il Cencio serves some of the best Panini in town and if you've already had breakfast, then it's a good stop to have a mid-morning snack while exploring the city.
Prosciutto Toscano DOP is made in a highly controlled environment and starts with humanely raising the pigs in the surrounding Tuscan hills. We were taken through the process at the Salumificio Viani where the meat is seasoned by hand. The seasoning contains not just salt but also local spices like pepper, juniper and garlic.
They are then placed in cold storage for curing. Once this step is complete, the meat is then taken out for the 'hot phase' which involves smearing it with pork fat, salt, pepper and rice paste (which is gluten free) to protect it from drying too much.
The Viani ham is then cured again in special rooms with controlled temperature and humidity for at least 12 months. The ham has an earthy aroma due to the spices and tastes intense. Once stamped with the official seal, it is ready to be sold.
Once you're finished with coffee, it's time to see what Siena has on offer.
P.S. If you'd like to purchase or try some more varieties from the Viani brand, I'd suggest trying their boar Mortadella, Finocchiona (typical of Tuscany, characterized by the use of fennel) and Soppressata.
---
DETAILS
Salumeria Il Cencio
Address: Piazza del Campo Presso Parri 70/71, 53100, Siena, Italy
Timings: 10.00 AM to 1.00 AM
---
---
If you're looking for the full agritourism package, situated a little away from the city is Agriturismo Manciano where you can stay on a farm, where some of the rooms were used to dry grapes for making Vinsanto. Almost all of them have views of the surrounding hills and the breakfasts here are legendary and have home-made cakes, bread, tomatoes, cucumber from the garden, and fruit salad too!
Grapes, vegetables and olives are grown on the farms here and wine is made in-house which is served to the guests on arrival. While I did not get a chance to visit on this trip, I do highly recommend it!
Here are some more great cafes in town
— Torrefazione Fiorella is stated to be the best cafes in town. They also serve Italian croissants, Panini (some with prosciutto), sweet treats and cold coffee when it is hot outside.
Address: Via di Città, 13, 53100 Siena SI, Italy. Open every day 7 AM – 7 PM
— Bar Pasticceria Nannini is a tradition for the locals as the cafe is owned by one of the oldest families in Siena and they serve not just the best coffee but also traditional sweets from Siena like panforte, panpepato and ricciarelli.
Address: Via Banchi di Sopra, 24, 53100 Siena SI, Italy. Open every day 7:30 AM – 10 PM
9:30 AM – Explore Siena
You can probably walk from one end of Siena to another in a couple of hours. This compact city has many students and not a horde of visitors unless you count the ones passing through on/from their way to Florence/Firenze.
This makes it a nice little surprise for people who never thought of visiting it. Even if you have just a couple of hours here, you can see quite a fair bit of the city.
Since our focus is on agritourism, I'm going to list a few attractions you can visit/see if you'd like to do something different. If you'd prefer a guided walking tour I would recommend this one.
Fish-bone-patterned red bricks make Piazza Del Campo, that sits at the heart of Siena. Shell-shaped and unmissable, it is one of the biggest medieval squares in the world. It's a place where locals and visitors gather for festivities, political events and for relaxing and where cars aren't permitted.
The square used to be used as a marketplace and is divided into ten sections by 9 lines that represent the rule of the Nine who ruled Siena.
The Palio horse race takes place every year here on July 2 and August 16.
A copy of the beautiful Fonte Gaia sits opposite to the Palazzo Pubblico (town hall). The original is located in the Museum complex of Santa Maria Della Scala. The Palazzo Pubblico also houses the Civic museum.
The Civic Museum contains some interesting 'good and bad government' frescoes used often in political textbooks.
—— DETAILS: Piazza Del Campo: Il Campo, 53100 Siena SI, Italy. Open 24 hours. Civic Museum & Palazzo Pubblico: Open 10 AM – 6.15 PM. Tickets cost €7.50 ——
---
CLIMB TO THE TOP OF THE TORRE DEL MANGIA
The 'tower of the eater' located next to the Palazzo Pubblico, gets its name from its first bell-ringer who was nicknamed "Mangiaguadagni" aka 'earning-eater' as he spent all his money eating in the taverns in Siena.
400 steps take you to the top of the huge tower which is the same height as the Siena Cathedral to signify that religion and state hold equal power. The tower provides amazing 360 degree views of the city, if you're not staying at a height as I did. You can see almost the whole city and even some of the hills in Tuscany.
—— DETAILS: Il Campo, 53100 Siena SI, Italy. Open 10 AM-7 PM. Ticket price €8, combined with the Civic museum, €13 ——
PIAZZA DEL DUOMO : SIENA CATHEDRAL AND BIBLIOTECA PICCOLOMINI
The piazza is where you'll find the Siena Cathedral and the Biblioteca Piccolomini.
With a black and white facade, the Siena Cathedral also called Cathedral of Saint Mary of the Assumption or the Duomo of Santa Maria Assunta is built in the Romanesque-Gothic style. The Church dedicated to the Assumption houses signed works by Donatello, Pinturicchio and Michelangelo.
The Piccolomini Library, dedicated to Pope Pius II, is located inside the Church. The library too contains frescoes, mostly in gold, painted by Pinturicchio and his apprentices. The best ones are on the ceiling! Only choral books are contained in the library.
—— DETAILS: Piazza del Duomo, 8, 53100 Siena SI, Italy Open 10.30 AM-5 PM. Sundays 1 PM-5 PM ——
THE MUSEUM COMPLEX OF SANTA MARIA DELLA SCALA
Located opposite the Siena cathedral, this former hospital now houses a museum spread over 4 floors and is massive. Parts of it are still undergoing restoration.
If you love culture and history and are a fan of museums, I'd suggest dedicating a good chunk of your time and possibly skip other attractions, if you only have only a day or a half to spend in Siena.
—— DETAILS: Piazza Duomo 1, Siena, Italy. Ticket price: €9, concessions €7. Timings can be found here ——
In addition to the attractions and activities mentioned above you can also visit the Baptistery (behind the Cathedral), the public palace of Siena, The Church of San Domenico, Battistero di San Giovanni and the Museo dell'Opera del Duomo.
If it's overwhelming, its exciting just to get lost in the many alleys in Siena and take a tour through the historic center of Siena and enjoy the numerous shops and restaurants. The city is divided into contradas aka districts, with each having its own history and legend. You can spot the symbol of each contrade (caterpillar on a rose, owl, etc.) by checking the sides of buildings.
If you're looking to see more of Tuscany, a guided day trip that covers Pisa as well can be found here.
---
2:00 PM – Lunch at Bar dell'Orso in Monteriggioni
There's an amazing variety of cafes and restaurants in Siena that you can have lunch at, that should keep you busy for a couple of days. However, if you're looking to see what's on offer outside Siena, the Monteriggioni Castle is an excellent option.
Located about 30 minutes from town, it can be a pleasing half a day trip away from the city.
Before proceeding to the castle, if you haven't eaten in Siena, I'd suggest getting lunch at Bar dell'Orso, sat opposite to the castle parking area. The tiramisu here is the best I've ever had and the variety of home-made pasta and pici's will leave you full, yet hungry for more!
---
DETAILS
Address: Via Cassia Nord, 23, 53035 Località La Colonna, Monteriggioni SI, Italy
Timings: Monday – Sunday, 5 AM – 12 AM. Additional details can be found here
---
---
---
3:30 PM – A visit to the main sights in Monteriggioni square
If you've had lunch at Bar dell'Orso, once done, take the road behind the parking area and follow it to enter the small village via the Franca (Romea) Gate that apparently faces Rome.
Monteriggioni Castle (Castello di Monteriggioni) sits in the Monteriggioni comune in Siena in the center of the main Piazza Di Roma. One of the most important walled castles in the area, avid readers of classic books will have heard of Monteriggioni in Dante Alighieri's most famous work, The Divine Comedy or 'Commedia'.
In the old times, the piazza was used to grow essential vegetables and store water, that would come in handy during a siege.
The walls are partially walk-able and provide stunning views of the Tuscan countryside with its rolling hills. There are a total of 14 towers and 2 gates, the other gate being the Florentine gate that faces Florence. Part of the wall faces the tourist park of the Via Francigena, the pilgrims' road that connects Camino to Rome.
Just next to the castle is the Church of Santa Maria Assunta. The Roman-Gothic style Church was built at the same time as the Castle and is very compact and has a lovely 'woody' old smell.
There's also a small museum called 'Monteriggioni in Arme', which provides a brief history of the area and where children can dress up in costumes.
In July, the small region celebrates the festival of Medieval Monteriggioni, with locals dressed in period costumes and storytellers, acrobats etc. filling the square trying to recreate a day in the life of the castle. A fun thing to do is exchange your Euros for some medieval coins to buy traditional food and drinks inside the castle.
If you're dependent on public transport and would rather like a guided tour, here's one that covers Monteriggioni.
---
DETAILS
Address: Via I° Maggio, 8-10, 53035 Monteriggioni SI, Italy
Timings: Monday – Sunday, 5 AM – 12 AM. Additional details can be found here
---
---
5:00 PM – Dievole Winery
An agritourism itinerary can't be complete without a visit to a vineyard in Tuscany. About 20 minutes away from Monteriggioni, is Dievole, a winery with sustainable wine production.
Boating of a 1000 year-old history, it also has a resort and wine tours. 158 hectares of vast green vineyards, with fossils present in the soil, are based right next to the winery.
Dievole ('Dio vuole') which means 'God wants' is part of the Chianti Classico DOCG wine region and runs on the DOP principle of respecting the land, its history and that natural life-cycle not just of the vines but also the soil.
Unrefined concrete vats that use organic yeast are used for the vinification process and the wine is then matured in untoasted French oak barrels. What thus gets created is the Chianti Classico 2013, one of the many wines produced here that is ruby-red, fresh and complex with beautiful aromas, aromas that are integral to almost all of the products in Tuscany.
It's a blend of 80% Sangiovese and 20% of other grapes, including natives such as Canaiolo and Ciliegiolo, as well as international varieties including Cabernet Sauvignon and Merlot. The wine is aged for at least 12 months.
While white wine is what I like best, what did excite me is the olive oil tasting on offer, something I'd never heard of or tried before.
One of the oils was naturally spicy as the olives attain this flavor by trying to protect themselves against the sun and weather. 4 local olive cultivars: Frantoio, Leccino, Moraiolo and Correggiolo with a maximum of the 20% of other varieties are what make the extra virgin olive oil, Chianti DOP.
The Frantoio is the slightly spicy and fruity oil. The others were bitter, delicate with fruity notes.
The tasting took about an hour and had 4 oils on offer. For me, it was the best bit of the tour!
If you're looking for a pleasant surprise, try the Chianti olive oil with some ice-cream, it goes really well together!
If you'd rather visit a winery and head to the outskirts of Siena to make it a day-trip, the wineries in Montepulciano are worth a visit!
---
DETAILS
Address: Località Dievole, 6 Cantina, 53019 Castelnuovo Berardenga SI, Italy
Timings: Monday – Sunday, 10 AM – 7 PM. Additional details can be found here
---
---
7:00 PM – Back to Siena and dinner at Osteria Babazuf
A Michelin guide restaurant, the Babazuf is a simple Italian Osteria with emphasis on the local dishes and wine. One can easily notice the locals queuing up for a meal which goes to prove that you can expect nothing but a traditional meal here.
The Babazuf has excellent ingredients and some great local dishes on the menu such as a rabbit, sausage and pistachio terrine, butter pasta with truffles, octopus with mashed potatoes and green sauce and the humble pici to name a few. I had buttery pappardelle, cooked al dente and topped with a generous helping of locally sourced truffle.
The servers have good knowledge about pairing the meal with the right wine and the atmosphere is lively. Budget friendly and located in the heart of Siena, it is a must visit.
Take a walk around town after dinner is over as Siena is beautiful at night and very romantic too!
Another option for dinner is the La Compagnia dei Vinattieri where the highlight is its huge wine list with a focus on wines produced in the Chianti region.
---
DETAILS
Address: Via Pantaneto, 85/87, 53100 Siena SI, Italy
Timings: Tuesday – Sunday, 12.30 PM – 3 PM and 7 PM – 12 AM. Closed Mondays. The menu can be found here
---
Day 2
More Siena agritourism options
---
10:00 AM – A visit to Caseificio Sociale Manciano for their Pecorino Toscano cheese
---
A little further away from Siena, in the region of Manciano is the Caseificio Sociale Manciano where the famous Pecorino sheep cheese is made. (Which is different to Parma cheese). About 200 farmers from 17 dairies from the Maremma area supply milk to the factory which is of very high quality as initiatives are taken periodically for the welfare of the sheep.
Milk is pasteurized at the diaries itself and once it is brought in, the fat content, acidity and various other quality checks are carried out before the process can begin.
Rennet is added to the milk for coagulation and care needs to be taken not to add too much as it can make the cheese bitter. The curds are then cut to a uniform tiny size, ranging from a hazelnut to a grain of corn, excess whey is expelled, then put into shapes before being brined.
Ricotta cheese is produced with the residual whey. The cheese is then stored to ripen.
The aging can range from 20 days for the soft version or 4-12 months for the semi-hard version. For the ones that are left longer, workers periodically wash or brush the mold before coating it with natural substances like oil, ash or tomato sauce to protect them from contamination and further dehydration.
Once you've seen the process head for a cheese tasting. The younger cheese is delicate and creamier and the older ones nutty and crumbly. From the ones I tasted, my favorite was the one aged for 4 months.
If you get some Pecorino Toscano DOP cheese back, why not try this recipe for an asparagus and Pecorino tart?
---
DETAILS
Address: Località Piano di Cirignano, 58014 Manciano GR, Italy
Timings: Monday – Friday, 7 AM – 7 PM. Saturdays 7 AM – 1 PM Closed Sundays.
To book a visit, please use this link
---
---
1 PM – Lunch at Locanda La Vallerana
Just a 5 minute drive away is the Locanda La Vallerana, a friendly, classic Tuscan trattoria, where the food is honest in a simple setting. An authentic family-run restaurant, it serves great ham and cheese platters and an extensive range of pasta.
Some dishes on offer are the wild boar spaghetti and pigeons in casserole. The steaks are quite popular and worth a try!
---
DETAILS
Address: Str. Monte Forcato, 1, 58011 Capalbio GR, Italy
Timings: Wednesday – Monday 12 – 2.30 PM and 7 – 10.30 PM. Tuesdays 7 PM – 10 PM
---
4 PM – A cooking class at Siena's first school of international cuisine
A fabulous way to end your day and maybe your time in Siena is with a customary cooking class. While some may call it a run of the mill activity, I had never attended one and enjoyed it very much!
On the menu for the evening was Pappa al Pomodoro, Pici and Cantuccini.
We started by making the dough for the pici and setting it aside then starting on the soup. We had some freshly made Bruschetta as nibbles. Bruschetta is a tiny round of bread sliced about a centimeter thick, is then grilled on both sides. It was then rubbed with garlic and drizzled with extra-virgin Chianti DOP olive oil.
Lella was our chef and she took us through the steps of making Pappa al Pomodoro, a thick soup made from stale bread (about 3/4 days old).
Garlic is first fried in extra-virgin olive oil with some chilies before adding the bread. Once the oil is absorbed by the bread the tomatoes, beef stock and basil leaves are added and simmered for an hour or so.
The thick soup is filling and hearty.
The dough that was put aside is now ready to be made into Pici, a local thin spaghetti-like pasta, apparently from which spaghetti originated. Tiny pieces of the dough are rolled into long thin uniform stands and then put into a pot of boiling water for not more than 3 minutes, then drained.
The pici is then mixed with the sauce, a sugo Toscano (slow-cooked beef and pork mince with vegetables and red wine), which Lella has prepared in advance as it takes about 4 hours to make.
Once the crunchy Cantuccini biscuits are ready, (which take only about 30 minutes to make), we start off with dinner and finish by having the biscuits after dipping them in a dessert wine, Vinsanto. Very unique and mouth-watering! If you're a connoisseur of food or cooking, this is certainly a good way to end the day with your tummy full of Tuscan delights!
---
Address: Via Fontebranda 69 – 53100 Siena, Tuscany, Italy
Timings for the class and booking details can be found here
---
The more I travel, the more I realize that while popular destinations bring me a sense of achievement and joy, I'm most excited about places I've never heard of before and practices that I know do their bit to help the locals and nature around.
Agritourism is still in catching up and there is a something for everybody to indulge in. Siena with its history and food scene was perfect and if nature and cities are your cup of tea, have it with some cheese and prosciutto from Tuscany!
---
Some additional products/foods from Siena you can try
——
In addition to the extra-virgin olive oils, wines, prosciutto and cheeses mentioned above, here are some more products you can try, which are unique to Tuscany.
Cheeses other than the Pecorino Toscano DOP that are from this region are the Pecorino delle Balze Volterrane cheese and Pecorino Romano cheese DOP.
Cold cuts other than Prosciutto Toscano DOP are the Finocchiona IGP, Mortadella Bologna IGP, Colonnata lard, and Salamini italiani alla cacciatora DOP which are small Italian salamis.
CHESTNUTS AND CHESTNUT FLOUR
Mugello, Caprese Michelangelo, and Monte Amiata are some unique varieties you will find in Tuscany. You'll also find Garfagnana and Lunigiana chestnut flours. Each variety of chestnut has a distinct flavor, aroma and shape. They are all DOP or IGP certified.
Saffron from San Gimignano is pure and organic and grown in a sustainable environment.
CANTUCCI – One of the items we made in our cooking class, cantucci are crispy biscuits which usually contain almonds and are had by dipping them in Vinsanto dessert wine
PANFORTE – A traditional Christmas bread made with nuts, spices, candied fruit and topped with icing sugar
RICCIARELLI – Sweet, boat-shaped pastries, crisp on the outside and moist inside, dusted with icing sugar. Ingredients include orange peel and candied citron
CAVALLUCCI – 'Little horses' are cookies made with flour, honey and sugar, and shaped into a round, flat biscuit
Borgotaro mushrooms, a type of Italian porcini mushroom and one of the most valuable due to its intense subtle aroma.
Miele (honey) della Lunigiana DOP is acacia and chestnut honey and one of the first to attain a DOP status in Italy
Sorana beans (Fagiolo di Sorana), a type of Cannellini bean grown in the Tuscan area is grown in the province of Pistoia and taste best when boiled with garlic and some sage leaves.
---
The medieval city of Siena is located in Tuscany, about 75 kilometers (approximately 1 hour 15 minutes) away from Florence. A UNESCO world heritage site in the middle of a vast hilly landscape between the Arbia river valley (south), the Elsa valley (north) and the Chianti hills (north-east).
If you're coming from Florence, you can get here via bus or rail. Check this page for the bus details however, it's usually the No.131 that runs between the cities and takes 1 hour 35 minutes. Catch the 'Rapida' bus from the Santa Maria Novella bus station in Florence.
The train between the 2 cities takes about the same time and costs about £9. Visit this website for train info and tickets
The city is surrounded by walls and Porte (portals) aka gates through which you can enter. The best way to get to Siena is by driving. However, if you're flying, you can fly to Pisa airport and then drive to Siena, which should take about an hour and a half.
Check this page to find a parking spot and tariffs.
WHAT IS THE BEST TIME TO VISIT SIENA
As with most Mediterranean countries, I'd suggest visiting before July and after September. Summers, especially in Italy can get hot in the afternoons. I visited in June and the days were pleasantly warm with a slight chill in the evenings. However, October tends to be the best to visit Siena and almost the whole of Tuscany.
It is easy to get around Siena by walking but it's good to hire a car if you want to drive around the Tuscan countryside and stop wherever you please.
---
A NOTE ABOUT PDO/DOP (PROTECTED DESIGNATION OF ORIGIN)
The PDO is an elite certification that upholds the commitment and respect of the producers for the Tuscan food tradition.
The farmers and producers who adhere to this, believe that the location of Tuscany and the natural elements, vegetation and 'peasant' processes passed over the generations ensure the products have a distinct taste that reminds customers of Tuscany.
When it comes to the production of ham, only if the pig is born and bred in the region of Tuscany and is certified by the farmer to be older than 9 months and having a certain weight can it be used for its meat. Different rules apply to various animals and utmost care is taken to ensure they're healthy and sustainable practices are used.
WHERE TO FIND THE PRODUCTS
The local farmers market is held every Friday morning in the Fortezza area. Here you can find products like local wine, olive oil, honey, vegetables, Sienese cookies, herbs and cheese.
Consorzio Agrario Di Siena, in Via Giuseppe Pianigiani 9 is a local farmers co-op frequented by the locals which also stocks some of the best local products.
---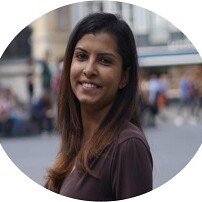 Award-winning Analyst, multi-nominated digital content creator and photographer Lavina Dsouza's words capture stories about culture and tradition mainly through its food and people. She has written and contributed to publications such as The Washington Post, Lonely Planet and Matador Network, to name a few. She is the editor of UntraditionalHumans.com, a non-profit created to share inspiring stories from women of colour who break free from traditions and choose happiness.
She's also a speaker passionate about DEI and champions solo travel. She has collaborated with numerous renowned brands such as Intrepid Travel, TripAdvisor, Travel and Leisure and Adobe, to name a few.
She can be found on Twitter and Instagram.
---
---
EXPLORE TRAVEL IN EUROPE THROUGH FOOD
---
Some of the links on this post are affiliate links. These do not cost you extra to use, but will help provide Continent Hop with a small commission if/when you purchase through them, to recover some of the costs of running this website and providing free content to help you plan your travel. I appreciate your support!
---