Murano and Burano islands are the two most famous islands of Venice. A Murano Burano Torcello Vaporetto (water taxi) tour is a popular day trip from Venice. If you're short on time, which island do you pick? Read on!
Almost all houses had bright, colorful hues no matter which direction I turned.
People were friendly and continued about their daily chores; some hung clothes up on a clothesline to dry, others knitting lace while children ran around playing their usual games.
Everyone was enjoying Italy in summer, including us, as were we on our Murano and Burano tour.
Burano and Murano islands are in the Venetian lagoon a few miles away from the city. Torcello, known for the Basilica of Santa Maria Assunta, is another island situated close by.
Burano is known for its colourful homes and lace-making, while Murano is known for glassmaking.
Many tend to spend two days in Venice usually on their European itinerary, however it is worth extending your stay and going for a day tour to the islands of Burano and Murano.
It's quite easy to hop on a Murano to Burano vaporetto.
However if you're short on time or would rather spend a day just on one island, here's all the info you need to pick one!
---
Some history about the Murano and Burano islands
---
Torcello became a settlement in the 5th century AD. Murano Burano & Torcello were first inhabited by Romans who fled Altino during the Barbarian invasion. Torcello was the first island to be settled in the lagoon long before Venice was established.
Torcello was land that no one wanted: mudflats in the middle of salty marshes in a lagoon. The island thrived, and 20,000 people were inhabiting the island at one point.
Plague and malaria caused living on the island difficult, and by the 14th century, the island was emptied, and people had moved to what is now present-day Venice. Torcello means 'tower and sky'.
Much of the present-day island is a nature reserve which you can access through walking paths.
Burano's name comes from 'Porta Boreana', a door in Altino from where people fled to the city. Murano is actually made up of seven small islands linked together by bridges and canals.
The first houses on these islands were made from woven canes and mud as the ground was too tender. These houses were later replaced by bricks.
The exact reason for the colourful houses in Burano is unknown.
But the most believable legend is that homes were painted in bright colours so that fishermen returning to the island could navigate to their houses when fog blanketed the island.
Murano has its own lighthouse and is primarily known for its glassmaking.
Murano, too, was inhabited by the people fleeing the Barbaric invasion but was an independent commune until it became a part of the commune of Venice.
---
Getting to Murano and Burano (or Torcello)
It's easy to get to Murano Burano Torcello from Venice. You can take the Vaporetto (water bus) or hire a private water taxi.
Murano Burano Vaporetto/Murano Burano Torcello Vaporetto – Murano and Burano islands as well as Torcello as easily accessible by Venice Vaporettos.
They are a reliable mode of getting to the islands. Details on Vaporetto schedules and costs are in the sections ahead.
---
Murano Burano Torcello tours
Organised half-day or day-long trips from Venice to Murano Burano Torcello are available for as low as 20€. Packages through a private boat cost 100-200€. Check for tours here.
You could also do a half day trip to Burano and Murano. Lagoon tours take you around the islands and Venice lagoon for the whole day and are also worth checking.
---
Should you visit Murano or Burano?
If you would like to see how Venetian glass is made, visit Murano.
If you would like to see the colourful houses in Burano, get photos against the colourful background and see how Venetian lace is made; visit Burano. It depends on how much time you have.
Most tourists take half of the day or a day to visit Murano or Burano/Murano and Burano.
It depends on your itinerary. If you have only two days in Venice and want to spend half a day in either Murano or Burano and spend the other half seeing some of the attractions in the city, then you should visit either Murano or Burano.
If you'd like to glassmaking, visit Murano. If you'd like to see pastel-coloured houses and lace-making, visit Burano.
If you are someone who can stick to schedules and would like to see Murano and Burano in half a day, it is possible. Start your day early. Take the ferry from F.te Nove terminal, and get down at Murano.
See the glass making at a factory/workshop. Take the Murano to Burano Vaporetto – it takes half an hour to reach Burano. Spend time walking around Burano and visiting lace shops. You can get back to Venice and spend the other half of the day visiting a museum or two.
This two day in Venice itinerary suggests spending half-day in Murano and Burano and the other half on Venice's attractions.
Or, if you have an entire day, you can easily take a day trip to Murano and Burano.
---
Here's how to get to Murano – Burano – Torcello
How to get to Murano from Venice 
The Vaporetto on route 12 from the Fondamenta Nova ferry terminal will take you to Murano. It'll take only 8 minutes to reach Murano.
How to get to Burano from Venice
The same Vaporetto on route 12 Fondamenta Nova ferry terminal goes further to Burano. Venice to Burano is 40 minutes by the water bus.
How to get from Murano to Burano and Burano to Murano 
You can take the same Vaporetto that starts from Venice to get from Murano to Burano.
More details about getting from Venice to Burano , ferry tickets and costs (including stops to other islands) can be found in this article.
Check the timetable here to figure out how to get from Venice to Burano by ferry.
---
Vaporetto info for Murano and Burano (and Torcello)
For getting from Burano to Murano, take the returning Vaporetto on the same route. It starts at Punta Sabbioni and ends at Venice.
It takes 30 minutes to reach from Murano to Burano or Burano to Murano.
The route 12 Vaporetto service from Venice runs every 20-30 minutes throughout the day. Use this timetable to see the Vaporetto timings, and it'll also help you understand the route for your Murano or Burano trip.
You have to pay €7.5 for a 75-minute ride (75 minutes from the time of validation) and €15 for a two-way ride (75 minutes twice from the time of validation).
Assuming you will be using the Vaporetto to travel from one place to another in Venice, it is cheaper to buy the day-long Venezia Unica pass for €21.
---
If you want to spend more time in the city, consider buying the 2-day/3-day or 7-day Venezia Unica pass. You can buy the pass here. You can also purchase passes from here to help you save money on entrance fees for some of Venice's attractions.
You could also take a private water taxi to Burano or Murano. Private water taxis are costly. If you'd like to take a private water taxi to the islands and take the same taxi back to Venice, it will cost 150-200€. This does not include waiting time while you spend time on the islands.
If the taxi allows multiple seating, you can share the cost amongst a group, which will be cheaper. Though, using the Vaporetto is easy. The Vaporetto service is reliable and costs substantially less.
Or consider taking a Murano Burano Torcello tour, a 4-6 hour tour that involves a pickup from Venice through a motorboat and a drop-off back to Venice.
The boat waits while tourists spend time at Murano Burano & Torcello. A few tours include the entry ticket to a glass factory in Murano. Check for Murano Burano Torcello tours here.
---
In brief:
Costs
€7.50 for a 75 minute ride each way, €15 for a round trip (to Burano), €22.50 (with a stop to Murano).
€21 for a City pass including Vaporetto public transport, starting from €150 for a private transfer
Timings
To Murano from Venice – about 15 minutes on ferry
To Burano from Venice – about 35 minutes on ferry
---
---
A day trip/half-day trip to Burano and Murano
If you start from Venice, your first stop would be Murano. Or if you start very early in the morning and reach before 10 am when the glass factories or Murano Glass Museum is closed, you should first see Burano and then visit Murano while returning to Venice.
---
Things to do in Murano
---
See the Museo del Vetro
Museo del Vetro, Murano's glass museum, which showcases the history of glass produced on the island.
After visiting the museum, see how glass is made in the glass factories on the island. Murano glass is made by mixing silica, soda, potassium, and lime in a high-temperature furnace.
These minerals fuse at 1200-1500°C to form liquid glass. Glass workers then do several things like blowing, crushing, pitching, cutting this glass, and using other materials to give it the desired shape and colour.
The factories have shops selling beautiful glass items such as gifts, vases, jewellery, sculptures, and chandeliers. Mazzega glass factory and Guarnieri Glass Factory are well-known ones, but there are many glass factories in Murano which you should be able to find easily once you cross the Ponte Longo bridge.
Authentic Murano glass items which are handmade can be pretty expensive. While small jewellery costs a few euros, bigger items cost hundreds of euros. Making these handmade items needs a lot of skill and time.
You can actually see workers working on glass from outside if you wouldn't like to pay and save a little money. But spending a small fee will let you peek in and see this from close.
People also like to take glass making workshops in Venice, where you can learn how to create something of your own from a local artist.
The glass factories in Murano are closed usually from mid-July to August. It is too hot for the workers to work during this time. Before planning your trip to Murano, check if the glass factories are open.
---
Be wary of the 'free Murano tour' offers in Venice 
Salesmen around Venice offer tourists a 'free tour' to a glass factory in Murano. They do this to draw buyers to Murano.
Tourists are shown a limited glass blowing demonstration, taken to the glass factory shop and left for a long duration to buy glass items at inflated prices.
It is best to wander around the island and find the factories by yourself. Murano isn't too huge. You should be able to spot the glass factories easily once you reach Murano.
---
DETAILS
Murano Glass Museum
Address: Fondamenta Marco Giustinian, 8, 30141 Venezia VE, Italy
Timings: 10 AM – 6 PM every day
Cost:11Є, 8.50Є for students and those aged above 65
---
Basilica of Saint Mary and Saint Donatus
If you have more time to spend in Murano, you can see the Basilica of Saint Mary and Saint Donatus. This church is commonly called the San Donato. According to tradition, the church dedicated to Mother Mary was founded by the Roman Emperor, Otto the Great, in 950.
Medieval chronicles have a different story. According to these, the church was built by inhabitants who came to live on the island after fleeing Altino in the 7th century.
The church is known for its beautiful, multicolored mosaic floor. The animals and figurative patterns represent Christian symbolism.
---
DETAILS
Basilica of Saint Mary and Donatus 
Address:  Campo S. Donato, 11, 30141 Venezia VE, Italy
Timings: 9 AM to 5 PM from Monday-Saturday, 12 PM – 3.30 PM on Sunday
Cost: Free
---
---
Burano is mainly known for its colourful houses – great backgrounds for Instagram photos. There's a lace museum here if you'd like to learn more about the history of Venetian lace-making.
The main street here, known as Galuppi street, has lovely shops and restaurants to eat at. Try Gelato Burano – there are many shops in Galuppi street that have great Italian gelato and bakeries with delicious Bussola (cookies), a speciality of Burano.
A Michelin recognized restaurant called the Trattoria Al Gatto Nero is located on Galuppi street known for its pasta and seafood and is worth a try!
This post has a detailed description of all things to do in Burano during your day trip to Murano and Burano.
---
Including Torcello on your Burano and Murano tour
Tour Murano Burano Torcello
If you take a day trip to Murano and Burano or half a day trip to Murano or Burano and have some time left before the next thing on your itinerary, consider visiting Torcello.
A few of the half-day tours mentioned before combine the Murano Burano tour with a visit to Torcello.
You can take the Vaporetto on line 9 from Burano to Torcello. A Vaporetto leaves every 15 mins from Burano to Torcello and Torcello to Burano between 9.30 am and 6 pm. The timetable is available here.
Torcello is mainly visited for the Cathedral of Santa Maria Dell'Assunta. The Torcello Basilica (Cathedral Santa Maria Dell'Assunta) is worth visiting for its beautiful Byzantine mosaics, some of the earliest mosaics in Venice.
There's also a small museum next to this church, the Provincial Museum of Torcello or Museo Provinciale di Torcello.
---
DETAILS
Cathedral Santa Maria Dell'Assunta
Address:  Via isola di, Campiello Lazzari, 30142 campello VE, Italy
Timings: 10.30 AM – 5 PM every day
Cost: 4Є-6Є
---
Planning to stay one night on Burano?
There are many cosy and homey apartment rentals and guest homes. Staying one night at Burano has an added advantage as one gets to experience the island at night among the locals and minus the tourist crowds. Here are some stay options:
Casa Sul Cielo Di Burano

This is an AirBnb ideal for a bigger group. With 3 bedrooms and 2 bathrooms, this option also comes with a patio and balcony

A lovely modern guest house that offers spectacular views of the island. All modern amenities are available

Venissa

An elegant and stylish boutique hotel, which is surrounded by orchards and vineyards
---
Best time to visit Murano or Burano
Tourism in Murano or Burano corresponds with that in Venice. The best time for visiting Murano and Burano is April, May, September, and October when the weather is mild.
June to August is the peak season for Venice. So Murano and Burano are likely to have more visitors in these months.
Before planning a trip to Murano to see glass making, keep in mind that glass factories are closed from mid-July to the end of August due to the heat. It's best to check if the factories are open before planning a trip to Murano.
When it rains a lot, the islands are prone to flooding, so lesser tourists visit Murano or Burano in winter.
---
The islands aren't located too far away from Venice. The islands also have a very different feel to it compared to other places in Italy.
From walking among the colorful houses to gorging on scrumptious local food, there are many things to do on each island, some of which are quite characteristic of the island and talk about its culture and history.
Make sure to dedicate more than a day to Venice so that you don't miss out on experiencing this colorful island, a short distance from Venice!
---
FAQs for visiting Burano, Venice
Here are some answers to frequently asked questions about Burano, Murano, Torcello near Venice.
Which is better, Murano or Burano? 
If you are interested in seeing how Venetian glass is made, visit Murano. If you would like to see how handmade lace products are made, visit Burano. And for those who love taking photos, Burano's pastel-coloured homes are worth capturing.
Is Murano and Burano worth visiting?
Murano and Burano are worth visiting if you'd like to see the colourful houses and lace-making in Burano and glassmaking in Murano. Some glass making factories and shops may be closed if you're here off-season. Murano and Burano are quieter as compared to Venice. Though, if you were to visit Burano in summer, Burano does get quite busy because many tourists visit the island from Venice.
Is it worth visiting Burano?
Burano is worth visiting for its colourful houses and to see how Venetian lace is made. Burano is quieter than Venice, and most tourists from Venice spend half a day to a day here.
Why are the islands of Murano and Burano famous?
Burano is known for its lace-making industry and colourful houses, while Murano is known for its glassmaking. Murano or Burano are a short ride away from Venice and are often frequented by tourists who come to see Venice.
What is the difference between Murano and Burano, Venice?
Even though they have similar sounding names, these places are very different. Murano is much closer to Venice and is known for its glass industry. Venice's glass workshops were moved to Murano in 1291, as they posed a great fire risk in the city.
Since then, the Murano glass has gained fame all over the world with the glass factory tours being a popular tourist attraction.
---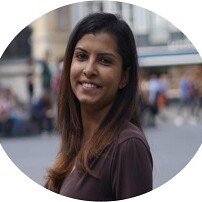 Award-winning Analyst, multi-nominated digital content creator and photographer Lavina Dsouza's words capture stories about culture and tradition mainly through its food and people. She has written and contributed to publications such as The Washington Post, Lonely Planet and Matador Network, to name a few. She is the editor of UntraditionalHumans.com, a non-profit created to share inspiring stories from women of colour who break free from traditions and choose happiness.
She's also a speaker passionate about DEI and champions solo travel. She has collaborated with numerous renowned brands such as Intrepid Travel, TripAdvisor, Travel and Leisure and Adobe, to name a few.
She can be found on Twitter and Instagram.
---
---
---
Some of the links on this post are affiliate links. These do not cost you extra to use, but will help provide Continent Hop with a small commission if/when you purchase through them, to recover some of the costs of running this website and providing free content to help you plan your travel. I appreciate your support!
---