Italy in summer is more gorgeous than most other months of the year! The sun is shining bright and the weather being perfect for a summer holiday to Italy. Read on for a detailed guide on what to do in Italy in July or all of summer!
A pleasant breeze ruffled my hair as I sat down to have a glass of wine watching rolling hills full of vineyards in Siena.
It was the stereotypical Italian experience yet it left me feeling calm and happy.
I had been to Venice, Valle di Cembra in Trentino and Alberobello in Puglia and each time I visited I felt I could keep doing this over and over again.
The food was filling and fresh, the conversations flowed effortlessly and Italy always made sure to put a smile on your face.
If you're looking to visit Italy in summer and have a memorable summer holiday in Italy, this guide breaks down places in Italy you can visit by region and what you should see and do in each. Happy planning!
---
Italy in summer – a quick guide to summer holidays to Italy
---
Weather and General Info: Italy is magical any time of the year. For a summer holiday in Italy, I suggest lots of planning and advance reservations. Summer in Italy months is the main high season for tourists. June, July, and August are the summer months. In August, the schools are shut, and locals too prefer staying near the mountains or sea.
Italy can get pretty hot in summer. Many cities have daytime temperatures in the range of 35-40°C. Despite this, you are likely to find tourists in most cities and will have to pay a premium in some places during this season.
---
Here's a list of places to make the best out of Italy in summer and information about the weather in summer per region: 
---
Veneto
Venice, Veneto's capital, has beautiful monuments such as the Basilica Di San Marco and Doge's palace. Seeing the galleries, churches and museums will need some time and lots of planning if you are planning a summer holiday Italy.
The floating city of Italy attracts visitors all year round but more so during the summers. Summer holidays in Italy mean you'd have to plan your itinerary to be indoors during the noon when it will be hotter. While summer in Venice is less hot than in Rome or Florence, it can get quite hot and humid in Venice.
From Venice, you can also visit the colourful island of Burano. Taking a from Venice to Burano ferry and getting back to Venice after sightseeing needs only half a day.
Verona is another great city to spend summer in Italy. The city is famous for being the setting of Shakespeare's Romeo and Juliet and concerts and plays held in summer in their majestic theatres. If you haven't seen Lake Garda in Lombardy, you can visit the lakes' east shore in Veneto. You can see the lake from the peaceful villages like Lasize and Bardolino, which are only 140-150 km away from Verona.
Venice is the hottest in August. The temperature can go above 35°C. Yet, summer is the most crowded season in Venice. Hotels charge a premium; gondolas are packed. Similarly, Verona is also hot and muggy, with the maximum temperatures in August.
The Dolomites are a mountain range within the Alps that run across the regions of Veneto, Trentino Alto Adige and Friuli Venezia Giulia. The Friulian Dolomites are the wildest out of the chains – they are far away from roads and difficult to access in some places.
Belluno is the gateway to the Dolomites in the Veneto region. You can stay in Belluno or Cortina d'Ampezzo, a ski resort in Belluno.
While many visit the mountains in the winter for winter skiing, summer is equally popular since it's ideal for mountain climbing, mountain biking and hiking. The temperature is moderate, but there can be storms here in any season. If you visit from June to late August during the summer holidays in Italy, be prepared to pay higher prices as this would be the peak season.
---
---
Trentino Alto Adige
Gorgeous limestone peaks, mountainous forests and castles make up this region. Castello di Arco, Castel Toblino, Castel Tirolo and Castel Monteleone are some of the castles in the region.
Bolzano is the gateway to the Dolomites in this region. You can see a unique blend of Italian and Germanic culture in this city. The Grande Strada Della Dolomiti or the Great Dolomites Road starts from here. If you drive from Bolzano to Cortina d'Ampezzo or vice versa through this road, you can soak in the beautiful views of many major peaks of the Dolomite range.
For spending time in the Dolomites in Veneto, you can stay in Urtijei, Canazei or a ski resort in such villages.
To the south lies Trento, the capital of the region. Packed with incredible natural sights and museums, Trento is not as crowded as Rome or Florence, even in the peak season but definitely a fun place to be.
Valle Di Cembra or Cembra Valley, less than half an hour away from Trento, has scenic vineyards surrounded by mountains. Summer is the busiest season for this region as well.
Bolzano, Trento have a fairly alpine climate characterised by short summers. Daytime temperature can go up to 30°C in peak summer. This makes it better than Rome or Florence for summer holidays to Italy and is a perfect spot to include on a road trip itinerary especially if you're thinking of a Northern Italy road trip!
Lombardy
Lombardy is one of Italy's largest regions. Milan is a popular tourist destination of this region, known for its architectural beauty and fashion.
You can see the Duomo di Milano in Milan, known for its gothic architecture. Other such historic sites and art museums worth visiting include the II Cenacolo, Castello Sforzesco, Santa Maria Della Grezzo.
And of course, don't miss out on strolling Via Monte Napoleone, Milan's upscale fashion district lined with shops of all the major luxury fashion brands. If you want to check out small, independent boutiques and cheaper brands, there are many stores in Corso Buenos Aires.
While the region is well known for Milan, there's so much more to Lombardy. There are many pristine lakes in the area – good places to cool off during your summer holidays to Italy. Lake Como, Lake Maggiore, Lake Garda, and Lake Iseo are worth visiting.
Lakeside resorts are relatively cooler – a great way to escape the scorching heat in the cities during summer in Italy. Surrounded by mountains, the lakes have stunning scenery and ample opportunity for hiking and mountain biking.
Lake Garda is the largest lake in the country, and the west shore of the region lies in Lombardy. You can visit the beautiful towns along the lakeshore. Lake Como, another famous lake, is well known for the upscale resorts and villas surrounding the lake.
Borromean islands and their beautiful parks draw most tourists to Lake Maggiore. Lake Iseo is a lesser-known lake but worth visiting for the quieter small villages surrounding the lake and the island of Monte Isola.
Milan is hot and humid in the summer. August is the hottest, and it starts raining from the end of August. Verona has the same climate as Milan.
---
Liguria
Liguria is known for Cinque Terre, a coastal area alongside the Italian Riviera that consists of five picturesque villages – Riomaggiore, Manarola, Corniglia, Vernazza and Monterosso. Cinque Terre has been recognised as a national park in recognition of its cultural and scenic value.
You can hike through the villages or take a local train to see the villages. Cars are not allowed inside the villages, so you'll have to park at the entrance. Driving is tricky here as the roads are very narrow and winding and are recommended for experienced drivers only.
There are also small, independent boat tour providers if you want to see the area on a boat. You can also swim at one of the many beaches in the Cinque Terre region like many locals do during their Italy summer vacations. You can also visit the nearby towns of Levanto and Portovenere.
Due to the sea, Cinque Terre and the nearby area is comparatively cooler in July and August than other cities that get really hot. This pleasant weather draws a lot of visitors during Italy summer holidays. Expect crowds if you visit during the summer holidays Italy.
---
Tuscany
Tuscany is home to Florence, an entire city that's a UNESCO world heritage site!
Florence was a significant city during the Renaissance, and the wealth of this influence led to exquisite Renaissance architecture and art in this city. Santa Maria Del Fiore, known more popularly as the Duomo, is a large church that is a prominent landmark.
Other sites popular with the visitors are the Uffizi Palace and Gallery, Leonardo Active Museum, Accademia Gallery and Piazzale Michelangelo. There's so much to see in the city that
You'd need at least 2-3 days in Florence to visit the museums and admire the architecture and history.
If you are spending longer in Tuscany, consider visiting Lucca, Pisa and Siena. Lucca is known for the walls built around the city during the Renaissance, and Pisa is known for its iconic Leaning Tower of Pisa. Siena, a small city close to Florence, is known for its agritourism, medieval cityscape, art and food.
Summer months in Italy are not the best time to be in Florence. Florence is uncomfortably hot in July and August. The temperature usually rises to 39-40°C. It's best to start sightseeing early in the morning to get some respite from the heat during mid-day.
---
Emilia Romagna
Bologna, the capital of Emilia Romagna, is less crowded than Rome, Florence or Venice if you want to be in Italy in summer. It's an excellent place to relax, enjoy Italian food and see some cultural sights during summer Italy.
Bologna is known for porticoes or roofed arcades that cover an area of 62 km of the city! The porticoes made of brick, wood and stone cover many of the squares and pathways in the city.
You can explore parts of the city walking under the porticoes' shade, making it a great summer Italy destination. An important monument here is the Sanctuary of the Madonna di San Luca, often used to represent Bologna in photos. The 3.8-kilometre portico leading up to the Sanctuary is the longest in the world.
Other popular sites include the Basilica di San Petronio, Basilica Santo Stefano and Archiginnasio di Bologna. During summer, Piazza Maggiore, the city's central square, is converted into an open-air theatre. The movies showcased here attract many tourists who are in Italy in summer.
July-August is very hot and muggy in the city, with temperatures going up to 35-36°C s, and June is tolerable but still hot.
---
Lazio
Rome is the capital of Lazio and the country's most visited destination. Expect crowds if you are in Italy in summer because millions visit Rome every year.
You've probably heard about the Colosseum and Trevi Fountain. But Rome's list of monuments and architectural marvels is long. The Vatican Museums, St Peter's Basilica, the Pantheon, the Sistine Chapel … You'll need a reasonable time to see all the Roman monuments. I'd recommend at least three days in Rome.
Rome is not pleasant in summer; in fact, locals even leave the city to get to cooler climes in the country. The weather is warm in June. But the city gets incredibly hot and humid during July and August, with daytime temperatures reaching 40°C. But this is the peak season, so prices are the highest.
September is hot as well but less humid. Most of the city's attractions are outdoors, so you'll have to plan your itinerary to include sightseeing if you want to be here during your summer holiday Italy. You can start early and continue post 4pm until night.
---
Puglia
Bari, the industrial town of Puglia, is from where most tourists start their trip around the region. Puglia is worth visiting for its whitewashed port towns, beaches and delicious Italian food.
Polignano a Mare is home to Puglia's best beaches. Lecce is known for its beautiful Baroque architecture, while Otranto has sweeping sea views. Alberobello is famous for Trulli, white huts with conical roofs. Tourists also spend time in Ostuni and Monopoli. These communes are not too far from each other, and road-tripping is common. Here's more things to do in Monopoli.
Puglia has dry summers. July and August are the hottest. While coastal areas are comparatively cooler, temperatures range between 30-35°C during summer in Puglia. Puglia may not be as famous as Rome or Venice, but plenty of tourists who are in Italy in summer visit the region.
---
Campania
Naples, the capital of Campania, is known for its historic attractions and cuisine. In Naples, you can visit the Naples underground, the Royal Palace of Naples, Castle Nuovo, Ovo Castle and many more such historical sites.
Naples is also the birthplace of pizza. In 1889, a local baker named Raffaele Esposito created the first pizza ever. The city is still known for their pizza, and many eateries compete to offer the best Neapolitan pizza to tourists and locals.
You can also hike on Mount Vesuvius, an active volcano located about ten kilometres away from the city. You can also take a day trip to see the ruins in nearby Pompeii and Herculaneum, both grand archaeological sites that show the life of ancient Romans.
Campania is an excellent destination for being in Italy in summer because of its beautiful islands – Procida, Ischia and Capri. Of these, Capri is the most well known for its designer shops, upscale resorts and celebrity visitors.
But you'd be happier on a summer holiday Italy at any of the islands as the temperature here is warm and the heat is not as intense as in the other cities. Capri is very crowded during the summer months, though, as locals throng to the island.
Naples is the hottest in August. Daytime temperature ranges in the 30-35°C range. Amalfi Coast is slightly cooler, though considerably hot in June-August.
---
---
Sicily
Sicily is a favourite for tourists who are in Italy in summer. The Mediterranean island has magnificent beaches – the best place to beat the heat on a summer holiday Italy. Scala dei Turchi, San Vito Lo Capo, Isola Bella in Taormina and Rabbit Beach, Lampedusa are some of the best beaches in Sicily.
Sicily also has architectural buildings built in the Sicilian Baroque style, such as the Cattedrale di Palermo and the Norman Palace. The Valley of Temples, an archaeological site in Agrigento, is one of the main attractions on the island.
You can also hike near Mount Etna, an active stratovolcano on the island's east coast. You can see the lava flow caves in the area if you visit with a guide.
August is the hottest month in Sicily. Temperatures range between 30 to 35°C.
---
Sardinia
Sardinia has the dreamiest beaches — pristine blue water, white sand — it doesn't get better! Even Italians swear by them.
Spiaggia Rena Bianca, Porto Istana Beach, Porto Giunco and Spiaggia di Cala Coticcio are some of the popular beaches here. You can do snorkelling, dolphin tours or kayaking in Sardinia, or hike and discover through one of the coastal trails here.
Sardinia doesn't have many big cities. Cagliari is the biggest city here, with a few museums and churches to explore. There are also a few archaeological sites on the island – Nora, Tharros, Pula and Su Nuraxi.
Sardinia is hot in June, July and August. August is the peak season for the island. Temperature can go up to 32°C and 40°C in case a heatwave hits. Expect to pay higher for accommodation, ferries and airfares in Sardinia if you are in Italy in summer.
---
Italy is more than just its wine and cheese although the pairing is perfect to start summer evening here!
If this doesn't entice you to visit Italy, I'm not sure what will! There's a reason why places like Cinque Terre, Venice and Rome get busy.. Italy definitely knows how to draw the crowds and keep them spellbound!
---
FAQs for your Italy in summer holiday
Is summer a good time to visit Italy?
Italy in summer can be unpleasantly hot. Many cities like Rome, Florence and Venice are sweltering and crowded in the summer. It's not the best time to visit Italy unless you want to be by the mountains or the sea, yet preferred by many tourists in Europe and otherwise.
A summer holiday Italy also needs a lot of planning as this is the peak season for tourism. Accommodation and flight tickets will get super expensive unless you book in advance.
What is Italy like in summer? 
Italy in summer is lively and hot. It's the peak season for tourism. So expect lots of other tourists unless you are in entirely offbeat destinations. It can be humid and hot or hot and dry depending on the city you visit.
Is July a good time to visit Italy?
North and central Italy are bearable or balmy. The southern regions may be too hot for some travellers. Italy in July would be too expensive unless you have pre-planned the trip.
How hot is Italy in the summer? 
For some cities, the temperature can go as high as 35-40°C in summer. For others, the daytime temperature is as high as 30-35°C. If you want to be in Italy in summer, pre-plan your trip and itineraries.
When is summer in Italy? 
Summers in Italy are from 22nd June to 21st September.
---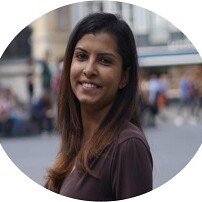 Award-winning Analyst, multi-nominated digital content creator and photographer Lavina Dsouza's words capture stories about culture and tradition mainly through its food and people. She has written and contributed to publications such as The Washington Post, Lonely Planet and Matador Network, to name a few. She is the editor of UntraditionalHumans.com, a non-profit created to share inspiring stories from women of colour who break free from traditions and choose happiness.
She's also a speaker passionate about DEI and champions solo travel. She has collaborated with numerous renowned brands such as Intrepid Travel, TripAdvisor, Travel and Leisure and Adobe, to name a few.
She can be found on Twitter and Instagram.
---
---
What's the best summer holiday you've had?
Let me know in the comments below!
---
---
Some of the links on this post are affiliate links. These do not cost you extra to use, but will help provide Continent Hop with a small commission if/when you purchase through them, to recover some of the costs of running this website and providing free content to help you plan your travel. I appreciate your support!
---