Valle Di Cembra or Val Di Cembra is located in the Trentino region in Italy and has some of the most surreal and unique experiences you will ever have away from the crowds in Italy. Read on to find out what you can do in the Cembra Valley.
We're on our way to experience a one of its kind therapy. It's meant to be a surprise. We're told it involves bees.
I grew up in an overpopulated city. We rarely saw bees. Hence, I was never frightened of bees but rather fascinated with their colourful stripes and was quite excited to see what was in store.
The walk through the village of Bedollo in Trentino is as picturesque as it can get. Flowers of almost every color are scattered all around and countless bees and butterflies are busy extracting nectar.
After about 10 minutes we're finally at our destination, Bee Wellness.
Once inside the hut, we try to calm our minds and doze off to the faint buzz of bees that can be heard from the hives attached to the hut. Apparently, the bees' frequency helps calm the mind and muscles thus, in turn, helping to mentally detox.
This was just one of the many unique adventures I came across during my time in Trentino. We visited the regions of Valle Di Cembra and Valle Dei Mocheni and searched for gold, went caving, saw natural pyramids and even made yarn and butter!
In the one week we spent here, we hardly came across any tourists other than ourselves.
Locals were engrossed in their daily activities and were happy to welcome us and show us around. It felt surreal to almost have the place all to ourselves, taste organic food and get in touch with nature.
---
I'd been to Italy 3 times before I got a chance to visit Trento. It was jaw-dropping to take a walk down one of the streets with the Dolomites in the background and people sipping glasses of orange Aperol Spritz at the restaurants, oblivious to the world.
It reinforced the belief that while touristic locations are worth a visit, the world is full of hidden wonders that are waiting to be explored and Trentino was just one of them.
If Italy is one of your favorite destinations, and you're looking to move away from the usual sites like Rome or Venice, here are a few things you can do in Valle Di Cembra, Trentino to have the best time here.
---
WHERE IS VALLE (VAL) DI CEMBRA
Valle Di Cembra literally translates to 'Valley of Cembra' and is located in Trentino. Chances are, you may not have heard of Trentino as well. Located in Northern Italy, Trentino shares the Dolomites with its neighbor Austria.
The region is mountainous but this hasn't deterred the locals from using the land to make a living and supporting agritourism and organic farming. Farms are located at high altitudes with the most stunning views of the Valle Di Cembra.
The province has winding roads that pass through rolling hills; hills where cattle roam freely and farmers have fun trying to round them up.
It also makes it the perfect location for vineyards to thrive, making it even more scenic.
---
Valle Di Cembra/Val Di Cembra – the best things to do
---
DAY 1
---
MORNING
The naturally formed Segonzano pyramids
The day started with a visit to the Segonzano Pyramids, a 'must-do' when in Trentino. If images of Egyptian pyramids come to mind, the Segonzano pyramids were nothing like them.
These natural, 'earthy' pyramids have apparently been around since the Ice age, formed due to a mass of rocks and sediment carried down and deposited by a glacier (moraine).
Located in a forest near Segonzano village, the rocks in the pyramids contain large deposits of feldspar which gives them a faint red tint.
The towers don't conform to a particular shape however most of them look like a truncated cone with a boulder on the top which makes them look like organ pipes or to some, a male organ!
A marked path took us to the pyramids, and once we'd seen this geological marvel, we were met by our guide Paolo who wanted to make sure we didn't miss out on all the secrets the forest held.
As we made our way through the trees he pointed out wild strawberries, blackberries, elderflower blossoms and even various beetles.
When a few of us got tired and waited to catch our breath, he imitated some birds to see if they would chirp back and tried to identify them. On our way back, we also saw wild mushrooms and ended the walk by making a wish on a Dandelion.
---
DETAILS
Address: Pyramids of Segonzano Trento, Frazione Scancio, 25, 38047 Segonzano Trentino, Italy
Timings: April 25th – May 1st and from June 1st – September 30th – every day.
May 2nd – 31st May and in October only on Saturday, Sunday and midweek holidays.
Mondays and Tuesdays 9 AM – 1 PM, 1.30 PM – 5.30 PM.
Wednesday, Thursday and Friday from 9 AM to 5 PM
Saturday and Sunday from 9 AM – 1 PM, 1.30 PM – 5.30 PM.
Entry: 3 Euros per person, free for Trentino guest cardholders
---
---
AFTERNOON
Views of vineyards and Durer's history at Castello di Segonzano
A 30 minute walk from the Pyramidi takes you through vineyards to the Castello di Segonzano, a medieval fortress perched on the slope overlooking the Valle di Cembra.
During the Battle of Segonzano, the castle was set on fire by Napoleon's French troops hence it now lies in ruins but the location at which it was built is incredible.
This may have been what German artist Albrecht Durer (of Adam and Eve fame) thought too as when he needed to divert his route on his first journey to Venice, due to the flooded Adige river, he ended up staying here and painting the landscape.
There is no historical record of this however two of the paintings feature the Segonzano castle due to which his path can be traced.
We had a picnic lunch here while we tried to replicate a few of Durer's paintings at a painting session that had been organised for us.
If these views stir the artist in you, pay a visit in summer as cultural and historical events are held here or you can take a walk all year round through any of the panoramic paths that pass by the castle.
---
DETAILS
Address: Castle of Segonzano, SP101, 38047 Segonzano, Trentino, Italy
Timings: For more info please refer to the website here
Entry: Free
---
---
EVENING
Wine tastings, waterfalls and a traditional meal
As we were getting done with our paintings at the castle, strong gusts of wind kicked in and we quickly wrapped up and made our way to our next stop, Cantina dei Baroni where Paolo the owner, has arranged a wine tasting for us, and had placed platters of cured meat and cheese to go with it.
He told us not to be bothered with the wind called the 'Ora del Garda', which gets its name from the word 'aura' and translates to the 'Breath of the Garda'. This was typical during the afternoons in the areas to the North of the Lake Garda.
As mountains surround the lake, the difference in pressure creates these winds which in turn causes the weather in Valle Di Cembra to alternate rapidly between winds, sunny skies and a few showers creating an environment conducive to the Pinot Noir vineyards which reflects in the flavorful taste of the wines made here.
The family run vineyards have a strong connection with the Valle di Cembra and the Segonzano castle, not only because the vineyards are located here but because Paolo's grandfather was once taking a walk by the river and decided to rest.
A little while later he realized it was the exact landscape Durer had painted with the view of the castle in the background. It was due to Paolo's grandfather that officials in Trentino were able to recognize the castle which was unknown till then!
To commemorate this, the wine bottles have the painting on their labels.
After an exciting day, on our way to the hotel we stopped for a few minutes at the Cascata del Lupo, 'the wolf's waterfall'. The beautiful cascading waterfall is 36 meters high and makes for a good walk. If you like hiking, you can even continue walking on the route that will lead to the Pyramids which would take about two hours.
It was time to end the day with a traditional meal at our hotel, the hotel Belvedere. The advantage of this arrangement was that once we were done with dinner all we had to do was take the stairs to our rooms. The meal included Venison carpaccio and some traditional dishes like fresh pasta and a side of polenta.
---
DETAILS
Address: Cantina Barone a Prato, Frazione Piazzo, 44, 38047 Segonzano, Trentino, Italy
Timings: Monday – Friday 9.30 AM – 6.30 PM, Saturday and Sunday 11 AM – 3 PM. More details can be found here
Entry: Call Paolo on +39 347 7593662 to organize tastings and visits
The location to the waterfall can be found here
---
---
DAY 2
---
MORNING
Fresh gelato and herding cows at Fattoria Le Mandre
The next day began at the Mandre farm in the village of Bedollo. Laura the owner, welcomed us and told us how the farm came into existence.
Her grandfather used to keep cows here for decades. Once while looking over the valley, her father decided he wanted a farm of his own at that location. However, banks wouldn't lend him money as they weren't sure he would pay them back. Almost everyone in the area had a dairy farm and they were sure no one would come to buy cheese all the way to Bedollo.
He did not give up on his dream and on a trip to Tuscany, was inspired by the production of Pecorino Toscano and decided to produce the sheep cheese in Valle Di Cembra.
After a few teething troubles, he was able to expand the farm to include agritourism and dairy farming.
Now three generations old, the Mandre farm has about 20 strong Alpine Grey cows which produce about 15 – 18 kilos of milk per day. As they are grass-fed the milk produced by them is healthier and organic.
The cheese produced from the milk is slightly yellow which implies it is grass-fed. In addition to milk and a variety of cheeses, the farm sells locally made gelato and frozen yoghurt.
While taking a tour of the farm, we were asked by Marco the farmer if we would like to help him herd the cows who were out grazing. When the cows saw a group approaching they came closer assuming we were there to feed them!
It seemed like we were making things worse with all the noise we were making, as some cows were heading off in the opposite direction!
After about 20 minutes of animated fun, the efforts of the farmer and a few of us paid off and we were finally able to get all the cows back up the hill, towards the farm.
Our efforts were rewarded with a hearty helping of gelato with toppings of our choice and a cheese tasting on heart-shaped platters at the Mandre farm.
---
DETAILS
Address: Azienda Agricola Le Mandre, Via Sant'Osvaldo, 37, 38043 Bedollo TN, Italy
Timings: 8 AM – 10 PM
---
---
AFTERNOON
Making copper artefacts at Area Archeologica Acqua Fredda
One of the most important foundries of the late Bronze Age in Europe, the archaeological site of Acqua Fredda was found while the Redebus Pass (which connects Valle di Cembra to the Valle Dei Mocheni) was being constructed.
Nine quadrangular melting furnaces were discovered here in addition to some tools and artifacts, some of which are placed on the table for us to see.
A blacksmith sat by the side of the museum prepared the bellows to help us try our hand at forging some tools.
It was quite chilly so we all tried to get closer to the furnace while one of us tried our hands at the bellows. Once the metal had melted, we watched while he expertly poured the molten liquid into a stone cast.
After letting it sit for a while, he took the cast off and poured some water over it to cool it down to reveal a shiny axe.
The site is evidence of the extensive copper mining carried out in the Valle Di Cembra region, a metal that is now rarely found in Trentino, due to which it is an important part of the history and heritage of Trentino and schools in the area conduct day trips to this site.
Blowing the bellows and the cold wind had helped us build an appetite and lunch at Ristorante Baita Alpina was next on the list.
---
DETAILS
Address: Area Archeologica Acqua Fredda, SP224, 38043 Bedollo, Trentino, Italy
Entry: Free however bookings required. Contact the local tourist office of Piné Cembra on tel. 0461 557028 (by 5 PM a day before the visit)
---
---
EVENING
Catching a nap with the bees at Bee Wellness Contadino
The last stop on our Northern Italy itinerary was a stop at the Apicoltura Gocce d'Oro. The family-run agritourism venture by the Andreatta family has been around since the 1850s, ever since their great-grandfather started keeping bees.
Over the years they've now grown to manage about 250 hives and a small aromatic herb garden which not only helps provide herbs but also helps the bees to gather nectar from multiple sources.
The bees produce various flavors of honey, which is the main product here. The herbs are used to make lotions, teas, grappe, sweets, aromatic salts and cosmetic extracts. They are also used in conjunction with the beeswax to make aroma candles and soaps.
The bees are also the key requirement for the wellness hut. The frequency that they buzz at, which is similar to the leaves rustling in the wind, is apparently the required optimal frequency that helps us relax and switch off.
Bee therapy houses are commonly found in Slovenia however the one run by the Andreatta family is the only one in Northern Italy!
A session lasts for approximately an hour and a half and while I don't catch a wink easily, it was nevertheless an interesting experience.
---
DETAILS
Address: Gocce d'Oro – Apicoltura e Giardino d'Erbe – PINèRBE, Via Guglielmo Marconi, 35, 38043 Piazze TN, Italy
Timings: By appointment from early May to September (weather permitting) from 9 AM – 7 PM. Maximum 4 people at a given time if you're in a group.
Cost: 20 Euros per person. A discount is given if you have the Trentino guest card
---
---
The Ora del Garda was causing a shift in the weather again and as we waited for our ride to take us back, a few of us saw freshly picked strawberries in the back of a van. As we were taking pictures, a local farmer came out which made us scamper away.
He picked a bowl, followed us and offered them to us with a big smile. He hadn't intended to chase us away!
As the evening was drawing to a close and we made our way to Valle Dei Mocheni, huge grey clouds started to form patterns in the sky. After a few minutes I realized that these were Mammatus clouds, one of the world's rarest cloud formations.
Witnessing an occurrence only a few handful in the world are blessed to observe combined with the passion and the warmth of the people in this unknown destination made me realize the more I move away from the noise and the crowds, the more genuine and heartfelt the interactions became.
Trentino certainly knew how to make guests feel welcome and not having visited Milan didn't seem bad after all!
---
WHAT IS THE BEST TIME TO VISIT VALLE DI CEMBRA
Summer is the busiest and the most popular time to visit Valle Di Cembra or the whole of Trentino.
However, shoulder season from March-May and September is pleasant too and is budget-friendly.
It can get quite cold in Autumn and Winter due to the mountains but if you like cold weather, Trentino is picture-perfect with the Dolomites covered in snow.
HOW TO GET AROUND VALLE DI CEMBRA
HIRING A CAR/BIKE
The most convenient way of getting around Trento and Valle Di Cembra is by hiring a car or a bike and driving around. Valle Di Cembra is located about 30 minutes from Trento.
PUBLIC TRANSPORT
A few buses operate between Trento and Valle Di Cembra and they leave from Trento-Autostaz. The journey takes about an hour and updated bus details with numbers and routes can be found on Google Maps. Bus numbers 5, 6, 7, and 9 are the usual ones.
FROM THE AIRPORT
Verona is the closest airport to Valle Di Cembra. From Verona, the train takes about 45 minutes to get to Trento. Valle Di Cembra is located 30 minutes away from Trento.
WHERE TO STAY IN VALLE DI CEMBRA
HOTELS
While in Valle Di Cembra we stayed at the Hotel Belvedere which had amazing views and also a pool. Certainly, an option to consider during your visit here.
---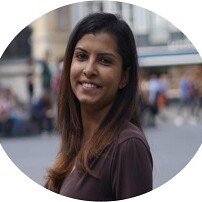 Award-winning Analyst, multi-nominated digital content creator and photographer Lavina Dsouza's words capture stories about culture and tradition mainly through its food and people. She has written and contributed to publications such as The Washington Post, Lonely Planet and Matador Network, to name a few. She is the editor of UntraditionalHumans.com, a non-profit created to share inspiring stories from women of colour who break free from traditions and choose happiness.
She's also a speaker passionate about DEI and champions solo travel. She has collaborated with numerous renowned brands such as Intrepid Travel, TripAdvisor, Travel and Leisure and Adobe, to name a few.
She can be found on Twitter and Instagram.
---
---
EXPLORE MORE OF FOOD JOURNEYS
---
Some of the links on this post are affiliate links. These do not cost you extra to use, but will help provide Continent Hop with a small commission if/when you purchase through them, to recover some of the costs of running this website and providing free content to help you plan your travel. I appreciate your support!
---