Did you know that the pilot episode for Game of Thrones was filmed in Morocco, but was never aired? Did you know that the 'walk of shame' in Astapor is one of the Morocco Game of Thrones locations? Here's all info about all the Game of Thrones in Morocco sets you must visit if you're a fan!
Morocco – the home of the unsullied, the land of Yunkai city, and the realm where Daenerys and Khal Drogo originally wed.
Of course, it all will make sense only if you are a true Game of Thrones enthusiast. Morocco has witnessed the shooting of 3rd season of GOT and different locations were used during the filming.
Plan a Morocco game of thrones trip and you will get to see how Essaouira has preserved its medieval essence and how the castle of Ait Benhaddou turned into Yunkai.
These Morocco Game of Thrones locations were enhanced in post-editing, but the original sites are as fascinating as the series.
There may not be dragons waiting to welcome you with their fiery breaths, but the spectacular landscapes of Morocco are enough to dazzle you with their rugged beauty.
All you have to do is plan a vacation using this detailed travel guide for all the Game of Thrones filming locations Morocco!
---
Morocco Game of Thrones fun trivia
---
We all know about the legend that is Game of Thrones, but only a few of us know about the pilot episode that was never aired.
Yes, this is where Morocco comes into the picture. This pilot episode is one of the first Game of Thrones in Morocco. This is where the wedding of Khal Drogo and Daenerys was filmed.
Do you know why we never got to see it though?
As unbelievable as it may sound, the award-winning director and his crew managed to create an episode that can be described as 'the massive problem'.
No, those are not my words, but David Benioff, co-creator and showrunner of GOT, confessed in an interview that the first pilot episode was a major failure.
But then, the showrunners decided to change everything, including the location and a few actors like the one that played Daenerys in the old pilot.
It meant shooting the new pilot episode in Malta instead of Morocco. (Here's all the deets about about Game of Thrones locations in Malta)
That's why Morocco entered the GOT filming party pretty late in the 3rd season.
But hey, better late than never, right? Let's celebrate the fact that we got to see some of the fascinating Morocco Game of Thrones sites.
Be it Essaouira which was used as Astapor, home of Unsullied or Ait Ben Haddou which was transformed into Yunkai the yellow city, you will find plenty of Game of Thrones filming locations Morocco today.
However if you'd like to see more of Morocco, consider booking a tour agency in Morocco that is reliable and conducts trips that are hassle-free. Morocco Travelling is reliable and some of their most exciting tours are to the Sahara desert.
---
The Game of Thrones Morocco locations
A country like Morocco created some of the perfect locations for the Game of Thrones series.
It is a cinematographic treat for film enthusiasts to watch such grand sets and backgrounds.
Here's more about all the Morocco Game of Thrones locations including Essaouira, Ait Benhaddou, and Atlas Studios. You will find that these Moroccan cities go back centuries and have an interesting history.
---
Game of Thrones Essaouira – Astapor Home of the Unsullied
The port city of Essaouira is known for its medieval essence.
This 18th-century fortified town has ancient vibes that helped in featuring it as the home of the Unsullied. The areas around the Ramparts and Sqala du Port were featured as Essaouira Game of Thrones locations.
The ramparts date back to the 1760s and were used in the GOT series as the 'walk of shame'  in Astapor. Today, as you take a walk along the walls, you will be in awe of the well-preserved historic grandeur.
Enjoy the stunning Atlantic Coast views and also, enjoy the Essaouira Morocco Game of Thrones location while wandering along the ramparts.
You will also see the popular landmark of Sqala du Port in the background when Daenerys explored the Astapor harbour.
This square defensive tower was built in the 18th century and is still in excellent condition. That is why we get to see the impressive structure without any post-editing effects in the series.
So, take a walk along the harbour and click lots of photos for your social media, because every GOT fan knows how exciting it is to be here!
---
How to reach Essaouira
The easiest way to reach Essaouira is by bus.
You will find several bus operators on this route and it only takes around 2.5 hours to reach Essaouira from Marrakesh.
You can also rent a car or opt for a private taxi. You will also find shared shuttles that travel from Marrakesh to Essaouira. Depending on your budget, you can choose how you want to travel to this interesting Morocco Game of Thrones city.
You can also consider booking this Essaouira Full-Day Trip from Marrakesh where transport will be taken care of.
It will give you a chance to explore your favourite Game of Thrones Essaouira sites without worrying about the bus schedule.
---
Atlas Studios in Ouarzazate – Where Game of Thrones Morocco came to life
No wonder the legendary series like Game of Thrones decided to use one of the world's largest studios while filming in Morocco.
You will find several sets of GOT were from Atlas Studios in Ouarzazate. Located right in the red desert, Atlas Studio is known for famous movies like Gladiator, The Mummy, and Prince of Persia.
Many fans check for Ouarzazate game of thrones filming locations when it comes to planning an itinerary without knowing that it is actually a studio set and not a real location.
But that does not mean you cannot visit these places and travel to the fantasy land of dragons. You can take the Game of Thrones Morocco grand tour as the Atlas Studio is open to the public.
You can check the visiting charges and timings of this Moroccan Hollywood to see what is included in the guided visit.
From exploring backstage areas to learning about inside stories, you can do it all. Who knows, you might get to see a film shoot as well!
The town of Ouarzazate is known as the Gateway to the Sahara. The rugged landscapes of the city and surrounding areas made the perfect backdrop when Game of Thrones filmed in Morocco.
The Game of Thrones season 3 episode 4 of 'And Now His Watch Is Ended' was shot here.
Do you remember how Daenerys freed Astapor and ordered the dragon to kill Kraznys after Kraznys continued to insult her in Valyrian?
That's the Morocco Game of Thrones scene shot in the Atlas Studio in Ouarzazate. You will also get to see how the city of Pentos was created here. It was one of the free cities in Slavers Bay.
---
How to reach the Atlas Studio, Ouarzazate?
The most popular way to reach Ouarzazate from Marrakesh is by bus.
The one-way bus ticket usually is around 80 Moroccan Dirhams and it takes 5 hours to cover the distance of 200 kilometres.
There are not frequent buses between Marrakesh and Ouarzazate, but even with a limited number of buses, the schedule is regular. You can also book a private taxi to reach the Atlas Studio when you are interested in the Game of Thrones Morocco trip.
Taking a cab will help you cover this distance in around 4 hours and you will also be able to see other attractions on the way.
---
Ait Benhaddou Game of Thrones – Yunkai the Yellow City
The fortified village of Ait Benhaddou is a fascinating place even for those who have not watched GOT.
The houses here proudly flaunt Moroccan earthen clay architecture and make it a UNESCO World Heritage Site. Visit this area and you will realize why Ait Ben Haddou game of thrones made the perfect sense on screen.
This traditional pre-Saharan habitat made the exact setting expected to create Game of Thrones vibes.
Do you remember the scene that gave everyone goose bumps where Yunkai habitants called Daenerys 'Mhysa', meaning mother, and celebrated her?
That is one of the Ait Benhaddou game of thrones scenes. Of course, the gates of the city are added post-editing, but the village will ensure you get to relive that iconic 'Mhysa' moment.
---
How to reach Ait Benhaddou
There are two ways to reach Ait Benhaddou when you are taking the Game of Thrones Morocco grand tour.
If you are staying in Marrakesh, then you will need to cross a little over 200 kilometres one-way and the only transport option is to book a taxi. The charges are usually higher and may cost you over 1200Dh.
Alternatively, you can stay overnight in Ouarzazate and then take a taxi from there. It will take only half an hour to reach Ait Benhaddou from there and the taxi charges are usually less than 300Dh.
---
DETAILS
Entrance Fee: Kasbah Ait Ben Haddou entrance fee for adults is 10 MAD ($1) and for children it is 5 MAD ($0.50)
Note: You cannot stay at Ait Ben Haddou as there are no hotels here. The closest place is Ouarzazate.
STAY: Opt for a one night stay at Riad Bouchedor, where we stayed as well. The food is fantastic and ensure you opt for a stay with meals. It gets quiet in the villages at night, and restaurants are sparsely available. Stays inclusive of meals are priced reasonably.
Another option would be to try Dar Chamaa. The lobby looks great.
Address : 123456789, Tarmigte 45000
—
Address : 123456789, Tarmigte 45000
---
The Morocco Game of Thrones location nobody told you about – Tazentoute
The small area of Tazentoute is located near Ouarzazate and is a least-known Game of Thrones set Morocco.
The official HBO blog of Making Game of Thrones mentioned that Tazentoute is where Daenerys met the Yunkai and negotiated the surrendering terms. If you decide to stop by this area, you will come across the sprawling desert with rugged landscapes.
Even without dragons and the sea of people, you will find this land equally enchanting.
---
How to reach Morocco
There are several ways to reach the country when you are exploring the Game of Thrones Morocco locations. You can choose the one that suits your itinerary and budget.
It is recommended to reach Morocco by flight as the country has around 10 international airports served by different airlines and is well-connected to the rest of the world.
Major European cities like London, Madrid, and Paris as well as New York and Montreal have direct flights to Marrakesh. Mohammed V International Airport is one of the busiest and largest airports in the continent and is popularly known as Casablanca Airport.
If there are no direct flights to Morocco from your country, then you can take a flight to Spain, France, or Gibraltar and then take a ferry to Morocco from there.
If you opt for a ferry from Tarifa to Tangier, then you will reach Morocco in an hour.
But there are other routes that take more than a day to cover the distance. So, check the schedule of different ferry operators from different ports before confirming the bookings.
You will find bus and rail services connecting Morocco with the UK and Ireland.
But both of these transportation options take longer than a day and are costlier than taking a flight. So, this option is usually not recommended for tourists.
---
Where to stay in Morocco
It is recommended to stay in Marrakesh when you are vacationing in Morocco.
There are plenty of  Morocco Game of Thrones tours available from Marrakesh. The transport is easy to book and stay options are easier to find to suit your budget.
Savoy Le Grand Hotel Marrakech is a luxury stay where you will get an outdoor pool, free wifi, airport shuttle, and family rooms along with a spa and wellness centre.
The hotel in Marrakesh is located only 500 meters from Menara Garden and is 2 kilometres from Marrakesh-Menara airport.
If you are travelling on a budget, you can consider staying at Hotel Central Palace. This place is located in the old town area and is near Djemaa El Fna and Souk of the Medina.
Facilities like a 24-hour front desk, free Wi-Fi, room service, and airport shuttle are also available.
Check the prices and amenities of different hotels in Marrakesh before finalizing your stay.
---
Are you planning to cover all the Morocco Game of Thrones sites in Marrakesh?
Which GOT scenes filmed here are your favourite? For me, the 'Mhysa' moment will always top the chart.
Do let me know in the comment section about your favourite Game of Thrones Morocco moments. And do read about Northern Ireland Game of Thrones locations for more fun information!
---
Morocco Game of Thrones FAQs
Was Games of Thrones filmed in Morocco?
The fortified town of Ait Ben Haddou and the medieval city of Essaouira were used for Game of Thrones filming in Morocco. Some parts of GOT were also shot at Atlas Studios in Ouarzazate. Apart from Morocco, GOT was also filmed in countries like Scotland, Ireland, Malta, Spain, and Croatia.
Which season of Game of Thrones was filmed in Morocco?
The 3rd season of Game of Thrones was filmed in Morocco. This is the season when locations like Ait Ben Haddou and Essaouira were used for filming different scenes featuring Daenerys and unsullied. The original pilot episode of Game of Thrones was also shot in Morocco, but it was never aired.
Where is Essaouira Game of Thrones?
The port city of Essaouira is located on the Atlantic coast of Morocco. The parts of the city were used as Slaver's Bay, and Astapor during the 3rd season of Game of Thrones. It is around 3 hours away from Marrakesh and is a popular day trip option for GOT lovers.
---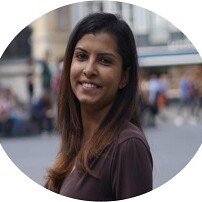 Award-winning Analyst, multi-nominated digital content creator and photographer Lavina Dsouza's words capture stories about culture and tradition mainly through its food and people. She has written and contributed to publications such as The Washington Post, Lonely Planet and Matador Network, to name a few. She is the editor of UntraditionalHumans.com, a non-profit created to share inspiring stories from women of colour who break free from traditions and choose happiness.
She's also a speaker passionate about DEI and champions solo travel. She has collaborated with numerous renowned brands such as Intrepid Travel, TripAdvisor, Travel and Leisure and Adobe, to name a few.
She can be found on Twitter and Instagram.
---
---
What's your favourite Game of Thrones scene?
I'd love to hear them in the comments below!
---
---
Some of the links on this post are affiliate links. These do not cost you extra to use, but will help provide Continent Hop with a small commission if/when you purchase through them, to recover some of the costs of running this website and providing free content to help you plan your travel. I appreciate your support!
---