Is Morocco safe for women is often the question asked especially while traveling to Morocco as a woman. Here's info to stay safe and have a good time in Morocco as a solo female traveller. These tips should help you if you're planning on a solo female travel Morocco trip!
Regardless of where you're travelling from and which country you originally belong to, Morocco is a pretty safe country to travel to, as a general rule.
However, some countries have listed Morocco as a 'high risk' country for tourists – such as Canada – but I think this only represents the vastly skewed generalization and misconception that most of the West has towards most African/ Middle Eastern/ Islamic nations.
The International SOS – and most of Europe – consider Morocco a low risk country. That is not to say, however, that Morocco is the safest place for women to travel to.
However, as women we know that 'Is Morocco safe for women' will still be a question when planning a trip to Morocco.
As is with any other country, regardless of how safe it is, for women it mostly always means considering a whole lot of other things before coming to a conclusion of whether a country is safe or not.
There are certain things that need to be kept in mind for your safety in Morocco as a woman – as you would do with any other destination you travel to. I answered the question 'Is marrakech safe? here, however read on if it is mostly to do with traveling to Morocco as a woman.
Is Morocco safe for women? – Here's some info when traveling to morocco as a woman
---
Morocco Solo Female Travel
Morocco may definitely not be the easiest country for a woman to travel in – and the challenges only increase as a solo female traveller in Morocco. As much as it hurts me to say this, travelling to Morocco with a man is definitely much easier if you're a group of women or especially a solo female traveller.
But having said that, I do not mean to dissuade women from travelling solo to Morocco. Some things just must be kept in mind, when you do.
Firstly, it is important to keep your guard up at all times. When you are by yourself – you will get a lot of unwanted attention from local men which will get pass by quickly.
This can come from men walking down the streets, the shop owners or just about anyone around you outside.
A ridiculous thing I have seen working for a lot of women is to walk behind male tourists so it comes off as if you are travelling with them and the attention will die out very quickly.
Another tip that may work to ward off unwanted male attention for solo female travellers in Morocco is to wear a wedding ring (even if you are not married).
As twisted as it is, the knowledge of you being married will mostly dissuade men from approaching you. Avoiding eye contact as far as possible may also be a good idea.
A lot of times, wearing sunglasses also helps to not have to constantly make the effort of looking elsewhere.
Never leave your foods or drinks unattended and while in the Marrakech souk, only engage if you're interested in purchasing items else politely say 'No, thank you' and keep moving on.
But at the same time, it is important to note that most troubles come in big cities like Marrakech (especially Jemaa el Fna) or Fes. Smaller places, especially the villages in the Atlas Mountains of Morocco are far safer than the cities in Morocco.
The people in these parts of Morocco are usually very warm and welcoming and will make sure you're having a good experience in their hometown.
---
Travelling in Morocco as a Woman – Clothing
---
As beautiful as Morocco is with its unique and vibrant culture and diverse landscapes, it is important to remember that Morocco is still quite a conservative country.
It is best for women to dress modestly as far as possible. Clothes which cover you up well and are not too revealing of your figure, are the best kinds to wear in Morocco.
Think long skirts, loose pants or jeans, kurtis, loose shirts etc. Additionally, it might also be a good idea to have a scarf on you at most times.
Many women have noted that whenever they have their heads covered, they blend in with local women more and the unwanted attention from men is reduced drastically.
The headscarf also helps whenever you are visiting a religious site in Morocco, to show your respect and follow their rules.
As far as beachside Morocco is considered, bikinis are good to go if you are staying in a resort that has its own private beach.
Resort pools also will mostly be okay with women wearing bikinis. The best is to gauge the situation by how others are dressing around you and follow suit.
Always keep a modestly covering swimsuit handy so your water time is not compromised! However, on public beaches, it will mostly be a hassle to get into the water without having eyes on you.
Burkinis are a nice way to go around this problem – they are trendy and also keep you covered. However, as a woman travelling in Morocco, it would be best if you got used to getting stares from locals around you and learned to ignore it.
---
Travelling in Morocco as a Woman – Street Safety
The streets may not always be the safest place for a woman travelling in Morocco – especially in the big cities like Fes and Marrakech.
The biggest threat is simply pickpocketers and purse snatchers. Carrying a handbag may not be the best option as it is easy to snatch and disappear into the crowd with it.
The best alternative to this would be either carrying a backpack, but on your front, or a cross body sling bag which you can have eyes on all the time.
Also, it is a wise decision to distribute your belongings in various places – such as keeping some money in your bag and some in your pockets, keeping your phone in your pocket etc. In big cities, street harassment such as catcalling and eve-teasing are also not uncommon, unfortunately.
The best way to avoid these is firstly by dressing modestly. As wrong as it is, how a woman is looked at, is heavily dependent on how she dresses in Morocco. If you wear revealing clothes, men might think of it as an opportunity to approach you or harass you.
Secondly, keep your smiles to a minimum. The friendlier you show yourself to be by smiling at strangers, the more local men will perceive it as an invitation to approach you.
It's best to mind your business, not look at anyone and only initiate a conversation unless you absolutely have to (think of ordering food, shopping at a shop or asking for directions/ help).
Lastly, the best way to tackle catcalls is by doing nothing. Just ignore it and continue being on your way.
Unfortunately, confrontations might not have very desirable results in Morocco.
Another bit to keep in mind is that when driving, women tend to get ignored and often overtaken by larger vehicles on the road. Driving is quite rash in some parts of Morocco and so having car insurance helps.
---
Travelling to Morocco as a Woman – Places to Avoid
While most places around Morocco are peaceful and can be visited by women without any hassles – especially the remote villages when on a road trip to Morocco, the historical and religious sites, cafes etc.
The trouble arises in markets in big cities which are almost always brimming with locals and tourists alike – mostly the souks around cities like Marrakech.
In such places, crimes like pickpocketing and groping can be common and it might be easy for the perpetrator to go unnoticed.
Again, the aforementioned rules apply here as well – keep your belongings safe and dress modestly to avoid garnering unwanted attention. Another common practice in the souks of Morocco is where several shopkeepers (almost always men) will swarm the tourist, harassing the tourist to visit their shop.
This may include grabbing the arm, shoving etc. As an outsider, it can be a pretty traumatic experience (even if the intention of the shopkeeper is purely to sell – and nothing else).
One way to avoid this situation would be the sunglasses trick – keep them on so they cannot make eye contact with you. And ignore if shopkeepers start approaching you.
Public transport is another trouble area in Morocco that a female traveller might want to avoid.
Firstly, public transport in Morocco is inconvenient – as it does not run on a lot of routes and is generally not the easiest way to travel around. But most importantly, local buses in Marrakech and elsewhere in Morocco are usually jam-packed with passengers.
Unless you are familiar with this kind of travel style where other people are always in your space – and you in theirs – public transport in Morocco may not be it for you.
All in all, the only safety tip you should worry about while using public transport in Marrakech – is to always keep an eye out for pick pocketers and know where your luggage is.
Also, as a female traveller, buses in Morocco can be a little overwhelming – just be on the lookout for gropers.
---
Solo female travel – Meeting Other Women in Morocco
The easiest way to feel safe and comfortable as a woman traveller anywhere in the world is to meet local women wherever you are travelling to.
There are many Facebook groups that you can become a part of to meet up with fellow women. These can be localized from a certain country or be global groups where you filter out requests by putting up a specific post.
Another way to meet women is by looking for people available to host you or show you around on the Couchsurfing app.
In Morocco, you can choose to stay at a local homestay or a family-run guest house where interactions with women of the family can happen and you can make friends and find a safe environment to be in.
Another option is to enroll yourself in a cooking class with a Moroccan dada.
Dadas are women cooks in Morocco who share their culinary knowledge passed down to generations. his is also a great way to explore and learn about the local culture while travelling!
You can also consider visiting the traditional hammams (or traditional public steam baths) on the designated ladies' days.
This is a great way to see women of an otherwise oppressive patriarchal culture be carefree in a public space.
---
---
I hope this article helps answer most if not all of your queries to the question 'Is Morocco safe for women?'
As with most places around the globe, always be vigilant when alone and wary of places that are risky especially at night. It is safe to travel to Morocco – as safe as most countries and you're sure to have a great time here!
Feel free to send me any questions you may have via social media or the contact page if needed! Happy travels!
---
Is Morocco Safe for Women – Frequently Asked Questions
1. Is travelling to morocco safe?
Whether a country or a region is safe to travel to or not is a very personal experience that can't be answered objectively. Even in the most heavily terrorised regions, you can find warmth and safety as a traveller.
To sum it up, yes, travelling to Morocco is safe. And yet, there are some parts of it that might put your safety under threat – especially since it is a heavily patriarchal country.
2. Is Morocco safe for a single woman?
Overall, Morocco is a safe country. Apart from the few bad experiences I had, the majority of my time in Morocco was nothing short of perfect.
I was treated respectfully, was shown warmth and the locals were kind and welcoming.
However, common things that must be kept in mind include keeping an eye on your belongings at all times, avoiding unnecessary interactions with local men, and dressing modestly especially if you are a solo female traveller.
3. What are the rules for women in Morocco?
Since Morocco is a patriarchal Islamic country, unfortunately, there are set rules for women that should be followed, even if you are an outsider woman and a tourist to the country.
It is best to avoid venturing out into the night without company. Dressing modestly is key in all parts of Morocco. Drinking is not only haram for men, but heavily frowned upon if a woman does it.
4. Is it safe to live in Morocco as a woman?
Morocco is a safe country to live in as an expat woman. For local women, the rules are very different and far more conservative than for a woman who is not from the country originally.
There is a great expat community in several Moroccan cities such as Marrakech, Casablanca and Fes. These communities help in providing a safe space and meet like-minded people so you don't feel lonely.
---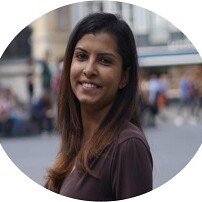 Award-winning Analyst, multi-nominated digital content creator and photographer Lavina Dsouza's words capture stories about culture and tradition mainly through its food and people. She has written and contributed to publications such as The Washington Post, Lonely Planet and Matador Network, to name a few. She is the editor of UntraditionalHumans.com, a non-profit created to share inspiring stories from women of colour who break free from traditions and choose happiness.
She's also a speaker passionate about DEI and champions solo travel. She has collaborated with numerous renowned brands such as Intrepid Travel, TripAdvisor, Travel and Leisure and Adobe, to name a few.
She can be found on Twitter and Instagram.
---
---
Have you ever visited any small towns in Morocco?
I'd love to hear in the comments below!
---
---
Some of the links on this post are affiliate links. These do not cost you extra to use, but will help provide Continent Hop with a small commission if/when you purchase through them, to recover some of the costs of running this website and providing free content to help you plan your travel. I appreciate your support!
---