Morocco is magical and it can be fully experienced only via a road trip. This Morocco road trip travel itinerary has info on road safety, the best places to visit in the East of Morocco with detailed info on what to do at each place!
After my first visit to the Thar desert in India, I knew I had to return somehow. Although I always crave for beaches, the desert somehow seemed more peaceful, maybe it's because there's hardly a 'secluded' beach left anymore in India especially in Goa!
Beaches are still dear to me – but maybe getting to a desert isn't easy and that's what makes it worthwhile. I did know before I left, that 'The Mummy' and the 'Gladiator' was filmed in several locations in Morocco, and I had intentions to visit them, especially Ait Ben Haddou.
A visit to the Sahara – literally 'desert' in Arabic was turning into a road trip through Morocco and I couldn't have been more pleased.
Mubarak was to be our driver on our tour as we had to sort our international licenses, and I was glad to have a local accompany us along the way as we started on our Morocco road trip starting from Marrakech.
---
Day 1-2: Marrakech
Day 3: Marrakech to Ait Ben Haddou/Ouarzazate
Day 4: Ouarzazate to Merzouga
Day 5-6: Merzouga
Day 6: Merzouga to Todra Gorge/Boumalne de Dades
Day 7: Todra Gorge to Marrakech via the Valley of Roses and Dades Gorge
---
A road trip to Morocco travel itinerary for a week
---
Is it easy to drive in Morocco?
Morocco may not be the most hassle-free country in terms of planning a road trip, but it is very worth it. It can definitely be tricky to find a reliable car rental company in Morocco.
Auto Europe is a UK based aggregator for car rental and is one of the few reliable platforms through which you can book a car and have it delivered without a lot of hassle. Discover Car's is yet another reliable platform to try out.
Once your car rental is sorted, it is important to remember that roads in Morocco are known for their potholes. And if you're road tripping through the Atlas Mountains like we did, expect a lot of hairpin bends and blind curves.
So it helps if you're an experienced driver in Morocco. Camels and donkeys are also known to wander around the roads in Morocco, so it's good to expect the unexpected and always be aware while driving.
Do keep in mind that driving in Morocco is on the right hand side of the road.
---
How much does it cost to go on a road trip in Morocco?
Going on a road trip in Morocco is actually much cheaper than most road trips across Europe. Depending on whether you rent a self-drive or get a car with a driver, costs for a road trip through Morocco can vary. Typically, you should be able to rent a small car for around 60 GBP for a week which includes basic insurance.
Fuel in Morocco is cheaper than most European countries, and closer to the global average. Usually, the price fluctuates somewhere around 1 GBP per litre. Toll taxes are much cheaper than in Europe as well and must always be paid in cash. However, most motorways around South Morocco don't have toll taxes at all.
If you're looking for info on how to get to Morocco and around,
these options
should help.
---
---
Day 1-2
Marrakech
There's quite a few things to do in Marrakech! I'd highly suggest you check this post that has a detailed one week itinerary for Morocco, where it contains details for what to do Marrakech for 3 days.
There's info on numerous places to visit in Marrakech like Jardin Majorelle, El Badi Palace, Bahia Palace, Saadian Tombs and the Tanneries to name a few.
There's also places to eat in Marrakech like Cafe Clock and Amal.
However, the best way to take in Marrakech is to walk through the Medina and then head to Jemaa E Fna Square and watch the locals go about their daily lives. Then head for some shopping in the souks in one of the most colorful markets in the world!
---
STAY: We stayed at the Riad Merzouga and I would highly recommend it!
Here are other options to stay in Marrakech –
Riad et SPA Misria Les Orangers
Address : 17, derb Anboub. Quartier Barroudyine. Médina Marrakech 40008
Address : 2, Derb Chelligui, Sidi Ben Slimane, Marrakech 40000
—
---
Day 3
Marrakech to Ait Ben Haddou/Ouarzazate – 193 kilometers, 5 hours
---
We set off early in the morning and started our drive through the Atlas mountains. Winter was late to arrive in December in Morocco last year and the peaks of the Atlas mountains had tiny specs of snow, insufficient for all the skiers that had skipped visiting that year.
Skiing in Morocco might not be the exact image that most people have, given the way the country is mostly portrayed in the media. But the High Atlas Mountains make for some great ski opportunities, where people from all over the world come to test the fresh white powder!
This is also where Africa's highest ski resort is located. Of all skiing spots in Morocco, the Oukaimeden Mountain is the most sought after. At 3000 metres above sea level, this mountain has 10 kilometres of varying ski slopes with both local and tourists skiers thronging the place.
If you end up doing this Morocco road trip between December to March, consider making a ski stop for sure.
The Atlas mountains engulfed us in every direction. We wound our way through snaking roads and dangerous turns. I did ensure to stop every so often to check the knick-knacks on offer by the roadside.
Word of advice: If you did check out my article on haggling in the souks of Marrakech, ensure you haggle excellently if you wish to buy stuff from roadside vendors! The vendor asked for 200 MAD for a stone he claimed to be pure Amethyst.
It seemed fishy but I purchased the rock for 20 MAD to support the local vendor.
My intuitions were right as Mubarak informed me later. They're white stones, painted from inside!
After a couple of hours on the road, I realised how heavily dependent the locals are on tourism. Another realisation that dawned: People are hard-working with limited opportunities, due to which many youngsters are found to stand aimlessly by the road for hours – or in Mubarak's words – watch live television.
---
The rugged countryside in varied shades of brown spread infinitely in all directions. After a couple of hours, after we had passed Tizi Ntichka port, the highest point in the country, we stopped for some mint tea and to watch women engrossed in extracting Argan oil, at 1 of the many women co-operative societies.
In a traditionally male-dominated society, this provides Berber women with equal opportunities and helps in reforestation initiatives. It is fascinating to note that Berber women tribes have exclusive rights to manufacture and sell Argan products, as it is part of their heritage.
Moroccan argan oil is very well known in the cosmetic industry across the world. Argan oil has been traditionally used over the years for medicinal, cosmetic and culinary purposes.
This native, staple oil of Morocco has the fatty acids and Vitamin E needed for the health of your eyes, skin and hair. Drizzling some argan oil over freshly made couscous can enhance the flavour as well.
So picking up some locally sourced and produced 100% argan oil can not only be the perfect souvenir for you to pick up during the Morocco road trip, but also the right way to support the local economy!
It was a 5-hour journey to Ouarzazate, our first pit-stop during this road trip to Morocco. The whole experience was a unique one, but what had me excited was visiting Ait Ben Haddou. Ait means 'family' so we were in other words, visiting the family of Ben Haddou! Although the whole road was dotted with Kasbahs and Berber villages, none were as massive as the kasbah of Ait Ben Haddou – A World Heritage site.
---
We proceeded to take a leisurely walk through the narrow alleys. The kasbah was almost in ruins and conservation projects were ongoing.
Apparently, there are upcoming plans to convert the kasbah into a luxurious hotel, in turn saving the kasbah – and drawing hordes of tourists. So if you're planning to visit, now is a great time!
This ksar – or a fortified village as it is called in North Africa – is believed to be dating back to the 11th century, during the Almoravid period. Among the many reasons, Ait Ben Haddou is the most famous of all ksars is because of its prime location.
It was strategically important as it fell on the old trade route from the Sahara Desert to the Atlas Mountains. Today, however, only very few families still live here.
Most of its original inhabitants have moved to the other side of the river in the modern village in search of better job opportunities. Locals of the modern village make a living mostly through agriculture and tourism. There is also a footpath connecting the original kasbah to the modern village so make sure to check that out as well!
After spending a few hours, we were off to Ouarzazate to spend the night.
---
DETAILS
Entrance Fee: Kasbah Ait Ben Haddou entrance fee for adults is 10 MAD ($1) and for children it is 5 MAD ($0.50)
Note: You cannot stay at Ait Ben Haddou as there are no hotels here. The closest place is Ouarzazate.
STAY: Opt for a one night stay at Riad Bouchedor, where we stayed as well. The food is fantastic and ensure you opt for a stay with meals. It gets quiet in the villages at night, and restaurants are sparsely available. Stays inclusive of meals are priced reasonably.
Another option would be to try Dar Chamaa. The lobby looks great.
Address : 123456789, Tarmigte 45000
—
Address : 123456789, Tarmigte 45000
---
Day 4-5
Ouarzazate to Merzouga – 375 kilometers, 8 hours
---
We continued our journey to the Sahara on the final leg of the Marrakech to Merzouga road trip. The journey involved admiring the Atlas mountains yet again and noticing details that we could have missed if we were not accompanied by Mubarak.
Many years ago, locals who were not keen on building kasbahs, used caves and carved windows for ventilation. I would have disregarded the windows as holes in the mountainous terrain, but I couldn't have been more wrong!
These caves have also long provided shelters to the nomadic Berbers who would traverse the Atlas Mountains on foot. These Berber Caves would often get occupied by the Berbers during the winter months when they would bring their herds down from the higher peaks to lower regions of the mountains, away from the snow and closer to greener patches for grazing.
Most of these caves formed naturally over time, with simple modifications by the Berbers to suit their needs.
As we finally reached the outskirts of the Sahara on our desert trip, Mubarak pointed out the region was stacked with fossils. These fossils play an important part in the Sahara's ecology, and also give insight into the deserts' geological history.
---
These fossils belong to the smallest of amphibians to even dinosaurs! Many million years ago, a massive river used to flow through what today is known as the Sahara Desert where these creatures flourished. Some of the most common fossils found in the Sahara include catfish, whale and arthropod fossils.
A few minutes were spent collecting some and then the highlight of the journey awaited us – a night in the Sahara! We reached the village of Merzouga which is the most popular base for any camping trip to the Sahara.
This is because of its proximity to one of Morocco's several ergs, Erg Chebbi. Ergs are essentially large areas of a desert where tall dunes get formed because of blowing winds. There is almost no vegetation found in these ergs. The word erg comes from the Arabic word arq which literally means 'dune field'.
After dropping our belongings at the hotel in Merzouga and collecting only essentials, we headed off to experience 1 of my most memorable adventures ever. From Merzouga, we were taken to our camping spot in the middle of Erg Chebbi on camelback – a journey that took about an hour/ hour and a half to complete.
Slowly treading through the desert, swaying gently with the camel's movement, with a beautiful silence all around, is a memory I will always hold dearly.
The tent was comfortable but the excitement to awaken the next morning, the cold and my fear of scorpions, kept me awake. The night was full of stars and was accompanied by local Berbers playing folk music on their traditional percussion instruments.
The sunrise was breathtaking, the next day. It sometimes does pay off to awaken early morning!
There are a host of different activities you can choose to do on your camping trip to Erg Chebbi. This could include dune bashing – which is essentially driving through the sand dunes in 4×4 vehicles.
Another exciting activity to try out here is sandboarding which is a lot like snowboarding…but on the sand! Admiring the milky way over the dark night sky and the sunrise and sunset here are some peaceful things to do as well.
However, if you do not have enough time on your itinerary to spend a full night in Erg Chebbi, you can also choose to do day trips on camelback or in a 4×4.
---
Important tips:
Ensure you carry a backpack – to carry only essentials required for the night, as luggage is left back at the hotel

The camps are not luxurious so bathrooms are usually shared

Best to carry things like mouthwash etc and avoid usage of water as much as possible

Wear warm clothing as it can get quite freezing in the desert especially when visiting Morocco in December

Do not forget to carry your medications and keep some snacks and water

Food and stay are covered by your hotel, there are no entrance fees to the Sahara desert
---
STAY: You can book the stay in the desert through a hotel. We booked our stay through Kasbah Mohayut. The buffet breakfast we had here was the best in Morocco!
EAT: Meals are included in your Merzouga/Sahara stay as there are no restaurants in the Sahara!
---
---
Day 6
Merzouga to Todra Gorge / Boumalne de Dades – 280 kilometres, 6 hours
---
A hearty breakfast later, it was time to bid adieu to the desert and take a detour to return to Marrakech. We proceeded via the magnificent Todra Gorge towards Dades valley. It was a long road and Mubarak politely answered all the questions I had about Moroccan food, customs and traditions.
Todra Gorge is located in the High Atlas mountains. These gorges are essentially deep canyons carved from the mountains through water erosion by the Todra River that gushes through these regions.
The gorges contain canyons of varying heights, but some of these can go as high as 400 metres! The last 600 metres of the Todra – or Todgha – Gorge area is definitely the most enchanting.
It opens up into a narrow walkway which makes for a perfect hike with the high, steep cliffs flanked on both sides. However, in the monsoon months, this pathway becomes the route for gushing streams so a hike is only possible in the drier months.
The Tinghir Oasis in the Todra Gorge is yet another spectacular place to visit while here. Though mostly dry and uninhabited, Tinghir feels like a whole other world with its big green patch and a population of almost 44,000!
The road to Todra Gorge is a short detour from the way to the Dades Valley but the stunning views make it all worth it.
It's amusing to notice many road hazards exist in Morocco, beyond donkeys laden with mint. These include camels, and Berber taxi's that transport humans and animals alike. The animals get the privilege of traversing on the upper deck!
---
---
Dades Valley is a whole beautiful experience in its own right. Amidst vast trees of argan, palm, poplar, almond and walnut are massive high scaling canyons best known for the many adventure activities they have on offer.
Before reaching our final destination for the night at Boumalne De Dades, we decided to make another short detour at Erfoud, to look at a fossilised marble furniture store. Villagers ensure locally available commodities are put to their maximum use, thus ensuring occupation for them. It was interesting to note: tables, chairs and any furniture that could be made of marble was being exported from the store!
These fossils date back to many hundred million years ago when the Saharan Desert was under water. Fossils of all kinds – from trilobites to ammonites can be found here filled with marble and converted into beautiful furniture!
Other things to do in Erfoud include hiking up to the Borj-Est during sunset for marvellous views of the adjacent wadis. The Maadid Ancient Ksar (South Morocco's biggest fortified village), the Erfoud's Souq and the Royal Palace (Morocco's only royal palace in the Sahara) are all worth visiting.
Stopping at a village called Talamte for its rocky outcrops popularly known as 'monkey fingers' can make for a picture-perfect pit stop. We reached here by evening. Thinking about movements that happened in the Earth's terrain, years ago, that caused such marvellous and enthralling natural wonders to appear, is intriguing!
On the other side of the oued or stream from here, is also an ancient kasbah in ruins which can be explored as well. This spot is also the beginning of a three and a half hour hike to the village of Ait Oudinar through the stunning landscapes of the wadi. Apart from many other hikes through the gorges, rafting and rock climbing are also popular adventure activities to keep a lookout for here.
Berber's are fond of music and that night at the Babylon Dades Hotel, the staff at the hotel put up a wonderful performance, as they sang Berber tunes accompanied with percussion instruments.
---
There are no entrance fees to any of these natural wonders
STAY : I highly recommend Babylon Dades. The Chez Pierre is another good hotel, although Babylon is closer to the Dades Valley.
Address : A 28km De, 704 Route, Boumalne Dades 45150
—
Address : Douar Ait Ouffi ASJS Km 26 Les Gorges du Dadès Boumalne Dades، Boumalne Dades 45150
---
Day 7
Todra Gorge to Marrakech via the Valley of Roses and Dades Gorge – 315 kilometres, 6 hours
---
The road trip through Morocco was finally nearing its end. It was time to explore Marrakech next! But to get to Marrakech, we first drove from Boumalne De Dades through the 'Road of a Thousand Kasbahs'.
To have the Road of 1000 Kasbahs as the last journey of our leg was enthralling. This is a winding road through the lower High Atlas Mountains, heading towards a cluster of Berber villages before finally reaching Marrakech.
This is one of the most beautiful roads in Morocco, flanked by palm groves and villages every now and then. The name may sound like an exaggeration, but in fact, it's actually true! This route is home to more than one thousand kasbahs, each at varying levels of conservation – and ultimately ends at the much famed Ait Ben Haddou, the kasbah to beat all kasbahs!
But the true showstopper on this route for me was the breathtaking landscapes of Jebel Sarhro. Jebel Sarhro, or Djebel Sahro or Jbel Saghro is the driest mountain in the entire Atlas Mountains.
This mountain is also a temporary home for many nomadic Berbers who come to spend the winters here. There are multi-day treks that go to this mountain. If you're an adventure-loving human, maybe check this one out on your road trip to Morocco.
---
---
As we were driving along the 'One thousand kasbah road', I realised the people in the villages were disconnected from the world and were content. A lot of them did not own a cellphone and were happy about it. Women spent their spare time in the evenings, catching up with their friends and neighbours, after chores were complete.
One school was being shared between villages in most cases and the lengths that children went to, to get an education was very touching.
As we were finally nearing Marrakech, I finally realised the night in the Sahara was not the only pinnacle of my trip, the whole journey was!
---
FAQs for a Morocco Road Trip
Is Morocco a left-hand drive?
Driving in Morocco is on the right-hand side of the road.
Can I drive in Morocco with a UK licence?
You don't need an international driver's license to drive in Morocco. So yes, you can drive in Morocco with a UK license – or a license from any other country. Your passport will also be a requirement while renting a car so keep that handy.
When is the best time for a Morocco road trip?
The best time to visit Morocco, or go on a road trip in Morocco is either during spring (February to April) or autumn (September to November). The weather during these months is pleasant and neither too hot nor too cold.
Can you do a day trip to Morocco from Spain?
A Spain to Morocco day trip is definitely doable. The two countries are only about 15 kilometres apart. The easiest way to cover this distance is to take a ferry to cross the Strait of Gibraltar. There are plenty of ferries running from Tarifa, Malaga and Algeria to Nador, Melilla, Ceuta and Tangier which can take anywhere between 60 to 90 minutes.
What side of the road does morocco drive on?
Driving in Morocco is on the right hand side of the road.
Morocco is in which continent?
Morocco is located in Africa in the North.
---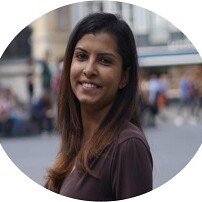 Award-winning Analyst, multi-nominated digital content creator and photographer Lavina Dsouza's words capture stories about culture and tradition mainly through its food and people. She has written and contributed to publications such as The Washington Post, Lonely Planet and Matador Network, to name a few. She is the editor of UntraditionalHumans.com, a non-profit created to share inspiring stories from women of colour who break free from traditions and choose happiness.
She's also a speaker passionate about DEI and champions solo travel. She has collaborated with numerous renowned brands such as Intrepid Travel, TripAdvisor, Travel and Leisure and Adobe, to name a few.
She can be found on Twitter and Instagram.
---
---
---
Some of the links on this post are affiliate links. These do not cost you extra to use, but will help provide Continent Hop with a small commission if/when you purchase through them, to recover some of the costs of running this website and providing free content to help you plan your travel. I appreciate your support!
---