Jemaa el Fna square is the heart of Marrakech. At this fascinating spot, you'll find snake charmers, the magical souk, monkeys and henna artists. You'll also find street food and scams! Here's a guide to the Djemaa El Fna, the main square in Marrakech!
The snake charmer in Jemaa El Fna chased me as I kept repeating to him I did not want a picture with the cobra, yet he insisted it'd make for a good picture with the snake around my shoulders!
Sounds hilarious but in reality it wasn't!
It was tiring in the hot sun as just before this incident, a lady who'd insisted the henna tattoo was free, asked me to pay for it after drawing a few lines on my palm. After paying her, she wouldn't let go of my hand and insisted it would look nice if she did a pattern right till my elbow.
At dusk, Jemaa El Fna lights up and you tend to forget the incidents of the day as delicious smells of street food waft through the air and mystical lanterns light up this Marrakech square.
This main square in Marrakech sits right outside the entrance to the Marrakech souk. During day, hawkers sell colorful wares while tourists haggle with them and fruit vendors sell blood orange juice; at night, live music, fortune tellers and numerous performers dot the square, turning Jemaa el Fna into a whole new spectacle.
Here's how to get around, support locals, avoid being scammed and ensure you leave after having the best time at Jemaa El Fna.
---
How to best experience Jemaa El Fna square
---
What is Jemaa El Fna?
Jemaa el-Fna, Djemaa el-Fna or Djemaa el-Fnaa is the main market square in the medina quarter or the old city of Marrakech. To date, it is the main square for most commercial activities for both tourists and locals in this Moroccan city.
The name Jemaa El Fna has a lot of interpretations and history to it. To begin with, the most straightforward translation would be 'gathering area' in Arabic. But Jemaa El Fna could also mean 'assembly of the dead' referring to the mass public executions that used to happen here back in 1050 CE.
Jemaa El Fna has seen its share of history. In its earliest days, when the city of Marrakech was founded by the Almoravid Dynasty, it served as the public execution place. But much later on, it continued to remain the heart of the city and transformed into a space for traditional Friday markets and public entertainment in the evenings.
The square also had a stage for fantasia performances – which is the traditional exhibition of Maghreb horsemanship. Even though Jemaa El Fnaa has never had a proper architectural layout, it still thrives to be one of the most important sites in Marrakech even today and has been listed as a UNESCO Intangible Cultural Heritage Site.
---
How to Reach Jemaa El Fna?
Jemaa El Fna is located right at the entrance of the medina, or the old city. This triangular 'square' has the Marrakech souk on one side, and several hotels, garden cafes, rooftop restaurants and more on the other side. Also worth checking out are the narrow alleys that lead into the city's old quarters to get a feel of Marrakech.
Jemaa El Fna is a 20-minute walk from Bab Doukkala and a 15 minute walk from Place des Ferblantiers. If you are in the central part of the city, it is best to take Bus 1 or Bus 16 from Gueliz.
---
Where to stay near Jemaa El Fna?
There's numerous options for stay in the Medina at Marrakech which is closest to Jemaa el Fna. I wouldn't suggest staying in the square as it can get quite busy, however anywhere in the medina in a Riad or hotel is perfect. There's many resorts as well on the outskirts of Marrakech outside the Medina.
We stayed at the Riad Merzouga and I would highly recommend it!
Here are other options to stay in Marrakech –
Riad et SPA Misria Les Orangers
Address :  17, derb Anboub. Quartier Barroudyine. Médina Marrakech 40008
Address : 2, Derb Chelligui, Sidi Ben Slimane, Marrakech 40000
---
What to do in Jemaa El Fna?
Jemaa El Fna is a meeting place for both locals and tourists and also an important marketplace in Marrakech. It represents Moroccan culture quite beautifully through food, performances, art and other forms of entertainment.
It is also a place where you'll mostly be picked up for your road trip or tour if you've booked any.
Djemaa El Fna is bustling at night as well. With 'human' performers who tell old tales, play Berber instruments and sell exotic lamps, it is definitely worthwhile to pay a visit in the late evening.
---
Jemaa El Fna – Know Before You Go
While a visit to Jemaa El Fna is definitely a must-do on your trip to Marrakech, it is definitely an assault to the senses and can sometimes get overwhelming as well. Here are a few tips that are worth knowing before you end up at this popular site:
During the day, be cautious of vehicles and carts going around the square. After 2 pm, no vehicles are allowed so you're free to walk around without worries.

Look out for pickpockets and gropers that mostly come out once it's dark. (Although there are always enough cops nearby to report any mishap).

For the best seats around the performers of music, dance and poetry, it is best to come early. 4 pm is usually a good time before things start to pick up.

It's good to have a few loose dirhams on you to tip the performers after the performances. (A little more if you took pictures would be nice).

It is here that you'll find snakes in Marrakech. Chained monkeys and snake charmers are aplenty around the square – both ethically questionable practices. It is best to avoid them and not indulge in the abuse of animals.
---
Here are some of the best things you can try in Jemaa El Fna
---
Get a henna tattoo in Jemaa El Fna
Henna in Morocco originates from Berber culture. Henna tattoos have long been a symbol of good luck. Some also strongly believe that having a henna tattoo can guard you against the evil eye – for this reason, many traditional henna tattoo designs in Morocco include motifs like the hamsa, diamond shapes or an eye.
There are several henna artists sitting around the Jemaa El Fna where you can pick out designs and get yourself one by a traditional artist.
I would however highly recommend you do your due diligence as sometimes the henna tends to have black colored dye mixed in it for the colours to pop, hence best to get it done from a local store, like the Marrakech Henna Art Cafe, than the Jemaa El Fna square.
Price: Varies per vendor. Negotiate and set a price before sitting down for a tattoo. Tattoos are not free even though vendors mention it that way
---
Try the local street food in Jemaa El Fna
Jemaa El Fna is flanked by blood orange juice stalls everywhere during the day to fight the heat. After walking around the city, a stop here to catch a breath, look around while sipping on some freshly squeezed fruit juice is the best way to begin your tour of this market square. There are also several water carriers walking around the square.
These water carriers give out water in a very traditional Moroccan way – in brass cups from a leather water bag making such a mundane experience feel all new!
During the evening, several street food stalls prop up everywhere in the market. The street food scene in Jemaa El Fna is definitely something worth checking out as its different to the meze most people are familiar with. Some of the many popular dishes here include sheep's brain, snail soup, skewered hearts and more. Stall number 1 is known for its brochettes or kebabs and tajines.
Stall 32 is great for harira, a vegetarian soup made with coriander, tomatoes, saffron, onion, lentils and chickpeas, as well as grilled merguez sausage served with bread. Stall number 14 is the place to go for fried fish and calamari. Some other things worth trying out include fried sardines in chermoula, sheep's testicles, Marrakashi tanjia, Merguez sandwich and bite-sized grilled lamb with cumin.
Post dinner, making your way to the southern stalls for some tea might be a good idea. The speciality here is the traditional ginger tea known as khoudenjal. It is made with cinnamon, cardamom and mace.
This tea goes best with a dense, sticky, spicy cake that is often served along with it. Stall number 71 is usually where most locals flock to get their night tea! If you're looking for some more traditional beverages, try the mint tea (also often known as Berber Whiskey), nus-nus which is half and half coffee with steamed milk.
---
---
Watch a musical performance in Jemaa El Fna
The Jemaa El Fnaa is flocked by traditional musician circles that play for hours at a go once evening falls. The Amazigh music of the Berber or the Imazighen people steals the show every evening at the square.
The music takes on folk traditions and particular African rhythms. These musician circles also use a variety of traditional Berber instruments including wind instruments like mizwid, zukra and nafir, string instruments like rebab and ginbri, and percussion instruments like tabl and bendir.
This live music scene in the Jemaa El Fnaa is a great insight into the traditional ways of the Berber people and a fantastic local experience to have in Morocco.
---
Learn about traditional medicine in Jemaa El Fna
For several thousand years, Moroccans, especially the Berber people who live nomadic lives, have sustained traditional forms of medicines using various parts of various plants to cure illnesses.
The practice of being able to identify these medicinal herbs, and where to find them is slowly dying as the new generations are losing their roots. But at the Jemaa El Fna square, time stands still as several traditional medicine stalls prop up everywhere.
Here, you can sit and chat with the traditional healers and ask about the several medicines on display, where they come from and what their uses are. This is another experience that will make you feel in awe of the Berber people and how they have survived for centuries without allopathic medications.
---
Have your fortune told in Jemaa El Fna
If there's one thing Jemaa El Fna is known for, it has to be its fortune-tellers – usually really old men and women – who can be found sitting under blue umbrellas, waiting for people to drop by to find out about what the future holds for them.
These fortune-tellers are locally known as 'Lalla', a title of reverence. These fortune-tellers either read palms or ask customers to pick out tarot cards to help foresee their future. Whether it really works or not, is something you will just have to try and see.
Price: Varies per vendor. As always ask and set a price before trying it out
---
Listen to age-old poetry and stories in Jemaa El Fna
Another group of performers at the square are storytellers and poets. These performers mostly have a local audience as they tell their stories and recite poetry mostly in either Arabic or the Berber language. But it is quite an experience as a foreigner, nonetheless, to sit and watch these performers entranced by the stories they are narrating.
These are the very last of the remaining storytellers of Morocco, an art now slowly losing its way with the advent of modernization. Of these, Abdelilah Amal and Mostafa Dardak are two of the most renowned performers who've been practicing the art for over 25 years. If you end up here, enquire about their performances and be sure not to miss them!
---
---
Experience a traditional dance performance in Jemaa El Fna
The square has also served as a stage for several Berber dancers for decades. The Raissat are professional dancers from the Berber tribe who put on performances almost every evening at the Jemaa El Fna.
They mostly hail from the regions of Tiznit and Agadir and perform pentatonic music with traditional dance steps. Another dance group to look out for are the gnaoua dancers with their troop of live music playing the sintir instrument.
This hypnotic trance music and the kouyou dance that is paired with it has been traditionally used by the Gnawa people to call on ancient spirits to drive out evil, cure mental illnesses and treat scorpion stings. It is an interesting sight to watch as the dancers perform these traditional ceremonies at the Jemaa el Fna.
---
Shop for souvenirs in Jemaa El Fna
Not only is the square a cultural hotspot, but it is also home to handicrafts which make for the perfect souvenirs to take back home. From leather bags and sandals, terra cotta pots, spices, beautifully woven carpets and more, there is something for everyone here.
Price: Do not ask for prices unless you intend to buy. Only start haggling once you're sure of what you want to buy
---
People-watch from a rooftop cafe in Jemaa El Fna
The Jemaa El Fna square is flanked by rooftop cafes on its sides which make for the perfect place to take wide-angle photos of this bustling market center or to just sit back and sip on mint tea as you indulge in some people watching.
Café de Paris and Café du Grand Balcon are the two most perfect spots here that allow you to enjoy your time in peace, but with a view of the city's heart!
---
Jemaa El Fna – Frequently Asked Questions
What does Jemaa El Fna mean in English?
Jemaa El Fna roughly translates to several things in English. It could mean 'place of gathering', 'gathering of the dead' or 'mosque ruins' depending on what context in history we look at while translating it from Arabic.
What does Djemaa el Fna offer a visitor?
Djemaa el Fna has a lot on offer. Of these, its traditional Moroccan street food stalls are the most popular. For beverages, mint tea and orange juice can be found aplenty. Visitors can also shop for souvenirs including leather handicrafts, spices, carpets and rugs and much more.
Another highlight of the square is its many types of arts and entertainment performances. From henna tattoos to folk dance and music and even storytelling and poetry sessions – you can find them all here!
What is the main square in Marrakech called?
Jemaa El Fna is the main market square in Marrakech and is also a point of bustling cultural activity.
When was Jemaa El Fna created?
Jemaa El Fna was created sometime in the early 11th century by the Almoravids Dynasty.
What are Moroccan markets called?
Moroccan markets are called 'souks'. Souk is a widely used term for marketplaces across the Arabic world.
---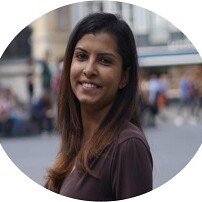 Award-winning Analyst, multi-nominated digital content creator and photographer Lavina Dsouza's words capture stories about culture and tradition mainly through its food and people. She has written and contributed to publications such as The Washington Post, Lonely Planet and Matador Network, to name a few. She is the editor of UntraditionalHumans.com, a non-profit created to share inspiring stories from women of colour who break free from traditions and choose happiness.
She's also a speaker passionate about DEI and champions solo travel. She has collaborated with numerous renowned brands such as Intrepid Travel, TripAdvisor, Travel and Leisure and Adobe, to name a few.
She can be found on Twitter and Instagram.
---
---
Have you ever visited any small towns in Morocco?
I'd love to hear in the comments below!
---
---
Some of the links on this post are affiliate links. These do not cost you extra to use, but will help provide Continent Hop with a small commission if/when you purchase through them, to recover some of the costs of running this website and providing free content to help you plan your travel. I appreciate your support!
---