Morocco isn't just magical because of its souks and landscapes. The foods from Morocco play an important role in it too! The subtle hint of spices, tender meats and use of fresh ingredients make Moroccan cuisine one of the best in the world! Here's the foods you should try including street food in Morocco!
The problem about originating from Asia is that you miss the spices. If you're a foodie, you will try the dishes wherever you land; like them too, but after a while your head starts conjuring images of fiery curries and grills and you know you have to head off to the nearest Asian restaurant for some soul food!
I didn't have my head doing that to me in Marrakech.
The food did not have any strong Asian influences, nor was it spicy but it was truly traditional and yum.
There's abundant street food and Jemaa El Fna buzzes with life in the evening. The souks in Marrakech serve spices all day. Vendors try to lure you to their stalls full of kebabs and confectionary.
If you love everything Moroccan, you know you can't miss out on the super sweet mint tea, a fresh glass of grapefruit juice or tagines available at every corner, even when you're on a Morocco road trip.
But if you're looking for more inspiration to tickle your taste buds, here is a list of unique and traditional foods from Morocco to make you go 'Hmmmm'!
---
Traditional foods from Morocco you shouldn't miss!
---
Tangia
No, I did not spell Tagine wrong.
Tangia may be served like a tagine (which is probably the most famous foods from Morocco) but the process of cooking is totally different. Like the way you would cook a tagine in a tagine, a tangia is also cooked in a tangia!
A tagine traps the steam and drains it back to the dish with the help of the conical lid whereas a tangia retains the gravy at the bottom.
Almost like a casserole but with more earthy and fruity flavours.
The tangia is a narrow clay vessel and once the ingredients are placed inside, the top is sealed off with parchment and string and placed in an oven overnight. Slow baking makes the flavours blend and the meat is so soft it almost melts.
If you can't get enough of tagines but want to try something a little different, here's what you were looking for!
---
Camel meat burger
You wouldn't know the difference if someone served you camel meat stating it was beef. While the quality depends on the cut, I personally found it to be a lot drier than beef.
Many Moroccans respect and adore the camel because of its many uses, and while the meat is not banned, it is not freely available either.
In some of the villages you may find a camel curry or gravy but in Marrakech, I got myself a burger.
Cafe Clock is run by a British expat and is one of the best restaurants in Marrakech! The burgers are done right with chips and salad. Although I love trying new dishes when I travel, I probably won't eat a camel burger again.
---
Date Milkshake
When you're in a country where dates grow in excess, you have to think of novel ways to ensure you're not tired of it too soon.
Date milkshake is one such invention and it's brilliant.
Served at Cafe Clock (the same place that serves camel burgers), the flavour of the dates is not too overpowering and neither is the milkshake too sweet.
Great if you've had a tiring day in the sun and are looking for something to cool you down and beer is not to be found!
---
Pigeon Pastilla
Or Bastilla as many call it, depending on what they hear!
A pastilla is a precursor to the main dish (be it the tangia or the tagine) and is served only on special occasions. Traditionally a fledgling pigeon is used, but since they are hard to find, chicken is mostly used as a replacement.
It's made with crisp filo pastry and resembles a pie, since the steps involved are almost the same but tastes drastically different because of savoury spices subtly contrasted to sweeter flavours.
Quite rich, topped with flaked almonds, powdered sugar and cinnamon, it is a dish by itself.
You could skip the spices and opt for a sweet version made with fruits too.It is time-consuming to prepare and hence can be difficult to find, but is truly worth the effort!
---
Kaab el Ghazal
Kaab el Ghazal – or gazelle horns – are a type of traditional cookie widely found around North African countries, including Morocco. However, contrary to what their name suggests, there is no use of gazelle horns – or any type of meat for that matter – to make kaab el ghazal.
Instead, these are a type of sweet stuffed dumplings made with white flour and filled with an almond-based paste which also includes sugar, butter and orange blossom water. Because of the use of almonds, this is a slightly more expensive Moroccan food and a delicacy worth trying!
---
Briwat or Briouat
Briwat – or briouat – is a savoury or sweet fried puff pastry that comes with a variety of fillings. Wrapped in paper thing dough known as warqa, the savoury versions are usually filled with minced meat (usually chicken or lamb) mixed with herbs, spices and cheese.
The sweet versions come with a filling of almond or peanut paste made with sugar and butter. These are very similar to the popular street food samosa found across Arabic and South Asian countries.
---
Chermoula
Chermoula is a widely popular relish and marinade found in the cuisine of Morocco. It is typically made with garlic, cumin, lemon, coriander, salt and ground chilli peppers.
The presence of coriander gives chermoula its rich, green colour. If you know your way through Indian food, chermoula could as well be the Moroccan answer to India's coriander chutney! Though traditionally, chermoula is served with seafood and fish, it can very well be used with other meats as well as vegetables.
Here's some more Moroccan traditional foods
---
Bissara
Dried and peeled fava beans are the chief ingredient used to make Bissara, which is a thick soup made especially during winter as it is so hearty.
Flavoured with garlic, pepper and cumin and then topped with a dash of olive oil and paprika, this is another vegetarian option that you can convert into a meal if eaten with some local bread.
Many use the same recipe and avoid adding water to convert it into a tasty dip too.
---
Moroccan Zaaluk
A traditional spicy mushy Moroccan salad where the main ingredient is an Eggplant. While I cannot point out the exact difference, it is similar to Baba Ghanoush.
Eggplant is boiled or grilled and then mashed into stir-fried tomatoes with cumin, garlic and paprika.
An autumn favourite, this food item is also served with some local bread.
---
Couscous
Couscous is perhaps one of the most easily available foods from Morocco.
This dish is popular across the Maghreb regions of North Africa including Libya, Algeria, Mauritania and Tunisia. This staple food is essentially made of steamed rolled durum wheat semolina granules and typically served with stew on top. Saffron is also a commonly added ingredient in couscous across Morocco.
Oftentimes, couscous may even be eaten as a dish in itself at the end of a meal. This is known as sfouff. Couscous is also widely prepared as a dessert with sugar, cinnamon and almonds and served with buttermilk. Regardless of whichever way you eat it, couscous is most definitely one of the best Moroccan dishes out there!
Maakouda
Maakouda is delicious deep-fried potato patties that are a very popular food in Morocco. These can be found at almost every street food stall in the country. Maakouda – or maquoda – is prepared by rolling mashed potatoes flavoured with herbs and spices into small balls and deep-frying them.
These can be eaten as an appetizer or stuffed in a sandwich. Either way, it is a deliciousness that must not be missed when you visit Morocco!
---
Khobz
Khobz – or khobtz – is a traditional Maghrebi leavened round, flatbread. Khobz is typically made with white flour mixed with semolina or whole wheat.
The right way to eat khobz is to tear it into pieces and use it to scoop up cooked vegetables, curried meat, juicy tagines or even couscous. However, throughout the streets of Marrakech, another version of khobz can be found as well wherein the bread is hollowed and stuffed with savoury and spicy fillings.
Khobz is traditionally baked in massive wood-fired ovens and is considered sacred in the cuisine of Morocco. Uneaten bread is not thrown off in the trash, but instead given to someone else or fed to animals.
---
Moroccan Sardines
One thing you must not miss while eating your way through the foods from Morocco – sardines! Morocco is widely known to be the largest exporter of canned sardines in the world and the majority of canned sardines supply in Europe comes from this North African country.
Needless to say then, sardines in Morocco are a delicacy. There are several sardine preparations that can be found throughout the country. Some worth trying out include stuffed fried sardines with chermoula and sardine meatball tajine in tomato sauce.
---
---
Kebabs
Kebabs – or brochettes – made with beef or lamb meat are one of the most delicious foods from Morocco. Also known as qotban, this delicacy is especially common during the festival of Eid al Adha when these kebabs are made from the meat of the sacrificial animal.
---
Harira
Harira is a soup made from lentils and chickpeas, served specially during Ramadan in the evenings after sunset, while breaking fast. It is a starter that doubles up as a light meal too.
Delicious and light, it is tangy and can be made into a vegetarian version too.
A lovely alternative if you're looking to skip meat or you've had too much tagine (although I'm not sure if that's possible!)
---
Sheep's Head
Not for the faint of heart!
In many countries if an animal is slaughtered, natives ensure nothing goes to waste. I guess the same applies here too.
It's just lamb although it's usually the presentation that put's people off.
The head is first charred thoroughly over coal to remove fur and then cleaned well. It is then boiled for a long time with salt, pepper and onions.
If you go ahead and eat it without being nervous, you will taste different textures of meat. Found anywhere in Jemaa El Fna, food vendors will carve the meat for you and serve it with some seasoning and salt.
To be honest it tasted like boiled meat and made me queasy. I awarded myself some points for bravery but will not be trying that out again.
---
Snails
Found in abundance in the souk or Jemaa el Fna in the evening, snails in Morocco are street food not prepared by chefs.
You may be wary about cleanliness but almost everyone who wants to taste this bizarre item usually has it in the square.
When I asked where the snails came from, one of the vendors mentioned that they were handpicked. While that put me off, they did smell good as these snails are stewed with spices and then ladled out in a bowl when ready to eat. Toothpicks are provided to pull the flesh out.
The stew is said to have medicinal properties, good for the flu, so many skip the snails and slurp the soup.
Springy and rubbery, I skipped these, as snails without garlic butter (like they do in France) just makes it very obvious you're eating snails!
---
While you are trying the above items do not skip tagines, tangerines, kebabs, olives or authentic couscous.
For lovers of spice opt for a chicken tagine with preserved lemons for an earthy flavour. A Lamb tagine with pears for someone who prefers something sweet and a harira if it's bland you're after.
---
---
Food safety
Food rich in spices and flavour needn't necessarily cause havoc on your tummy.
You may want to be brave and try out some peculiar items that are best left to the locals (not that the ones selling them are bad, your tummy is probably not accustomed for the same) but only do so once you know where it's safe to get it from.
It may be quite an experience to eat at the Jemaa El Fna square but only eat at stalls frequented by the locals. Even if you skip eating, you're not missing out on anything as the dishes in the restaurants are quite authentic.
It's great to get some mint tea and enjoy the locals performing from one of the restaurants in the square. But do not expect authentic flavours at most places in the square.
Be wary of fish in Marrakech as produce may not be fresh, but it should be all right in Essaouira.
Eating in Morocco can be quite a culinary adventure, ensure you embark on one!
---
I had some of the dishes I've listed above in the villages near the Sahara, when I was touring the country
However, the restaurants in Marrakech are top-notch and serve good fare, you need to select carefully if you're looking for a good experience. Expensive doesn't always mean tasty, but Comptoir Darna awas an exception
Street food can be found in the evenings (with some stalls present in the morning) at Jemaa EL Fnaa.
Street food is as much part of the culture as most traditional foods from Morocco but it's never a bad idea to carry your medication with you when traveling if you feel you might upset your tummy!
---
FAQs
What to eat in Morocco
Foods from Morocco are interesting and varied – ranging from the very popular tagines and mint tea to sheep head and snail soup for the more adventurous souls! Couscous, kebabs and chermoula are other very popular dishes in the country worth trying out.
What kind of food do they eat in Morocco
Though the Moroccan cuisine is largely meat-based, it is not very hard to also find vegetarian dishes in the country. Moroccan food is seasoned abundantly with spices and herbs and is a riot of flavours with each bite – regardless of the dish you pick.
What not to eat in Morocco
Moroccan cuisine uses a lot of spice in their food so if you're someone with a weak stomach, choose your food wisely as you might end up with an upset stomach. A lot of times, fish-based dishes in Marrakech are prepared with fish that is not fresh – so be wary of that as well. Apart from that, you should be good to go and it is always an experience to experiment with food in a new country!
What is traditional Moroccan food
There is a wide variety of traditional Moroccan food to choose from – tagines and couscous being the most popular. Other foods from Morocco worth trying out include kaab el ghazal, rfisa, tanjia and shebakia – all typical Moroccan foods commonly found in local homes.
---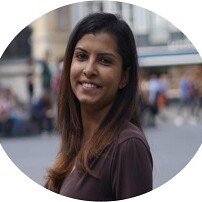 Award-winning Analyst, multi-nominated digital content creator and photographer Lavina Dsouza's words capture stories about culture and tradition mainly through its food and people. She has written and contributed to publications such as The Washington Post, Lonely Planet and Matador Network, to name a few. She is the editor of UntraditionalHumans.com, a non-profit created to share inspiring stories from women of colour who break free from traditions and choose happiness.
She's also a speaker passionate about DEI and champions solo travel. She has collaborated with numerous renowned brands such as Intrepid Travel, TripAdvisor, Travel and Leisure and Adobe, to name a few.
She can be found on Twitter and Instagram.
---
---
---
Some of the links on this post are affiliate links. These do not cost you extra to use, but will help provide Continent Hop with a small commission if/when you purchase through them, to recover some of the costs of running this website and providing free content to help you plan your travel. I appreciate your support!
---