An itinerary for Morocco for 7 days is very much in demand as Morocco has been a hot destination – literally and figuratively for a while. If you're looking to get the best out of this country, this one week itinerary for Morocco should help you do just that! Includes 7 days in Morocco with Marrakech and the East of Morocco – Merzouga, Ait Ben Haddou, Dades Valley, Valley of Roses and Ouarzazate.
I'd hardly been to 7 countries, the world was my oyster and being in Europe, it was quite easy to get to many countries, within a couple of hours, yet images from Morocco kept coming to me.
Maybe it was the allure of the desert or maybe it was about experiencing a culture closer to home, whatever iit was I knew I wanted to get to Morocco as soon as I could!
A stay in the Sahara sat at the top of my bucket list, and I knew Marrakech and Merzouga couldn't be skipped. After considering various routes and flight options, I realised it had to be either Merzouga or Fes, at least for the first visit as I had only 10 days with me.
Morocco had numerous things to do, including hiking, Quad biking, visiting waterfalls and even skiing near Marrakech. Including both ends of Morocco in our trip through a 7 days in morocco itinerary was not possible, and that was a good reason to visit again! So after numerous days spent planning, this was the best itinerary I came up with.
Here's how to spend a great one week in Morocco – to explore the East of Morocco.
---
One week itinerary for morocco
---
Day 1 of your itinerary for Morocco – Marrakech
Fly to Marrakech Menara International Airport. We opted for an evening flight through EasyJet.
Many Asian and African countries go above and beyond to provide outstanding hospitality, and Morocco was no different. Almost all hotels here provide transportation/pick up options in the price of the stay, so make sure you ask what is included when you book your hotel.
We booked a stay at a Riad (a traditional Moroccan courtyard house). Most riads are located within the city walls ie. The Medina which is a complex maze for first-time visitors, and we wanted to ensure we reached the right location. Hence, for convenience, we asked our hotel to have us picked up at the airport.
There are many taxis available; some pre-paid as well, so you could opt for those. Makes sure you check prices and fix a price before getting in.
---
STAY: We stayed at the Riad Merzouga and I would highly recommend it!
Here are other options to stay in Marrakech –
Riad et SPA Misria Les Orangers
Address : 17, derb Anboub. Quartier Barroudyine. Médina Marrakech 40008
Address : 2, Derb Chelligui, Sidi Ben Slimane, Marrakech 40000
—
EAT: Since it was Christmas eve, we splurged a little and had dinner at Les Jardins De La Medina. A lovely experience, a little steep compared to local eats, but the ambience is excellent and so is the couscous.
---
---
---
Day 2 of your itinerary for Morocco – Ouarzazate/Ait Ben Haddou
Time to head on your one week Morocco itinerary. Since the main highlight was to visit Merzouga, proceed via the Tizi n'Tichka pass, the highest point in Morocco to Ouarzazate, the first stop on the journey. On the way, you will pass many Berber kasbahs, and the Atlas mountains will take your breath away.
You might come across some roadside vendors as well; while I wouldn't suggest you haggle for food items, feel free to do so for wares are some may not be authentic. There are however handicraft stores along the way so you could buy from here as well.
If you are going to stay at Marrakech, all the goods you see on the way will be available in the souks, so you could purchase them from there as well.
Ait Benhaddou – A World Heritage Site is en-route and is the focus of day 2 in our Morocco 7 day itinerary. This charming unoccupied kasbah is where significant movies like The Mummy, Gladiator were filmed, and recently Game of Thrones was filmed here too. Although partially in ruins, this exotic location is not to be missed. Allocate at least 2 hours to wander and take plenty of pictures.
Ait Benhaddou is located along what used to be the Caravan Route – between the Sahara Desert and Marrakech. This fortified village has long been considered a prime example of the Moroccan earthen clay architectural style.
This historical site dates back to the 11th century. The location of Ait Benhaddou was strategically important as well – since it is located in the Ounila Valley which fell under the erstwhile Saharan trade route. The Tizi n'Tichka Pass in the High Atlas Mountains also added to its importance and is a site worth visiting in itself.
Later, go to Ouarzazate, approximately 40 minutes away from Ait Benhaddou, to spend the night.
---
STAY: Opt for a one night stay at Riad Bouchedor, where we stayed as well. The food is fantastic and ensure you opt for a stay with meals. It gets quiet in the villages at night, and restaurants are sparsely available. Stays inclusive of meals are priced reasonably.
Another option would be to try Dar Chamaa. The lobby looks great.
Address : 123456789, Tarmigte 45000
—
Address : 123456789, Tarmigte 45000
---
Day 3 of your itinerary for Morocco – Zagora, Merzouga
After getting refreshed, proceed to Merzouga via Zagora. Zagora is a town with small dunes nearby, but if it's massive dunes you're after – it has to be Erg Chebbi – in Merzouga.
Many day trips are available to Zagora from Marrakech, but the experience is stressful, as the trip takes about 11 hours, and you have to wake up early to drive back. Choose either if you are going to be spending 7 days in Morocco.
After a 5-7 hour drive (depending on the speed), you will reach Merzouga. You must book a stay in the desert through one of the lodges in Merzouga in advance (options below).
They provide a complete package wherein you are taken to the tents inside the desert via a 1-hour camel ride. It is a surreal experience to travel slowly, admiring nothing but silence and powdery dunes as far as the eyes can see. Once you reach the tent, you'll have plenty of time to relax and have fun in the sand.
We were served dinner early, after which the Berbers who camped with us in the desert played local percussion instruments and sang for us.
The Berbers or the Imazighen are the indigenous people native to North Africa and are spread across countries like Morocco, Tunisia, Libya and Algeria. The Berbers are the descendants of the pre-Arabic population that used to reside in North Africa.
The Berbers played the important role of warriors in the Arab army during the conquests against the Spanish invasion. Today, they are mostly spread across the High Atlas and Anti-Atlas regions as well as the Sous Valley of Morocco.
It was a night full of stars, albeit cold. If you visit in summer, you could very well even sleep even outside the tent, and it's enjoyable apparently if you're not scared of scorpions!
---
Important tips:
Ensure you carry a backpack – to carry only essentials required for the night, as luggage is left back at the hotel

The camps are not luxurious so bathrooms are usually shared

Best to carry things like mouthwash etc and avoid usage of water as much as possible

Wear warm clothing as it can get quite freezing in the desert especially when visiting Morocco in December

Do not forget to carry your medications and keep some snacks and water
---
STAY: You can book the stay in the desert through a hotel. We booked our stay through Kasbah Mohayut. The buffet breakfast we had here was the best in Morocco!
EAT: Meals are included in your Merzouga/Sahara stay as there are no restaurants in the Sahara!
---
Day 4 of your itinerary for Morocco – Dades Valley and Todra Gorge
We woke up early in the morning to admire the sunrise. It was an unforgettable one to take a walk amongst the dunes as if we were the only people on Earth!
We tried to figure the various footprints in the sand and got chicken, desert fox and humans, of course, although there were two sets we couldn't make out.
After packing up, we headed to the hotel again for a great breakfast, Berber+French style!
Once refreshed and full, it's time to head to the Dades Valley via the Todra Gorge. The Dades Valley has a series of rugged gorges carved out by the Dades River and historic kasbahs and or fortified villages of the Berber people.
The Dades River originates in the High Atlas mountains and the Dades Gorges can range anywhere between 200 to 500 meters in height. This area of the Dades Gorges used to be submerged in the sea millions of years ago until the tectonic movement brought it above the surface. This area is also known for its rose and rosewater production, as well as almonds.
A detour through the massive Todra or the Todgha Gorge will take you about 30-40 minutes, but it will definitely be worth it to include it in your itinerary for Morocco.
The Todra Gorge is a series of river limestone canyons on the east side of the High Atlas Mountains. During the dry winter months, some parts of the Todra Gorge become accessible to walk through, making for some great hikes in the region.
However, during the monsoons, these gorges become home to gushing streams. The Todra Gorge is also a popular spot for rock climbing. Many routes ranging from French Grade 5+ to 8 have been bolted across the region.
---
---
En-route you will come across many furniture manufacturers specialising in furniture made from fossil stones! It did seem authentic, and workshop tours are complimentary.
You're encouraged to buy some reasonably priced artefacts if you wish at the end of the 15-minute tour.
Later proceed to the Dades Valley to spend the night, admiring 'Monkey's fingers' on the way to the hotel. The hills are called Monkey's fingers because they've got peaks that look like fingers.
---
STAY
I highly recommend Babylon Dades. The Chez Pierre is another good hotel, although Babylon is closer to the Dades Valley.
Address : A 28km De, 704 Route, Boumalne Dades 45150
—
Address : Douar Ait Ouffi ASJS Km 26 Les Gorges du Dadès Boumalne Dades، Boumalne Dades 45150
---
Day 5 of your itinerary for Morocco – Dades Valley / Skoura Palm Grove
Head to the topmost point in the Dades valley to see the sunrise and admire the famous winding road in the Dades valley. Although it's famous, it is not thronged with tourists so take your time.
Then take the road via the Skoura palm grove to pass Ouarzazate and the Tizi n 'Tichka to head to Marrakech. The Skoura palm grove is a massive labyrinth that can be explored in a car or on foot. Different kinds of trees are grown here including palms, olive and almond.
The film studios at Ouarzazate might be worth checking out as well. Movies like Gladiator, The Mummy and The Pope were filmed here. You could stop to admire various formations in the Atlas mountains or haggle with vendors. In the evening, check back into your hotel in Marrakech.
We opted to stay at the same hotel we booked previously in Marrakech to avoid confusion and get a bigger discount.
---
EAT: We opted to have dinner at Latitude 31 once we were in Marrakech. It's a great mid-range restaurant and serves some of the best tagines in Marrakech, and making reservations in advance is recommended.
Address: 86, rue El Gza Arset lhiri Bab Doukkala – Marrakech، 186 Rue el Gza, Marrakech 40000
---
Day 6 of your itinerary for Morocco – Marrakech
It's time to wander Marrakech again. We spent 3 days here, so you could use this as a Marrakech 3 day itinerary as well! Start with the souks first. The souks can get stressful, so here's a handy Marrakech souk guide to have a good time.
Once you've finally had enough of the souks, head to Amal for their delicious fare for lunch. Cheap yet super tasty, all for a great cause. Although it's outside Medina, it is definitely worth a visit.
Once you've feasted on great fare, why not unwind in one of the hammams? A Hammam is a public bath where you can sit in a steam room, exfoliate, cleanse and relax. Public Hammams have separate sections for men and women. You can get a bucket for water, a mat to lie on, soap and an exfoliating glove and relax amongst the locals.
---
Tourists usually go to the privately-owned Hammam spas. There are many options to choose from. We opted for Hammam Rosa Bonheur.
They have many options to suit every budget, and the experience was great. I wouldn't call it a traditional hammam, but after spending time in the souks, I wanted to visit a hammam, which did not keep me guessing about hygiene and Rosa Bonheur was great.
If you're hungry after your experience and looking to try street food then head to the local markets. In Marrakech, head to the Jemaa el-Fna, a marketplace where you can eat cheap, but tasty street food.
There are about 40 stalls here selling tagine, couscous, grilled meats and other local dishes. In the evening, the place comes alive – due to Berber music and dance performances. Beware of pickpockets in the market, especially after sunset.
---
Address : Rue Allal Ben Ahmed, Marrakesh 40000
——
Hammam Rosa Bonheur
Address : N° 35, Derb El aarssa, Marrakesh 40000
I could not contact the Hammam recently so please check in advance before booking!
——
EAT: We had dinner at La Perle Du Sud, and although it has excellent reviews on TripAdvisor, our experience wasn't great!
Here are a few other options :
---
Day 7 of your itinerary for Morocco – Marrakech
There's always one new activity we try in a new country. In our Morocco itinerary, it was Quad biking. Dunes and Desert have an excellent reputation and many activities to offer. We spent half a day biking through the plains on the outskirts of Marrakech. Since it was our first time on the Quad, we opted for a half-day tour, you could opt for full-day ones or even a road trip on a Quad.
We later returned to have lunch at Marrakech Henna art cafe for a refreshing meal. You could get a henna tattoo while you're here; the local artists are great at it. Choose a design while you eat.
P.S. I wouldn't suggest a henna tattoo at Jemaa el Fnaa as can't vouch for the ingredients being mixed in the henna.
Henna in Morocco originates from the Berber culture. Henna tattoos have long been a symbol of good luck. Some also strongly believe that having a henna tattoo can guard you against the evil eye – for this reason, many traditional henna tattoo designs in Morocco include motifs like the hamsa, diamond shapes or an eye.
We later took a walk to the tanneries, Bab Debbagh, to check the process. It smelled awful but was a great offbeat thing to do in Marrakech. Ensure you carry some sprigs of mint with you to keep under your nose!
Bab Debbagh literally translates to 'gate of tanners' and is one of the main gates to enter into the walled city of Marrakech. Leatherwork is one of the oldest trades of this region and has been in practice for hundreds of years. A visit here is definitely an interesting peek into the process that has gone through a lot of changes over the years.
Here are some additional places to see in Marrakech:
Jardin Majorelle – Jardin Majorelle is a tranquil garden with exotic plants and a museum with Berber artefacts. One of the top things to do in Marrakech, however, we gave it a miss. In 1980, French fashion designer Yves Saint Laurent and his partner Pierre Bergé bought Jardin Majorelle to preserve the vision of its owner Jacques Majorelle and keep it open to the public.
You can also visit the Yves Saint Laurent Museum here which exhibits the designer's work. The Musée Yves Saint Laurent Marrakech, or mYSLm as it is also known as, showcases important pieces from the YSL's Fondation Pierre Bergé collection including clothing, accessories, sketches and more.
Jardin Majorelle is usually a part of everyone's best Morocco itinerary – so the place gets crowded often. You can book tickets in advance here. Tickets should be booked at least 24 hours in advance before you visit.
Price: 10£ for the Marjorelle garden, 10£ for the Yves Saint Laurent museum, 12£ for the Berber Museum, 18£ for a combined ticket for all three
Timings: 9 am to 6 pm every day, last entry at 5.30 pm
---
El Badi Palace – The ruins of El Badi Palace are a treat for history/architecture lovers. The courtyards and main rooms are still well-kept, and the terrace offers a beautiful view of the Atlas mountains. El Badi literally translated to 'Palace of Wonders' in Arabic.
The palace dates back to the 16th century and is now mostly in ruins. The palace also houses a number of exhibition spaces, one of which house the Almoravid minbar that once used to be a part of the Kutubiyya Mosque. The Marrakech Folklore Festival also takes place within the palace.
Cost: 6£
Timing: 9 AM – 5 PM
Bahia Palace – Another attraction for history and architecture enthusiasts in the Morocco travel itinerary, the Bahia Palace retains much of its grandeur. This palace dates back to the 19th century and is made in a labyrinthine layout with multiple courtyards, gardens, rooms and chambers. The interiors of the palace are picture-perfect with its stuccos carved with Arabic inscriptions, and zellij and marble tiles.
Cost: less than 1£
Timing: 9 AM-4.45 PM
Saadian tombs – The Saadian tombs are a series of sepulchres and mausoleums which house the remains of kings and important figures from the Saadi dynasty which ruled Morocco from 1549 to 1659.
These intricately decorated tombs were well hidden until their re-discovery in 1917. They reflect designs similar to the Alhambra in Andalusia, Spain. A passage adjacent to the Kasbah mosque leads to the tombs; only a few metres away from the El Badi Palace.
Cost: less than 1£
Timing: 9 AM-4.30 PM
---
Koutoubia Mosque – The Koutoubia mosque is the largest mosque in Marrakech, which was built around the 12th century by the Almohad dynasty.
Only Muslims can enter the mosque. A great way to slow down in Marrakech – Pick a bench in the surrounding Koutoubia gardens and watch the city pass by. No timings, no entry fee.
Ben Youssef Madrasa – A madrasa is an Islamic educational institution. The Ben Youssef madrasa was founded in the 14th century and is the largest Madrasa in Morocco. Historical significance aside, the Madrasa draws in visitors due to its architecture and mosaic work.
Cost: less than 1£
Timing: 9 am – 6 pm every day
---
EAT: Comptoir Darna was an offbeat experience! Great food, orchestras and belly dance performances to keep you entertained. I found it to be pricey, but worth it.
P.S. If you visit Comptoir Darna, ensure you arrange return transportation in advance. It's a little annoying when every taxi driver insists you pick them to take you back.
Address: Av. Echouhada, Marrakech 40000, Morocco
---
Day 8 of your itinerary for Morocco – Marrakech
It was our last day in Morocco. Although there were quite a few options we could take up, we opted to try the legendary camel burger and date milkshake at Cafe Clock. We spent a good couple of hours here reminiscing about our stay in the Sahara.
We later collected a couple of olive jars from the souks and left for the airport, making a mental note to return to visit Chefchaouen, Fes, Essaouira and Casablanca.
If you are spending longer than a week in Morocco, and want to get to the coast, Essaouira is great, and this guide is helpful if you're looking to stay in Essaouira. The port city is about 3 hours away from Marrakech. If you're looking for more options to get around Morocco this should help.
You could split the Morocco travel itinerary to include only Merzouga/Marrakech.
You can print a detailed map of this itinerary HERE
A gist is also available on the map below.
I hope this itinerary helps you with relevant information to plan a sunny trip to Morocco.
---
FAQs for a 7 day itinerary for Morocco
WHAT IS THE BEST TIME TO VISIT MOROCCO?
The best time to visit Morocco is Spring (mid-March-May) and fall (September, October). Moroccan summers can be quite hot and coastal destinations such as Tangier, Rabat, and Essaouira are cooler during this time.
We went in December, as it's one of the closest places in Europe to catch some sun in December. However, Spring is the best time. As summers can get super hot, and although the days in winter are pleasant, nights in the desert in winter can get very cold. Ensure your visit does not coincide with Ramadan as transportation options get scarce and some attractions close early.
WHAT ARE SOME FESTIVALS TO ATTEND IN MOROCCO?
Feb/March: Wax Lantern (or Candle) Festival near Sale in Rabat
May: Rose Festival near the Dades Valley and the Honey festival near Argana, Agadir
June: Sahraoui Festival for camel races and the famous Laayoune warriors' dance at Agadir
September: Festival of Volubilis at Meknes
This list is fantastic if you wish to explore more options.
IS TRAVELLING TO MOROCCO EXPENSIVE?
The cost of accommodation varies greatly depending on the season. However, expect to pay approximately £50 for a double room in a Riad in December – which is peak tourist season. It is cheaper if you opt for some hostels/single rooms. Public transport is cheap.
IS THERE PUBLIC TRANSPORT IN MOROCCO?
Many places to visit in Marrakech are within walking distance, usually in the Medina or on the outskirts. We did not rely on public transport and used taxis only on two occasions.
Taxis are convenient, but you need to haggle before you get in.You could try the Caleche rides, but it's more of a tourist attraction rather than a transportation medium.
WHERE TO STAY IN MOROCCO?
Marrakech: It's a good experience to stay in Medina. Once you step outside Medina, it feels like an ordinary European city.
For stay options in Merzouga and Dades Valley, check the Morocco itinerary above.
WHAT SOUVENIRS TO BUY IN MOROCCO?
This Morocco travel itinerary includes enough time for shopping at souks. A Marrakech 3 day itinerary would also give you some time to shop. In Marrakech, you can shop from Jemaa-El-Fnaa, Souq Semmarine, Souq el-Kabir and Souk Cherifia. While spending a week in Morocco, you can also shop from the boutiques, small artisan owned shops and designer shops. Check this shopping guide for Marakkech for such shops.
There is a vast variety of knick-knacks to purchase as keepsakes in the souks.
Spices

Saffron

Variations of mint tea

Scarves

Argan oil

Leather goods

Olives

Carpets

Earthenware tagines

Lanterns

Ballerinas
IS MOROCCO SAFE TO VISIT?
While strolling in the souks, ensure you always have your wallets/bags safe away from snatchers.

As a solo female traveller avoid walking alone late at night. It is pretty safe in Marrakech, but it does get super quiet in the villages.

We're from India, so we're used to noise and commotion. But it can get overwhelming for many. Be firm, learn to say 'No' politely or ignore and walk away. A woman in the Jemaa el-Fnaa square grabbed my hand and started drawing henna tattoos for 'free', only to ask me for tips for her sons later.

Always carry Moroccan Dirhams with you. Many people (including the homeless) will ask you for alms or tips in Euros.

Dress conservatively – although Morocco is very accommodating of tourists, you're bound to attract the wrong kind of attention if you do not.

Do not enter shops or ask prices – if you do not plan to buy.
---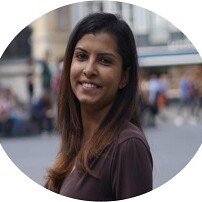 Award-winning Analyst, multi-nominated digital content creator and photographer Lavina Dsouza's words capture stories about culture and tradition mainly through its food and people. She has written and contributed to publications such as The Washington Post, Lonely Planet and Matador Network, to name a few. She is the editor of UntraditionalHumans.com, a non-profit created to share inspiring stories from women of colour who break free from traditions and choose happiness.
She's also a speaker passionate about DEI and champions solo travel. She has collaborated with numerous renowned brands such as Intrepid Travel, TripAdvisor, Travel and Leisure and Adobe, to name a few.
She can be found on Twitter and Instagram.
---
---
---
Some of the links on this post are affiliate links. These do not cost you extra to use, but will help provide Continent Hop with a small commission if/when you purchase through them, to recover some of the costs of running this website and providing free content to help you plan your travel. I appreciate your support!
---