A Marrakech 3 day itinerary is incomplete without a visit to the souks, trying some tagines and enjoying the nightlife at Djemaa El Fna. But there's much more to do here and you need a minimum of three days to get a glimpse. Here's what to do in Marrakech, including belly dancing and quad-rides!
It felt like taking a walk along the streets of Mumbai as a wandered through Jemaa El Fna – the chaos, the smells and the curious stares. However I was in Marrakech, the capital of Morocco, and while there were similarities, it was definitely a world apart.
Marrakech – the city where you find the perfect mix of old and new coming together a beautiful collage for travellers around the world.
The palaces that take you back to medieval times, the souks where you can soak in local vibes, the city squares bustling with all things exciting, and gardens where you can catch a breath amidst all the whirlwind – with so much to see and so much to do, your 3 day Marrakech itinerary will be jam-packed.
So, now you must be wondering what to do in Marrakech to enjoy the best this city offers.
Read on to know how you can plan Marrakech in 3 days.
---
If you're planning to travel outside Marrakech these tours should help
---
A Marrakech 3 day itinerary
---
But first getting around Marrakech
---
With so many places to visit in Marrakech, you may think that getting around in this city will prove difficult.
But here is the best part of your 3 day Marrakech itinerary – most of the attractions that you are visiting are within a walking distance from each other.
And if they are not, then here is how to get around Marrakech –
By taxi – there are two types of taxis in Marrakech – petit and grand. Petit taxies are coloured in beige and are for 3 people only. These taxis are permitted to operate within city limits and are easy to hail.
The base fare for petit taxis starts from €0.66 and then you are charged €0.18 per kilometer from 6 am to 8 pm. After that, the per kilometer price changes to €0.37.
Grand taxis are for a maximum of 8 people and run only on pre-decided routes and for transfers between different cities. The charges for a rand taxi depend on the route you take and set before starting the journey.
By bus – the public transport in Marrakech is cheaper compared to taxis. The buses run regularly and connect all the major parts of the city.
But, the crowded public transport is hard to navigate for tourists. It is advisable to use Marrakech buses only when necessary and only if you are used to crowded public transport.
If you're wondering how to get to Marrakech in the first place, then these options should help.
---
Places to stay in Marrakech
Marrakech is one of the popular tourist destinations in Morocco and you will find a variety of hotels in Marrakech catering to all types of travellers. From luxurious hotels to budget hostels, you will find everything in this city.
Many of the places to stay in Marrakech are concentrated in and around Medina, making it easier for tourists to explore the city in a limited time.
A traditional Riad is one you'll find typical of Morocco. Riad et SPA Misria Les Orangers and Riad Kheirredine are mid-budget and highly recommended.
If you prefer hotels, Hotel Racine is located only 5 minutes away from Djemaa El Fna and is known for several facilities at minimal charges. You will find everything from a swimming pool to a spa center on its premises.
Savoy Le Grand Hotel Marrakech is the ideal place if you are looking for a luxurious stay and do not mind staying a little away from Medina.
If you are a solo traveller or want to book a stay that is light on your pocket, then Hostel Dar Ben Youssef is your answer. It has male, female, and mixed dormitories and is situated only 200 meters from Le Jardin Secret.
---
Day 1 of your Marrakech 3 day itinerary
---
Shop in the Marrakech Souks
As cliche as it sounds, you must start your 3 day tour Marrakech with its popular souks. These souks have become one of the top places to visit Marrakech with all its colorful hustle-bustle.
The best time to visit Marrakech souks is usually in the morning. That way you can avoid crowds and haggle to your heart's content.
The more information you read about these Marrakech souks, the overwhelming it becomes for there is a lot to these tiny lanes filled with local handicrafts, spices, clothes, shoes, and fabrics.
Granted, Morocco – like most of East Africa – is incredibly famous for its many souks (or markets) selling traditional souvenirs to take back home, but the grandest of all souks in Morocco definitely has to be Souk Semmarine.
Most articles online will refer to Souk Semmarine as the 'heartbeat of Marrakech' and it is not without cause. This massive market is home to easily hundreds of shops selling everything one can think of.
This souk has been a part of the city's economy for over a thousand years and covers the general area surrounding the Jema al Fena.
The kind of items you can buy at Souk Semmarine can only be found in Morocco and are so traditional in nature that their designs remain largely unchanged from hundreds of years ago.
From intricately designed lamps to brass trinkets, spices, traditional musical instruments, and just so much more – it's easy to get lost in the lanes of the markets for several hours at a go without even realizing it.
So if you are big on shopping for souvenirs to take back home, now you know which part of the city to hit on your Marrakech itinerary and this guide should help.
---
Do stop by the Koutoubia Mosque
You will also come across Koutoubia Mosque while exploring the lanes of Medina. This 800-year-old impressive structure is popular for being the largest mosque in Marrakech.
This striking building can be seen from most parts around the city center. The ornate place of worship is also known for its breathtaking architecture and well-maintained gardens.
But keep in mind that Koutoubia Mosque is open only for Muslims and non-muslims are not allowed to go inside the mosque premises.
---
DETAILS
Koutoubia Mosque
Address: Medina Jamaa El Fena, 40000, Morocco
Timings: Monday – Friday 8 am to 8 pm, Closed weekends
---
Bab Debbagh
If the colorful dye pots of the tanneries in Fes caught your attention and you do not want to miss the experience, Bab Debbagh is your best bet.
Located at the far end of the Medina, it would take you 20 mins to walk to Bab Debbagh, from the center of the Medina. If you thought people were milling at the souks, the locality around the tanneries will question your opinion!
You will be greeted with the stench of poop and local 'guides'. The guides are friendly people hoping to make a couple of Dirhams. They will talk you through the process in a couple of minutes.
Even if you wait back to click pictures, you may not spend more than 20 minutes in the tanneries. I would suggest 20-30 Dirhams for a guide. Best if you can haggle for a better price and 'shake hands on it' before you enter the tannery.
You should carry a sprig of mint with you in case you do not wish to have a guide accompany you, as the smell is overwhelming. The locals usually follow these basic steps:
1. The hide has to be first sterilized with salt and then washed with clean water
2. The hide then has to be put in a solution of milk or lime to get rid of hair and grease, to ensure the elasticity of the leather is maintained and it does not get wrinkly
3. It is then put in vats of pigeon poop [containing an excess of sulphuric acid] to ensure tanning agents can penetrate the hide in the later stages. It is then bleached if required or dyed.
---
DETAILS
Bab Debbagh Kawtar Gate
Address: 10 Kawtar, Marrakech 40000, Morocco
Timings: 8 AM – 6 PM everyday
---
Take some rest at Le Jardin Secret
Less than a kilometre away from Medina and souks, Le Jardin Secret is a must for every 3 day Marrakech itinerary.
When you wonder what to do in Marrakech for some peaceful time, this botanical garden on the premise of the 19th-century palace is the place to be.
It dates back 400 years and has been renovated several times over the years. Le Jardin Secret is divided into two parts – The exotic garden and the Islamic garden.
The first part stands true to its name and will introduce you to different plant species around the world. The Islamic garden is known to be the oasis of peace where you can tranquility away from the city's chaos.
It is one of the must dos in Marrakech when you are done exploring the chaotic souks in Marrakech and want to rest for some time.
---
DETAILS
Le Jardin Secret
Address: 121 Rue Mouassine, Marrakech 40030, Morocco
Timings: 9.30 AM – 7.30 PM everyday
---
Head over to Ben Youssef Madrasa
Add Ben Youssef Madrasa to your Marrakech in 3 days itinerary and you will get to see the local culture and traditions up close.
Madrassas are Islamic colleges where Muslim boys are taught Islamic law and fiqh – or Islamic jurisprudence. At its peak, the Ben Youssef Madrasa was the largest madrasa in Morocco.
It was named after the Ben Youssef Mosque, which was the only mosque in the region back in the day and was founded by Ali ibn Yusuf, a sultan of the Almoravid Dynasty.
The Ben Youssef Madrasa not only taught Quranic Tafseer and related Islamic teachings, it also taught a range of subjects like science, literature, history etc. In fact, this institution was the largest theological college in North Africa!
Today, the building mainly serves as a historical site with beautiful Moroccan and Andalusian architecture featuring carved stucco, zellij tilework, fountains, gardens and much more.
---
DETAILS
Ben Youssef Madrasa
Address: Rue Assouel, Marrakech 40000, Morocco
Timings: 9 AM – 6 PM everyday
---
Experience Local Nightlife at Jemaa El-Fnaa
Once the shopaholic in you is satisfied at Souk Semmarine, the best thing to do next on your 3 days in Marrakech itinerary would be to hit up Jemaa al Fena again after sunset.
Jemaa El-Fnaa turns into an even more bustling place at night and is the best place to experience Marrakech at night.
The Jema is basically the city centre, the market square which especially comes to life as the sun goes down.
The square is lined by riads and rooftop cafes on its sides so if you're tired and want to catch a break while having a vantage viewpoint for the hustle and bustle at the Jemaa el Fnaa, make sure to head up to one of the many rooftop cafes.
If you still have some energy to keep going, exploring the nightlife in the square is one of the best things to do in Marrakech. There is so much happening here that you will be entertained throughout.
Locals would be narrating folk tales and singing folk songs, some would be playing a game of carrom while sipping on mint tea, and others would be propping open their food stalls for the evening which are always selling some of the most incredible dishes you can imagine.
This is also the place to go, to experience Morocco's street food culture. Trust me, you will not be disappointed.
The best way to take your taste buds on a ride without getting lost in the numerous scrumptious food stalls is to book the Marrakech: Delicious Food Tour at the Djemma El Fna Square.
When you are spending 3 nights in Marrakech, reserving the first night for this food tour is a must. The local guide will make it easy to explore the best of Medina and souks.
---
Day 2 of your Marrakech 3 day itinerary
---
Pose Around at Jardin Majorelle
Another one of Marrakech's most beautiful spots, especially to get your Instagram game going, is the Jardin Majorelle or the Majorelle Garden.
This one-hectare botanical garden is the mastermind of French Orientalist artist Jacques Majorelle. The design of this place started in 1923 and was the residence of Majorelle and his wife until they separated around the 1950s.
In the 80s, the property was bought by the French fashion designer Yves Saint-Laurent and was then restored.
A bright cobalt blue shade finds prominence in most structures inside the garden – a shade which is said to have been inspired by the blue Berber houses found across Morocco.
This shade was patented by Majorelle before he died and is now known as Majorelle Blue worldwide.
The Jardin Majorelle complex also houses the Berber Museum – exhibiting artefacts from the Amazhig Berber culture.
Apart from everything else, the garden's plant variety is incredible in its own self – a haven for plant lovers. From bamboos, palms, and cacti to geraniums, jasmines, weeping willows and water lilies – there is such diversity of plants found here that it is easy to get lost in the garden's beauty for a couple of hours at least.
---
DETAILS
Jardin Majorelle – Yves Saint Laurent Mansion
Address: Rue Yves St Laurent, Marrakech 40090, Morocco
Timings: 8 AM – 6.30 PM everyday
---
Explore the Ruins of El Badi Palace
El Badi Palace – literally translated as 'the palace of winder/ brilliance' in Arabic – is a ruined palace in the city dating back to medieval times, somewhere around the 1570s.
The palace was commissioned by a sultan of the Saadian Dynasty, Ahmad al-Mansur.
The main aim of constructing this palace was to show the sultan's wealth and power. The palace featured materials imported from all over the world including Italy and Mali and was used to receive guests and host elaborate parties.
After the sultan's death and the eventual decline of the Saadian Dynasty, the palace fell into ruins and its expensive, imported materials were taken and used to build other buildings across Morocco.
Today, though the palace is mostly in ruins, it is still a popular tourist attraction and serves as a reminder of an era bygone.
The palace is also a great spot to take pictures. Especially during sunset and sunrise, El Badi Palace makes for a beautiful backdrop to get some stunning images for the 'gram!
---
DETAILS
El Badi Palace – Ksibat Nhass Palace
Address: Ksibat Nhass, Marrakech 40000, Morocco
Timings: 9 AM – 5 PM everyday, except Saturdays. Closed Saturdays
Visit the Bahia Palace on your Marrakech 3 day itinerary
The Bahia Palace was built in the mid to late 19th century. The construction of this incredible landmark of Marrakech was begun in 1859 by Si Musa, the grand vizier of Muhammad ibn Abd al-Rahman – the Alaouite sultan of that time.
The palace has a labyrinthian layout consisting of many chambers, gardens, and courtyards. But if there is one thing the Bahia Palace must be known for, it has to be its art and decor.
The Palace walls feature intricately done stucco with Arabic inscriptions, arabesques, geometric patterns, and more.
The Palace also has paved floors with tiles made of marble and zellij – a kind of tilework made from tiles that are individually hand chiseled.
The main courtyard in Bahia Palace resembles a peacock because of its colour scheme and is one of the most Instagrammable places in Marrakech – a top site that you most definitely should not miss on this 3 day Marrakech itinerary.
---
DETAILS
Bahia Palace
Address: Rue Riad Zitoun el Jdid, Marrakesh 40000, Morocco
Timings: 9 AM – 5 PM everyday
---
Explore the Mellah
The Mellah of Marrakech, which earlier used to be called Hay Essalam, is the old Jewish quarter of the capital city of Morocco.
These Jewish colonies mostly started expanding in Marrakech after the 1500s, when Jews were expelled from the Iberian Peninsula. In Marrakech, many mellahs were created for the Jews living under their dhimmi status – a type of status for non-Muslims living in an Islamic state with legal protection.
The Mellah of Marrakech was built as per the wishes of Abdallah al-Ghalib, a Saadian sultan, right outside the El Badi Palace.
At its peak in the 1940s, the Mellah was overpopulated and teeming with over 40,000 people living here, right before the independence of Israel and the end of the French protectorate in Morocco.
Today, only about 200 people reside in the Mellah.
It's a great place to walk through, learning about its history and looking at its age-old walls, buildings and doors that have seen so much.
You can visit the Lazama Synagogue here and also the Mellah Marche (or Mellah Market) where the last remaining kosher butcher of Marrakech has a shop.
If you are really fascinated by Jewish history or are simply looking for an offbeat place to stay in Marrakech, you can also choose to book a stay at one of the many riads in the Mellah.
Some of the best riads in the Mellah of Marrakech include Riad Alia, Riad Azoulay and Riad Azahar.
---
Unwind at a hammam
It wouldn't feel right to step out of Marrakech without paying a visit to a hammam. You have a variety to suit every taste and budget.
Although Les Bains De Marrakech is top-rated, it is quite bothersome to land an appointment.
Hammam Rosa Bonheur is a charming place tucked away from the center of the Medina. The staff are friendly and are ready to assist if directions are required. Looking for something more budget-friendly
Why not try one of the local hammams? – However do keep in mind, that they might not be peaceful as expected as the locals do use them too and it could get quite crowded.
Hammam Ziani is a good option but has been receiving mixed reviews lately.
Do check if you might need to carry your own Beldi black soap [Savon Noir] – a soap made from olive oil used traditionally in a hammam and your own towels if plan to visit a traditional hammam.
---
DETAILS
Hammam Rosa Bonheur
Address: N° 35 Derb El aarssa, Marrakesh 40000, Morocco
Timings: 9 AM – 11.30 PM everyday
Please check if the Hammam is still operational as I could not make contact with them recently
---
Day 3 of your Marrakech 3 day itinerary
---
The best way to spend the last day in Marrakech would be to head out of the city and find out what Morrocco has to offer.
Many people prefer a hot balloon ride in the morning and then proceed to enjoy the traditional breakfast offered by the tour operators.
The hot air balloon ride in Marrakech will give you a chance to view beautiful Berber villages nestled amidst high mountains. This ride is the best way to soak in the dramatic landscapes.
So, you wanted to know what to do in Marrakech, right? This is the perfect answer to your question. Do not miss adding a hot air balloon experience to your 3 day Marrakech itinerary.
You can also add a camel ride for the authentic desert experience.
You can consider the following Marrakech balloon rides: Marrakech classic balloon ride as tour operators will take care of logistics and you will get to focus on the experience.
---
Adventure activities for your Marrakech 3 day itinerary
The city of Marrakech is an adventure in itself. But if you are looking forward to going out of the city and getting the adrenaline rushing with some adventurer activities, then here are a few suggestions –
If you are okay with one of the full-day trips from Marrakech, then Ouzoud Waterfalls Guided Hike and Boat Trip is a must.
If you want to spend only some time in the desert, then Marrakech Quad Bike Experience: Desert and Palmeraie will be your best option.
---
Experience a vehement Belly Dance
After spending half a day outside Marrakech, why not reserve this evening for some cultural experience?
Stepping outside the Medina will make you question if you've stepped into a different city other than Marrakech. The Le Comptoir Darna – Restaurant Marrakech is the hub of activity outside the Medina in Marrakech.
A favorite with expats, every day is a day of celebration which includes – An orchestra of local performers at 8.30 pm followed by the highlight of the evening – the belly dancers at 10.30 pm.
If you want a tray of lamps placed on your head for a picture, try grabbing a seat by the aisle.
The dancers are wonderful. Comptoir Darna also has a live band from Sunday – Wednesday and local DJ's at the club everyday.
The food is on par with all the excitement happening around and will not let you down.
---
DETAILS
Comptoir Darna
Address: Av. Echouhada, Marrakech 40000, Morocco
Timings: 7 PM – 2 AM everyday
---
---
Practical details
It is advisable to dress modestly to avoid unnecessary attention. For men as well as women, it is suggested that shoulders, as well as thighs, should be covered. Some female travellers also prefer to use a head scarf to blend in, but that is optional.
Do not enter a taxi if the meter is not working or a driver claims it is broken. The chances are, that you will be asked to pay a higher amount later.
No matter how tempting it looks or how much you are pressurized by vendors, do not get henna tattoos in Medina or souks. It is possible that henna used here may not have safe ingredients and may cause you rashes or allergies. There are several henna studios around the city where you can get safe henna designs.
Not all mosques are open to non-muslims. So, if you are a non-muslim, then make sure you do not enter any mosques without confirming it first.
You can easily navigate to Bab Debbagh using Google Maps. Download the map if you will not have access to the internet while traveling. It is a quick 20-minute walk from the center of the Medina. No entry charge. Approx. 20-30 Dirhams are sufficient to tip the guide if you opt for one.

Do ensure you arrange for a taxi to pick you up at night from the place where you are putting up. It's a tedious task to haggle with taxi drivers all wanting to take you home!

In order to make a reservation at the Hammam Rosa Bonheur, a call a day in advance is sufficient. you could walk-in to check their availability for the day and their services too. Great and friendly staff.
---
No matter what attractions you visit in Marrakech – whether you get to see them all or a few on your Marrakech 3 day itinerary, just sitting at one of the cafes with a mint tea while watching the hustle and bustle of the souks is worth doing when in Marrakech.
There's much more to do when spending 3 days in Morocco and you can head off on day trips too.
Make sure when you visit you dedicate at least a week if not more to Morocco!
---
Marrakech 3 day itinerary – Frequently Answered Questions
How many days in Marrakech?
As this 3 day Marrakech itinerary says, at least 3 to 4 days in the city is a must as there is so much to see, and so much culture to take in. However, if you have more days and can afford to travel slower, consider spending 5 days in Marrakech to fully explore the city in and out.
Best time to go to Marrakech?
The best time to go to Marrakech is during the shoulder seasons (March to May and September to November). These months have the most desirable weather – not too hot and not too cold. And during these months, you will also find the cheapest deals on your stays.
Must do's in Marrakech?
As already mentioned in this Marrakech in 3 days article, the city is best known for its souks, the Jemaa el Fnaa, its gardens such as Jardin Majorelle, palaces such as the Bahia Palace and museums such as the Berber Museum. These are things you must not miss when in Marrakech!
---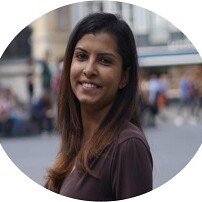 Award-winning Analyst, multi-nominated digital content creator and photographer Lavina Dsouza's words capture stories about culture and tradition mainly through its food and people. She has written and contributed to publications such as The Washington Post, Lonely Planet and Matador Network, to name a few. She is the editor of UntraditionalHumans.com, a non-profit created to share inspiring stories from women of colour who break free from traditions and choose happiness.
She's also a speaker passionate about DEI and champions solo travel. She has collaborated with numerous renowned brands such as Intrepid Travel, TripAdvisor, Travel and Leisure and Adobe, to name a few.
She can be found on Twitter and Instagram.
---
---
---
Some of the links on this post are affiliate links. These do not cost you extra to use, but will help provide Continent Hop with a small commission if/when you purchase through them, to recover some of the costs of running this website and providing free content to help you plan your travel. I appreciate your support!
---