The Marrakech souks can seem stressful but they needn't be! If you're a first time visitor, take a look at this Marrakech souk guide to tackle any Moroccan souk and get the best deals on souvenirs, spices and all of your shopping! Includes market prices.
You'd think being born in India, I would be prepared for chaos, apparently not. It's chaotic stepping in Djemaa el Fna, the entrance to the souks of Marrakech, the biggest market in Marrakech.
I wander around for a while, with a snake charmer following me with a snake, telling me to overcome my fear, while kissing the 'water snake' simultaneously. It's unnerving but amusing at the same time.
The smell of spices and leather greets me as I step inside the souk, prepared to get the best deals and haggle if needed. The colour of my skin helps me blend well, with the Moroccans assuming I'm one of them.
It makes me smile, as that implies I may tend to grab a few bargains. The excitement on my face however, gives me away and the vendors instantly catch it, and start hollering the best deals and prices for the day.
It isn't any different to the local 'bazaar' back home, which brings back fond memories of running around as a child, trying to find items never seen before!
It may cause many to panic, however you needn't, as an array of experiences lie in store for you in Marrakech's souks!
If you've never faced a 'souk' before, take a seat at one of the cafe's dotted around the square. Relax, have a mint tea, and take it all in. It is one of the best ways to get acquainted with the souks without stepping in them.
When you are ready, dive in and soak up all the overwhelming and unusual sights around you; you'll see herbal doctors, folk singers & and the occasional story-teller, giving you a glimpse into the workings of the souks of Marrakech. Here's an in-depth guide helping you get the most from your shopping in Marrakech!
---
A Marrakech souk guide
What to buy in Marrakech's souks with price guide
---
An Introduction to the souks
If any of you have ever visited a country in the Middle-East, you would have probably come across a souk there too. A 'souk' is the name given by the Arabs for a market or a 'bazaar'. Traditionally open-air, a souk was an area where merchants passing through the city, stopped to trade goods and get refreshed. As this was infrequent, the area was then used for other functions throughout the year.
As trade and population increased over the years, so did the frequency and the souk became a staple for locals and visitors to replenish essentials required in the household, not just within the Medina, but also outside it. Which is why, locals started souks in their own neighborhood, some of which later blended in the main souk.
What makes the souks or markets in Marrakesh (or all of Morocco) fabulous is the presence of exotic items like babouches, lanterns, tagines, bouchnikha's, carpets, leather goods in addition to the local fruits, vegetables and spices.
---
Places to stay in Marrakech when visiting the souks
As one of the most well-known tourist sites in Morocco, Marrakech offers a wide range of accommodations for visitors of different tastes. In this city, you can choose from high-end hotels to more budget options.
As there is a concentration of stay options in and around the Medina, tourists can more easily see the city in a short amount of time.
You will typically find a traditional Riad in Morocco and I recommend the . Riad et SPA Misria Les Orangers and Riad Kheirredine as they are good mid-range options.
Hotel Racine is a good choice for those of you who prefer to stay in hotels. It is located only 5 minutes away from Djemaa El Fna and has many amenities are inexpensive rates. The hotel has everything; from a swimming pool to a spa centre to ensure a comfortable stay.
For those wanting more luxurious options, Savoy Le Grand Hotel Marrakech should be your choice, if you are okay staying a little far from Medina.
Solo travellers prefer exploring on a budget and if you are one of them, I would highly recommend Hostel Dar Ben Youssef which has options of for male, female, and mixed dormitories and is located just 200 meters away from Le Jardin Secret.
---
The various souks in Marrakech and what to buy
While souks were a simple means of buying commodities and trading goods, they are no longer confined to those terms. However, what does stay on is that each of the souks in Marrakech are organised by what is sold in the area, the profession and they are still an excellent example of the handicrafts found in Morocco and the craftsmanship of its people.
The most valuable products are still located at the heart of the souk with the less expensive items spread around.
Here's a quick guide at what each of the souks are called and what they sell. For all of you who understand French and Arabic, you will realize the name sometimes translates to exactly what is sold in each.
SOUK SMATA/SOUK OF THE BABOUCHES – The souk of Babouches. Babouches are oriental style slippers without heels.
SOUK SEMMARINE – The souk for the usual souvenirs like shoes, leather, jewelry. Souk Semmarine is the one most tourists frequent and is the one that is covered by an iron trellis, which gives the street a mystifying feel.
SOUK CHOUARI – The carpentry souk
SOUK HADDADINE – The souk of the blacksmiths
SOUK OF THE TEINTURIERS – The dyers souk where wool and fabric is dyed
SOUK ET ATTARIN – The perfume souk. Attar for many Asians is perfume, hence the name.
SOUK ZRABI – The carpet souk
SOUK OF THE BIJOUTIERS – The souk of the jewelers
SOUK ABLEUH – The herbs and spice souk
These are just some of the souks you will encounter. Almost all of them are connected to each other and there are definitely more as based on the goods sold, there are different sections for each.
In addition to the items listed above, you'll also be able to find rugs, pottery, cutlery, glassware, items made from copper, kaftans, shawls, clothing, furniture. In short, almost everything!
Do you need to know the name for each? Do you need to remember the location for each? Definitely not, as no matter how much you try to memorize the place, chances are you will still get lost within the souk.
---
DETAILS
Address: Djemaa El Fnaa, Rue El Ksour, 38, Marrakech 40000, Morocco
Timings: The souks are open fro 8.30 AM to 9.00 PM. Many are closed on Fridays.
---
Shopping in the souks of Marrakech
The souks in Marrakech are a complex network of alleys and streets. It feels like a maze but don't be anxious about getting lost. Chances are, you very well will!
A 'souk map' might seem like an essential to avoid getting lost and many guidebooks provide a map for the souks however they may not have all the tiny lanes mapped. While my suggestion would be to use Google Maps, if data roaming is expensive for you, try printing a map with the various souks highlighted, or download an offline version in Google Maps.
Type in the name of any of the souk ( I put in 'Souk Semmarine') and at the bottom of the screen, next to the directions, when you scroll, you should have an option to 'Download' the map. You unfortunately, can't download directions.
My advice is to enter the souk from Djemaa El Fna, and make your way asking for directions based on what you need to purchase. If you're just exploring, it doesn't matter.
Once you're done, to get out of the souk, keep walking in a straight direction till you reach the wall of the Medina as the souks are located within the Medina of Marrakech. Once out, you can then walk from the outside to get to your destination.
Another option is to keep an eye out for the Koutoubia Mosque and head in that direction. The mosque is an eight minute walk from Djemaa El Fnaa. There are many other landmarks that you can use as reference too while navigating the souks.
ASKING FOR DIRECTIONS IN THE SOUKS
It's always best to ask shopkeeper's, a family or local officials for direction. They're more than happy to show you in the right direction especially if you've purchased something from them. If you're a solo female traveller, it's best to ask a woman for directions.
When a local offers to show you the way, they are very likely to ask for tips when you get to your destination.
If you'd rather not ask for directions, there are signs pointing to Djemaa El Fnaa throughout the souks, it's always easier to get there and the proceed elsewhere.
SAFETY AND SCAMS IN THE SOUKS
Pickpockets and snatchers operate in any busy area as is the case with the souks in Marrakech. To keep belongings safe, keep wallets and valuables in your front pockets. If you're using a shoulder bag, try to keep one hand on it always, opt for a cross-body bag if possible. If you have a backpack, wear it in the front.
Avoid taking out wads of cash in public areas and keep passports and some credit/debit cards, cash in the safe at your hotel.
Memorize emergency numbers if needed and learn a few important locals words too.
The lanes in the Medina are narrow yet you'll find bicycles, motorbikes, carts and animals making their way through it at top speed. Look over your shoulder at intervals and be ready to jump out of the way if you see something coming your way!
SOME COMMON SCAMS
QUALITY – One of the scams in the souks of Marrakech is claiming to have 'genuine antiques' when they are nothing but copies. Have a guide or someone local assist you when you plan on purchasing something expensive or an antique
THE GUIDE – As mentioned above, when asking for directions, you may find a helpful 'guide' offering to take you to your destination. When you reach it, they might hassle you for tips. Opt for licensed guides if needed or ask directions from shopkeepers
ANIMAL ABUSE – As I mentioned at the very start of the post, I was being chased by a snake charmer. You might find a snake or a monkey on your shoulder without warning. Most of them are located in Djemaa El Fnaa. The best possible way to avoid such an encounter is to walk as afar away as possible from them and avoid eye contact
Animal abuse is heartbreaking. Please do not support this by taking pictures with the animals
CHANGE – Research the current exchange rates as some vendors will suggest you pay in Euros/Dollars if you don't have cash. Some people might stop and even ask for change on the street. Best to decline politely
HENNA ARTISTS – From personal experience, I can state that most of the times, black henna has harmful chemicals added to it. Henna artists in the Djemaa El Fnaa square claim to draw a pattern for you for free, continue drawing all over your hands and then ask for payment. If you'd still like to get one, negotiate a price in advance
---
HAGGLING AND BARGAINING IN THE SOUKS
If you've got sufficient time on hand, avoid buying anything on your first visit. Stroll around, you'll notice the deeper you go into the souks, the cheaper it gets. Avoid asking for prices if you do so, as asking for prices implies, you're keen to buy. Then if you don't, you may find the shopkeepers making rude remarks.
If you already know what you need, ask the locals at your Riad or hotel what to expect to pay. They will be glad to help!
If you find something you need to buy, it's time to haggle/bargain!
Haggling is almost a tradition in Morocco and most Asian countries. For many, it's even fun! Prices are grossly inflated and are usually set at more than twice the price. It's amusing to hear "Primark prices here" or "Asda prices here", and they very well could be!
To ensure they stay that way, here's how to get the best deals when shopping in Marrakech souks for souvenirs.
ASK THE VENDOR FOR THE PRICE OF THE ITEM – Never state how much you'd pay for the item as you'll most likely end up pricing it higher than what the shopkeeper expects for it. Always ask how much the price is
KEEP THINGS LIGHTHEARTED AND POLITE – No matter how annoying it can get, keep it friendly
START WITH 1/3RD THE PRICE AND BUILD UP – Once the shopkeeper has stated their price and ask how much your budget is, state 1/3rd of the asked price. The negotiation then begins, with the vendor decreasing their price and expecting you to increase your stated price. You should be able to get the item at about 50% of the price stated by the vendor. Do not quote a price you're not willing to pay. This will just annoy them.
IT'S OK TO WALK AWAY – If you can't agree on a mutual price, it's all right to politely decline and walk away. But be warned, if you walk away and then return later, you might have to pay more.
SET A REASONABLE PRICE – Keep in mind that you will most likely get a bargain but do state prices that are fair to the vendor too. After all, they need to make a living off this!
If you wish to buy more than one item, suggest a price for both. This helps you get a better deal.
When wandering in the souks, do take friends along if you're traveling in a group. It's definitely better to navigate the souks and avoid being targeted by vendors. Ask for someone you trust at your hotel to accompany you if possible for a price.
Avoid showing panic or constantly checking phones and maps if lost. Walk around at a comfortable pace like you're familiar with the surroundings. It helps avoid unwanted attention and guides.
---
While Marrakech (in fact the whole of Morocco) is one of the most tolerant places I've been to, you will be bothered less if you draw less attention to yourself. Cover your shoulders and try to opt for maxi dresses or full-length skirts. Avoid low necklines and transparent fabrics.
If you want to avoid making eye contact, wear sunglasses.
---
APPROXIMATE PRICE GUIDE FOR GOODS IN THE SOUKS
Here are some of the things to buy in Marrakech and the approximate prices for goods (in Moroccan Dirhams).
Lamps: 30 each

Olives : 30 for a big tub, 10 for a small one

Harem trousers: 100

A handloom cloth bag: 120

Argan oil: 150 medium size bottle

Head turban: 70

Mojris/babouches [local ballerinas] : 70 – 100

Abaya/Djellaba (traditional Moroccan women's attire) : 100

Scarves : 20 – 70 each

Tagine : 20-50 depending on size

Argan Oil : 40
(Please note: These prices may have gone up in the past year due to inflation post covid)
---
The souks in Marrakech are a photographer's dream. Every corner you turn there's always an opportunity to capture something new and unique. When in the souks if you're looking to photograph people or items ask for permission before you do so.
Sometimes you may be even asked to pay in advance. Set a price you're comfortable with before proceeding to take pictures.
Many locals are not fond of being photographed, if your instincts tell you so, it's best not to even proceed to ask for permission!
---
Marrakech is the capital of Morocco. One of the busiest cities in the country and one of the most important for trade and tourism after Fez. Many traders from all over the country congregated here in Marrakech to sell goods.
It is one of the northernmost countries in Africa.
WHAT IS THE BEST TIME TO VISIT MARRAKECH
Marrakech has a hot and dry climate that lasts throughout the year. However, March to May and September to November are the best times to visit Marrakech.
These shoulder seasons have desirable weather with temperatures ranging from 24 degrees to 32 degrees with minimum to no rain in most areas. The evenings however do tend to get chilly so it's always good to carry cardigans with you.
If you plan to visit the Sahara, temperatures here go below 0 degrees in December and January, so always carry thicker winter clothing with you for the nights.
HOW TO GET AROUND MARRAKECH
FROM THE AIRPORT
There were conflicts between the local taxi drivers and Uber, in turn causing Uber to shut shop in Morocco.
You can always hire a taxi which costs between 70 – 100 Dirhams to get to the Medina from the airport which is about 5 kilometres away.
TAXI
There are two types of taxi's in Marrakech, the 'petit' taxis which are the smaller ones and the 'grand' taxi's which are larger. The smaller ones are used in the city center however, no taxi's are allowed in the Medina where the souks are located as the roads are too tiny and are narrow enough only to accommodate bicycles and motorbikes.
Ask and negotiate the price before you get in a taxi as all taxi's have meters but chauffeurs never have them 'activated'.
BUSES
The buses in Marrakech are old and always full. The details for the routes and pricing is difficult to obtain hence it's easier to get around on foot.
HORSE-DRAWN CARRIAGES
Negotiate the route and price of the ride before you board one.
---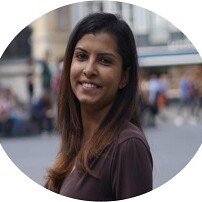 Award-winning Analyst, multi-nominated digital content creator and photographer Lavina Dsouza's words capture stories about culture and tradition mainly through its food and people. She has written and contributed to publications such as The Washington Post, Lonely Planet and Matador Network, to name a few. She is the editor of UntraditionalHumans.com, a non-profit created to share inspiring stories from women of colour who break free from traditions and choose happiness.
She's also a speaker passionate about DEI and champions solo travel. She has collaborated with numerous renowned brands such as Intrepid Travel, TripAdvisor, Travel and Leisure and Adobe, to name a few.
She can be found on Twitter and Instagram.
---
---
---
Some of the links on this post are affiliate links. These do not cost you extra to use, but will help provide Continent Hop with a small commission if/when you purchase through them, to recover some of the costs of running this website and providing free content to help you plan your travel. I appreciate your support!
---