Morocco is vast and the Sahara is its star! This 3 days tour from Marrakech to Merzouga will pack in the best highlights in the East of Morocco and make sure you enjoy a great Morocco desert trip! Read on for deets!
Nothing beats the silence in the desert, especially when it's the Sahara.
It's quite a difference to the hustle and bustle of the Marrakech souks in Jemaa El Fna.
Enormous sand dunes as far as the eye can see envelope you and once the sun start to rise, the grains of sand sparkle unlike anything you've ever seen before!
The calmness I felt in this Morocco desert trip was unlike any I've experienced before and if there's one thing I would suggest you should do when you visit Morocco is make sure you spend a night in a Morocco desert camp!
Here's all the info you need and best recommendations to book your tour!
---
3 Days Tour from Marrakech to Merzouga
---
Best times to visit Morocco
The best time to visit Morocco is during the shoulder months which is in Spring from March, April to May and Autumn in September and October.
During these times not only is the weather pleasant and warm and the crowds are fewer. The coastal regions however continue to have tropical weather with less fluctuations in the temperature.
December in Morocco is still a good time to visit as temperatures in almost all parts are still pleasant and warm with the exception of the Sahara desert region (if you plan to visit) which can be quite freezing unless you layer up well!
---
Important tips to keep in mind for your 3 Days Tour from Marrakech to Merzouga
Keep in mind that if you've booked a budget-stay chances are you won't be able to carry all your luggage to the dunes!

Hence carry a small backpack with essentials that you can take on your back when heading to your camp for the night

Don't forget to carry some water and medications

You get to leave your luggage safely at the hotel in Merzouga even if you won't be staying there for additional nights

A proper Sahara desert stay in the camp isn't too luxurious as the dunes keep shifting however the facilities are clean and the bathroom/toilets shared unless luxury accomodation is chosen

Make sure to wear warm clothing in winter as Morocco in winter is pleasant but the desert is freezing at night!

Make sure you wear leggings or something similar as it takes anywhere about more than an hour on camel to get to the Sahara desert camp!

Traditional foods from Morocco are served for dinner the night of stay usually included in the price of stay. However make sure to check when booking!
---
Day 1
Marrakech – Tizi n' Tichka – Ait Ben Haddou – Ouarzazate – Boumalne Dades Valley (6 hours, 330 kilometres)
---
On day 1 of the 3 days tour from Marrakech to Merzouga, we start early morning from Marrakech after breakfast.
On the first leg of this journey, from the city of Marrakech, we make our way to the icy slopes of the Atlas Mountains through the Tizi n' Tichka Pass.
From the Atlas Mountains, we will then make our way to Kasbah Ait Ben Haddou where we will also have our lunch. Post lunch, we proceed to the city of Ouarzazate before finally reaching Boumalne in the Dades Valley for the night.
Here's a detailed description of the places you will be seeing on the first day of our 3 days tour from Marrakech to Merzouga –
---
Stops on your Morocco Sahara trip
---
Tizi n'Tichka
Tizi n' Tichka is the highest point in the country of Morocco. This mountain pass in the Atlas Mountains is a place worth stopping over on this Morocco road trip of 3 days tour from Marrakech to Merzouga.
The Atlas region is also where a lot of Argan oil is grown and extracted to be exported to the rest of the world. Argan is a major cash crop and the backbone of Morocco's economy.
Kasbah Ait Ben Haddou
Ait Benhaddou is a historically important site, and also one of the World UNESCO World Heritage Sites. This ksar – or a fortified village – sits on what once used to be the caravan route of Morocco from the Saharan Desert to Marrakech.
This heritage site is located in the foothills of the Atlas Mountains.
There are several ksars throughout Morocco but Ait Benhaddou is hands down the most well known – and rightfully so. Its beautiful lost in time feels are enough to make you want to stay back forever!
The Ait Benhaddou is also a great example of the ancient earthen Moroccan architectural style.
---
DETAILS
Timings: 8 AM till 6 PM/sunset
Entrance fees: Entry to the Ksar is free
Entrance to the Kasbah is 10 dhs (5 for children) ($1 or $0.50)
---
Ouarzazate
Ouarzazate is a city mostly known to be the gateway to the Morrocan Sahara Desert. From hereon, the Atlas Mountains are officially behind us and the great Sahara in front.
Ouarzazate is also known to be a famous film location spot and several popular movies including The Mummy and Lawrence of Arabia have been shot here.
Ouarzazate is also the last proper city stop on our first day of the 3 days tour from Marrakech to Merzouga before we enter the high canyons and gorges of the Dades Valley.
So here we can make a stop at a cafe for a quick bite or purchase any necessary items that may not be available in a small place like Boumalne Dades.
Boumalne Dades Valley
Boumalne Dades is a town in the Tinghir Province of Morocco, situated at the edge of a desert plateau amidst the beautiful gorges of Dades Valley.
Dades Valley Gorges is a series of deep canyons that have been carved out by the flow of River Dades over time. The River Dades originates from the High Atlas Mountains.
These gorges are naturally coloured in shades of browns, yellow, orange and purple and can range anywhere between 200 meters and 600 meters.
Dades Valley is also a popular spot for rock climbing. Our stay at Boumalne Dades will be the perfect way to end day 1 of the best Morocco desert tours there is with a traditional Berber dinner at the guest house!
---
STAY
Spend the night in Ouarzazate
Here's are excellent recommendations
Dar Chamaa: Views of the atlas mountains, palm trees and pools! This is perfect not just for a night but even if you plan to stay longer!
Riad Bouchedor: Perfect for the night but also great for its traditional decor and great service!
---
Day 2
Boumalne Dades – Tinghir – Tinjedad – Merzouga (4 hours, 250 kilometres)
---
On day 2 of our 3 days tour from Marrakech to Merzouga, we leave our guesthouse from Boumalne Dades in the morning after a hearty breakfast and hit the road once again.
Our first stop would be the gorgeous Todra Gorges in the Tinghir Province. From here, we then make our way to Tinjedad for lunch before finally arriving at the desert town of Merzouga and calling it a night.
Here's a detailed description of the places we will be seeing on the second day of our 3 days tour from Marrakech to Merzouga –
Todra Gorges, Tinghir
The Todra Gorges – also known as Todgha Gorges – are steep wadis cut by the flow of River Todra over time. These limestone river canyons are steep and narrow – sometimes just about 10 meters wide!
During the dry seasons, these wadis will mostly be without water – or have a small stream flowing through at most.
But once the monsoons come, the flow of the river is back in full force and is a sight to behold in itself! In the dry months, the Todra Gorges also make for a good place to go hiking in the wadis and exploring the native flora and fauna of the region.
The town of Tinghir – also often known as Tinerhir is the best base to admire the beauty of the Todra Gorges in all their might.
The Berber people make up the dominant population in the town of Tinghir.
Most of the town is flanked by lush beautiful palm trees. Another interesting bit about Tinghir is that a lot of ammonitida – and other – fossils can be found here since this area used to be under the sea during the Mesozoic period.
---
Tinjedad
Tinjedad is yet another town we pass on the second day of our 3 days tour from Marrakech to Merzouga.
This city is mostly known for its naturally occurring minerals and fossils – especially the red hematoid quartz. It is a sleepy little town with not a lot of tourism, but its beauty is mesmerizing nonetheless.
Tinjedad is where we will have a brief halt for lunch before moving on to Merzouga, the final destination of our day.
Merzouga
The last stop of day 2 of our 3 days tour from Marrakech to Merzouga is…well, Merzouga!
Merzouga is the base for almost all Morocco desert tours – and rightfully so – it is located right at the edge of this beautiful, vast desert! The Morocco Sahara tour is my most favorite bit of this 3 days tour from Marrakech.
Merzouga may be a small village but its proximity to Erg Chhebi makes it worth every while.
Erg Chebbi is one of the many ergs found in the Sahara Desert. Ergs are large sand seas made with windblown sand of the desert featuring tall dunes as well.
Once we reach Merzouga, we hop onto camels and go deep into the Sahara Desert to camp for the night.
The desert night consists of riding into the Saharan sunsets on camels, then reaching our traditional Berber desert campsite, having a local Berber dinner, and finally calling it a night under a very starry night sky – an experience to remember for a lifetime!
---
DETAILS
Spend the night in the Sahara!
Here's a few great stays in Merzouga. These can also book a desert stay for you if you'd prefer!
You can also choose to spend a couple of extra days here if you'd prefer.
Kasbah Mohayut – Highly recommended, with great focus on customer care and a view of the dunes!
Desert Heart Luxury Camp – personal toilets, bidets and even a restaurant, this is the luxury stay you should invest in!
---
Day 3
Merzouga – Rissani – Nqob – Tamnougalt – Ouarzazate – Marrakech (9 hours, 570 kilometers)
---
The last day of our 3 days tour from Marrakech to Merzouga is the longest and probably the most tiresome – but most definitely worth the long journey we're about to set off on!
After catching the sunrise from behind the dunes of the Sahara Desert at Erg Chebbi, we take our camel's back to Merzouga and prepare to hit the road.
On the way, we pass the beautiful valleys alongside the River Draa before reaching our first stop to observe the photographic sights at Rissani.
From Rissani, we make our way to Nqob followed by Tamnougalt before halting for lunch at the familiar city of Ouarzazate. Rissani, Nqob and Tamnougalt are all part of the Draa Valley.
From Ouarzazate, we drive straight all the way to Marrakech back where our 3 days Moroccan Sahara Desert tour finally ends!
Here's a detailed description of the places we will be seeing on the third day of our 3 days tour from Marrakech to Merzouga –
Draa Valley
Draa Valley is most famously known as the date basket of Morocco. Near the otherwise barren Sahara Desert and Dades Gorges, Draa Valley serves as a breath of fresh relief – a beautiful green oasis with life all around.
The valley is formed by the River Draa which is Morocco's longest river. The River Draa is formed by the confluence of the River Dades and the River Imini.
The people inhabiting the Draa Valley are known as Drawi. This is a region rich in flora, fauna and age-old traditions and cultures. It's a scenic route along our Moroccan road trip and every turn is a new Instagrammable opportunity presenting itself!
Rissani
Rissani is a town in the Errachiada Province of Morocco – and is very similar to Erg Chebbi in terms of its size and area. Rissani also used to be the capital of Tafialet – the largest oasis of Morocco.
Rissani has a bunch of historically and architecturally important places that are worth visiting – especially for some great photo opportunities!
Of these, the mausoleum of Moulay Ali Cherif is worth noting. Moulay Ali Cherif was the third great-grandfather of Moulay Cherif – the man who founded the Alaouite Dynasty.
This historic town also once used to be an important caravan centre. Today, it is a major commercial town with a large souk – a traditional market – that especially comes alive on Tuesdays, Thursdays and Sundays.
The souk is mostly known for its leather and goatskin products. So if you are up to doing some shopping, make sure to time your 3 days tour from Marrakech to Merzouga accordingly!
Nqob
Nqob – also often spelt as Nkob or N'kob – is a town close to the city of Ouarzazate. Located in the Zagora Province in the Atlas Mountains, Nqob's location is quite close to Jbel Sgharo – and is one of the most beautiful stretches of this road trip along the N9.
Nqob also has several kasbahs and two oases around it. A lot of these kasbahs have been renovated and turned into hotels – the prime attraction of this little town.
Nkob is also the capital village of Ait Atta – a Berber tribe.
This small town is full of history and culture and is a great place to be if you're looking to immerse yourself in the traditions of Morocco. The Saghrou Mountains around Nkob also offer splendid trekking opportunities – from day hikes to proper multi-day treks deep in the mountains.
---
Tamnougalt
Tamnougalt is yet another scenic village along the Draa Valley. Located amidst the Atlas Mountains, Tamnougalt is most famously known for its beautiful kasbahs and a date palm oasis.
Tamnougalt used to be the capital of the Mezguita region. This is also where several former caïds used to reside. At the edge of the village of Tamnougalt rises the Jbel Kissane, looming over the village.
'Kissane' means glasses in the Arabic language. Jbel Kissane is a mountain named so because of its shape of a traditional Moroccan tea glass.
The Moussem Ellama is an annual cultural and religious festival that takes place in the village in the first week of October. So if you're looking to experience the traditions of this part of Morocco, time your 3 days tour from Marrakech to Merzouga accordingly!
Ouarzazate
As mentioned earlier, Ouarzazate is a famous Saharan town known to be the shooting location for many blockbuster movies. This is where we stop to have lunch before pushing off on the last leg of our 3 days tour from Marrakech to Merzouga.
There are several eating options in this popular city. Some of my top recommendations to eat in Ouarzazate include La Kasbah des Sables, Restaurant 3 Thes and Restaurant Douriya.
After this last pit stop you should be back to spend the night in Marrakech, ending your 3 day tour from Marrakech to Merzouga.
---
A trip to spend the night in the dunes is an experience you should not miss out on as this is one memory that I will always cherish for a lifetime!
There's something calming and humbling about paying a visit to the Sahara and when visiting Morocco should be at the top of your bucket list!
---
3 Days Tour from Marrakech to Merzouga – Frequently Asked Questions
Is Morocco in the Sahara Desert?
The entirety of Morocco does not fall in the Sahara Desert.
But yes, a significant part of Morocco is taken up by the beautiful vastness of the Sahara Desert. Other landscapes in the country include river valleys, river gorges and canyons and high mountains.
What is the weather like in the Sahara Desert in Morocco?
The weather is usually hot and dry during the summer months with a cool breeze blowing during the night.
During the winter months, the days in the Sahara Desert are sunny and pleasant but rather chilly once the night falls.
How many days do you need in Merzouga?
One night and two days in Merzouga are enough to experience camel riding and desert camping in the heart of the Sahara Desert.
There is not much else to do in Merzouga apart from a visit to Erg Chebbi.
What is there to see between Marrakech and Merzouga?
The route between Marrakech and Merzouga is dotted with spectacular sites – whether you are a history buff or a nature aficionado.
From the snowy peaks of the Atlas Mountains, to deep river canyons and gorges of Todra and Dades, historical sights of Rissana and the beautiful villages by the Draa River – all make it a beautiful road trip with multiple stops en route!
How do you get to Merzouga from Morocco?
There are several ways to reach Merzouga from Marrakech.
The long road trip is obviously one of the most favorable options. But if you're short on time, consider flying into Moulay Ali Cherif Airport at Errachidia – the largest town near Merzouga.
From here, you can either take a local bus or hire a taxi to get to the village of Merzouga.
---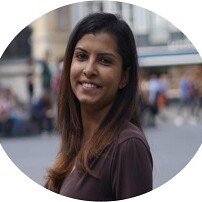 Award-winning Analyst, multi-nominated digital content creator and photographer Lavina Dsouza's words capture stories about culture and tradition mainly through its food and people. She has written and contributed to publications such as The Washington Post, Lonely Planet and Matador Network, to name a few. She is the editor of UntraditionalHumans.com, a non-profit created to share inspiring stories from women of colour who break free from traditions and choose happiness.
She's also a speaker passionate about DEI and champions solo travel. She has collaborated with numerous renowned brands such as Intrepid Travel, TripAdvisor, Travel and Leisure and Adobe, to name a few.
She can be found on Twitter and Instagram.
---
---
---
Some of the links on this post are affiliate links. These do not cost you extra to use, but will help provide Continent Hop with a small commission if/when you purchase through them, to recover some of the costs of running this website and providing free content to help you plan your travel. I appreciate your support!
---